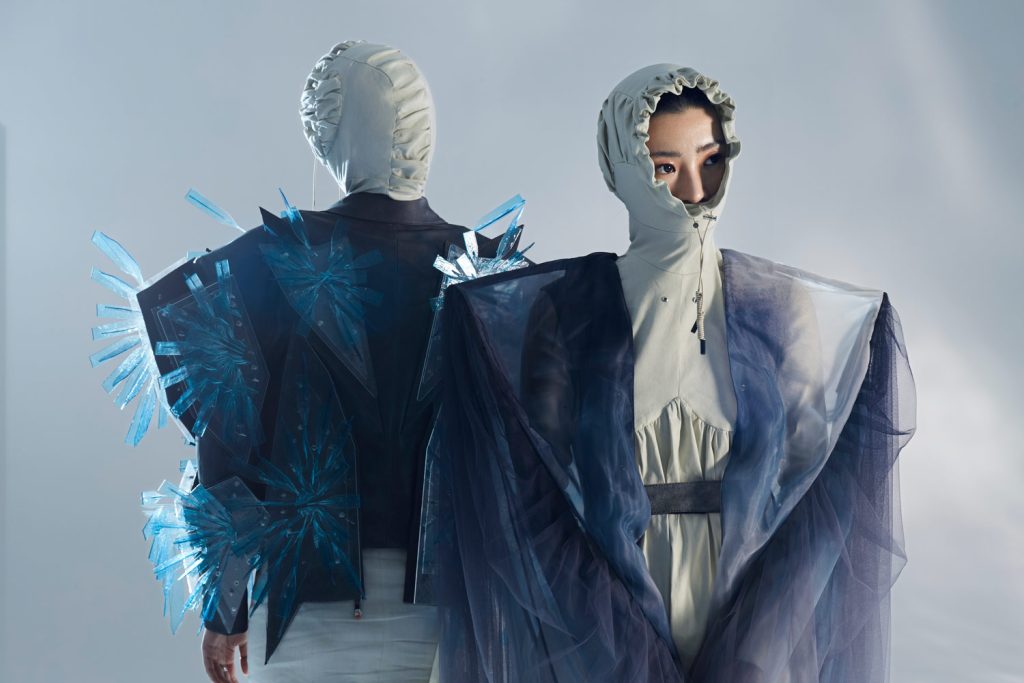 Siyun Huang's fashion art studio specializes in interdisciplinary and inclusive works. The studio was founded in 2022 and employs unconventional materials like metal, acrylic, and digital media, along with digital technology such as 3D modeling, human-computer interaction, kinetic fashion and mechanical structures, and innovative craftsmanship. Siyun's fashion art pieces are inspired by the relationship between human beings, nature, technology, and art. The designs are bio-inspired, futuristic, and surrealistic, with a hybrid avant-garde aesthetic. Siyun's previous works, including a digital fashion film for China Fashion Week and a digital fashion design series for web platforms, have received public attention.
This season, Siyun Huang presents two sets of Kinetic Fashion that are perceptible, responsive, and morphable. The outfits are crafted using acrylic and gradient blue organza, creating shapes that are reminiscent of marine life and the softness of ocean waves. The cutting of the outfits emulates the beauty and lifelike qualities of marine inhabitants.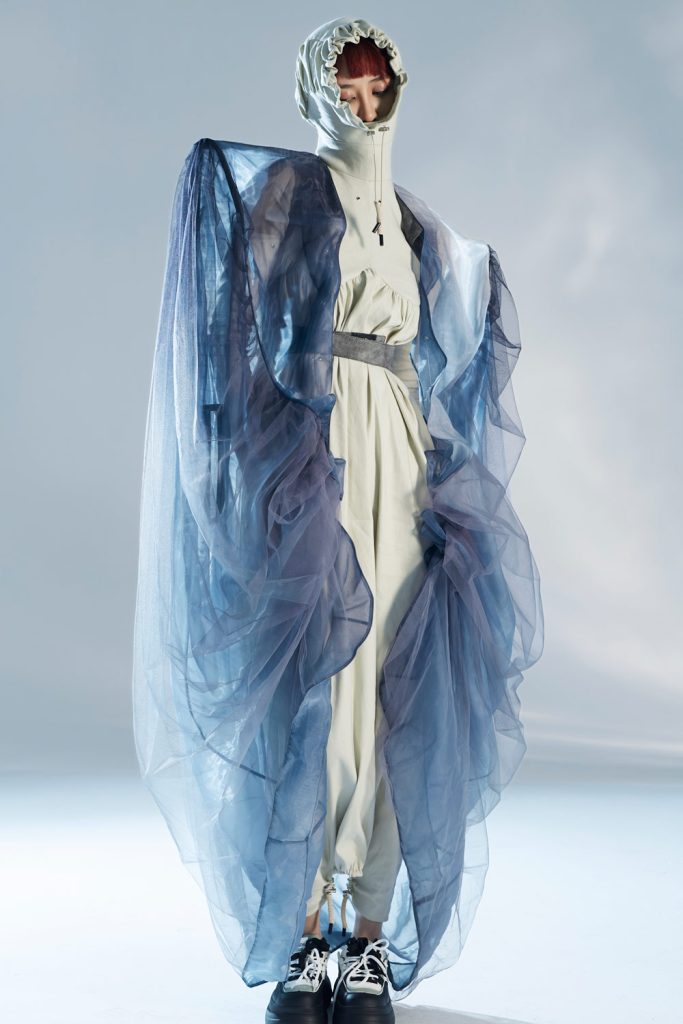 The Kinetic Fashion pieces were presented in a space that simulated underwater lighting and water, providing an immersive experience of an underwater wonderland. The Autumn/Winter Collection "Kinetic Ode to Underwater Wonderland" is inspired by Jason deCaire Taylor's Underwater Museum, deep ecology, ecological relationships, and cyborg philosophy. The collection is created by observing and understanding the ecological crisis we face today. Innovative materials and techniques are used to simulate the fluidity and movement of ocean life. Shape-changing elements in apparel convey the fluidity and beauty of the underwater world.
Siyun Huang will lecture for 45 minutes and answer questions for 15 minutes in the upcoming Computational Design: NEXT 13 online conference.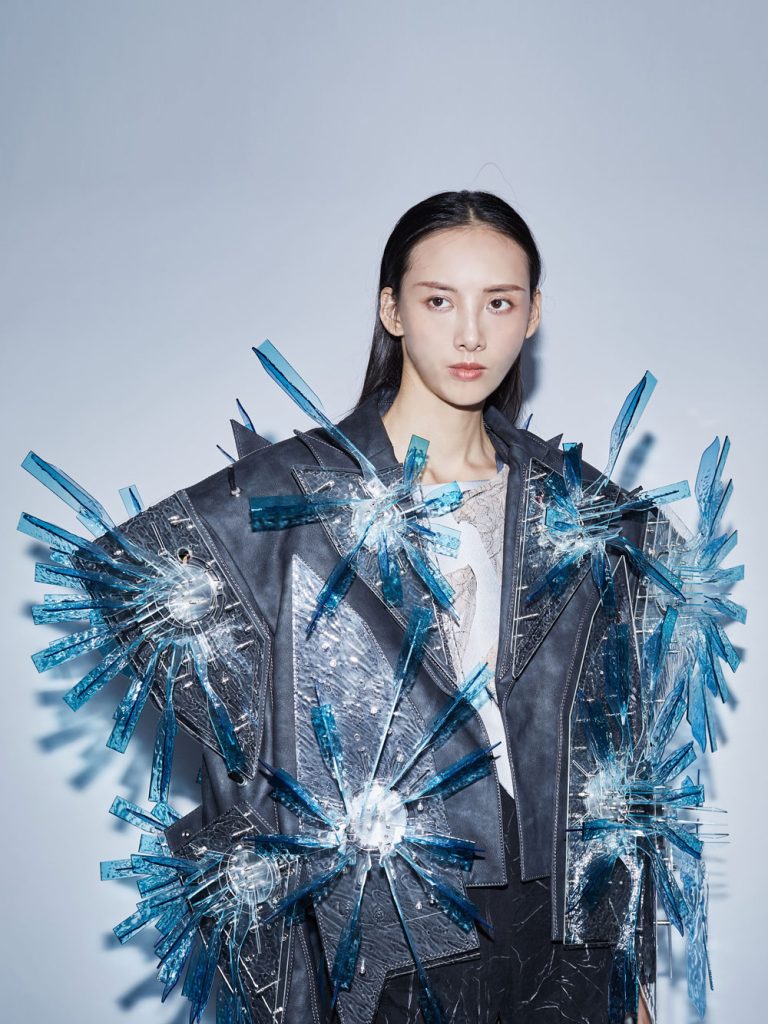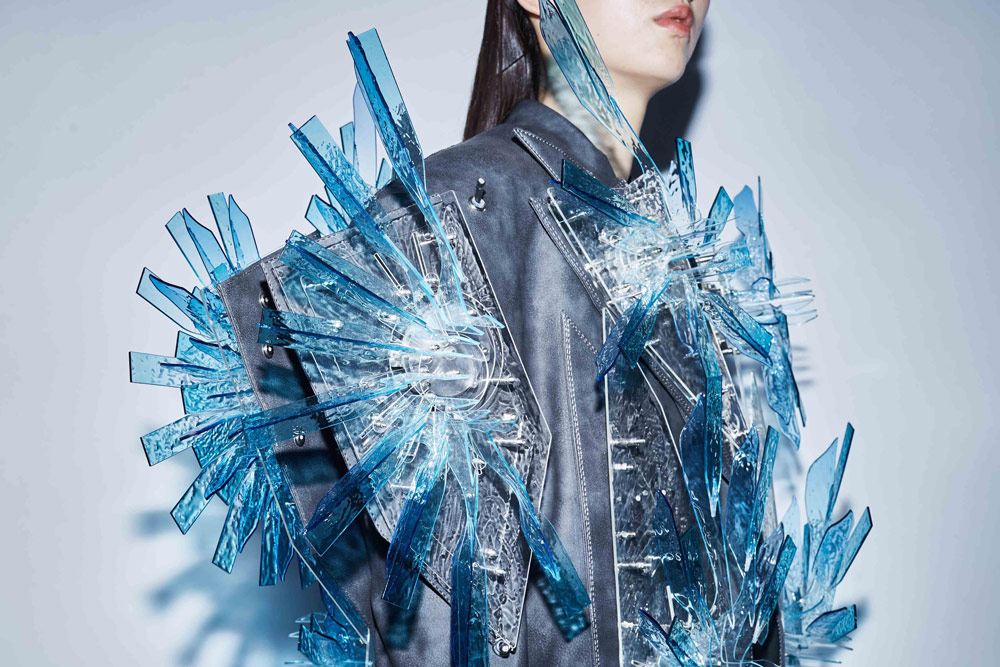 The two kinetic fashion pieces are embedded with sensors that react to their changing environment. The short outfit made of blinking blue acrylic changes its speed of movement as the light increases and decreases. The other cape, made of organza, shrinks its edge to show pleats when the wearer's brainwaves are active. Siyun Huang captures the essence of oceanic life, from the flowing lines of marine life's tentacles to the intricate patterns of the ever-changing shapes of ocean currents. The thought-provoking kinetic outfits interact with wearers and viewers, challenging traditional perceptions of fashion.
The designs inspire a deeper appreciation and understanding of our oceans' inhabitants and the need to protect their natural habitats. Siyun Huang aims to create designs that are both aesthetically captivating and thought-provoking, encouraging a sense of responsibility toward protecting our oceans and the diverse forms of life they support.
The "Kinetic Ode to Underwater Wonderland" Collection is supported by the International Fashion Art Network, the Fashion Art Research Center of Central Academy of Fine Arts, Beyond Fashion (Beijing) Art Development CO., LTD, and OUTPUT.