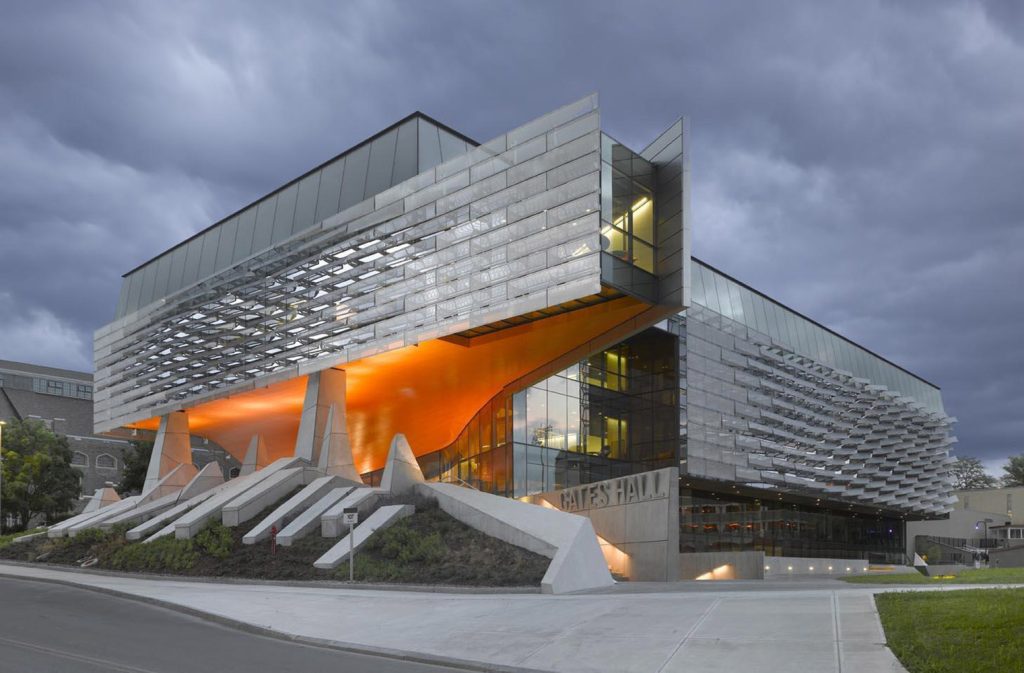 Morphosis Architects designed Gates Hall, which is adjacent to the historic Barton Hall and Hoy Field, re-energizes a previously underutilized campus corner, creating a new campus gateway and frontage. The building's cantilevered entry canopy, covered in vibrant stainless steel panels, covers an outdoor plaza and student social space defined by native landscaping and sculptural forms. The angular weave of the performative steel skin wraps the exterior façade, shading interior classrooms and creating a continuously dynamic and transformative surface. Using advanced digital modeling tools to design the pattern, geometry, and details of the skin demonstrates computing's profound impact on the arts and sciences.
Gates Hall is a new computer science facility for Cornell University students in Ithaca, New York. Morphosis Architects designed the structure, which includes Zahner bespoke systems for the soffit, internal entry foyer, and exterior facade. The Bill and Melinda Gates Building is a specialized building for Cornell University's Computer and Information Science (CIS) program.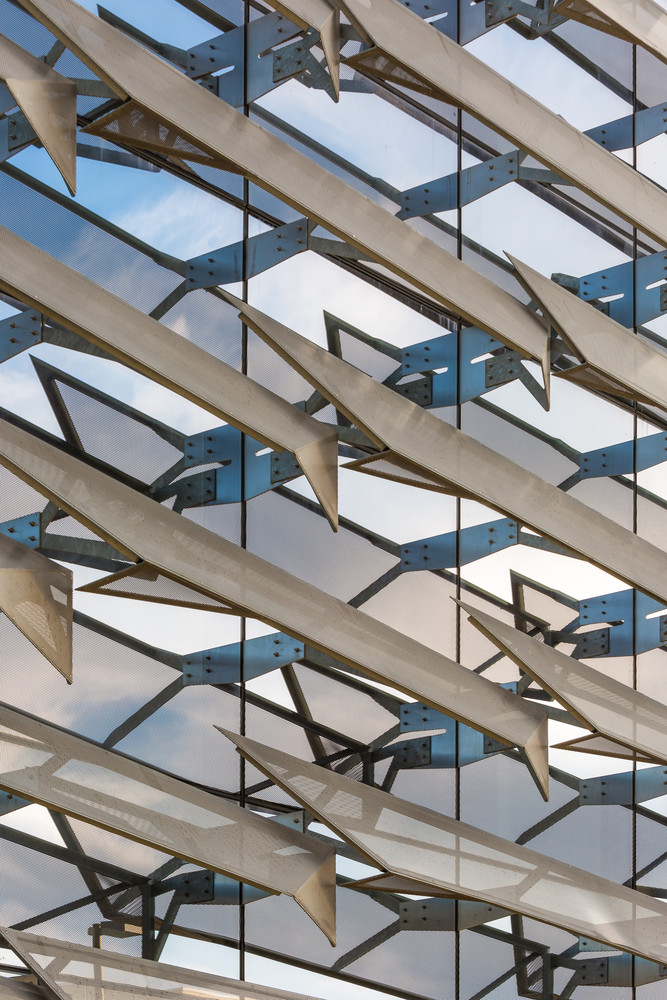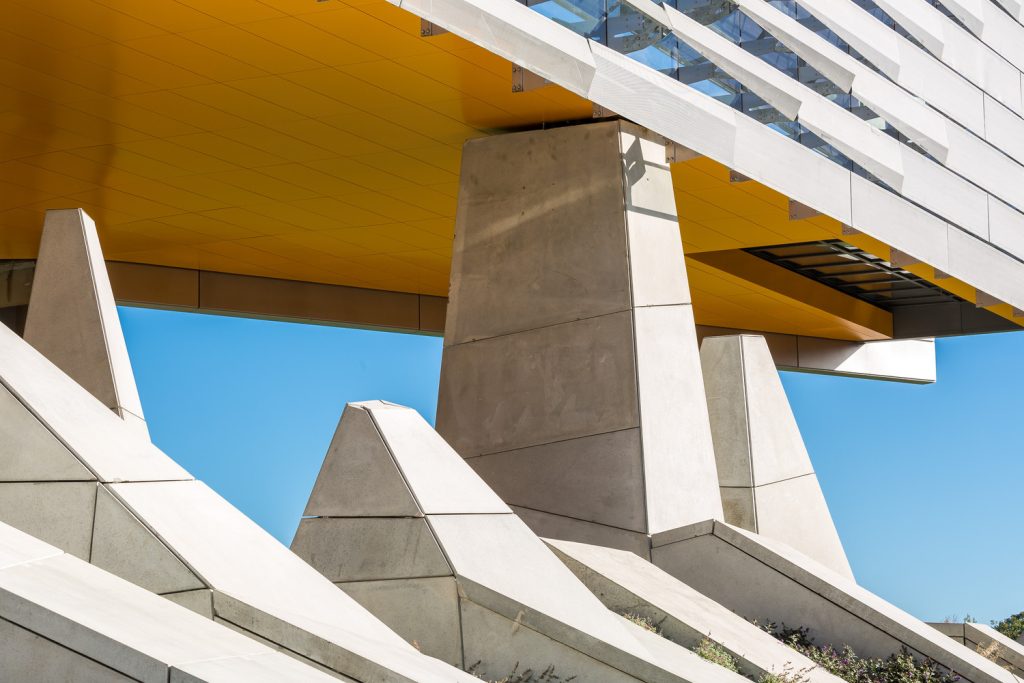 The building program encourages chance social and academic interactions, extending education beyond traditional classroom settings. The building's primary circulation is organized around a glazed atrium on the west side, where a full-height glass facade, skylights, and an interior envelope of fritted glass reveal a hub of activity on all floors. The atrium, surrounded by informal study and collaborative spaces, provides literal and visible connections across disciplines. Regular alcove spaces in the corridors facilitate encounters and impromptu charettes, where the floor-to-ceiling glazing lining classrooms and offices transform into a transforming canvas for graphics, blackboard equations, and casual notes.
Cornell's commitment to environmental stewardship is reflected in Gates Hall's integrated sustainability systems, which employ a variety of strategies to create healthier environments, reduce energy consumption, and preserve natural resources. Gates Hall was designed with ample daylight penetration in mind, and it employs openness and transparency to create work environments that are healthier for students, both physically and mentally. Gates Hall uses 30% less energy than a typical academic building due to its high-performance glass façade, perforated metal shading screens, and mechanical system that uses campus lake-source cooling. Local/regional, recycled, and renewable building materials are used throughout the building to reduce the environmental impact of construction.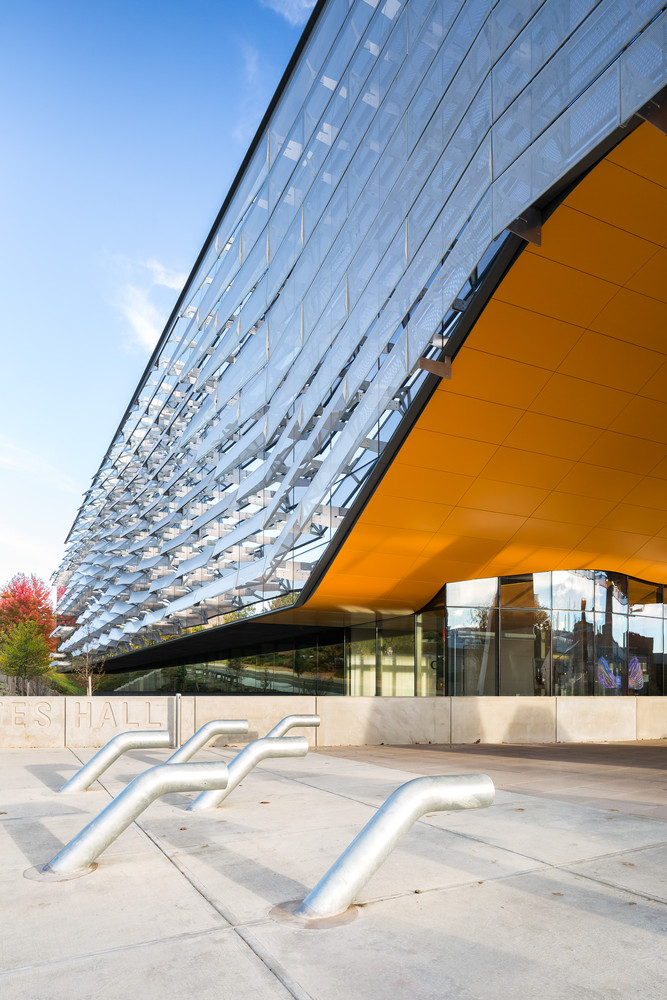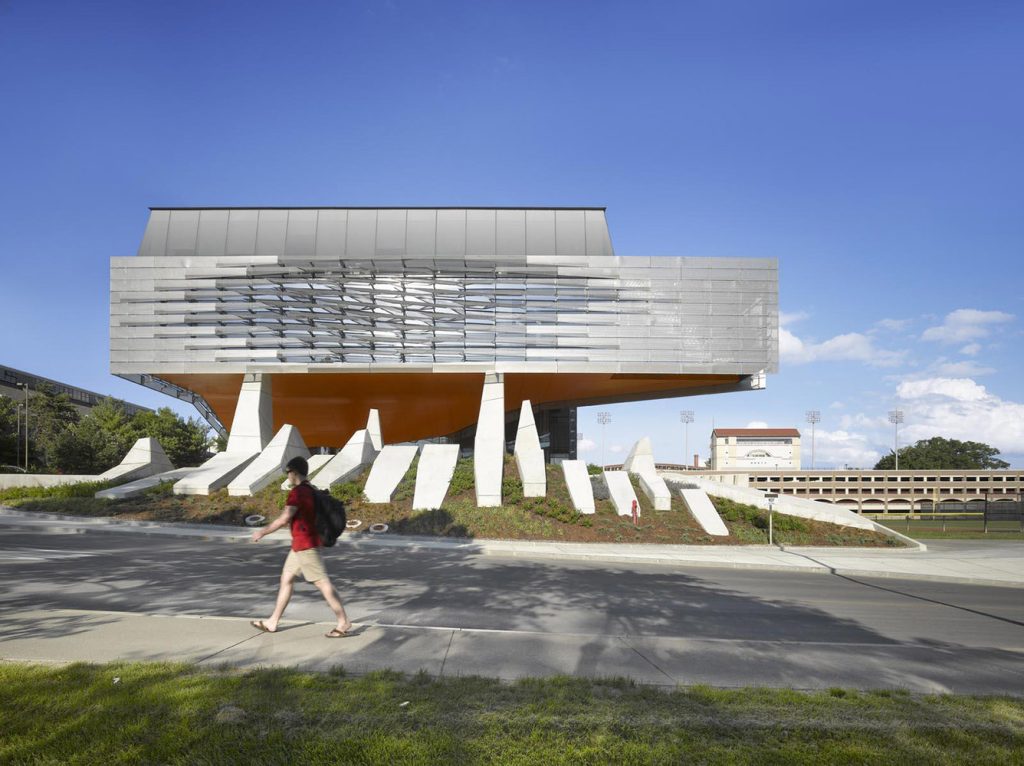 Project Info
Architects: Morphosis
Area: 9425 m²
Year: 2014
Manufacturers: C.R. Laurence, Lutron, Pilkington, Vitro®, Wilkhahn, DuPont, Erco, Interface, Acor, Assa Abloy, BESAM, Besam, Carlisle SynTec, Cooper Lighting, Cornell, CornellCookson, Erie Architectural Products, Filtrine, Formica, Glidden, +23
Acoustical Consultant: Shen Milsom & Wilke
General Contractor: Welliver
Civil Engineer: Code Consultants Professional Engineers
Landscape Architect: Code Consultants Professional Engineers, Morphosis Architects
Geotechnical Engineer: John P. Stopen Engineering LLP
Lighting: Syska Hennessy Group
MEP Engineer: Syska Hennessy Group
Construction Management: Welliver
Fire Protection: Syska Hennessy Group
Structural Engineer: Thornton Tomasetti
Specifications: Construction Specifications
Code Consultant: Code Consultants Professional Engineers
Audiovisual/It Consultant: Shen Milsom & Wilke, Inc.
Facade Consultant: Thornton Tomasetti
Sustainability: Davis Langdon
Façade Construction: Zahner
Client: Cornell University
Site Area: 1.3 Acres
Cost Estimator: Davis Langdon
Audiovisual: Shen Milsom & Wilke
It Consultant: Shen Milsom & Wilke