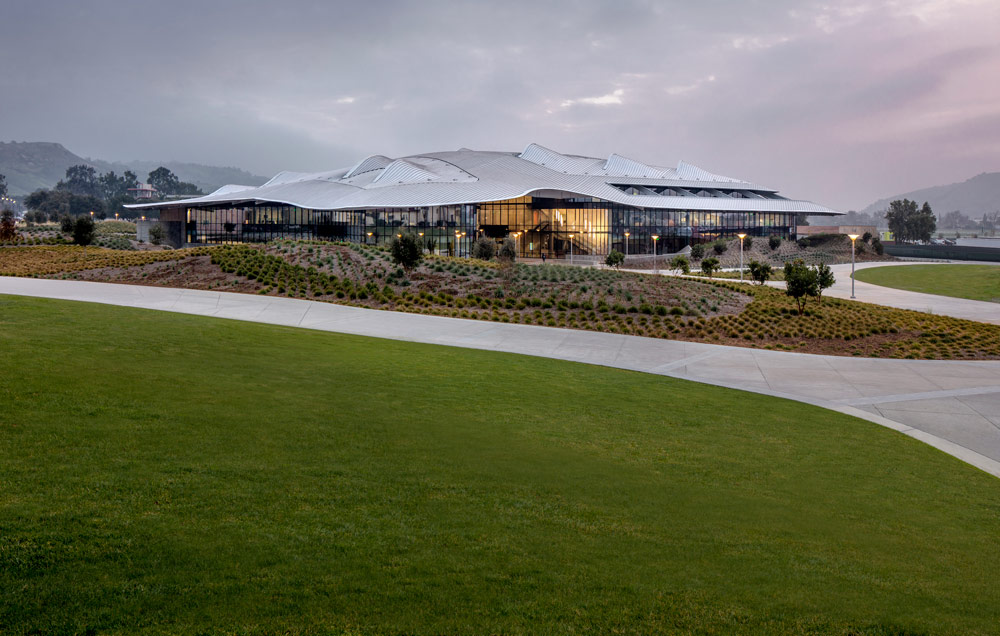 The Student Services Building (SSB) at California State Polytechnic University, Pomona (Cal Poly Pomona) in Los Angeles facilitates enrollment, registration, financial aid, cashiering, and prospective student services into easily accessible, one-stop service centers adjacent to their supporting administrative functions. The 140,000-square-foot (13000 sqm), two-wing structure accommodates key departments previously located in the existing Classroom, Lab, and Administration Tower and Registration Buildings, as well as in other buildings on campus, and allows for future growth.
In the new, 110,000-square-foot (approx. 10220 sqm), three-story building, the service centers are located on the ground level to facilitate access, increase visibility, and streamline operations for students and staff. Related offices for academic, student, and administrative affairs are arranged on the second level to support the services below and encourage collaboration among different departments and divisions through shared conference facilities, kitchen areas, and break rooms. Offices for the university president, provost, and university advancement are situated on the third floor. A two-story, 30,000-square-foot (approx. 2800 sqm) wing across a shaded pedestrian breezeway houses the veteran resources center, orientation, and four multi-purpose rooms to accommodate conferences, meetings, and training functions on the ground level; human resources, as well as a staff, faculty, student customer service centers, are on the second level.
Design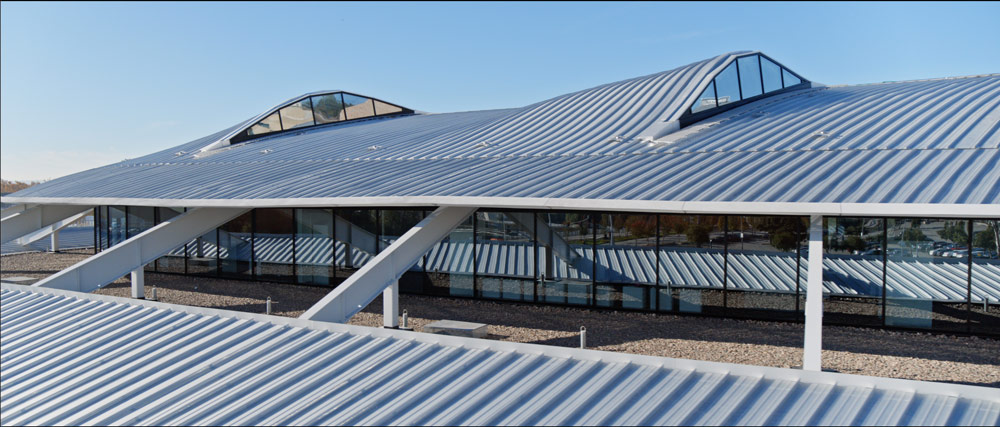 The 140,000-square-foot (approx. 10220 sqm) Cal Poly Pomona Student Services Building, located about 30 miles east of Los Angeles, was designed by CO Architects. As the school's gateway facility, SSB welcomes matriculating students who register for classes and apply for financial assistance, prospective students and their families who meet for campus tours, and alumni who are active members of the campus community. The SSB is capped with an undulating, standing-seam aluminum roof that spans two independent buildings designed by CO Architects.
This defining feature's design and orientation are solely driven by performance and function, with the goal of optimizing energy management, maximizing sunshine, and providing views of the surroundings. The architects designed the curving building's roof as the key performance driver in order to attain an advantageous Energy Use Intensity (EUI) of 31 (the average is 65). The two-acre roof serves as the primary shade device in the arid heat. To optimize the roof shape, decrease energy loads for lighting and cooling, and maximize user visual and thermal comfort, the architects employed comprehensive daylight, glare, and solar heat-gain study modeling. The project has received LEED Platinum certification.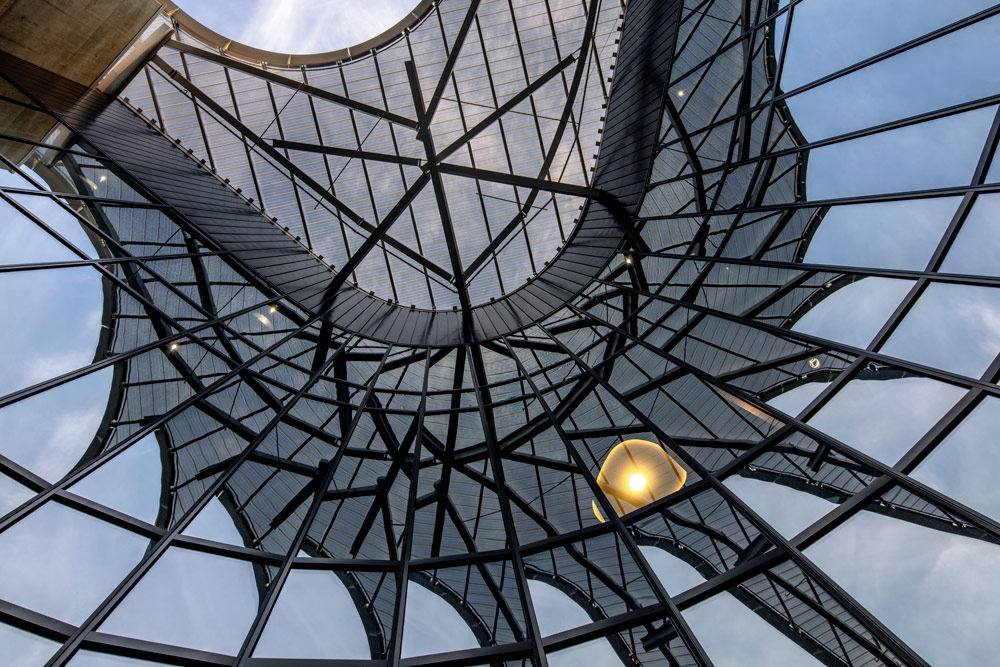 The 90,000-square-foot (8400 sqm) roof's perforated metal overhangs vary from five to 28 feet deep (depending on orientation) to protect the aluminum-framed, low-e reflective glass exterior wall from the sun, filter dappled sunlight, and optimize daylight to the interiors, in addition to shading the open pedestrian path between the complex's two wings. Custom-shaped panels were created onsite using roll-form technology to achieve the complicated curvatures of the standing-seam roof. To hold the panels in place on the roof, roughly 19,000 attachment clips were necessary.
The standing seams' consistent East-West alignment offers the roof character and grain while allowing skylights to deliver extra daylight to the top floor. Standing-seam roofs are rarely as intricate. This creative use is consistent with CO Architects' approach to leveraging digital technology to explore, evaluate, and optimize solutions, as well as to ease the transfer from design to manufacturing and installation via BIM.
The main, three-story structure is separated from the two-story wing housing the multi-purpose center and human resources department by a wide, open breezeway. This arcade connects the main parking lot to the student union and library and is meant to seem like a shaded outdoor street lined with seating and gathering amenity areas, linking students to the center of campus.
The open and welcoming three-story lobby staircase encourages vertical circulation, cooperation, and spontaneous discussion among building inhabitants. The main structure, which houses student services and the majority of the administrative offices, has 62-foot-wide floor (18 meters) plates to maximize the amount of sunshine reaching the interior, which features open offices that run from one side to the other. Modular design and smart positioning of building core parts (shafts, utility rooms, bathrooms) provide flexible and readily reconfigurable space. Interior finishes are accentuated for easy wayfinding, with color identifying separate departments through paint and crushed recycled plastic acoustical baffles.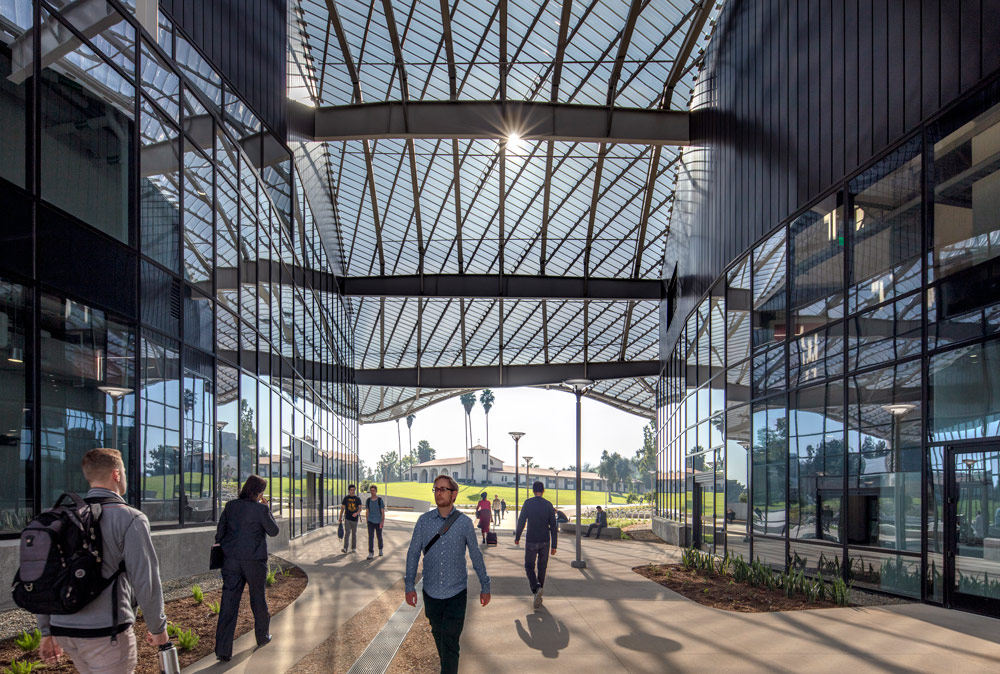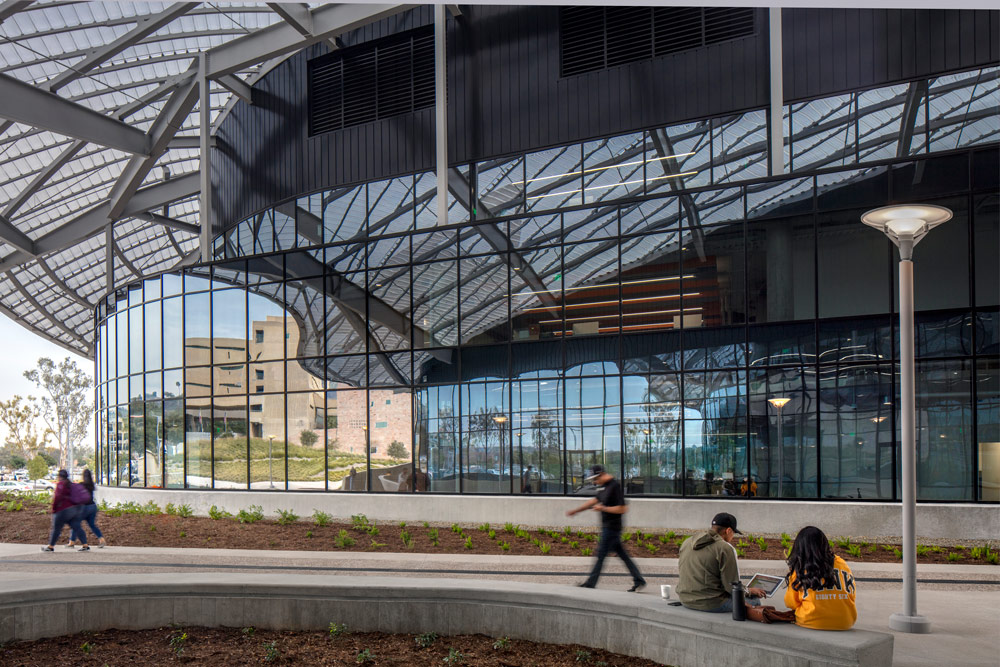 Views from within the facility open to a central courtyard that provides light to the internal rooms. This outdoor space has 50-foot-tall trees (when fully mature) and courtyard seating as a spillover place for students waiting to access service centers or meet with university employees. Conference rooms are carefully placed around the courtyard to give users with open vistas and natural light, as well as to encourage collaborative usage and maximize utilization. The university president's and provost's offices are on the top level, in an open, loft-like area with high ceilings, clerestory windows, and terrace access near all staff breakrooms.
The lighting fixtures are all LED, and the horizontal distribution of air ducts and cable trays has been properly designated to eliminate conflicts, enhance efficiency, and keep access straightforward. Concrete construction, in addition to passive, mechanical, and lighting solutions, offers thermal mass to moderate peak load demand and reduce energy usage for cooling. The solar-optimized design has the ability to provide natural light workstations for the bulk of the eight-hour workday, decreasing energy loads while improving wellness benefits.
Landscape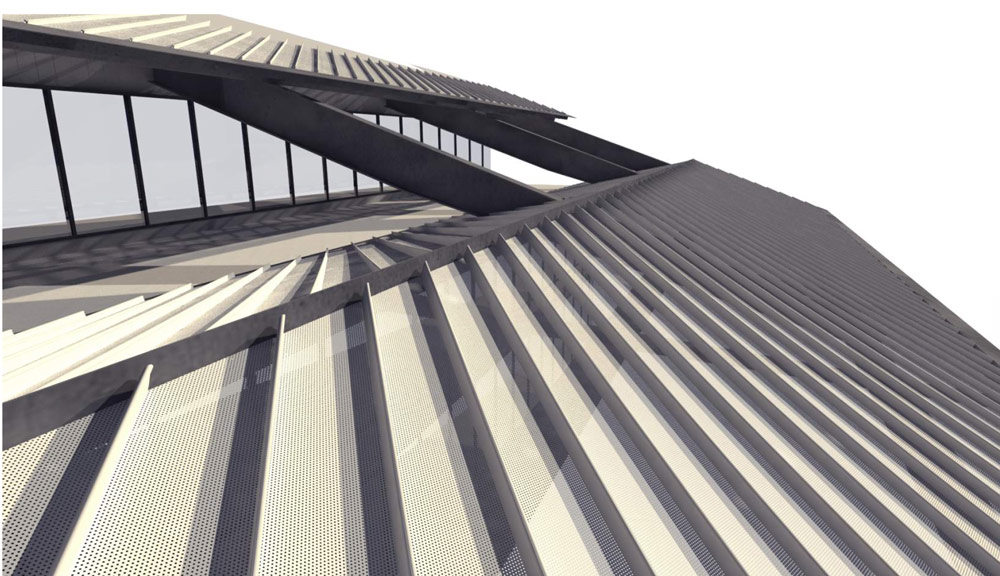 Spurlock Landscape Architects has taken a master planning approach to this design to create a unified vision to make the East Campus area more functional, help coordinate future work in surrounding areas, and build overall cohesiveness. The organic nature and shape of the building—along with landscaped berms planted with drought-tolerant grasses—mimic the surrounding foothills and create the impression that the building is growing out of the landscape.
Cal Poly Pomona adjoined by the undulating roof features a wide central plaza at ground level. This central node has seamlessly weaved itself into the major campus circulation system. Reflecting a dynamic shadow pattern from the roof canopy above, the space serves as an outdoor respite, a lobby space, and a place to pause—to make a call, meet a friend, or enjoy a coffee. It is large enough to accommodate small food carts and offers areas for gatherings of various scales, as well as break-out spaces for students, staff, and visitors. Combined with a sturdy plant palette, custom wall-mounted benches, and ample shade, the plaza offers a welcoming student services experience.
A dual-purpose decorative metal band cuts through the central plaza. In addition to adding an artistic gesture, it channels stormwater and roof runoff to a vegetated bioswale, where the water slowly infiltrates into the site's capture system. This reclaimed water is used to irrigate the new landscape, unburdening the campus's potable water system.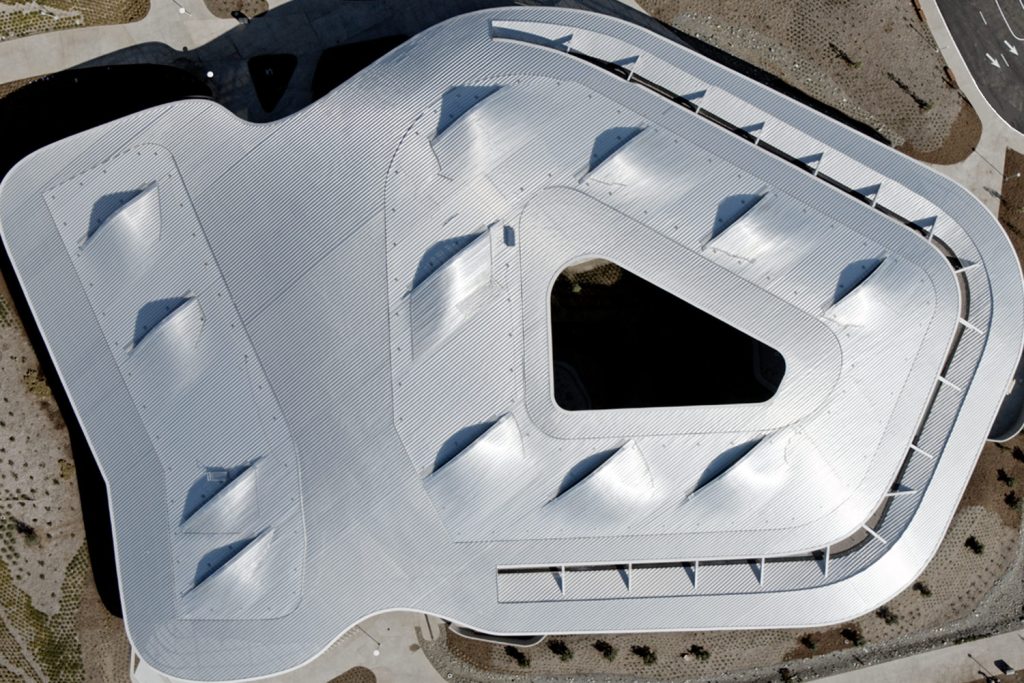 For this project, CO Architects' technology department created an interactive augmented reality (AR) app to aid communication with Cal Poly Pomona and optimize both time and budget restrictions on the project. Developed through experiments with the AR technology behind Snapchat's popular filters, the self-guided app offered an in-depth, digital exploration of the building's complex roof design and interior programming. iPad-compatible, the mobile app used the device's camera to overlay a virtual model of the building onto any physical space. It provided stakeholders and potential users with a visually engaging 3D platform to preview the project's layout, lighting, circulation, programming, sustainability, and other building infrastructure.
Beer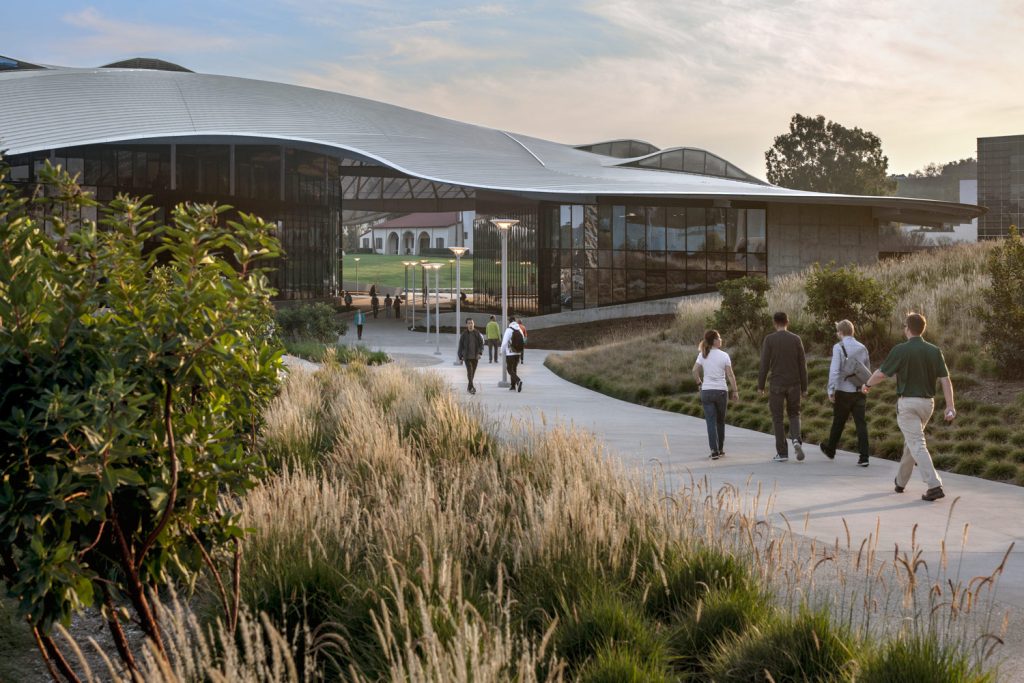 To commemorate the completion of the SSB, CO Architects collaborated with Innovation Brew Works, the Cal Poly Pomona campus-affiliated brewery, to create a unique beer with the project's design concepts in mind. Brewed in late fall at the end of harvest, the team chose to create a Saison-style beer (farmhouse ale) with a hoppy, West-Coast kick using local ingredients, such as black sage and honey from the campus. The brew was called "Groundscraper" as a nod to the building's horizontality. Special bottles with custom-designed labels were distributed by CO Architects to the complete project team as a thank-you for a successful, collaborative project. "Groundscraper" beer is available for purchase at the brewery's tap room.
Project Info
Affiliates: Construction Manager: C.W. Driver, Inc.
Landscape Architect: Spurlock Landscape Architects
Architecture Firm: CO Architects
Architect: Paul Zajfen, FAIA, Design Principal
Civil Engineer: KPFF Consulting Engineers
Structural Engineer: John A. Martin & Associates
MEP Engineer: Integral Group
Lighting Designer: KGM Architectural Lighting
IT Consultant: Waveguide
Cost Estimator: The Capital Projects Group
LEED: Atelier Ten
Glazing Contractor: Northwestern Industries
Glazing: Guardian Glass
Lighting Designer: KGM Architectural Lighting
Metal Roof Panel Fabrication: Kalzip
Curtainwall: Kawneer Co.
Photographer: Bill Timmerman