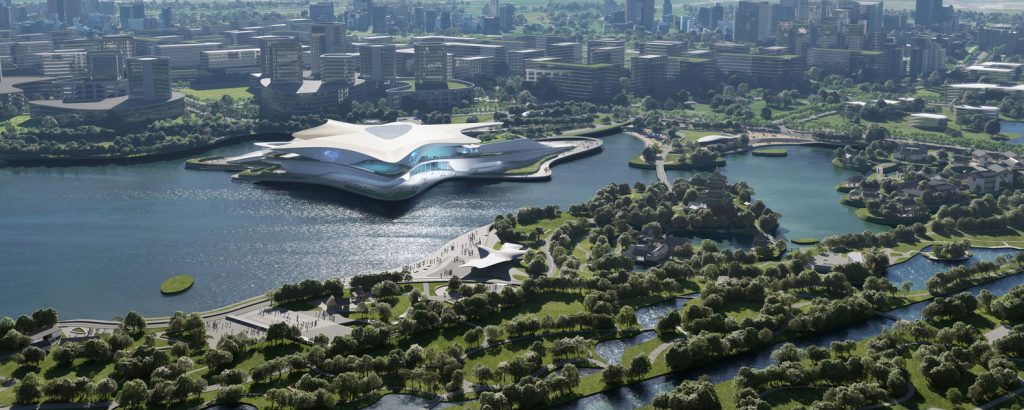 The world's largest science fiction event Worldcon will take place in the Chengdu Science Fiction Museum.
Designed by Zaha Hadid Architects, the construction of Chengdu Science Fiction Museum is located on the banks of Jingrong Lake in Science and Technology Innovation City, Pidu District, Chengdu. Its design combines with the natural landscape of the lakeshore to define activity nodes connected by sidewalks. Visitors can walk from the city and nearby subway stations to The surrounding park and then enters the center of the building; a journey of discovery interweaves multiple levels of interior spaces and outdoor plazas, linking the museum's exhibitions, educational facilities, cafés, and other amenities.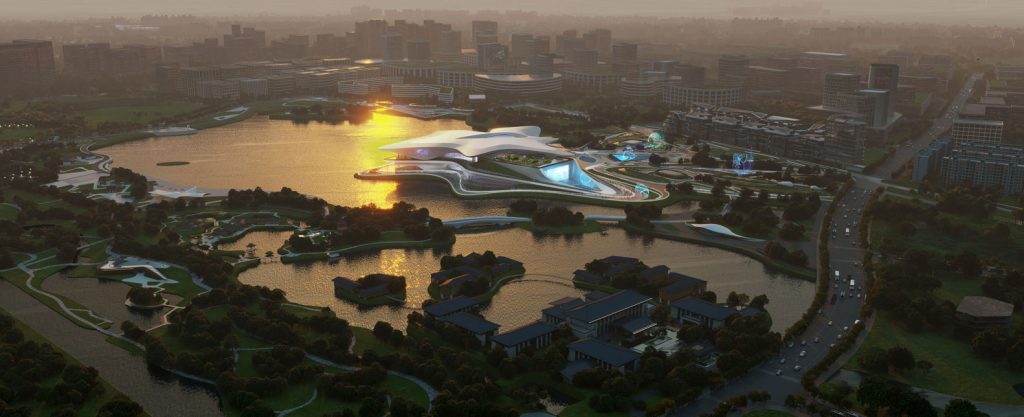 While responding to the unique site conditions, the design combines clarity and functionality, appearing to float from the lake. The fluid form of the roof radiates outward from a central point inside, like a nebula centered on a star that is expanding outward, dispersing the energy field to many different areas; visitors will be drawn into a journey connecting life experience and imagination door of power.
Surrounded by rolling mountains and lush forests, Chengdu has developed a unique local culture throughout its rich history, including the famous Sanxingdui Civilization, whose bronze carved masks unearthed from the Sanxingdui site have inspired people's curiosity about mystical visions and appearances. The imagination of star civilization. As the capital of Southwest China's Sichuan Province, Chengdu has developed into a new first-tier city with a population of more than 20 million and has become a major global center for scientific innovation and research.

Chengdu Science Fiction Museum covers an area of ​​59,000 square meters, including exhibition halls, theaters, conference halls, and supporting auxiliary spaces. It has extremely high flexibility and can hold a wide variety of exhibitions, conferences, and events. The central atrium with excellent lighting and the huge windows facing the spectacular Xiling Snow Mountain connects the interior space of the museum with the surrounding environment.
The design of the museum complies with the highest three-star standard of China's green building development plan. With the help of precise digital modeling analysis, the efficiency of composition, site conditions, solar radiation and structure has been maximized. Natural mixed ventilation optimizes Chengdu's mild subtropical climate, providing year-round comfort for visitors and staff. A photovoltaic power generation system embedded in the museum's large roof helps meet the building's energy needs. The dimensions of the roof have been calculated to provide shade to the glass facade in summer.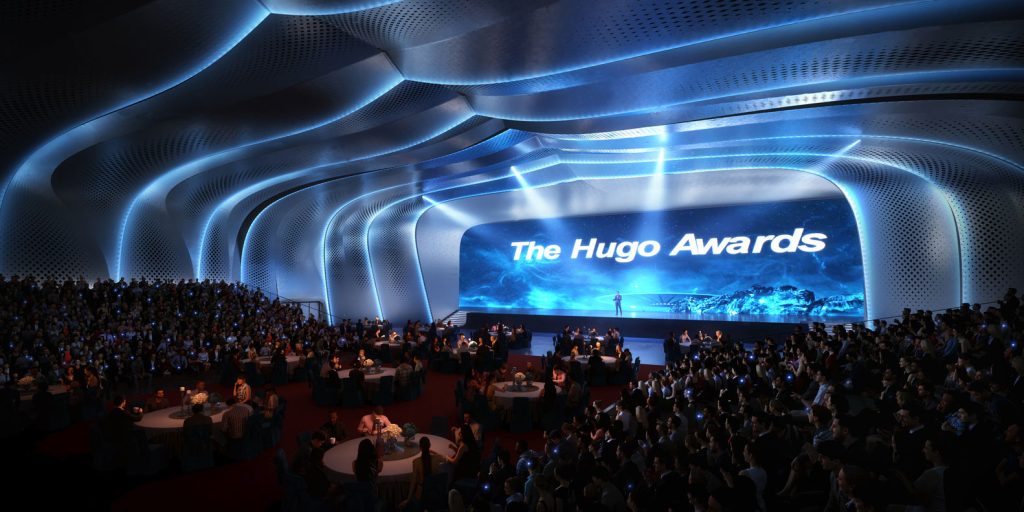 The landscaping incorporates native plants that capture rainwater for natural filtration and reuse, making Jingrong Lake an integral part of Chengdu's sustainable drainage system, which will help mitigate flooding and increase biodiversity across the city
Connecting the past, present, and future, Chengdu Science Fiction Museum will become a vibrant innovation center and urban gathering place. Later in the year, the museum will be used as the main venue for the World Science Fiction Convention and host the Hugo Awards.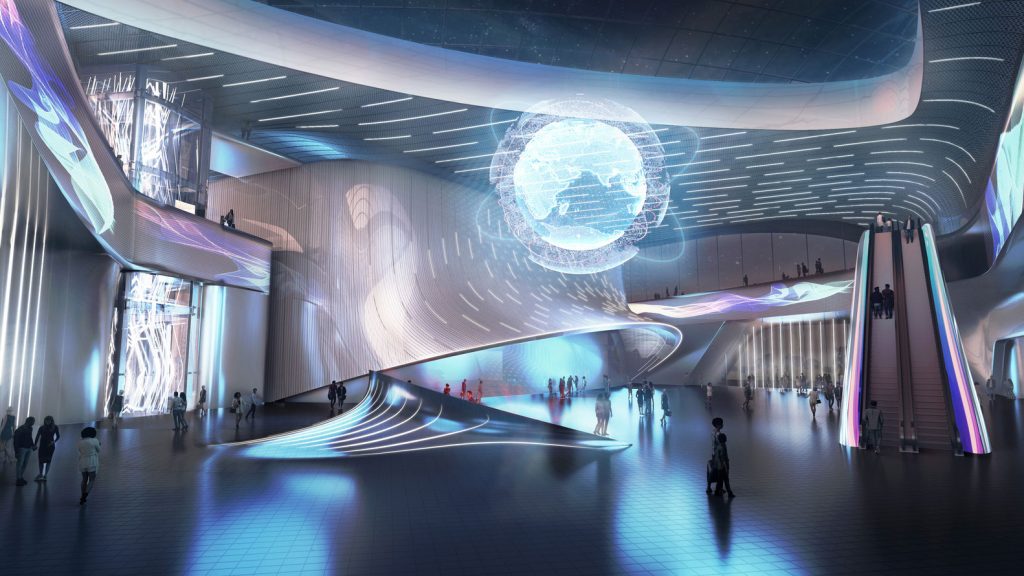 Project Info
Project: Chengdu Science Fiction Museum
Location: Chengdu, China
Date: 2022 / 2023
Client: Chengdu Science and Innovation City Investment and Development Co.
Status: Under Construction
Size: 59,000m2
Architect: Zaha Hadid Architects (ZHA)
Design: Patrik Schumacher
ZHA Project Directors: Satoshi Ohashi, Paulo Flores
ZHA Project Associate: Yang Jingwen
ZHA Project Architects: Juan Liu, Magda Smolinska
ZHA Project Lead: Sven Torres
ZHA Site Team: Meng Zhao
ZHA Project Team: Andrei Cojocaru, Berkin Islam, Chu Zhou, Hao Wen, Jillian Nishi, Lianyuan Ye, Meng Zhao, Shang Li, Stefan Manousof, Sven Torres, Yang Liu, Yuling Ma, Xiaoying Li
ZHA Competition Project Directors: Satoshi Ohashi, Paulo Flores
ZHA Competition Associate: Yang Jingwen
ZHA Competition Project Architects: Juan Liu, Magda Smolinska
ZHA Competition Team: Andrei Cojocaru, Enoch Kolo, Jillian Nishi, Juan Montiel, Lianyuan Ye, Meng Zhao, Nan Jiang, Nastasja Mitrovic, Stefan Manousof, Yanran Lu, Yimeng Zhao, Yuling Ma
ZHA Competition Sustainability Team: Aleksander Mastalski, Carlos Bausa Martinez
Competition Visuals: ATCHAIN
Local Architect: China South West Architecture Design Institute
Structural Engineers: China South West Architecture Design Institute
General Contractor: China Construction Third Engineering Bureau Group
Façade Engineering: China South West Architecture Design Institute
M&E Engineering: China South West Architecture Design Institute
Fire Engineer: China South West Architecture Design Institute
Landscape Consultant: Hangzhou Landscape Design Institute
Project Management: CR LAND