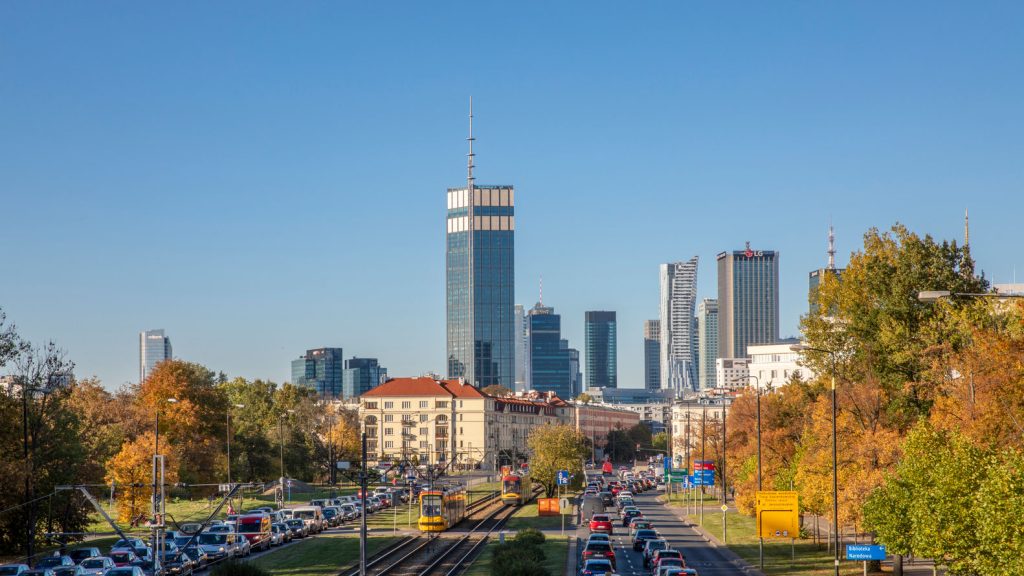 By January 1945, it was estimated that over 80% of Warsaw's urban fabric had been either damaged or destroyed by German and Soviet bombings. Similarly, Warsaw lost two-thirds of its population between 1939 and 1945.
In short: The city did not need repair; it needed to be rebuilt. Two groups with two opinions quickly emerged in this context. One side, which could be called 'monumentalism,' wanted to be rebuilt according to pre-war Warsaw, including the old town, significant buildings such as the Royal Castle, and other monuments. The other side saw a chance to modernize and seek a new progressive and somewhat simplified design language. However, this period did not last for long. "Social Realism was imposed in 1949.
Warsaw's obligatory style for many years to come. It would be epitomized in such architectural projects as the Palace of Culture and Science (1953-56). Some other buildings completed before this mandate [were] rooted in the Functionalist style of the '30s – [such as] the 1950 Moskwa Cinema, [which] seem shockingly modernist." This socialist period saw no value in older 19th-century buildings – even historical buildings rebuilt in the post-war context were taken down again, as in socialist times "[u]rban planners and architects, who before the war had designed nothing more than groups of buildings, could now let their imaginations run free and create entire districts." Throughout this period, it was possible to continue the reconstruction of Warsaw's old town in such a way that in the 1980s, when it was finished, it received UNESCO World Heritage status.
On the other hand, the socialist period, apart from its oppression of Polish national identity and disregard for anything pre-war or religious, brought other problems. "Since 1990, nearly 4,000 addresses have returned to their pre-war owners, their inheritors, or simply those who have acquired the legal rights. This process is problematic for several reasons – most importantly, as these claims often concern land and buildings of public utility, they threaten Warsaw's social fabric."
Between destruction, reconstruction, style, and ownership, Warsaw's urban fabric became full of contrasts, perhaps similar to Berlin. Taking this as a base, in this article, we will ask the question of how Warsaw's urban identity has been developed and expressed in the last ten years through major architectural projects.
1. MOMA Warsaw and TR Warsaw Theatre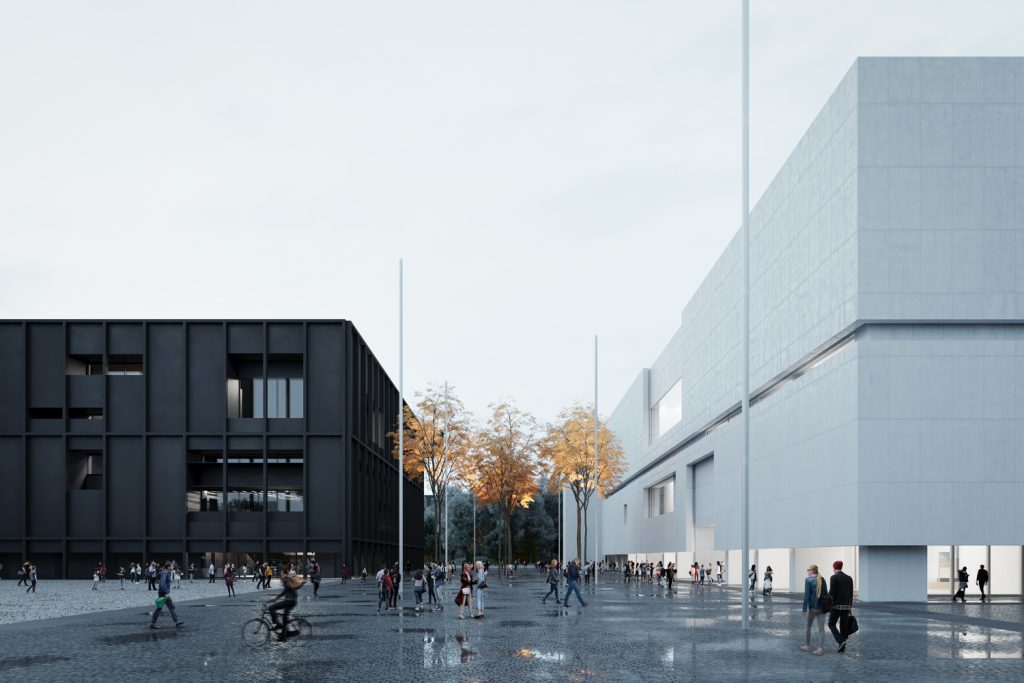 Architect: Thomas Phifer and Partners
Expected to Open: 2023
Arriving in Warsaw's city center by train, one is inevitably drawn to the Palace of Culture and Science. With 237 meters, it is the second-highest building in Warsaw and houses theatres, offices, a swimming pool, cinemas, and museums. However, just at the Eastern bottom of it has been a major construction site since 2019. Here, the new Museum of Modern Art, as well as the TR Warsaw Theatre (Polish: Teatr Rozmaitości; English: Variety Theater), are being built following the design by New York-based studio Thomas Phifer and Partners. The German Architecture magazine Detail states: "A simple formal language, monochrome colors, and a common forecourt connect the two buildings. At the same time, the architects emphasized the autonomy of both institutions, which are set in relation to each other through a dialogue of contrasting features."
Despite the simplistic design of the buildings, both come with their own carefully-designed details: In the middle of the Museum will be an impressive and sculptural staircase serving all of its floors with daylight. The theatre will have space for spontaneous performance in its forum, where big glass doors can be additionally opened. Both buildings have an almost identical floor area of around 20.000 square meters and are expected to be opened in 2023.
2. Temple of Divine Providence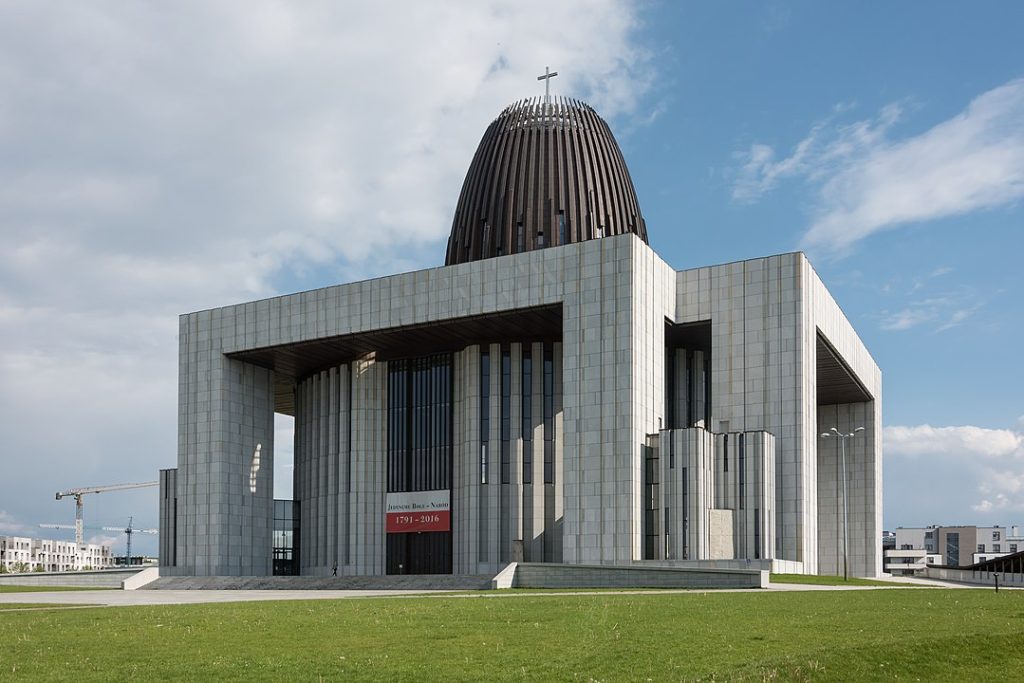 Architects: Wojciech Szymborski and Lech Szymborski
Year: 2016
Arriving in Warsaw by plane, one is tempted to travel into the center as quickly as possible, potentially overseeing new constructions at its outskirts. One such construction in the Wilanów district is the Temple of Divine Providence, which opened in 2016. The building stands at an impressive height of 75 meters – making it the highest (Catholic) church in Warsaw, and its inner round and central nave measures 68 meters in diameter, making space for 4000 worshippers. The design is developed by father and son architectural duo "[…] Wojciech and Lech Szymborski [and it is] a modernist version of Kubicki's original temple, also in a Greek cross plan. […] Architect Jakub Kubicki's church blueprint was in the classicist style, shaped like a Greek cross. The cornerstone of the church was laid in 1792. Then Russia invaded in 1795, causing Poland to be wiped off the map." The often-called 'Giant Lemon Juicer' with its copper dome top was also voted one of Poland's worst buildings in 2016.
3. Brain Embassy Amphitheatre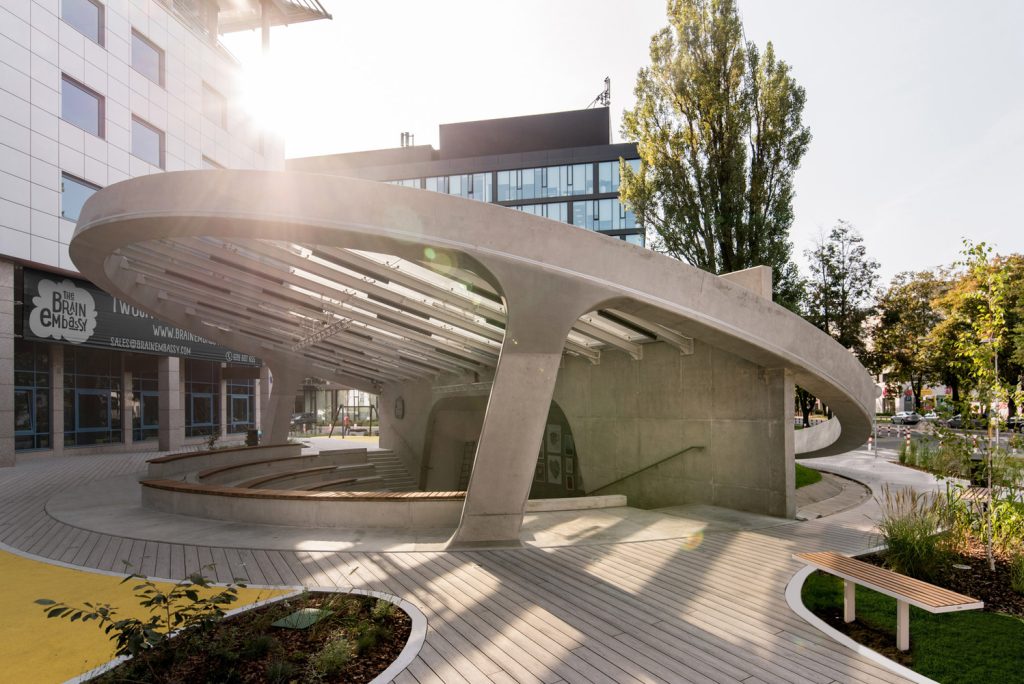 Architects: mode:lina
Year: 2020
Even closer and within walkable distance from the airport stands, since 2020, a little amphitheater. Designboom writes: "Architecture that facilitates positive change through meaningful conversation, that's the concept behind this amphitheater designed by mode:lina. Situated within the city's business district, the 'Brain Embassy Amphitheater' is an open, democratic space dedicated to hosting gatherings and artistic performances." A beautifully carved concrete outer structure with a glass roof blends into the surroundings and can accommodate 140 people at full capacity, and is used as a co-working space.
4. Varso Tower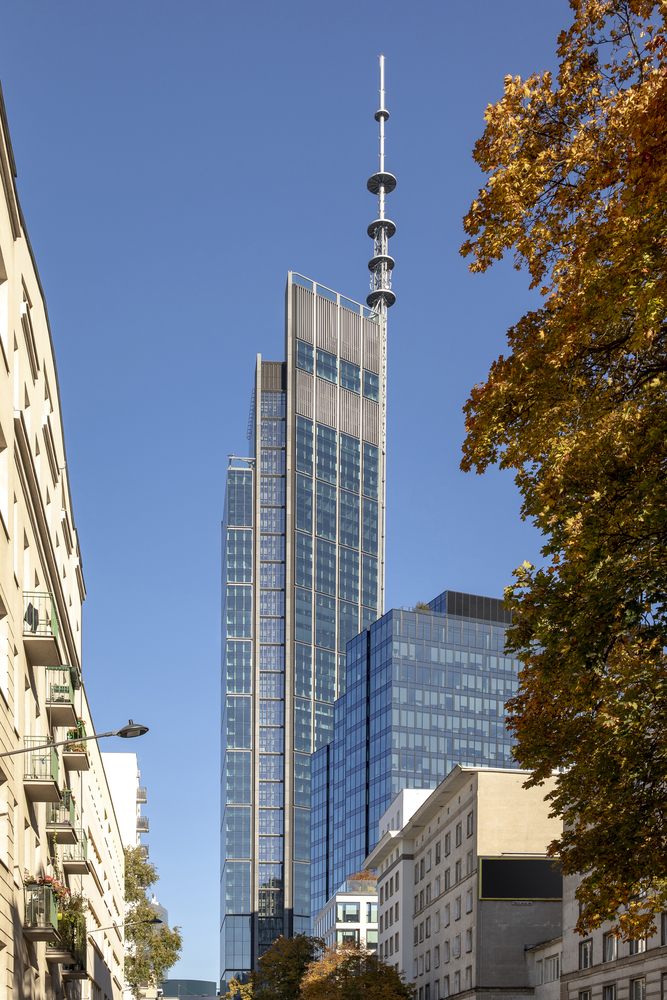 Architects: Foster + Partners
Year: 2022
Moving from small-scale to big-scale architecture, last year's completed Varso Tower is the highest building in Warsaw, Poland, and the European Union. From the public plaza outside into a glassed green plaza with full-height trees inside, the building reaches 310 meters into the sky. On level 49, there is a terrace bar – the "highest garden" in Warsaw – and on level 53, there is a viewing platform. The minds behind the project, Foster + Partners, have already designed another office space in Warsaw, the so-called Metropolitan, and additionally also won the competition for a new mega airport between Warsaw and Lódz.
5. Factories, Power Plants, and Market Halls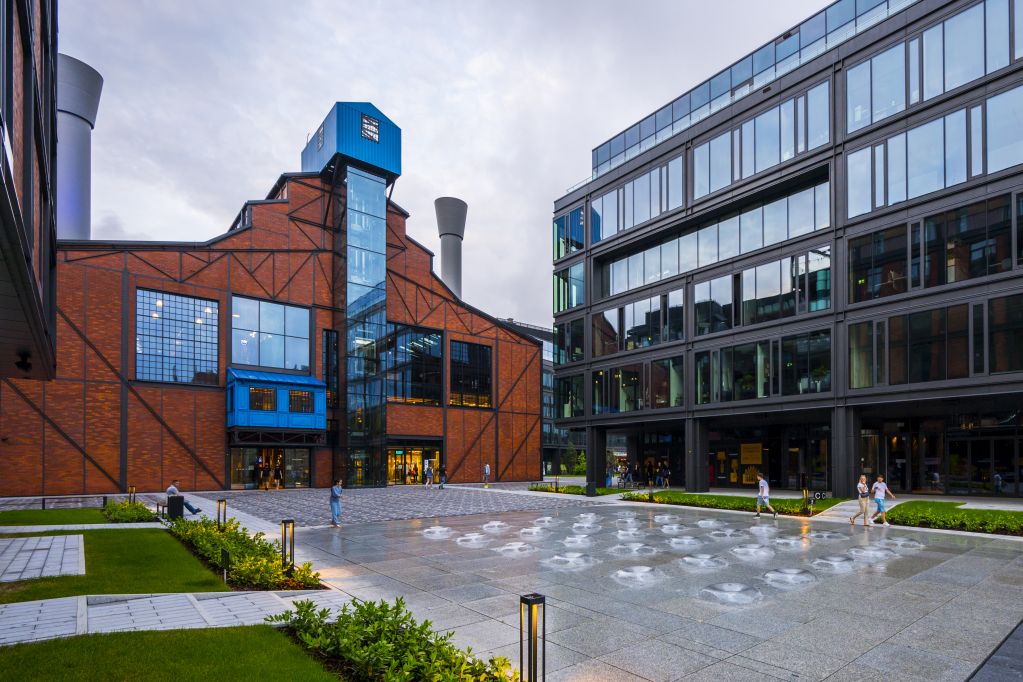 Throughout Warsaw, different formerly industrial complexes can be found. Starting in the city center on the left side of the Vistula River are the Hala Koszyki and the Elektrownia Powiśle power station. Hala Koszyki is a market and food hall that originally opened in 1909. It was designed by Polish architects Juliusz Dzierżanowski and Zygmunt Otto. Together with the Hala Mirowska, these were the first indoor shopping and food courts in Warsaw.
In 2016, The market hall with its Art Noveau facade was redesigned by JEMS Architekci, keeping original structural elements. Not too far from both market halls, moving to the Vistula River is the Elektrownia Powiśle power station located. The renovation of the power plant and the area won various national and European architecture awards and houses now restaurants, bars, and various smaller shops. Quoting a local tour guiding website, the developers have kept "[b]rick walls, 30-meter high chimneys, a shaft (now glass) with a lift used to transport coal, a huge steel structure supporting the attic. In the industrial landscape, you can find worn switchboards or authentic insulators used as lamp components. If you are careful, you should also find traces of the Second World War."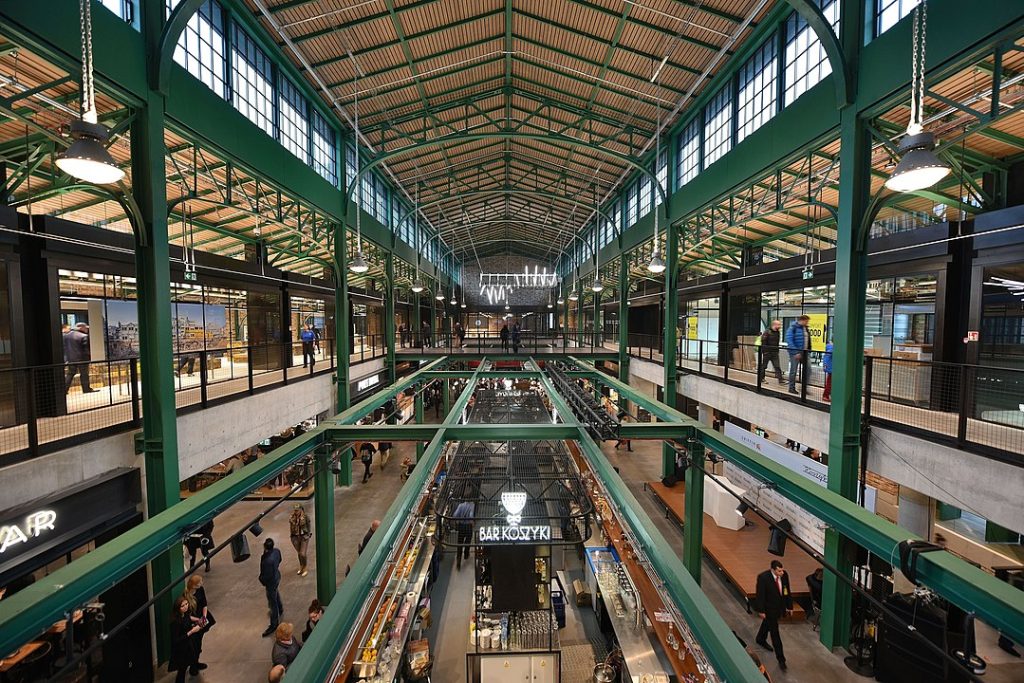 Lastly, a similar refurbishment of formerly industrial spaces nowadays turned into public and semi-public urban spaces through intense investments can be found across the river in the Praga district. This district, a few years ago considered one of the more dangerous parts of Warsaw, is home to the Centrum Praskie Koneser – a former Vodka factory that still houses a Vodka Museum. Also, here, various former industrial elements are kept and can be spotted throughout the complex. These four examples show that Polish architects are often confronted with reusing and refurbishing existing older structures and that there is some sort of pride in keeping these structures alive despite their different functions nowadays, given that so many historical buildings were damaged or destroyed.
6. The Sprzeczna 4 Apartment Building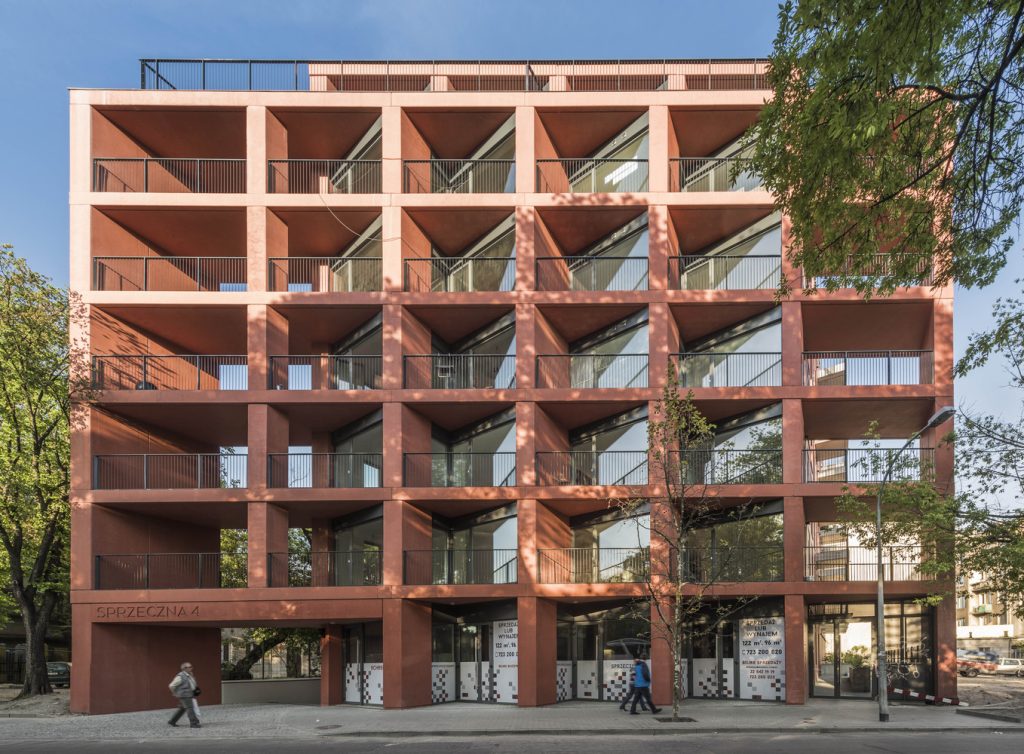 Architects: BBGK Architects
Year: 2017
Being in the Praga district across the Vistula River, it is worth having a glance at a new apartment building on Sprzeczna Street. The local architectural practice BBGK erected one of the first prefabricated residential buildings since Poland's socialist era 30 years ago. BBGK told Dezeen that the seven-story building "[…] had been purposefully constructed on a plot seemingly not fitting the stereotype of prefabrication: small, irregular, within a tight 19th-century frontage development. […] "[A]ll of the available prefabrication technologies have been used: colored architectonic concrete, imprints and reliefs, electric wiring systems integrated with the walls, heating ceilings, and many more." The building and all its details – such as the Mermaid of Warsaw – is a fitting example of how prefabricated construction might find its way back into contemporary architectural planning, as we have explored in a previous article on Parametric Design and Prefabrication.
The list of contemporary architecture in Warsaw could go on. To name a few more examples worth exploring: The newest reconstruction of the Warsaw Rotunda, the POLIN Museum of the History of Polish Jews, and the TARAS Skatepark and Pocket Park. All of these testify to a simple yet elegant design approach of local architects, who do not demand a 'blank canvas' for their designs and plan into existing urban nichés as well and often rethink older, more historical structures.