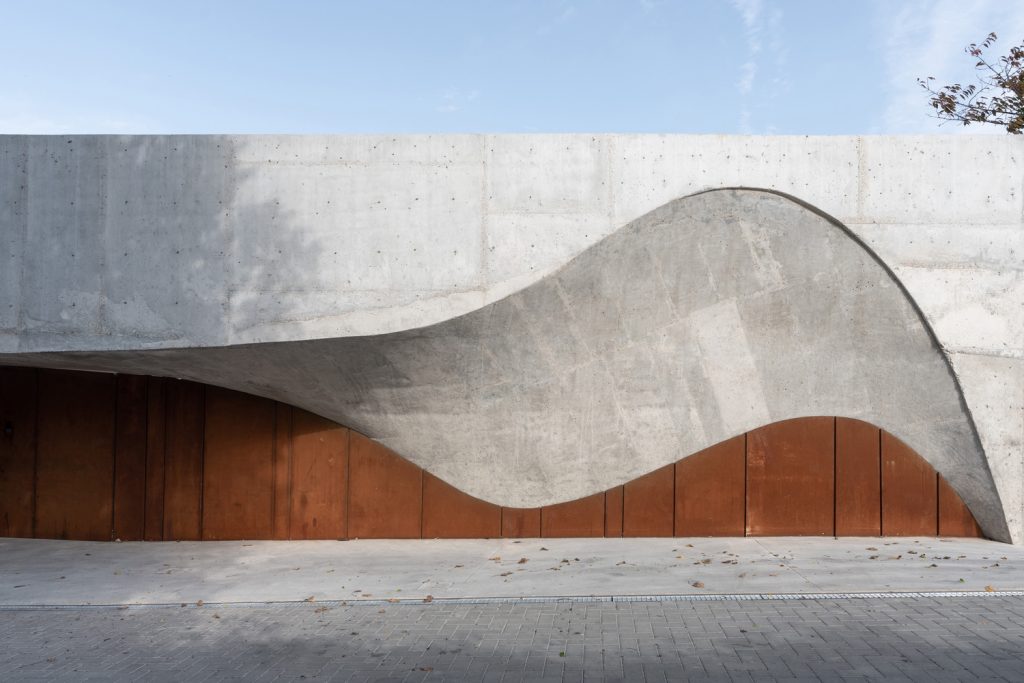 Villa Domes, designed by Maxim Calujac, is situated in the vicinity of Chisinau, Moldova, and is created to accommodate a family of four. The villa comprises three functional areas, namely the leisure area, green area, and common area. The leisure area encompasses a terrace, a pool, and a fire pit, which is connected visually to the living room through large glass walls. During summer, the garden offers shade and transforms into a playground area for children. The greenery also forms a part of the bedroom, creating a feeling of being closer to nature and maintaining privacy from neighbors.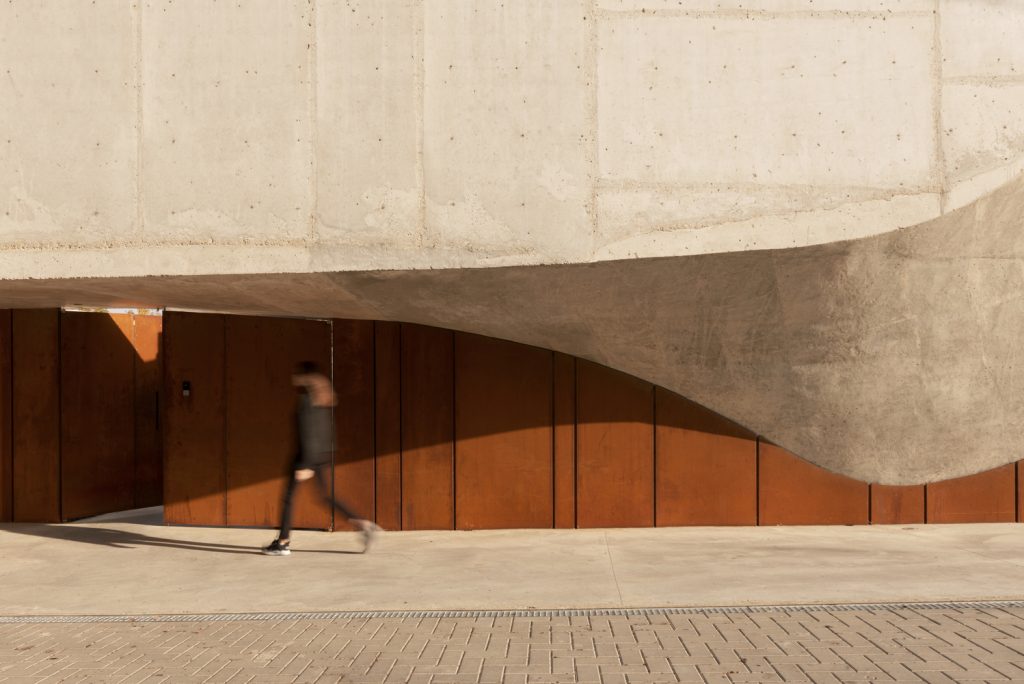 The entrance of the villa is the main highlight and the plasticity of the volume of the concrete portal serves a dual purpose of aesthetic appeal and providing extra rigidity to the structure. The truncated pyramidal shape of the internal "Dome" highlights the volumetric-spatial composition, creating an aerial and well-lit space within the villa. The indoor walls are covered in wood panels, creating a cozy atmosphere and contrasting with the coldness of the glass walls, giving a feeling of massiveness to the internal space.
The villa plan avoids corridors and the living room serves as an interconnection of all other rooms. The metallic-framed structure grid is used for the proper arrangement of the rooms, with the technical area separated from the main livable area. The utility area is located near the main entrance and the sleeping area is oriented towards the garden in the southeast.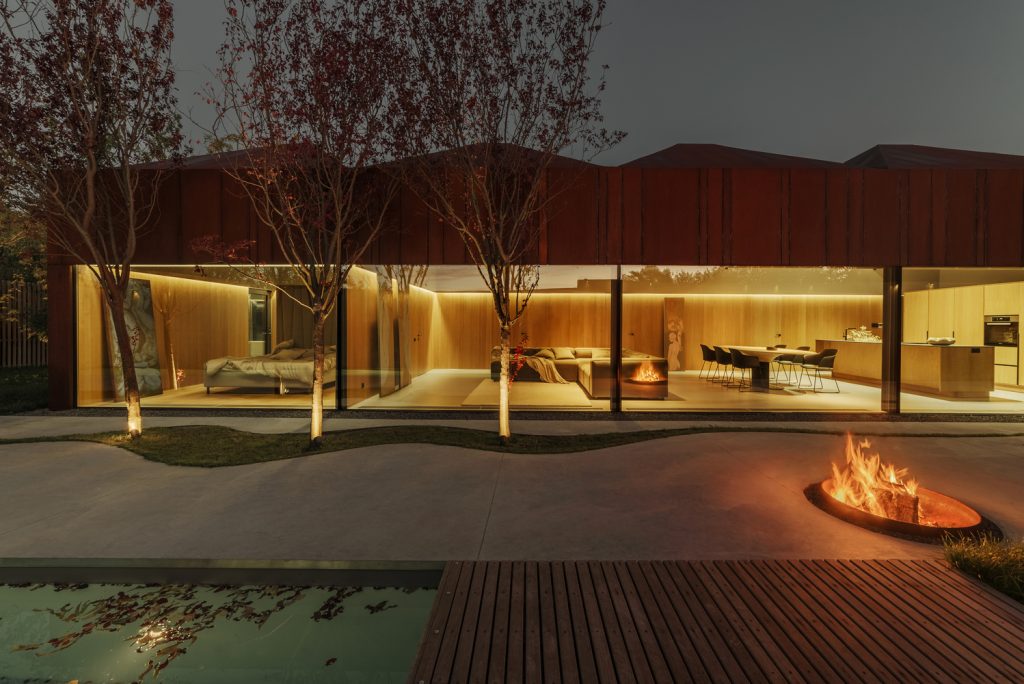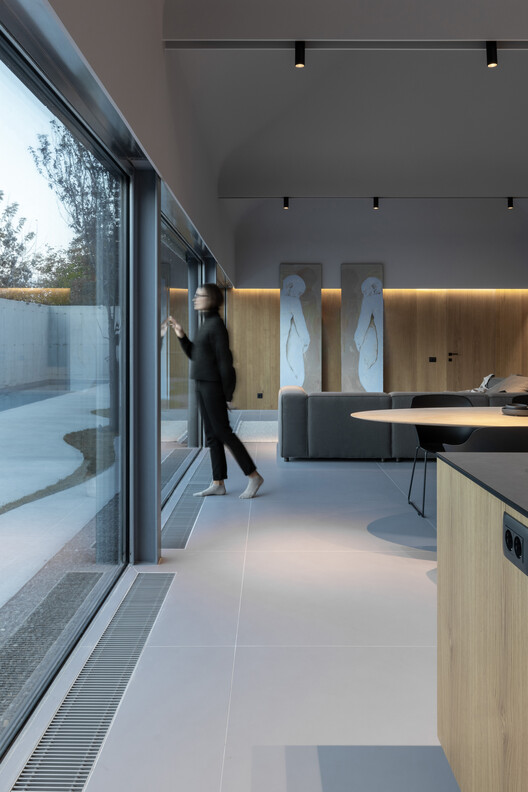 Despite the small area of the site, Villa Domes offers a sense of connection with nature through its massive glazed windows, creating a "living" canvas. The materials used in the construction, such as corten, wood, and concrete, change and mature over time, creating a contrast with the surrounding area. The smooth lines of the architectural design and the integration of the villa into the natural environment provide the basis for human interaction with the space and the building.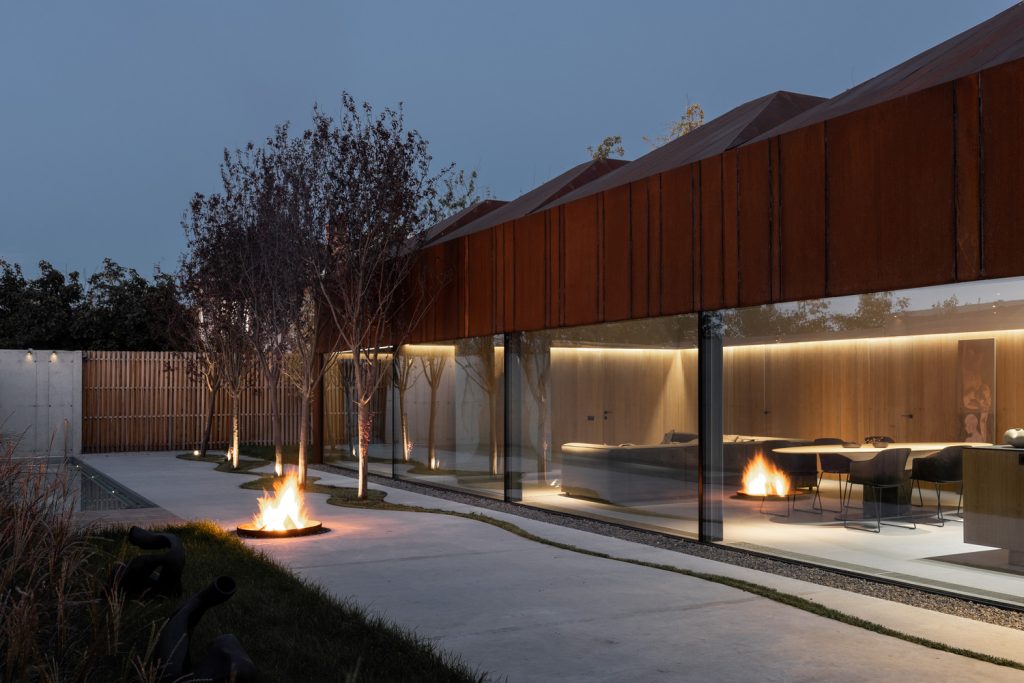 Project Info
Architects: Maxim Calujac
Area: 200 m²
Year: 2022
Photographs: bajura, Etalpmet
Manufacturers: CONPLAST S.R.L. , STILL FERRO
Lead Architects: Calujac Maxim, Alina Ocuneva
Landscape Architect: Irina Dubinschi
Electrical Engineer: Andrei Gurulea
Plumbing / Ventilation Engineer: Anatolii Slesenco
Structural Engineer: Iurie Platon
Artist: Arsher Tatiana
Ceramic : Valentina Arcadi