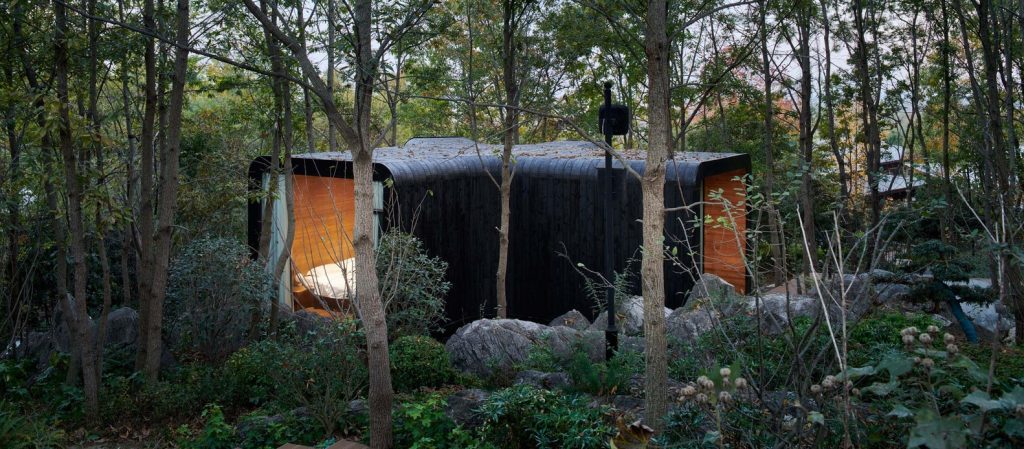 MONARCHI designed four hot "Spring Huts" at the corner of Tangshan Mountain in Nanjing in 2021. The project's 5000sqm site is located on a hill, and a forest surrounds one side of the site.
The studio respected the original landform and vegetation. The studio considered the interaction between the building and its surroundings during the design process. The structures look like they are part of the forest.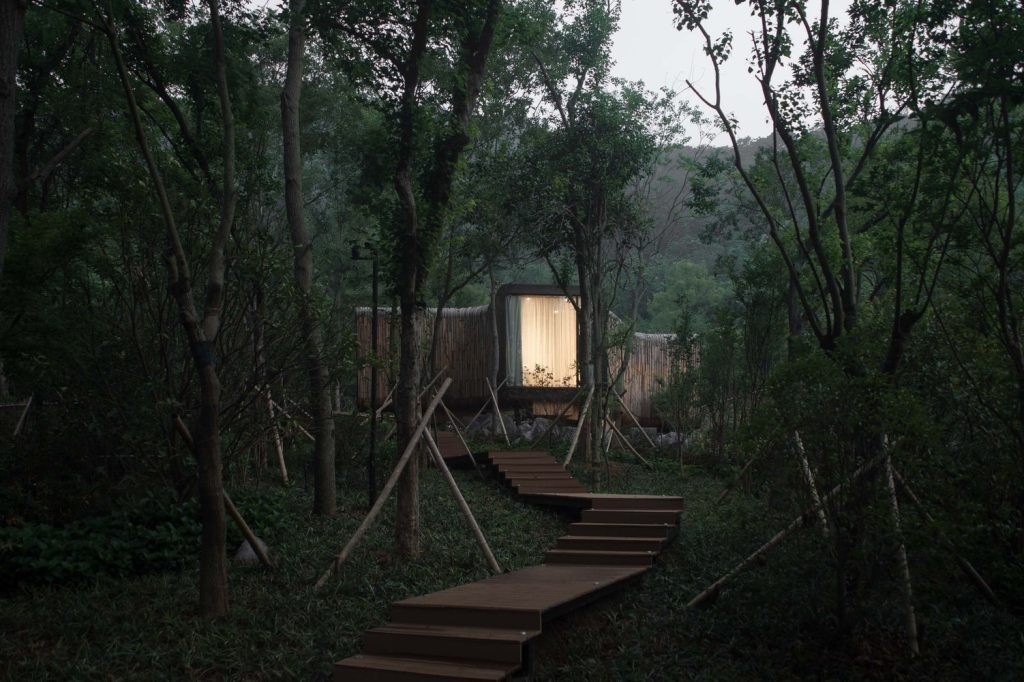 Architects created 2 different forms for cabins. But the path between the cabin connected them like a vein of the leaf.
The circling vines in the forests inspired one of the hut forms. The hut's interior spaces – the living room, bedroom, and bathroom – are defined by the emptiness provided by nature. The covered bridge, made up of slides and steps, spans the narrow gap between the trees, which can be gentle or steep, winding the three main rooms into a complete structure.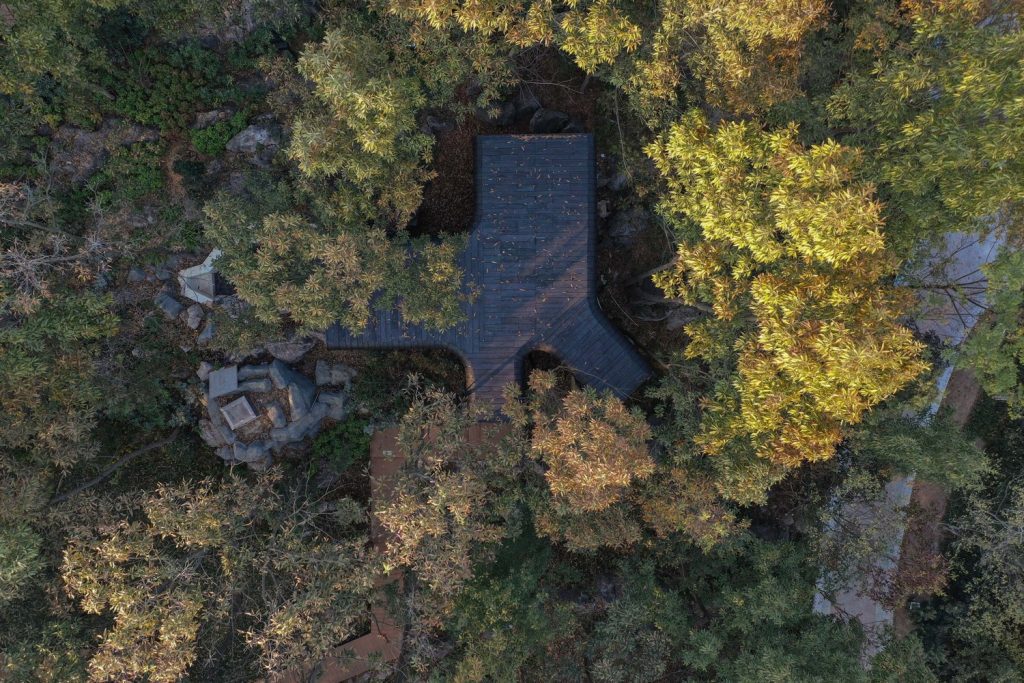 Each room has huge glass windows with different angles and heights.
The curvaceous shape encased an irregular patio, and a 5sqm hot spring pool was opened next to the preserved trees, providing a place to experience nature's landscape and warmth. People will enjoy the stunning view from the pool because the facade facing the patio is transparent.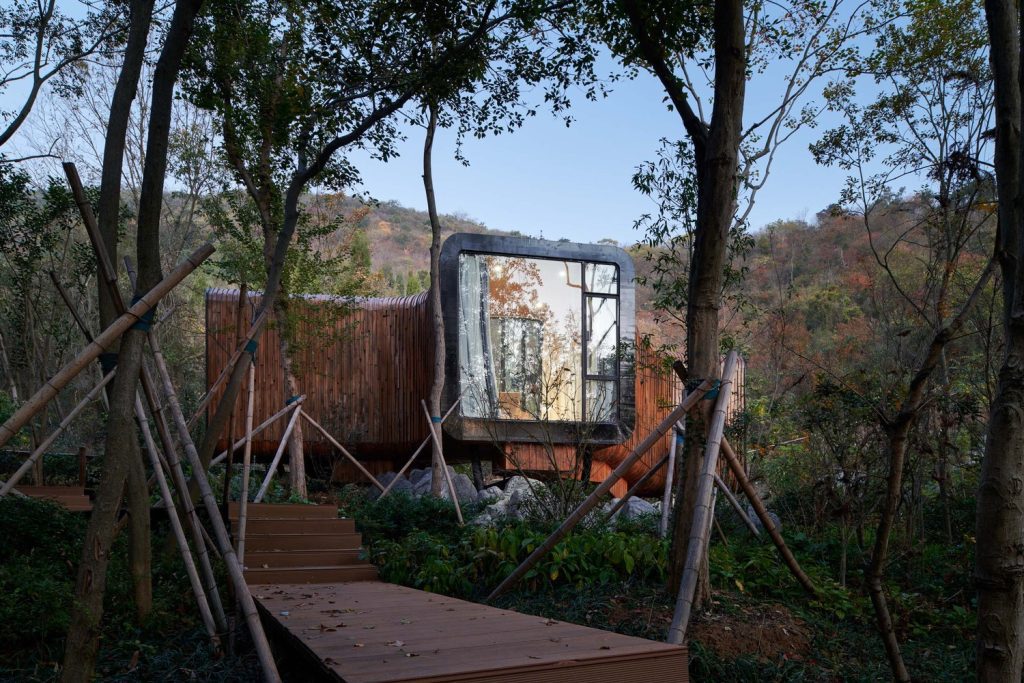 The other two huts have become entangled in the rocks. The flat-lying stones serve as the hut's foundation, while the sharp cliffs sever the direct connection between the functional spaces, digesting the hut's silhouette into nature-like branches. The scale of each building branch is defined by function; the bedroom and living room face nature, while the restroom is visually separated from it.
The living room and the area surrounded by the rocks are paved with off-white terrazzo. When the pool is filled with spring, you can enjoy the rough texture of nature and the delicacy of man-made materials.
The four huts share identical forms but represent different perspectives.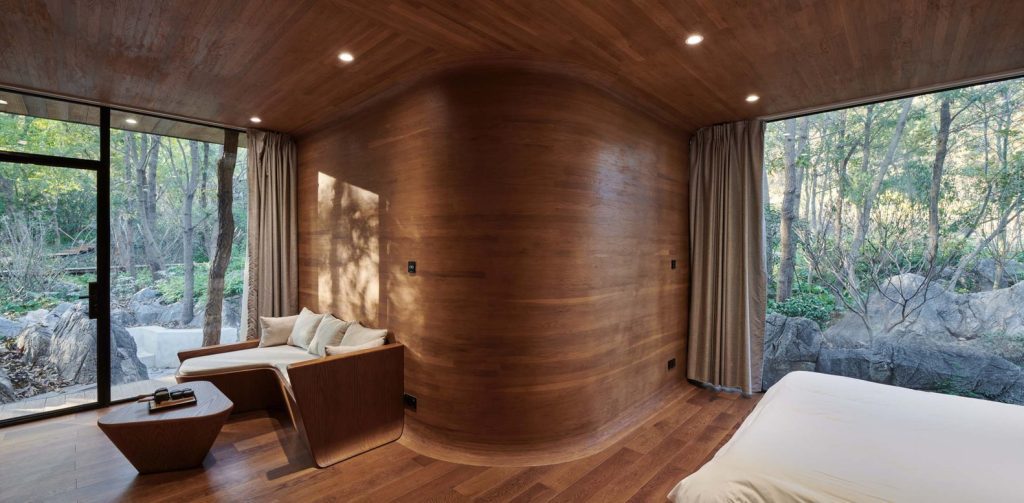 Project Info
Architects: MONOARCHI
Area: 220 sqm
Year: 2021
Construction: CROWNHOMES
Principal Architects: Keming Wang, Xiaochao Song
Design Team: Xueying Gao, Xiao LU, Yining Gao, Alvin Pranata, Qiyu Chen, Sam Tang
Client: Nanjing Tangshan Yujingbanshanju Hotel