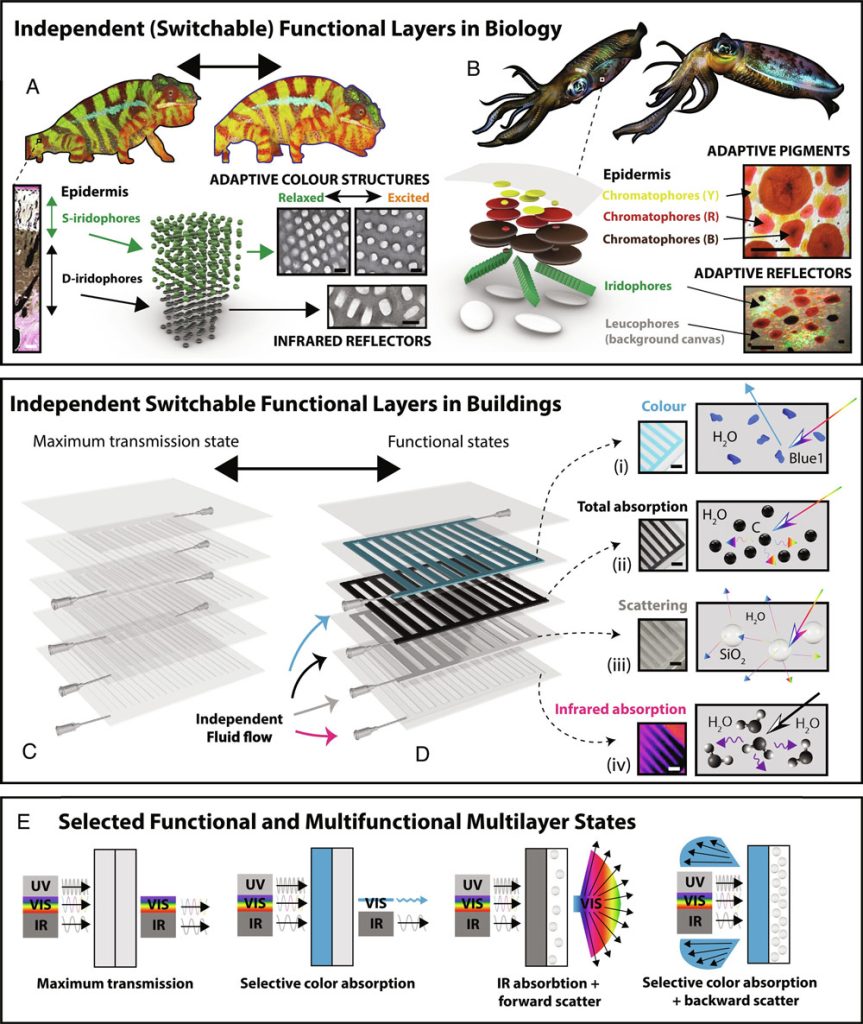 Researchers at the University of Toronto's Engineering department have created a multi-layer fluid system that can cut energy costs for heating, cooling, and lighting buildings. The system, which uses simple, off-the-shelf components, offers greater control than existing technologies like automatic blinds or electrochromic windows.
"Buildings use a ton of energy to heat, cool, and illuminate the spaces inside them," says recent graduate Raphael Kay, lead author on a new paper published in PNAS, entitled "Multilayered optofluidics for sustainable buildings" and added, "If we can strategically control the amount, type and direction of solar energy that enters our buildings, we can massively reduce the amount of work that we ask heaters, coolers and lights to do."
The system, inspired by the color-changing skin of creatures like squid, uses microfluidics to control the type, amount, and direction of light entering a building. The "liquid window" system consists of plastic sheets with channels for fluid flow, and customized pigments, particles, or molecules can be added to control the light. By using small, digitally-controlled pumps, the system can optimize light transmission. The researchers believe that the system could save up to 50% annually on heating, cooling, and lighting energy and could eventually be optimized by artificial intelligence.
This allows the system to achieve control over light transmission and manipulation, resulting in various applications, such as tunable optical filters, bio-sensors, and light-based devices. The microfluidic approach offers a scalable and cost-effective solution with numerous potential applications in multiple fields, such as photonics, biomedicine, and telecommunications.
The "liquid window" system developed by Raphael Kay and his team uses microfluidics technology to provide a new solution. The team is led by Professor Ben Hatton and includes Charlie Katrycz and Professor Alstan Jakubiec.
"Globally, the amount of energy that buildings consume is enormous — it's even bigger than what we spend on manufacturing or transportation," Raphael Kaysays. "We think making smart materials for buildings is a challenge that deserves a lot more attention."