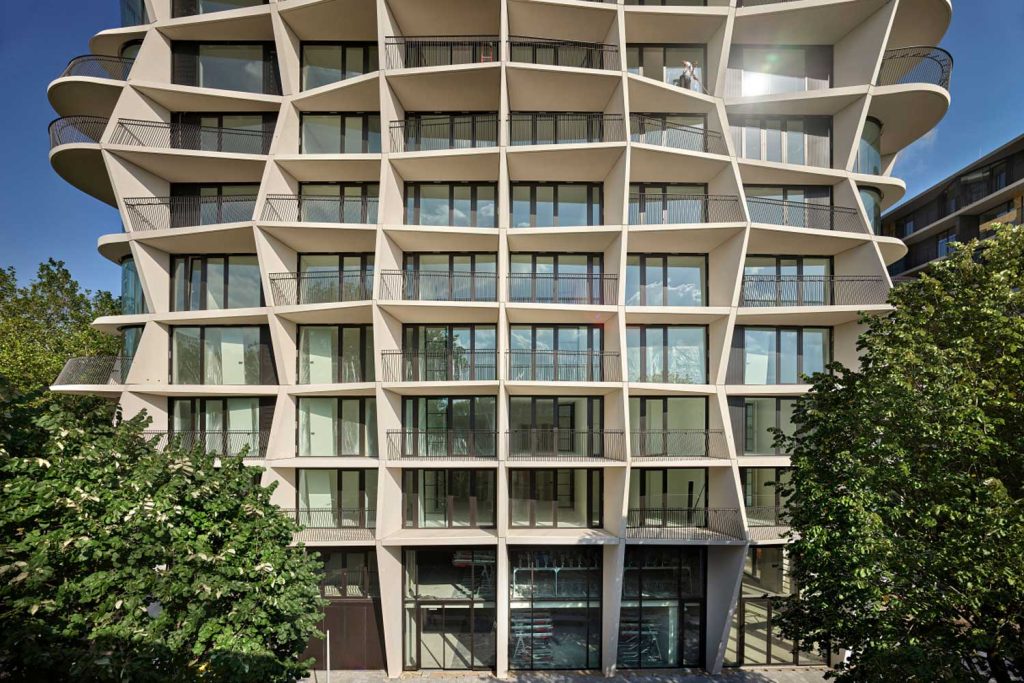 Q residences stand out to be Studio Gang, a Chicago-based architecture firm's first completed project in Europe addressing the urgent housing crisis in Amsterdam, creating a mixed-use community at a major intersection in Amsterdam-Zuid. The project aims to draw in from its surroundings' serenity and calmness trying to create a comfortable living system. Sited in the Buitenveldert neighborhood-one of the last garden cities in the capital, Q residences will not fail to amaze its visitors every time they visit and open on December 12, 2022.
The project comprises of two new distinct volumes of residential towers – a 23-story structure named Quartz and an 8-story structure named Qube adding 248 new residences to the city and its ever-growing cityscape. This project aims to increase the connections among the residents and their connections to the generous landscape that defines this garden city.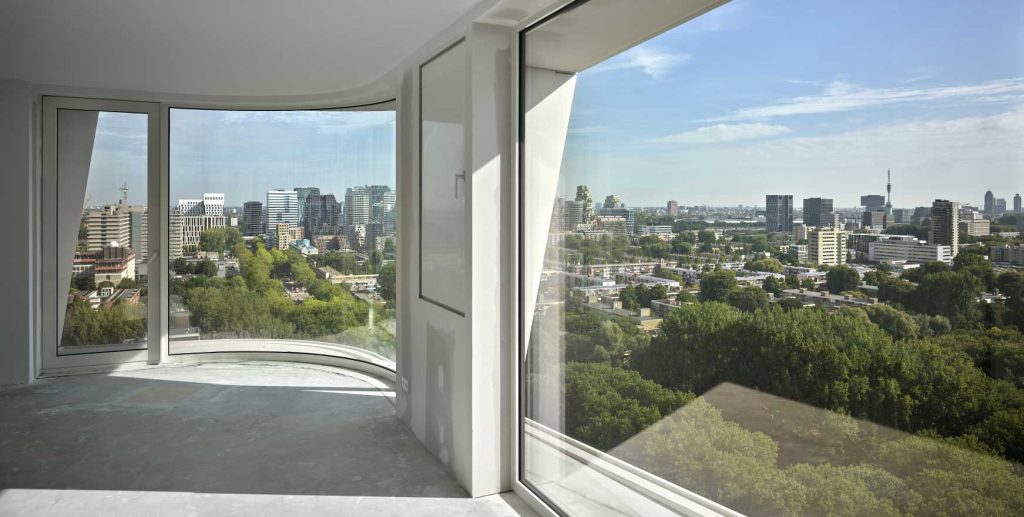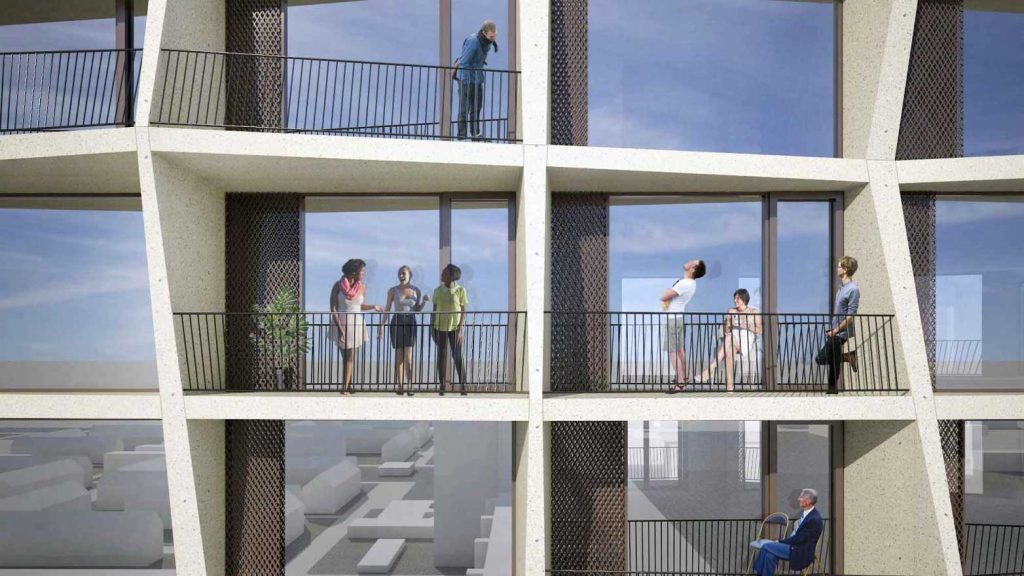 The neighborhood 1950's post-war housing blocks development is enhanced and is given a new organic and sculptural feel in relation to its rational linear morphology by the project's design. The exterior facade of the building looks like an origami pattern that envelops the high rise by the angled balconies that migrate in and out of the building giving a wavy rhythm to the facade while also allowing visual connectivity between the residents and shading the apartment below. The angled geometry and the generous balconies are mirrored in the mid-rise allowing every tenant access to the outdoors, fresh air, natural light, and views.
"We designed Q Residences to strengthen residents' connection to each other and to the ample green spaces that define Buitenveldert," said Jeanne Gang. "At ground level, Qube and Quartz form a new generous public plaza that brings people together around art and landscape. And on Quartz, the balconies migrate in and out of the façade to extend sightlines diagonally in all directions and allow residents be part of the building and in synch with the city and each other at the same time."
These two towers are connected by a green plaza designed by Dutch Landscape designer Piet Oudolf. The design of the plaza is a direct reference to the garden city tradition. The architecture and landscape play their roles together to create a pedestrian-friendly zone that also networks with other aspects of the block such as the retail spaces and other public amenities.
Using traditional materials such as pre-cast concrete for the facades and adding new materials like dark bronze aluminum panels rendered a unique touch to the Q residences. This combination of materials has made the project stand out and blend in at the same time with its historical neighborhood.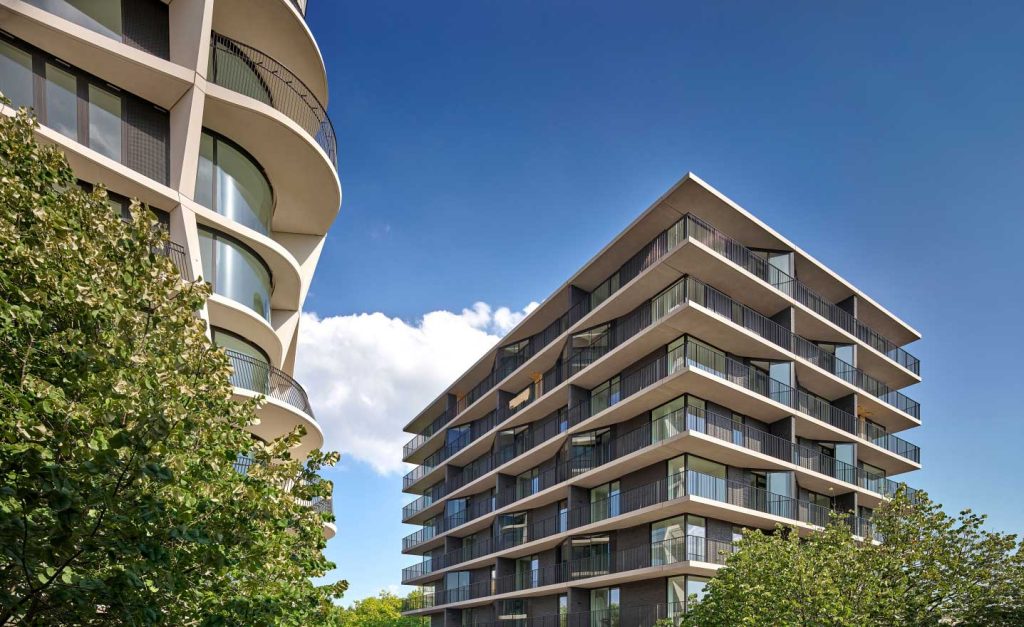 Project Info
Architects: Studio Gang
Landscape Designer: Piet Oudolf
Location: Amsterdam, Netherlands
Status: Built 2022
Client: Kroonenberg Groep
Type: Residential
Size: 297,170 SF