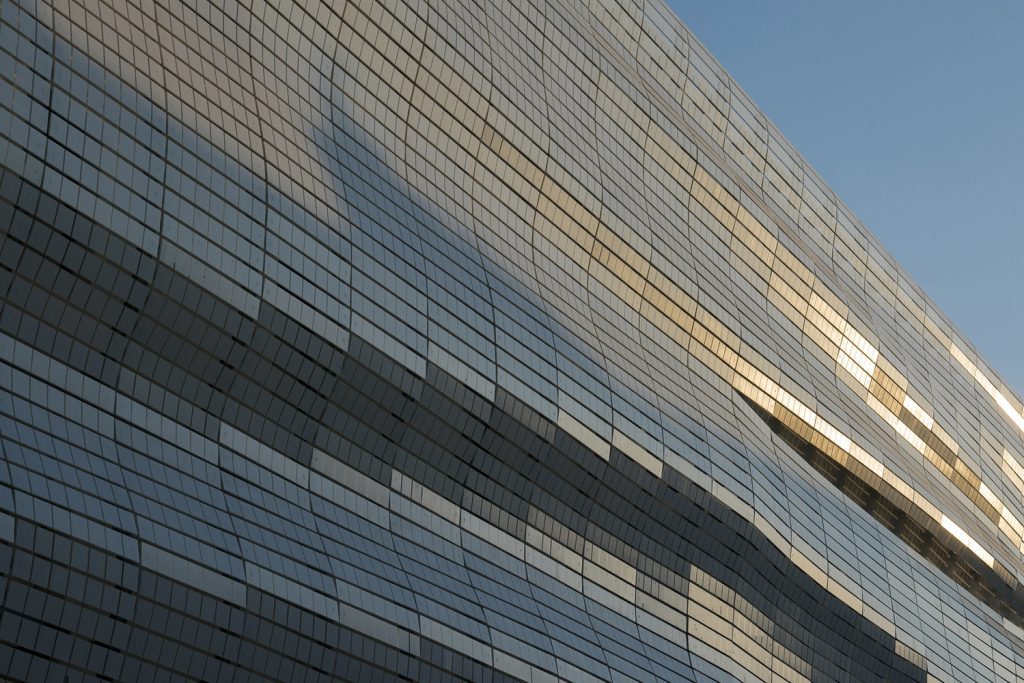 Inaugurated on June 2, 2018, the Musée de la Romanité creates a strong architectural dialogue between two architectures separated by over two thousand years of History and facing each other. The project is located on the backbone of the site, on the old limit that used to sepa­rate the medieval town from the modern city. On these remains, twenty centuries of urban strata and archi­tecture are overlaid: this is the exceptional heritage of the city of Nîmes.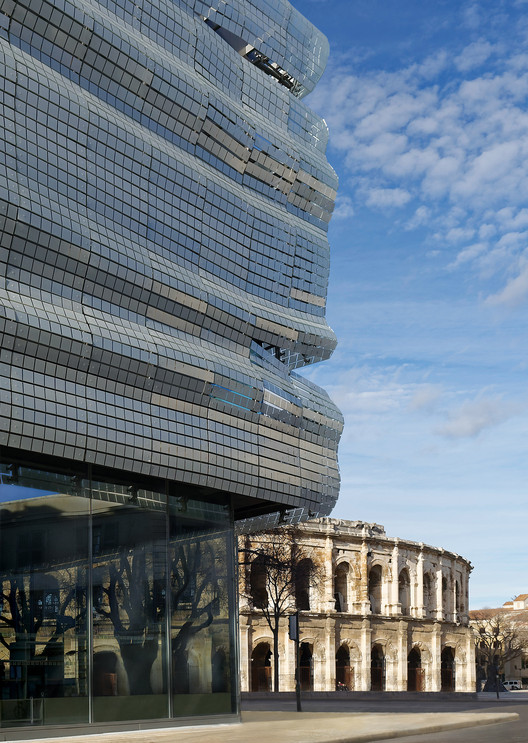 Elizabeth de Portzamparc's proposal is based on a dialogue made of opposition and complementarity. In spite of their differences, the twenty centuries of History separating the museum and the antique Arenas of Nîmes require the creation of a dialogue. Two geometries, two materials, and two shapes interact: to the great stone volume and to the magnificence of the vertical arches passed down to us through the centuries, the museum answers by its light and luminous presence, its contemporary and fluid architecture, creating a dia­phanous response composed of horizontal drapery that seems to float over the site and its archaeological garden. With the Court of Justice facing the project, it is a new vision of the place du parvis and of the arc described by the roman arenas that the building is putting into perspective: its lightness responding to the classical massive volume, thus creating a respectful and exceptional dialogue.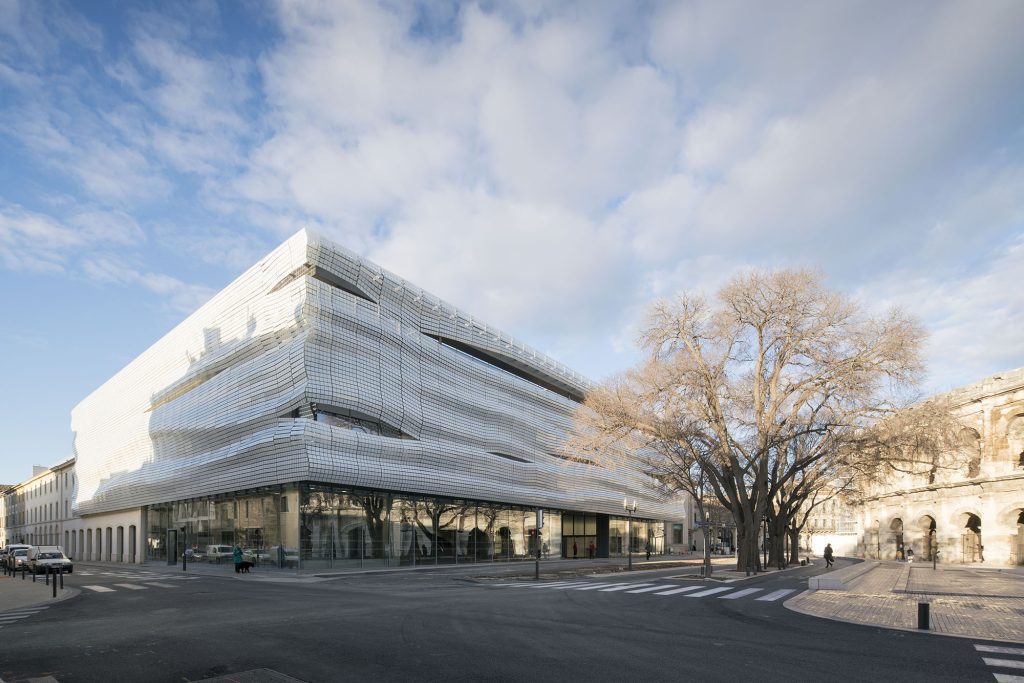 Between the entrance hall and the café, a wide interior street, an accessible passage even when the museum is closed to the public, connects the square to the archaeological garden following the roman remains. This semipublic passage creates a visual opening and access to the archaeological garden, attracting the pedestrians and revealing a roman axis, a link between the remains and the Arenas. At the center of this passage, a 17 meter in high atrium reveals a scenography of the fragments of the "Source", inviting us to discover the museum.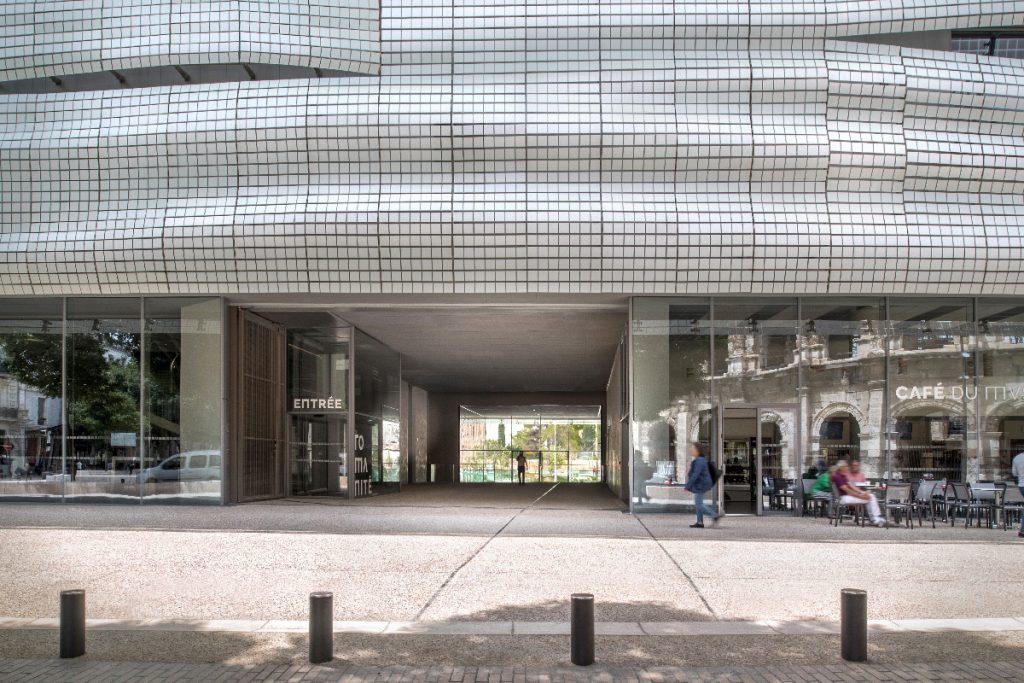 The Museum offers ascending promenade. This ascension begins from the main hall; the visitor is attracted by the generous curves of the "Chambord" stairs. The visit continues with a series of ramps offering higher viewpoints on the collections. Wide windows open the inside space to the garden and to the Arenas. The rooftop and its terrace mark the last step of this tour, offering an outstanding pano­rama on over twenty centuries of Nîmes History.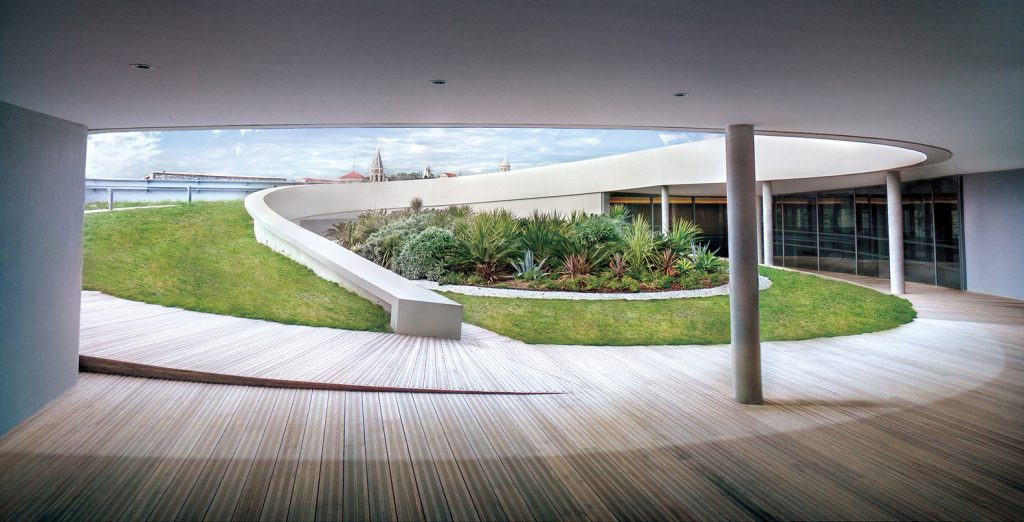 Project Info
Architects : 2Portzamparc – Elizabeth de Portzamparc
Location : Nimes, France
Area : 9100.0 m2
Project Year : 2018
Photographs : Nicolas Borel, Serge Urvoy, Stéphane Ramillon-Vile de Nîmes, Sergio Grazia, Wade Zimmerman
Manufacturers : Duravit, FRANKE, Geberit, Hunter Douglas US, Parex-Group, Flaminia Metro Design