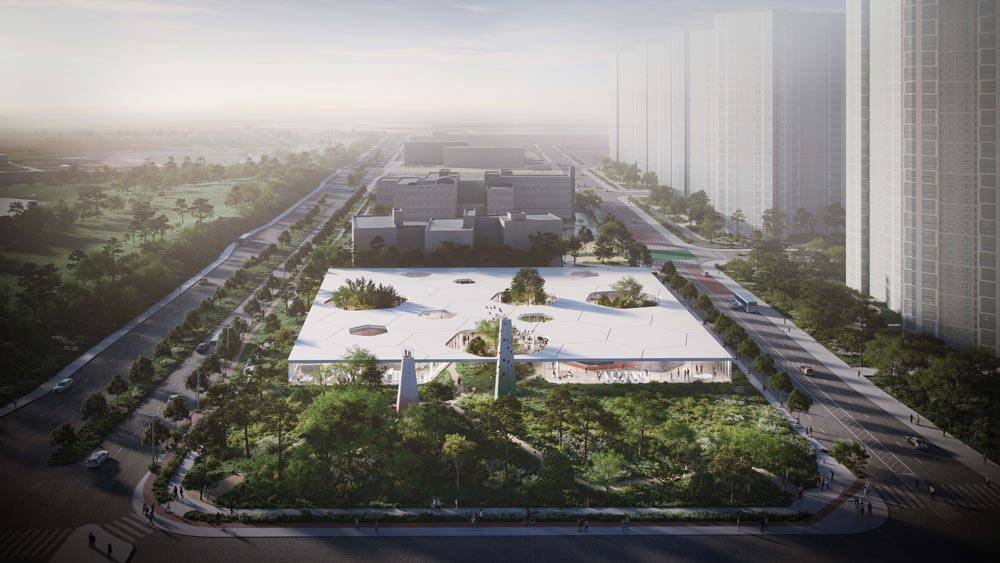 Envisioning a habitat that incorporates reading and making impels architects to explore beyond realms. Salon Alper Derinbogaz has integrated an open proposal for the new Songdo library in South Korea. The honourable mention project captures education and innovation for future learners weaved into a flexible space intertwined by knowledge, making and technology.
International Competition for Songdo Library in South Korea hurdled waves as creative and sophisticated design works from bright minds approached with an international extempore. The competition manifested, in addition, to explore as an intellectual and cultural symbol of the Songdo citizens progressing as a global city.
The design team explored to evolve it as a city of education. Bubbling up factors such as Reading, Making, Interaction, Play, and Nature swoons a celebratory web contributing to the diverse learning environment. In addition they aim to foster the next generation of visionaries. The streetscape subsequently infused a human perspective where the library spilt open and formed interactive spaces for learning and weaved new philosophies into the urban setting.
Inspiration
The design traces the ecological heritage of tidal flats to propose an alternative urban fabric knitted within nature. The library activates the social life of Songdo within the shared landscape. Inspired by the history of the poet's garden, space where nature provides a "retreat from worldly troubles and where scholars may seek enlightenment and oneness with nature." In addition, the internal gardens captivate tranquil views for the enveloping reading spaces and open in the summer extending the learning zones and bringing readers closer to nature.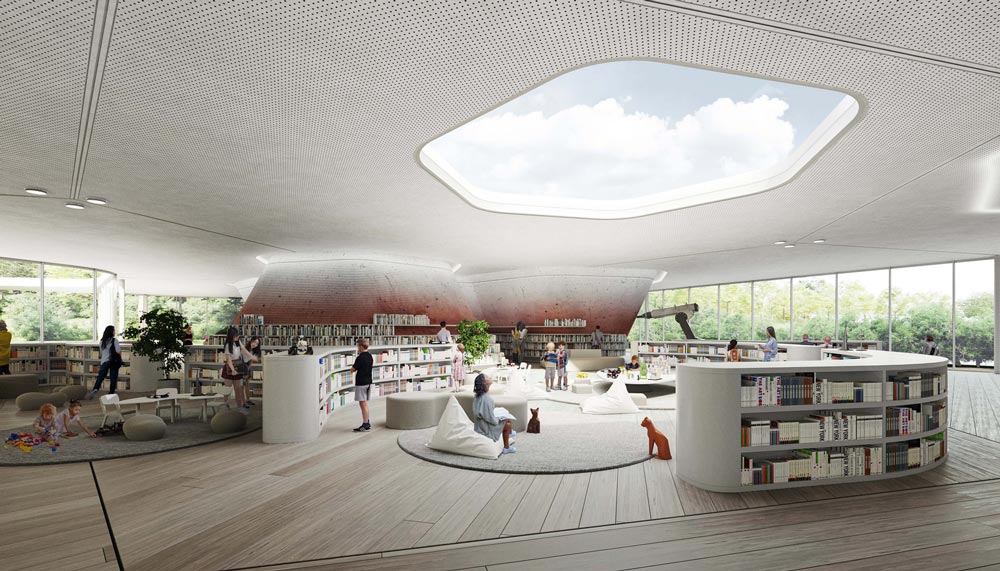 In addition, a multimedia maker's lab integrated within the project provides interactive learning with technology and craft workshops. 3D printing coupled with the fabrication of the library emphasize the hybrid structure. 3D-printed concrete cores composed of a modular grid emerges from the ground, weaving enclosed spaces supporting a lightweight timber roof.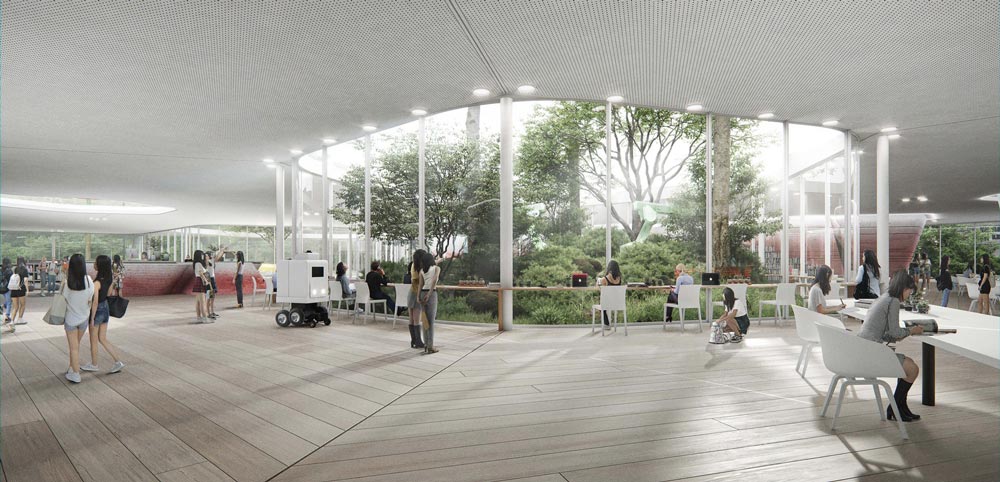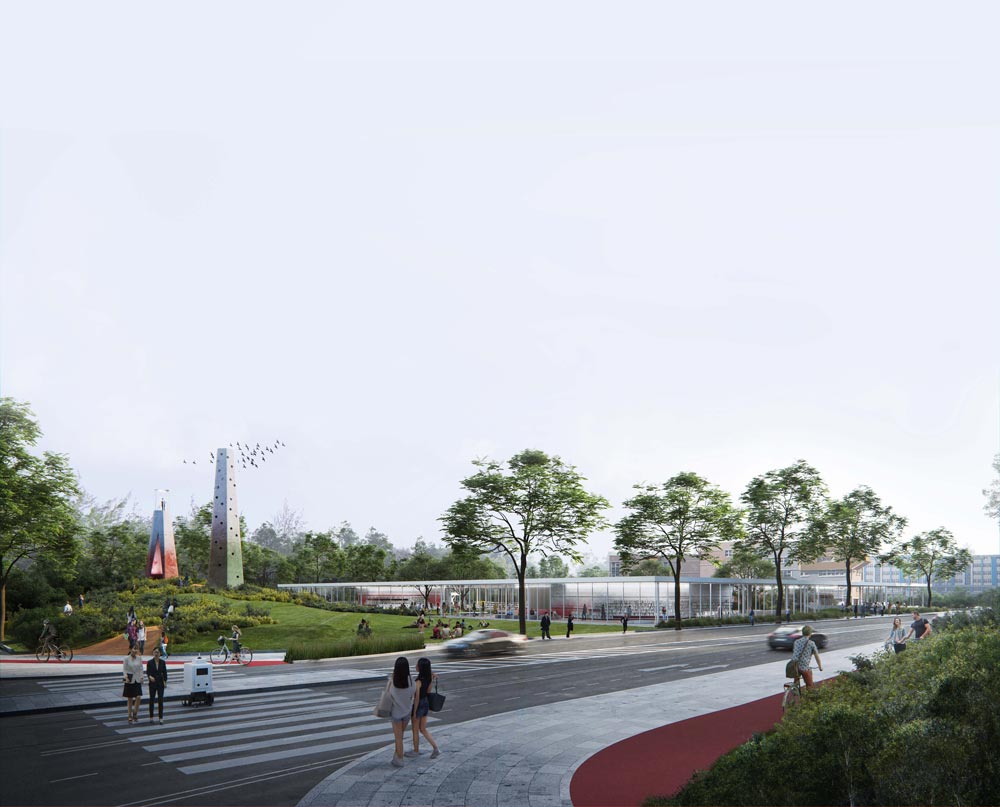 3D printing technology coupled with form making defines the central fractal-like concrete structures. Furthermore, they echo the printing press's transformative effects and the internet on accessibility and transmission of knowledge. The technology of 3D printing day by day takes on a fresh mantle with the potential to transform construction.
Project Details
Project Name: International Design Competition for SONGDO Library.
Design Team: Alper Derinboğaz, Enise Burcu Derinboğaz, Ece Emanetoglu, Yusuf Aras Kalkan, Pınar Kömürcü.
Emmy Bacharach, İzel Beşikçi, Egemen Kaya, Nida Dilara Karışık, Nazlım Demir, Sena Karatoprak, Deniz Karadere, Mehmet Ali Azcan
Architecture Firm: Salon