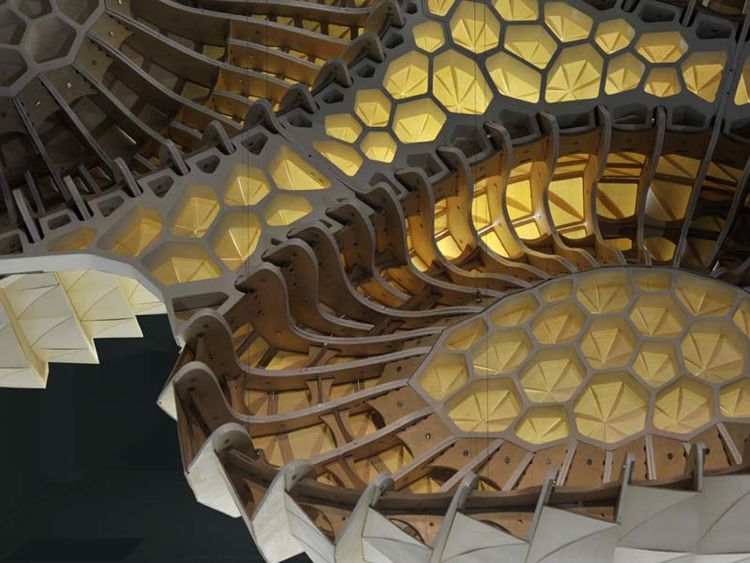 New climate-responsive architecture research makes structure the machine. A new project commissioned by the Centre Pompidou for its permanent collection explores responsive architecture based on the behavior of material during climate changes. Designed by architect Achim Menges in collaboration with Steffen Reichert, "HygroScope: Meteorosensitive Morphology" appears at first glance to be a wooden model suspended within a glass case. But when the humidity level within the case rises, the system begins to breathe, ventilating the moisture-saturated air without any sensory equipment or electricity.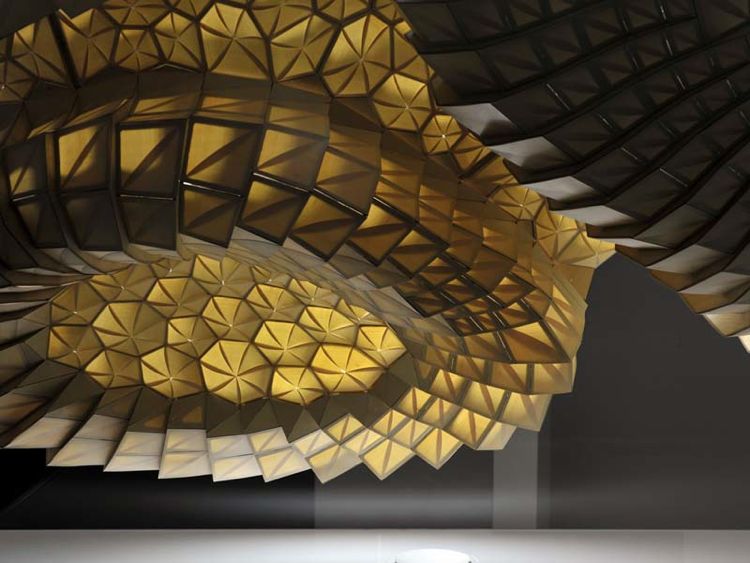 The HygroScope project is based on more than five years of research on architectural systems that respond to climatic changes without any additional technology. By using wood, the design team relied on anisotropy—physical properties related to grain direction—and hygroscopicity, wood's ability to absorb moisture when dry and yield moisture to the atmosphere when wet. By using wood's responsiveness to moisture to trigger shape change, one of the oldest and most common construction materials can become "a climate-responsive natural composite that can be physically programmed to compute different shapes in response to relative humidity," explained the designers in their project brief.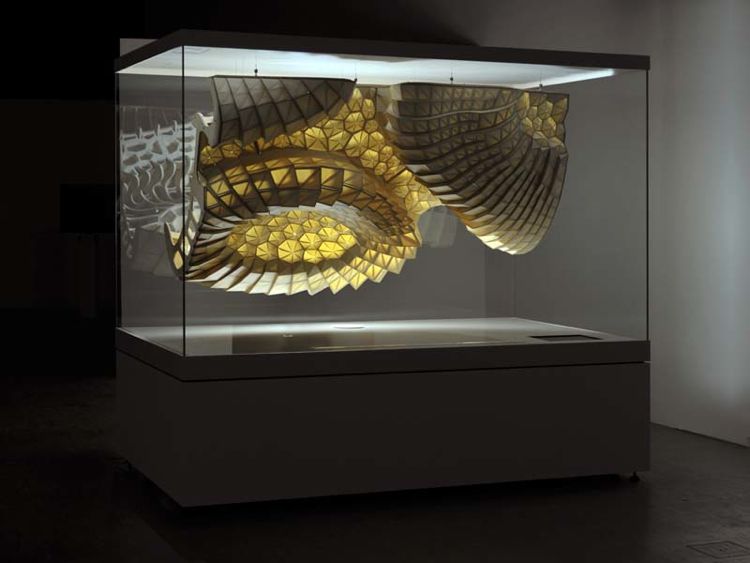 They go on to explain the project's fabrication: "The system consists of custom developed elements made from a combination of quarter-cut maple veneer and synthetic composites. More than 4,000 geometrically unique elements are digitally fabricated and the complex substructure is robotically manufactured. The composite system elements can be programmed to materially compute different shapes within variable humidity response ranges by adjusting the following five parameters: [i] the fiber directionality, [ii] the layout of the natural and synthetic composite, [iii] the length-width-thickness ratio and [iv] geometry of the element and especially [v] the humidity control during the production process."
A humidifier and dehumidifier in the base of the glass case regulates the climate inside using data of Paris's changing relative humidity levels and a second data set based on visitors to the exhibit. As changes occur, the system creates a complex, nonlinear response as thousands of components act in unison to control humidity within the case. "In this way it suggests how an architecture based on the intrinsic behavioral capacity of a material mediates between interior and exterior climates rather than separating them," wrote the designers. The HygroScope will make its debut at Centre Pompidou's "Multiversites Creatives" exhibit, which opened this week.
Project Name: HygroScope: Meteorosensitive Morphology
Fabricator: Achim Menges in collaboration with Steffen Reichert
Designers: Achim Menges in collaboration with Steffen Reichert
Location: Paris, France
Status: Permanent exhibit
Materials: Maple veneer, synthetic composites
Process: Material research, computational design research, generative code development, digital fabrication