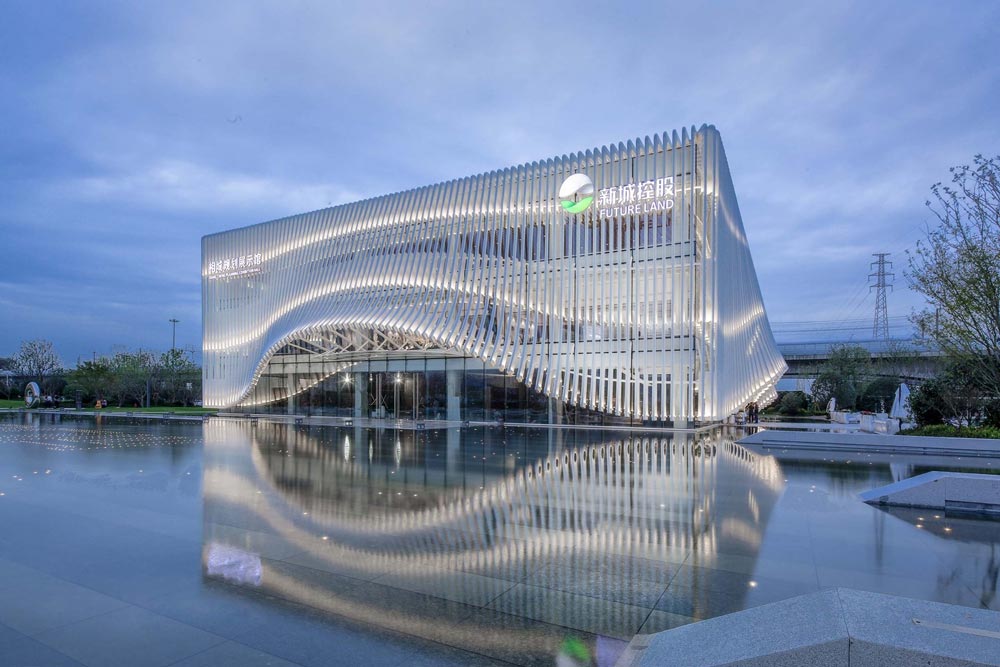 It looks like a magic cloth wrapped over a box waiting to be risen and revealed from afar. Xiangcheng District Planning Exhibition Hall represents an elemental charisma, sitting calm and serene about a body of water. Lacime Architects have encased a cultural magnificence, capturing the supreme majestic scenery in southeast China, also featuring its architecture as "Elegance and Grace".
Suzhou's culture dates back to more than 2500 years. The place's reputation builds rich material wealth along with a brilliant chapter about the distinctive traditional culture. The Planning Exhibition Hall indeed sits to the east of Suzhou North Railway Station, which is an open base, south to Nantiancheng Road, east to Chengyang Road and north of Beijing-Shanghai High-speed railway. In addition, it covers an area of 1.17 hectares with 6030 sq.m floorage.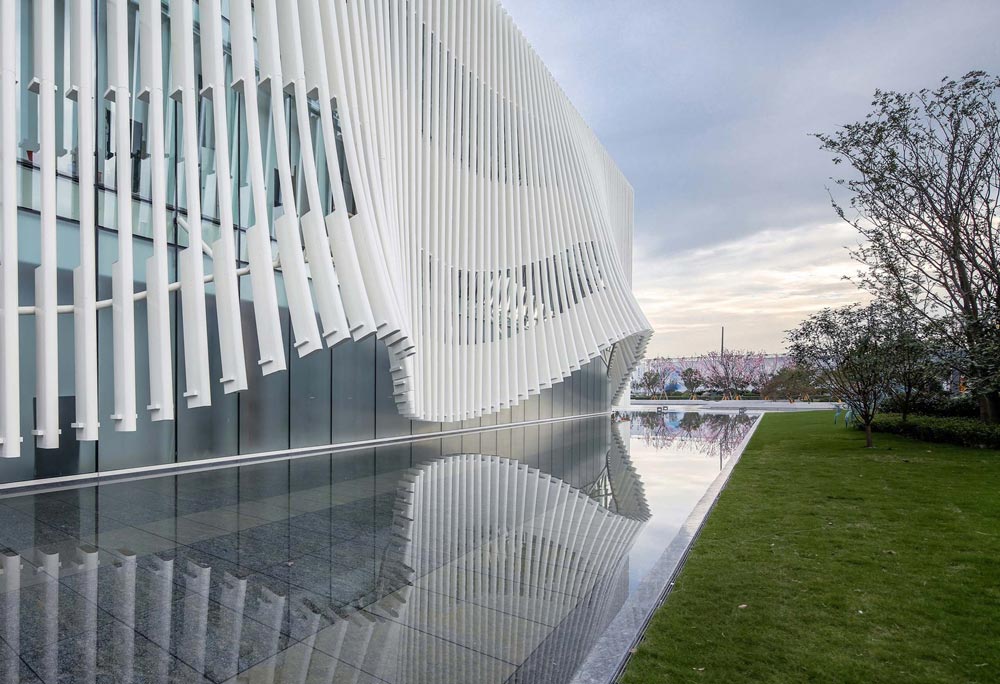 The Suzhou North Railway Station booms and moves nearly billions of passengers every year. As soon as the high-speed train decelerates down before cracking into the station, the exhibition hall reveals a charming glance to pique the passengers' curiosity. The unique location has seeped more advantages. Each facade carries a charm of intrigue and excellence in uplifting a curtain raise's passion before an event. The design team researched two ways; as a garden and some enclosed elements applied in space constraints to achieve space hierarchy. The adaptation leads to another way of setting a point to make the design a whole without scattering and grow into a city landmark and visual focus!
The Design Concept
A simple and powerful shape for the building can reveal the profound meaning of "confidence" for the owners, the government and all those who work for the high-speed rail new town project. The exterior curtain wall furthermore composed of vertical components enriches the elegance and dynamic effect, implying "the curtain rise".
The building's height aligns in line with the high-speed rail. The overall measures range to be 46 meters in proportion to the column span and other factors. The exterior skin in contrast revels in aluminium square rods build of standard segments with illuminating outer appearance, size and spacing corresponding to the column net. Moreover, each rod splits into five equal parts with the inner side treated using dark lines, and its ends curl and twirl, making the building move in a flexible, soft, and ceremonial motion.
The landscape in addition emphasizes the application of waterscape, ensuring instilling reflection along the main path leading to the building's main entrance on the side. The sophisticated curved profile of the building inverted in the water indeed captivates and enthrals the visitors. The outer appearance concept resonates with a musical instrument called Marimba, invoking the building as solidified music. The designers hope that this small building can play splendid music alongside the water and sky.
Architects: Lacime Architects
Area: 6030 m²
Photographs: Shengliang Su, Qilin Zhang
Interior Design: Quan Huang, G-Art Design
Interior Designer: Quan Huang
Architect In Charge: Hu Cheng
Design Team: Dezhen Kong, Zhihao Jin
City: Suzhou
Country: China