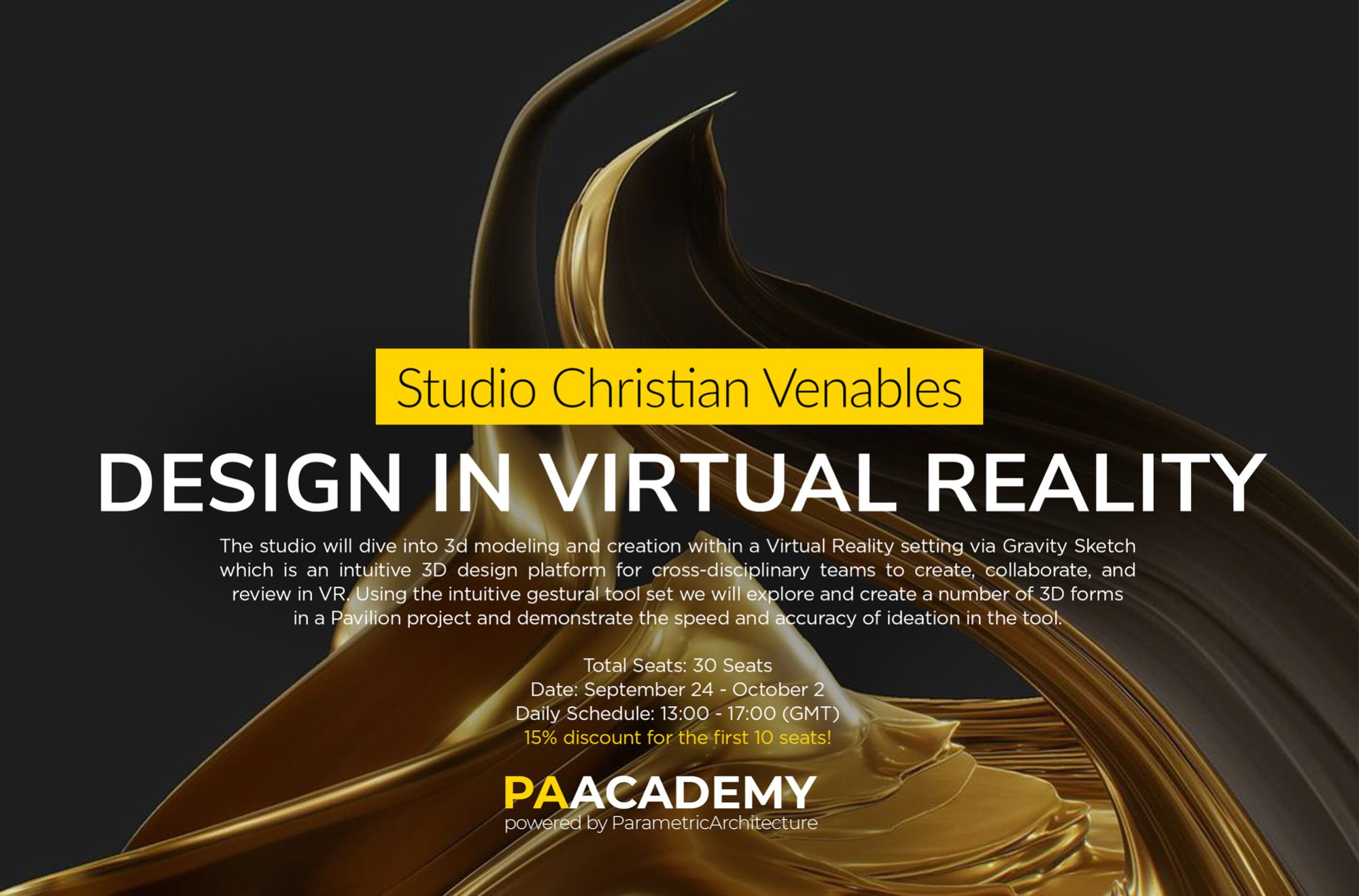 Topic: Design in Virtual Reality
Time: September 24 – October 2, 2022
Location: VR + Zoom hosted by PA
Format: Online in VR + Zoom
Duration: 3 + 1
Total Hours: 16 Hours
Workshop Type: Project-based online studio workshop
Registration Deadline: September 23, 2022
Total Seats: 30 Seats
Seats Available: 26 Seats
Early Registration: 105 EUR (15% discount for the first 10 seats)
General Registration: 125 EUR
Recordings on-demand: 150 EUR
Organized By: PAACADEMY
Tutor: Christian Venables
VR to AR studio:
We'll dive into 3d modeling and creation directly within a Virtual Reality setting via Gravity Sketch, an intuitive 3D design platform for cross-disciplinary teams to create, collaborate, and review in VR. You can create in the space around you at any scale, from concept sketches to detailed 3D models. Using the intuitive gestural toolset, we will explore and create several 3D forms in a Pavilion project and demonstrate the speed and accuracy of ideation in the tool. Viewing models outside of VR is possible with Gravity Sketch's Landing Pad, a web-based platform allowing you to spin and export. Once exported, we'll take a 3D sketch into Blender to UV map, optimize the geometry, and then into SparkAR Studio. In SparkAR, we'll continue to develop the project by adding interactions and procedural animations. Once complete, we'll upload it to your personal Instagram account. Attendees with VR headsets will have chances to enter the VR space together during the final and mid-reviews (3 at a time). If you do not have a VR headset, you can join and view in 2D. The first workshop and reviews will take place simultaneously in VR and be displayed in 2D for viewing.
What is VR?
Virtual Reality is a technology that allows users to immerse themselves in an entirely virtual world. A VR headset allows full 360-degree viewing around the user to explore, interact with space and meet friends/colleagues for collaboration.
What is AR?
Augmented Reality is a technology that allows for interactive experiences which digitally enhance what can be seen, heard, and touched in the real world. It allows users to place objects and experiences within the space they inhabit anchored to surfaces, images, or people.
The Scope of The Studio:
Overview of what you can do in Gravity Sketch
How to use Ink, Stroke, Revolve, Surface, Volume, Primitives, Sub-D
Various methods of virtual reality form creation
Free form sketching in a virtual reality environment
3D sketching over imported 3D models
Trace over and use 2D sketches as a base
Constrained blocking out of 3D geometry
Exporting out VR models with Landing Pad
UV mapping/unwrapping in Blender
Optimizing geometry in Blender
Import into SparkAR to animate and add interactions
Upload to your personal Instagram profile
Program:
Session 1 / September 24
Introduction tutorial
1h Workshop overview, VR, AR what we're going to produce.
3h Gravity Sketch, tools, techniques, and creation of Pavilion
Session 2 / September 25
2h Gravity Sketch export, Blender UV unwrap & geometry optimization
1h SparkAR Studio introduction
1h Pavilion Assignment
Session 3 / October 1
Mid-review
2h Pavilion mid-reviews in VR / 2D
2h SparkAR continued, discussion, troubleshooting, questions
1h Pavilion Assignment continued
Session 4 / October 2
Final review
2h Pavilion Final reviews in VR / 2D
1h Upload to Instagram, approval process
Software/Hardware:
Gravity Sketch 5.5 or above
Adobe Substance 3D Painter 2021 or above
SparkAR Studio v140 or above
VR Headset (optional)
Important Notes:
The Design In Virtual Reality workshop by PAACADEMY will start on Saturday, September 24, at 13:00 London Time (GMT+1).
Total sessions: 3 (teaching sessions) + 1 (final presentation)
Daily Schedule: 13:00 – 17:00 London Time (GMT+1).
The entire studio will be recorded, and videos will be available for participants just a day after the class for unlimited time.
PAACADEMY will only provide a certificate of attendance for students who deliver a final project.
We accept payments in crypto. Please email us for the details: [email protected].
The studio has limited seats. Tickets are non-transferable & non-refundable. Please read before you purchase.
Instructors:
Christian Venables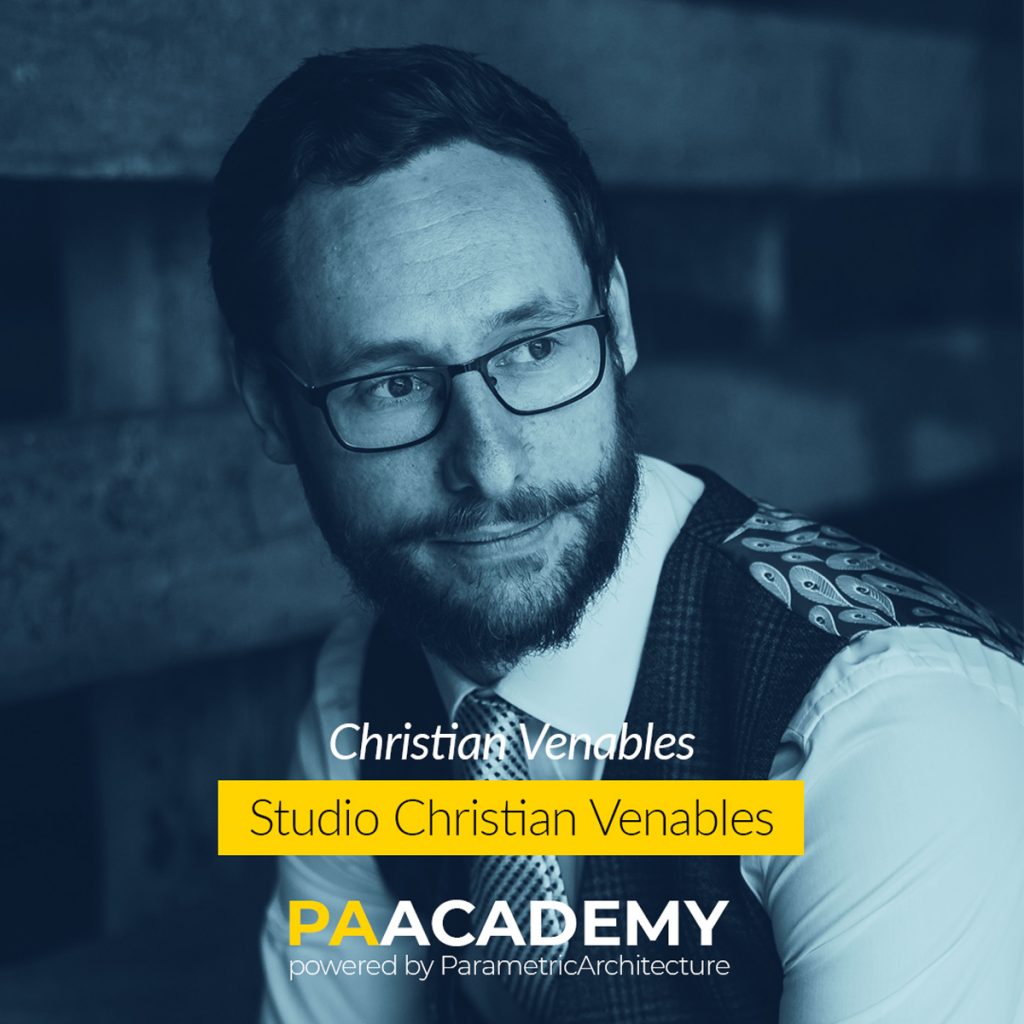 Christian Venables is an AR/VR/XR artist & developer from the UK. His background in Architecture and 3D has provided a solid foundation for exploration in XR discovery. He recently completed AR work for Meta Immersive Learning in partnership with the Smithsonian museum and DAVOS. Christian thoroughly enjoys the freedom of creating in VR, records the process in XR, and shares/distributes with AR. He is officially expertly certified in both SparkAR and Gravity Sketch.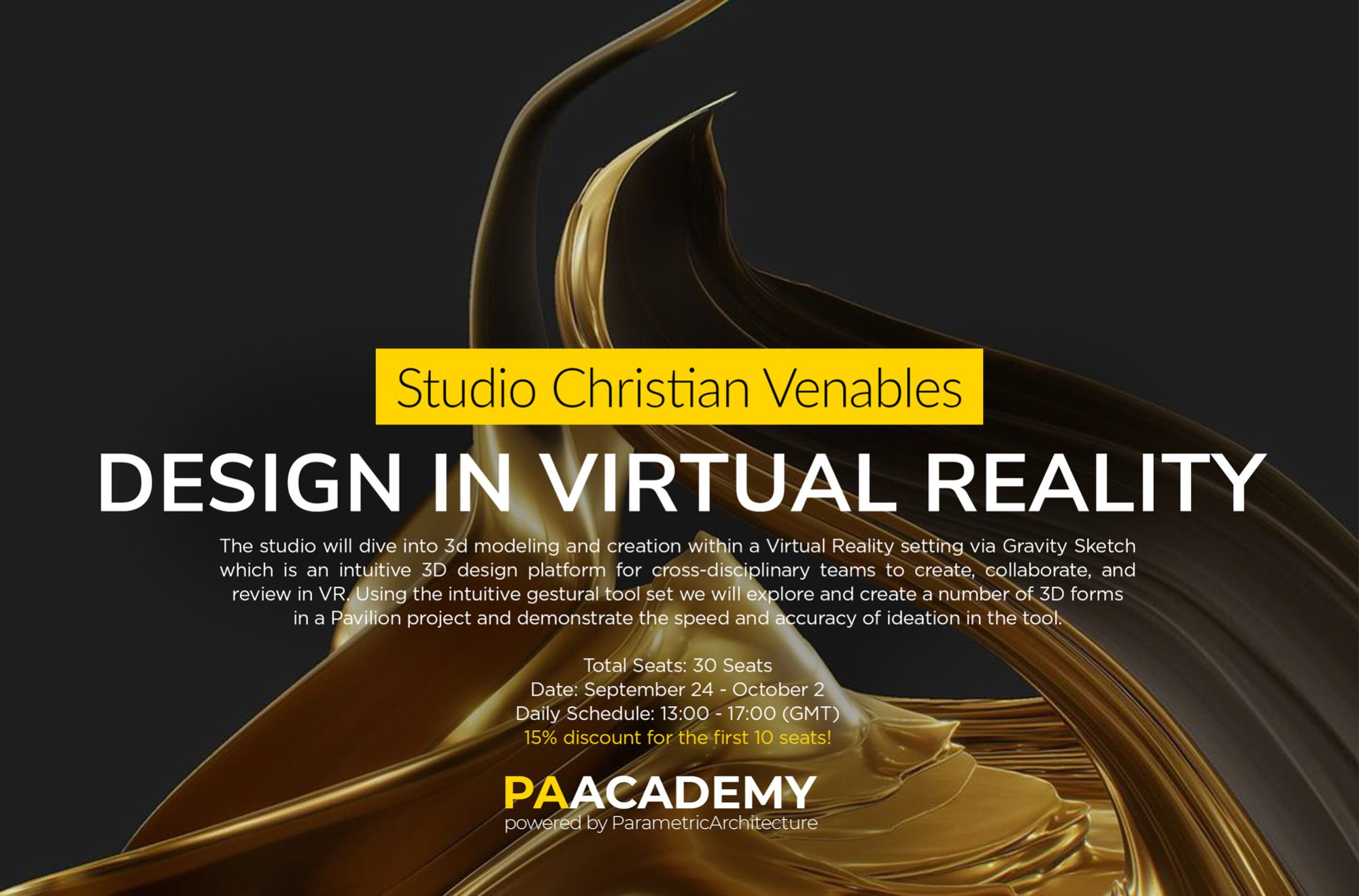 Topic: Design in Virtual Reality
Time: September 24 – October 2, 2022
Location: VR + Zoom hosted by PA
Format: Online in VR + Zoom
Duration: 3 + 1
Total Hours: 16 Hours
Workshop Type: Project-based online studio workshop
Registration Deadline: September 23, 2022
Total Seats: 30 Seats
Seats Available: 26 Seats
Early Registration: 105 EUR (15% discount for the first 10 seats)
General Registration: 125 EUR
Recordings on-demand: 150 EUR
Organized By: PAACADEMY
Tutor: Christian Venables