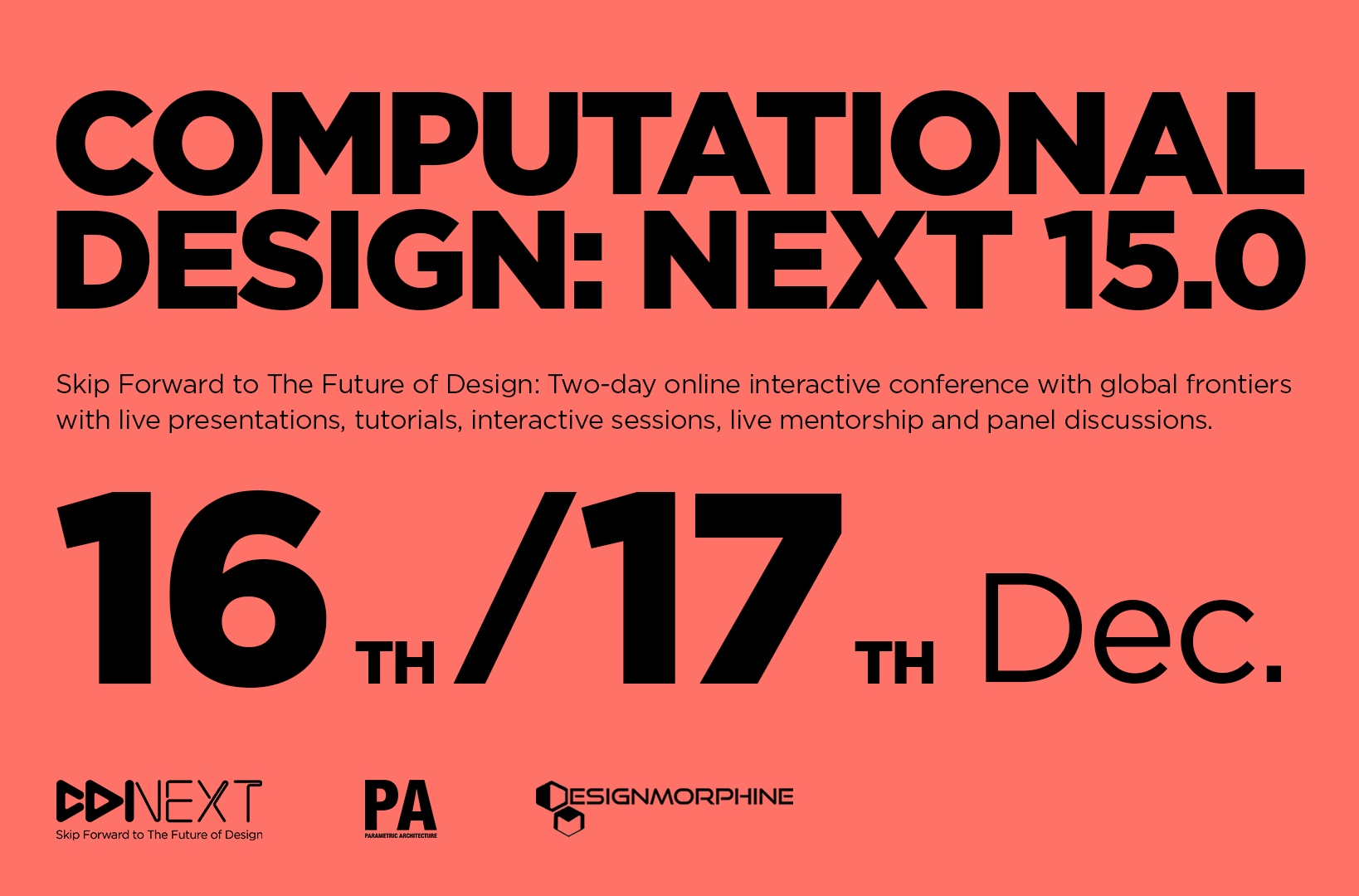 Topic: Computational Design: NEXT 15
Time: Saturday and Sunday, December 16 – 17, 2023
Day 1 Starts: December 16, 12:00 GMT
Day 1 Ends: December 16, 20:45 GMT
Day 2 Starts: December 17, 12:00 GMT
Day 2 Ends: December 17, 20:45 GMT
Where: Online – Zoom, hosted by PA
Duration: Two Days Conference (18 Hours)
Hosts: Hamid Hassanzadeh, and Michael Pryor
Collaborators: ParametricArchitecture and DesignMorphine
Early-bird Registration: €56 (Till 23:59 GMT, October 20, 2023)
General Registration: €69 (Till 23:59 GMT, December 15, 2023)
Introduction:
THE PAST, PRESENT & FUTURE: An online interactive conference with global frontiers. Two-day online conference with live presentations, tutorials, interactive Sessions, live mentorship & panel discussions. A collaborative initiative by ParametricArchitecture (PA) and DesignMorphine (DM). Computational Design: NEXT 15 brings together pioneers and professionals from all industries to meet and discuss new emerging technologies in art, architecture, design, and manufacturing.
Computational Design: NEXT is a joint effort by some of the world's leading experts in computational design to create an online learning platform that will also serve as a full-fledged online conference. ParametricArchitecture (PA), one of the leading media platforms concentrating on computational design and its different subsets, will host the event, including conversations, dialogues, tutorials, and mentoring to a worldwide audience via thought-provoking and relevant speeches.
Following the success of CD Next 1-14, Computational Design: NEXT 15 takes another step forward in exploring new-age design technologies by worldwide technology champions. The conference will take place on Saturday and Sunday, December 16 – 17, 2023, and will include workshops, panel discussions, technology demos, and presentations.
Important Notes:
The entire conference will be recorded, and videos will be available for participants just a day after the conference.
A certificate of attendance will be provided to all participants of the conference.
We will send the Zoom link just a week before the conference starts.
The event has a capacity of 400 people, and limited (100) spots are allocated for early-bird registrations.
Tickets are non-refundable and non-transferable. Please read before you register.
Guest Speakers:
Harlen Miller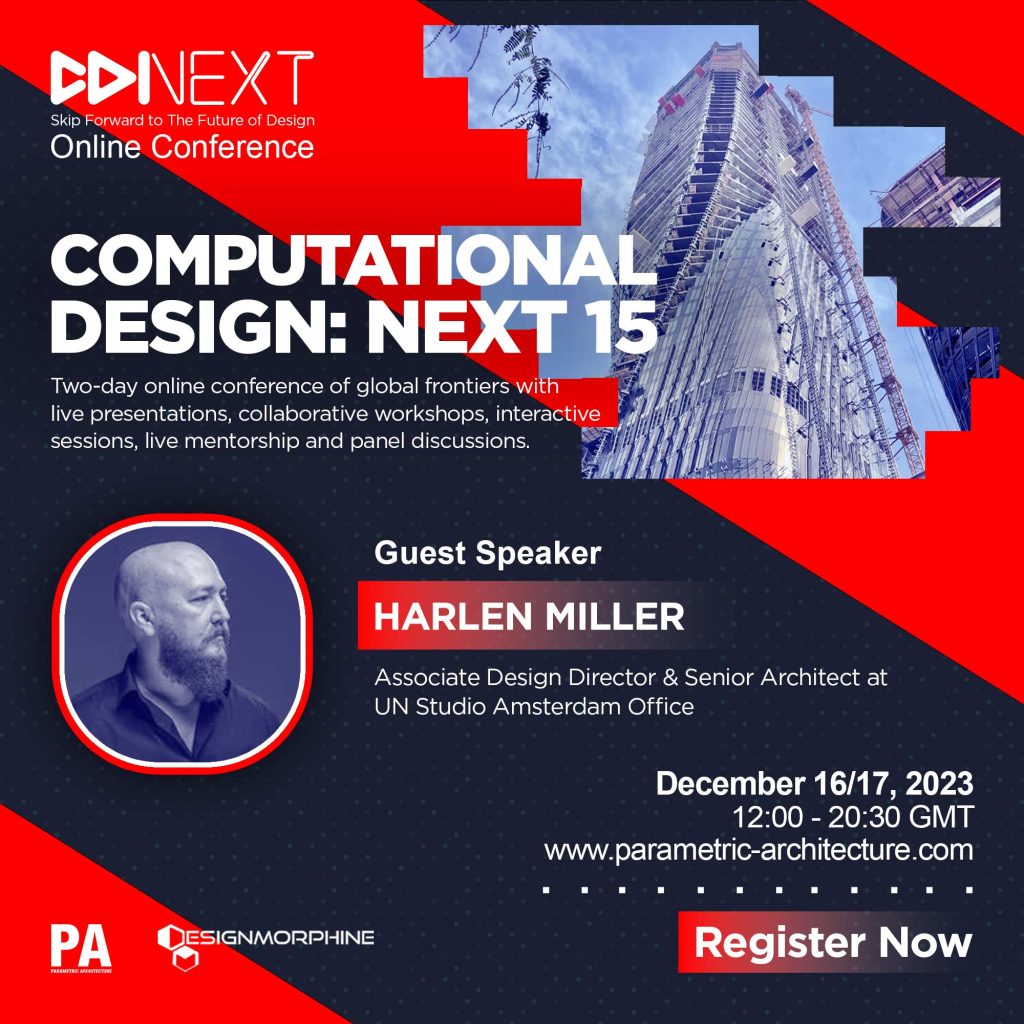 Harlen Miller is an Associate Design Director and practicing Senior Architect at UNStudio's Amsterdam office and holds over 15 years of global experience with various firms and sub-consultancies. His technical specialty resides in project management and delivery, computational design, software workflows, innovative facade systems, complex-geometry rationalization and visualization, as well as HR recruitment and the professional training of next-gen designers entering the industry. Creating detailed and compelling narrative concepts in collaboration with a diverse client base through the means of digital tooling has allowed him the unique opportunity to design bizarre and speculative typologies ranging from Architecture, Fashion, Masterplans, Transport and Product Design.
Onur Yüce Gün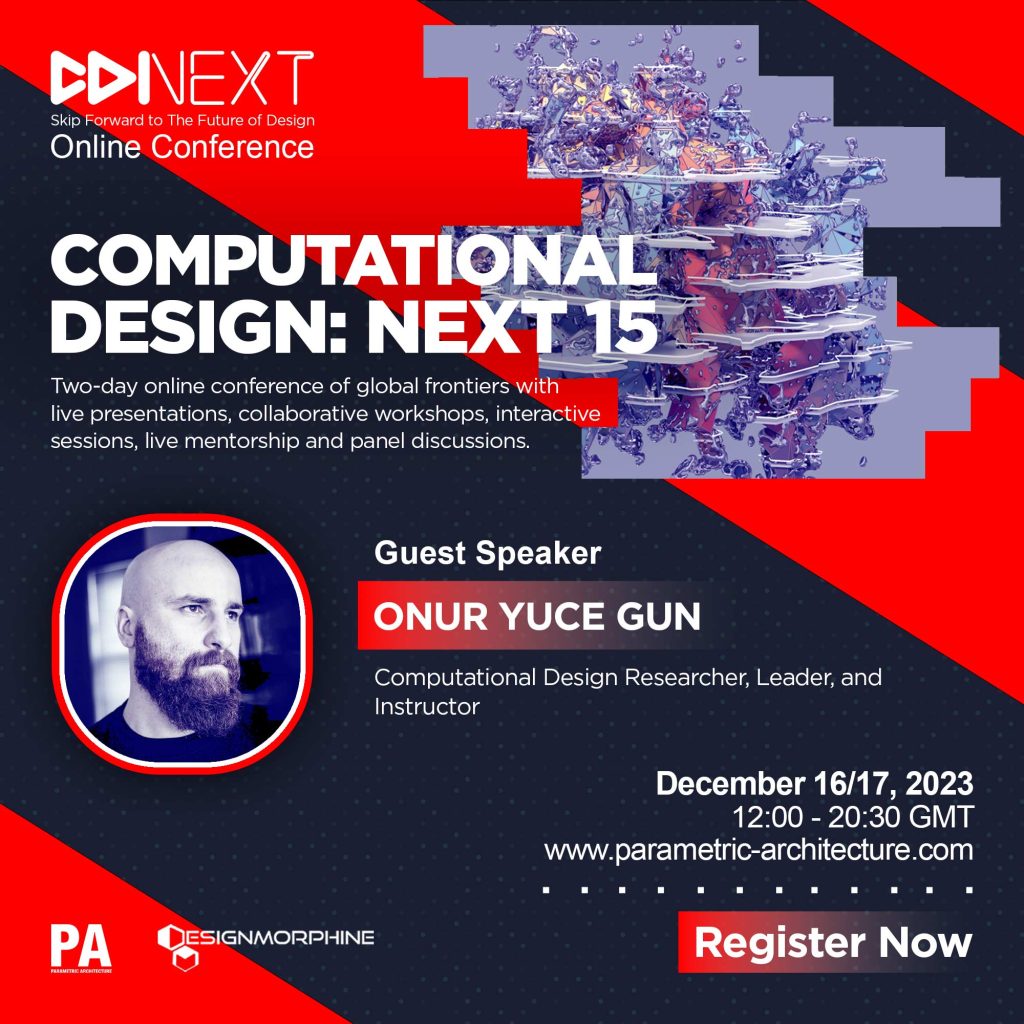 Onur Yüce Gün is a computational design researcher, leader, and instructor. Trained as an architect, he holds a SM in Design and Computation and a PhD in Computation with a minor in Media Arts and Sciences from MIT. Onur led computational design efforts across academia and industry, founding KPF's Computational Geometry Group (2006), co-founding Istanbul Bilgi University's architecture program (2009), building New Balance's computational design team (2016), and consulting for building Samsung's first computational design department (2022). He taught at MIT, RISD, and UAI. Recognized by TEDx, Time Magazine's best inventions lists, Onur's work has been internationally published, exhibited, and awarded. Onur is currently the Director of Computational Design at New Balance, where he leads a group of bright minds to develop end-to-end computational design workflows with a value-driven innovational mindset.
Marco Vanucci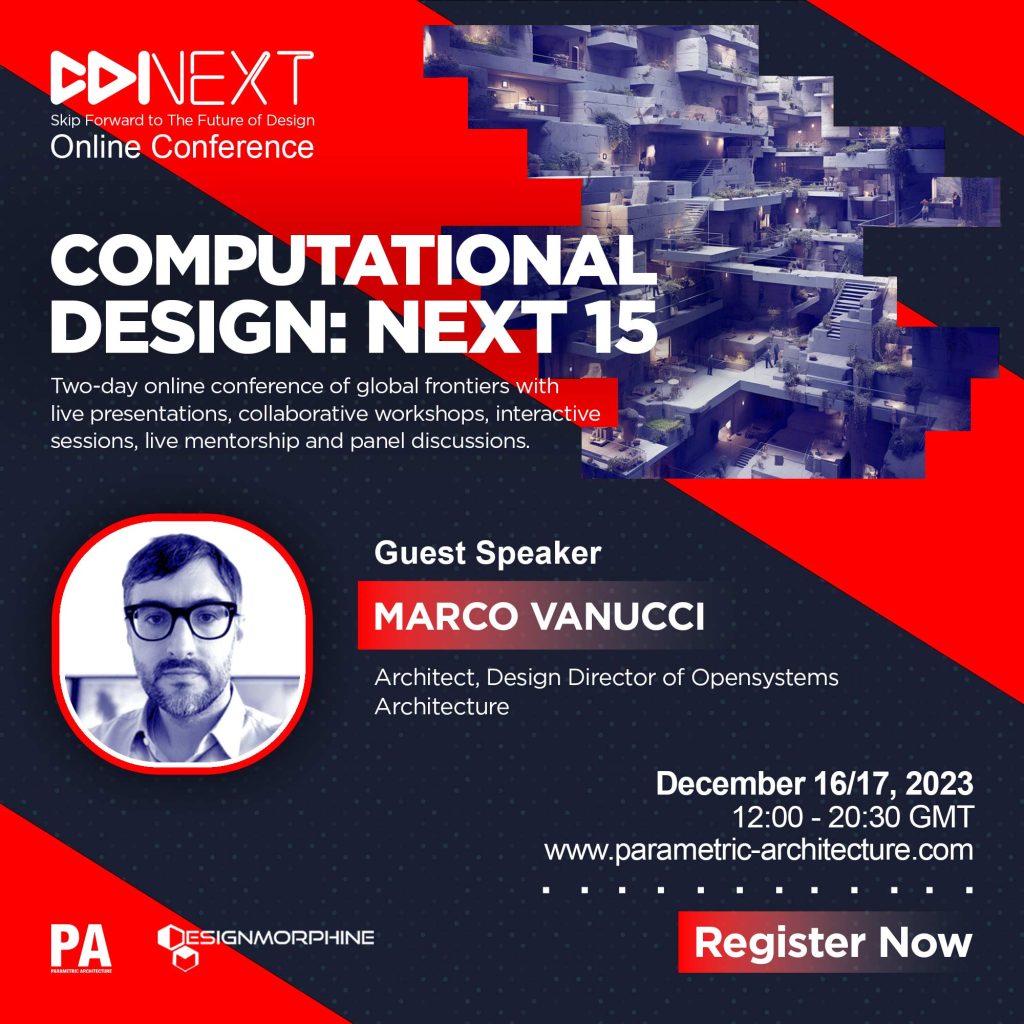 Marco Vanucci is an architect, design director of Opensystems Architecture, and a lecturer at the London South Bank University, where he currently leads a design studio at the March program. He also taught at the Architectural Association, KTH Stockholm, Nottingham Trent University, and Cardiff University for many years. His research focuses on parametric and associative design methodologies, particularly on automation and artificial intelligence. He explores these topics by practicing, writing, and teaching architecture. Marco's work is internationally exhibited, and he regularly writes articles and papers for academic journals, magazines, and newspapers such as Il Foglio, Domus, Log, Il Giornale dell'Architettura, Vesper and Stoa's journal, and others. He also co-founded, with Manuel Orazi, Adriatica, a think tank to study the evolution of urbanization along the Adriatic coast.
Dustin White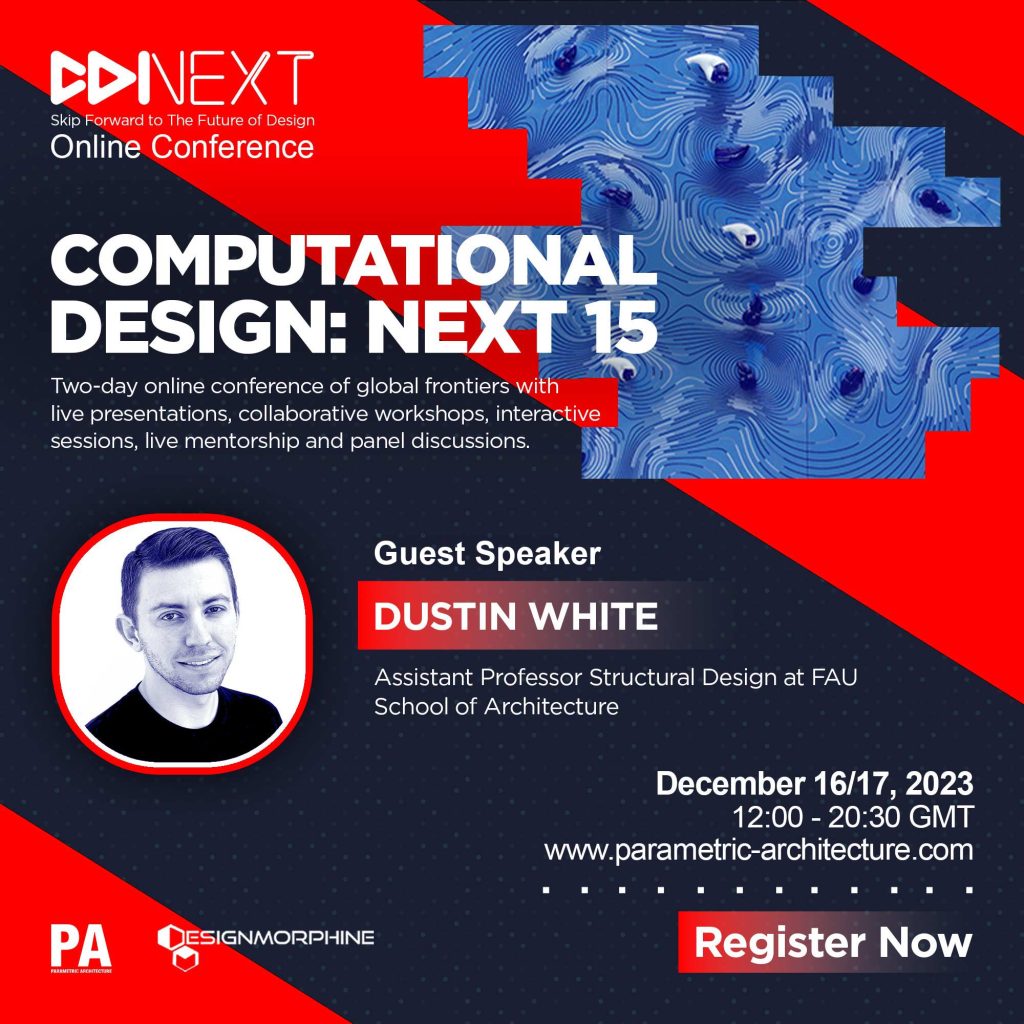 Dustin White is a tenure-track Assistant Professor of Structural Design in the School of Architecture at Florida Atlantic University. The mission of his research and design practice is to collaborate with and explore interdisciplinary partnerships within and across art and design professions including interior design, architecture, furniture design, exhibition design, patent development, material development, and digital fabrication. Computation, sustainability, and fabrication strategies drive and inform all aspects of his process and work. Maximizing ideas, material resources, and energy, as well as value engineering time and human effort inspire him to employ inventive hybrid practices merging traditional, digital, and emerging technologies that integrate tools from across a spectrum of shared disciplines. His work has been invited and shown around the world including at the Marmomac Stone Expo "Italian Stone Theater Exhibition" in Verona, Italy (2019), Marmomac Meets Academies in Verona, IT (2022 & 2023) the Venice Architecture Biennale (2021), The PASEO art festival in Taos, NM, Italian Consultant in Washington DC and has led to being a finalist for competition awards from Surface Awards (London), NYCxDESIGN, SXSW Eco in Austin, TX, and the Friends of the High Line in New York. Prior to FAU he was the Director, Digital Technologies and Fabrication and an Assistant Undergraduate Chair at the New York Institute of Technology School of Architecture and Design. Dustin is currently a Ph.D. candidate at the Politecnico di Bari in Bari, Italy, and received his M. Arch degree from Clemson University School of Architecture.
Luis Bugin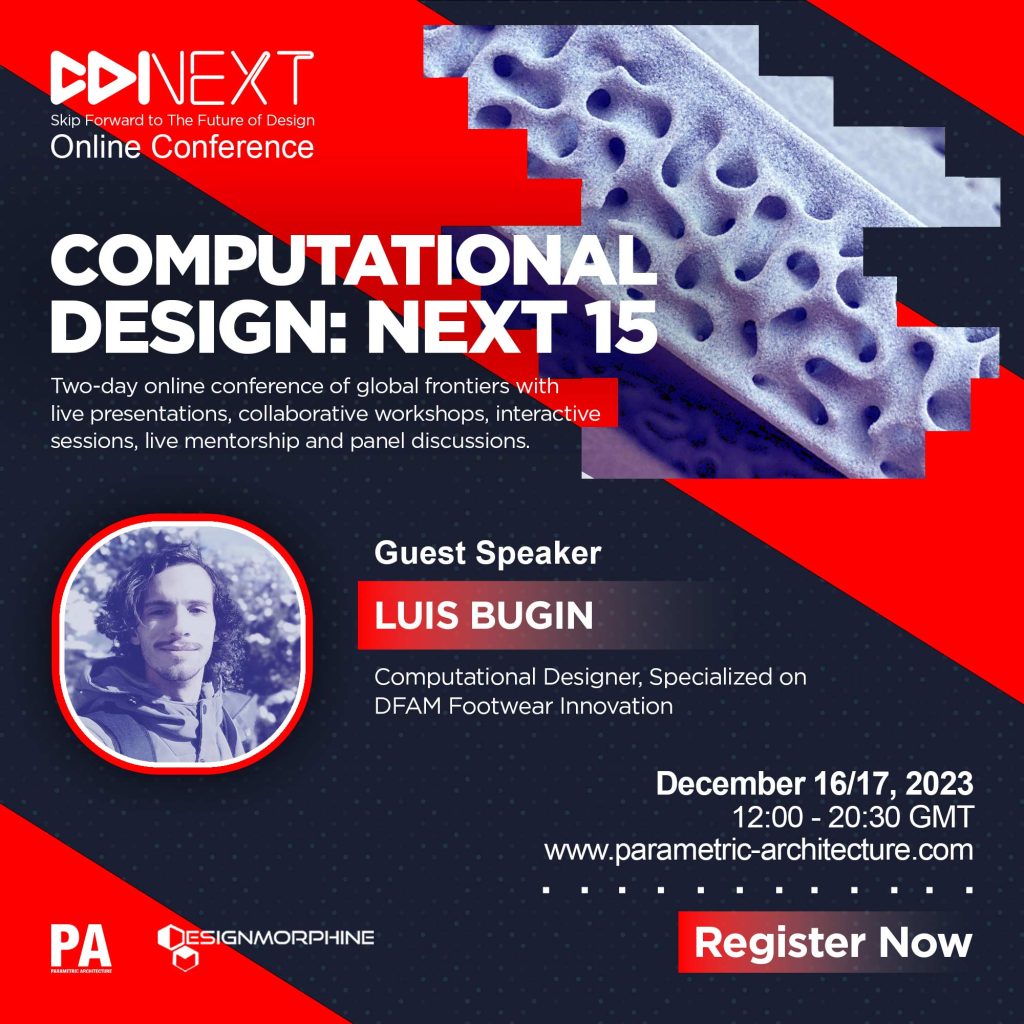 Luis Bugin is a Footwear Designer based in Hamburg, Germany, is an experienced computational designer specializing in design for additive manufacturing (DfAM) on footwear innovation. He holds a BA in Product Design and an MSc in Design. He published papers on algorithm-aid design (AAD) and recycling of polyurethane thermoplastic (TPU) related to the footwear field. After winning a startup competition from the Brazilian Footwear Industry Association (2018), He has been researching solutions to make footwear mass customization a reality. As independent professional developed projects for 2M3D, Grendene, Corpo Santo (BR); Gneiss Concept, Avid Product Development, Farylrobin and Under Armor (US); Footwearology LAB, Estonian Academy of Arts – EKA (Europe); currently as Computational Designer at Zellerfeld R&D GmbH, where develops scalable computational solutions to make easier and faster the design process of independent designers that aim launch their own 3D printed footwear made by Zellerfeld.
Federico Borello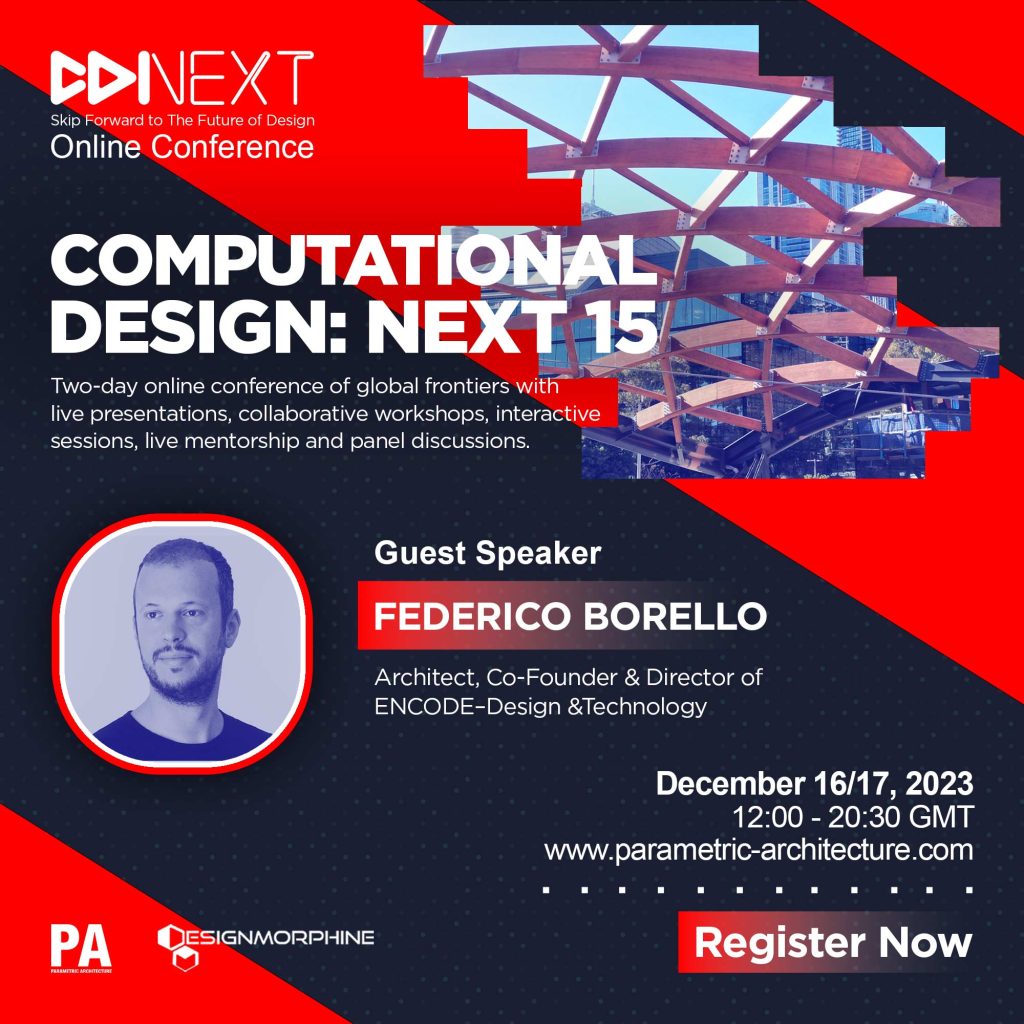 Federico Borello is a registered Architect (OAT and ARB), currently based in London. He has a master's degree with Honors from the Polytechnic of Turin and an MArch degree from the Architectural Association Design Research Laboratory (DRL) in London. He has been a Visiting Scholar at the Rensselaer Polytechnic Institute (NY) and has participated in multiple international workshops, including AA Visiting School in Rome and London. He is the co-founder and Director of ENCODE – Design & Technology, a consultancy practice for Architects, Engineers, Manufacturers, and Contractors to develop and deliver innovative projects from early design stages to construction, leveraging state-of-the-art virtual construction technologies and DfMA processes. Federico worked for over four years in London as a Senior Architect at Zaha Hadid Architects in the CODE group (Computation and Design), with a core focus on digital fabrication and structure-aware geometries, robotic-assisted manufacturing, and 3d printing. He also worked in Italy with Cesare Griffa Architects, Camerana & Partners, and Gufram. Federico is also a Lecturer at UCL Bartlett BPro in London, where he co-leads the Research Cluster 10 in Architectural Design. He has taught numerous courses and conferences including AADRL (London), Bartlett BPro (London), Tonji University (Shanghai), CITA (Copenhagen), ACADIA (Austin).
Aida Rasouli Saani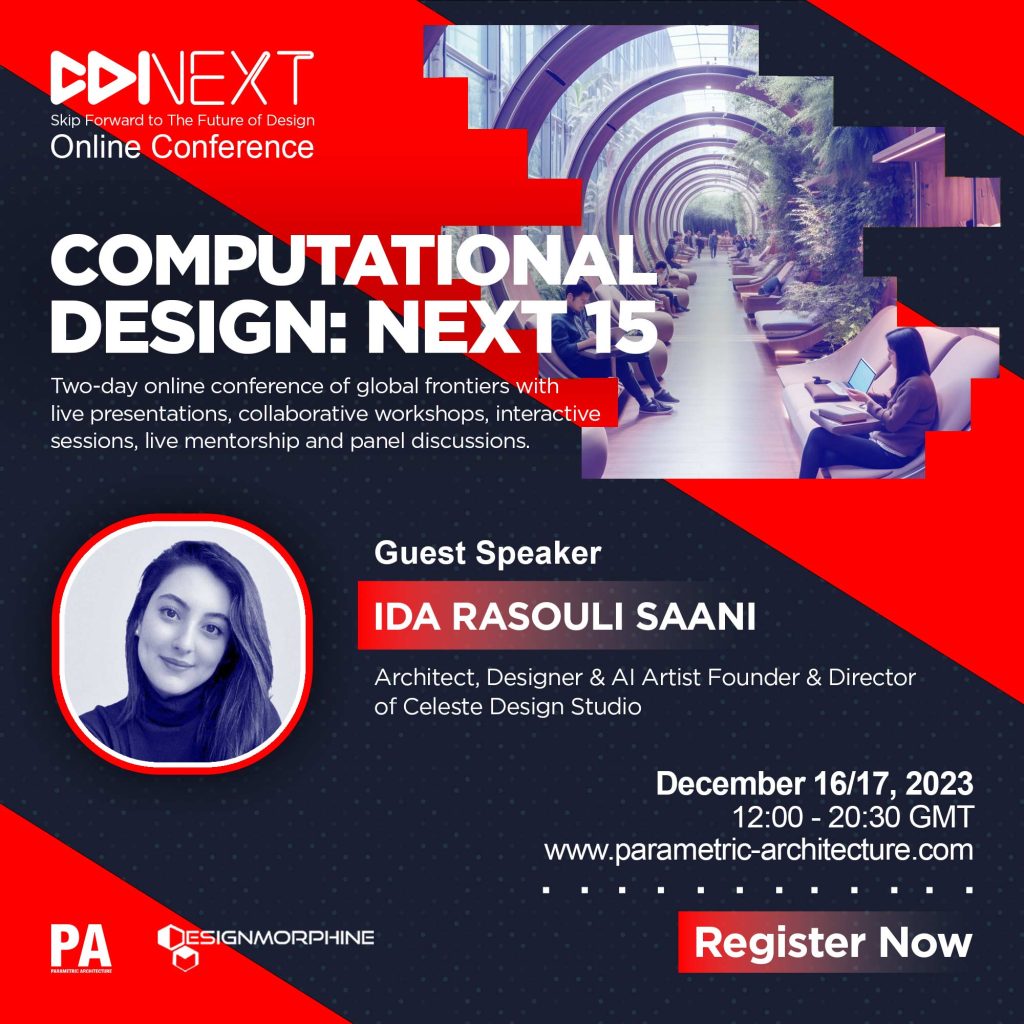 Ida Rasouli is an Iranian architect, multi-disciplinary designer and concept artist. She is the founder and creative director of Celeste Design Studio which focuses on the concept development process in the fields of architecture, interiors, objects and fashion. Her fascination with Ai generative tools has driven her to employ them in crafting inventive design concepts over the past year. Her work has garnered global recognition and she has collaborated with various institutions and universities, sharing her expertise on integrating AI into the architecture and design processes.
Joseph Bogusky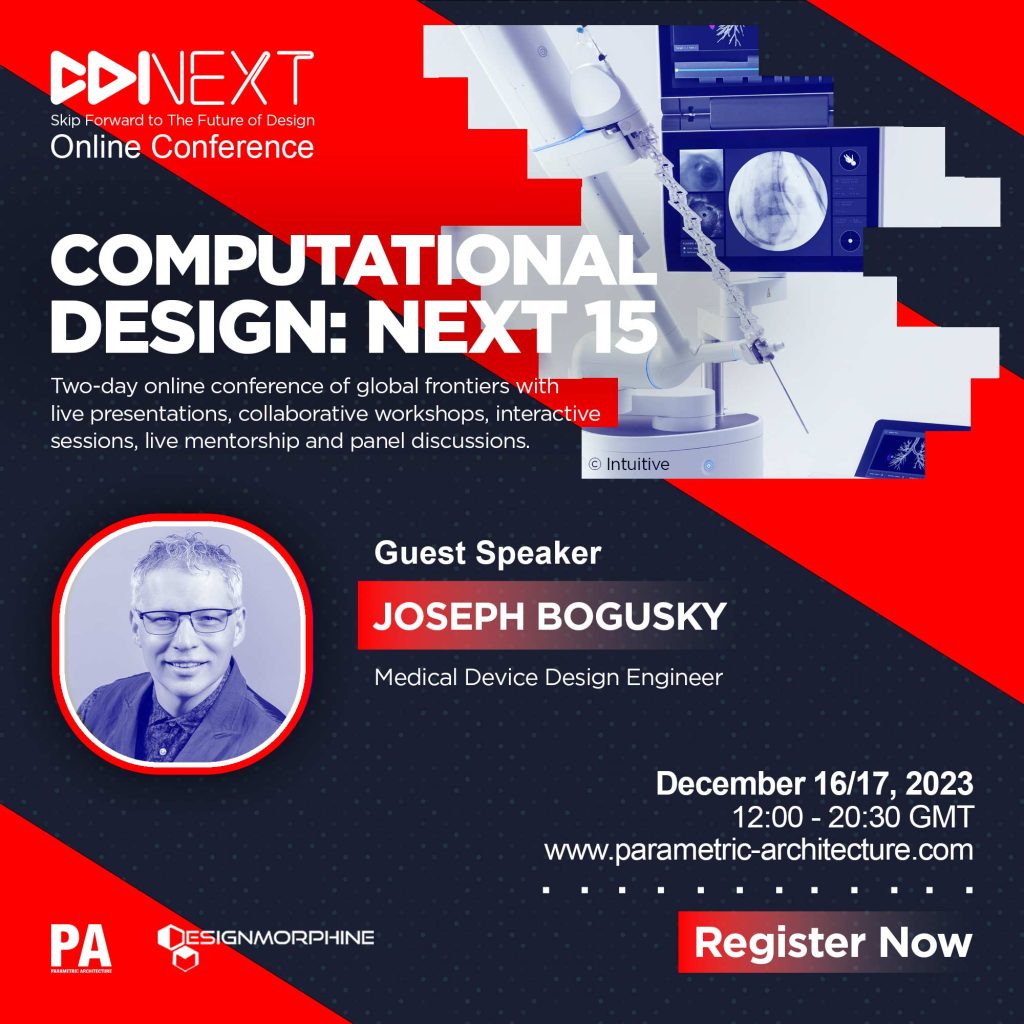 Joseph Bogusky is a distinguished biomedical engineer with over 25 years in the medical device industry, pioneering minimally invasive and robotic technologies. His work has significantly advanced the field, reflecting a unique blend of expertise in medical devices and robotics. While initially working for Baxter Healthcare and then Becton Dickinson. It was at Accellent where Joseph developed expertise in catheter design ranging from sub-millimeter devices to those over 10mm in diameter. Mastering the techniques of braiding, lamination and assembly of conventional catheters, his career took him to companies focused on robotically controlled catheters and endoscopes. At Hansen Medical, Joseph developed a multifunctional, robotically controlled vascular device designed for intricate navigation within the body, followed by a revolutionary time at Auris Medical (later acquired by J&J), developing a robotic bronchoscopy device. Now, at Intuitive Surgical, he furthered the development of sophisticated diagnostic tools for lung cancer. Joseph is listed on over a dozen US and international patents, exemplifying his technical skill and his hands-on approach demonstrates his commitment to mentorship. His passion and expertise fuel his dedication to transforming technically clinical challenges into innovative viable solutions. The enthusiasm he brings to each project is infectious, showcasing a career built on both achievements and the capacity to empower his peers and clients.
Guest Tutors:
Denisa Durica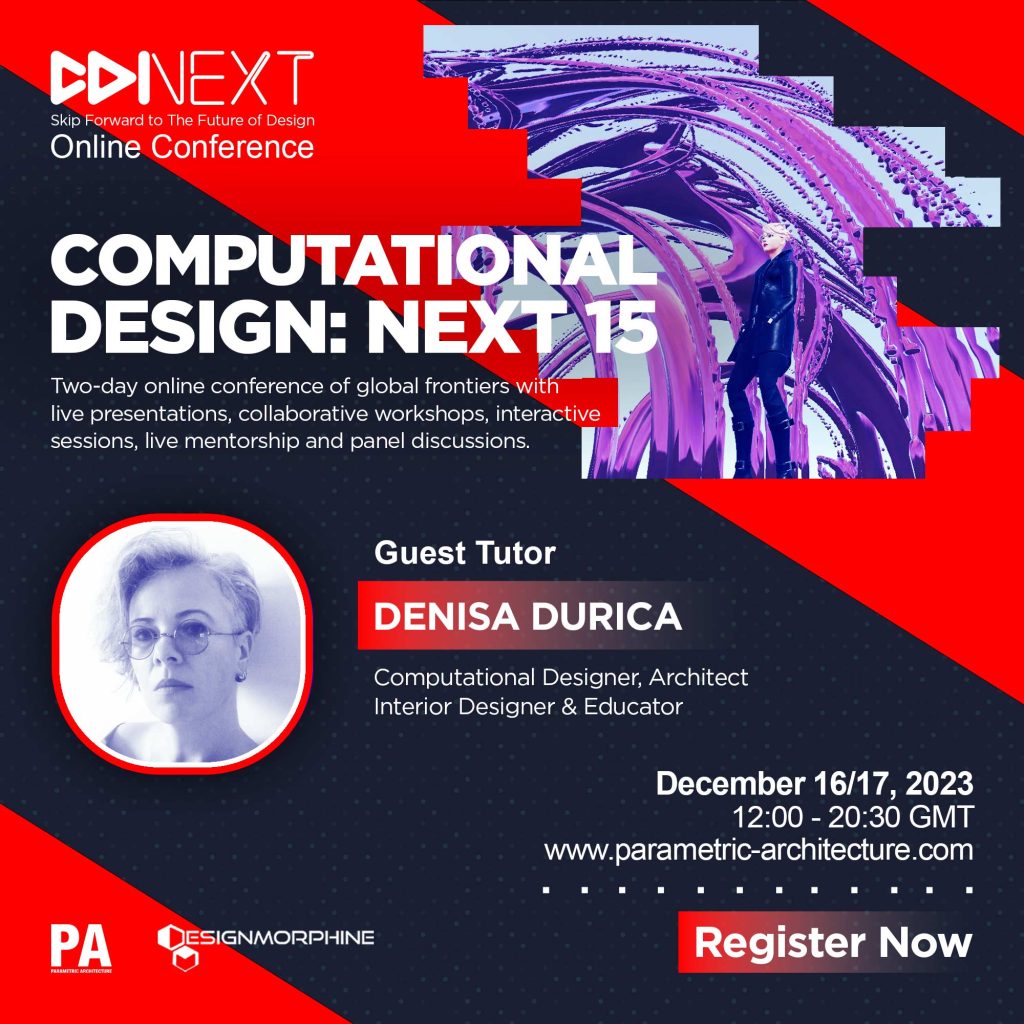 Denisa Durica is blending roles as a computational designer, architect, interior designer, and educator. As a computational designer collaborating with Illusorr, a brand focused on metaverse and AR/VR, she leverages her expertise in Houdini, other 3D software, and AI to push the boundaries of immersive design. With a career spanning back to 1999, she honed her skills through local architectural internships and practices and at esteemed studios like EEA – Erick Van Egeraat Associated Architects, and AUKETT Fitzroy Robinson. In 2003, Denisa established her own atelier, AGAD, fostering relationships with local clients. In 2014, she expanded her creative reach by founding AnynOOn, a brand dedicated to crafting innovative vinyl clocks. Since 2003, she has been teaching 2D game and code programs, as well as graphic design, 3D and 2D software. In 2018 she founded a training center AGAD-kurzy in Slovakia.
Claudia Campuzano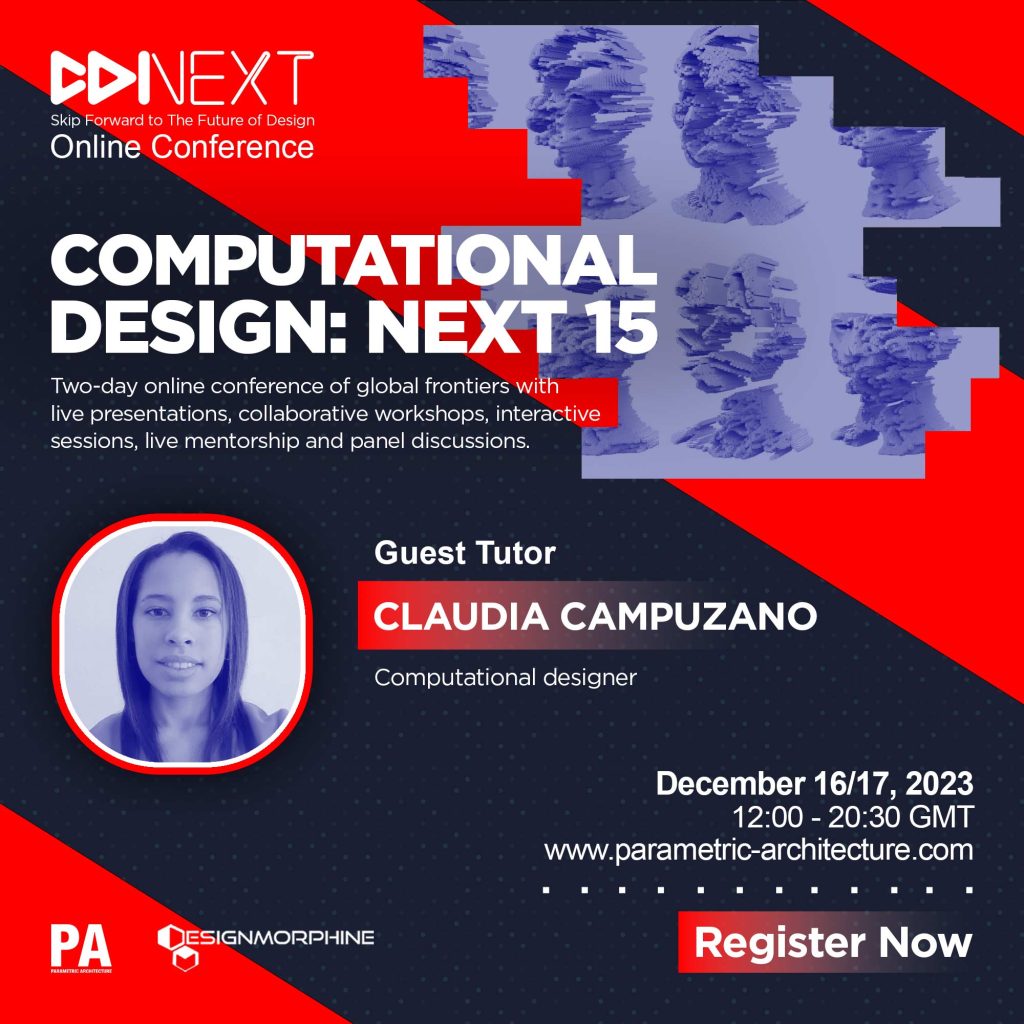 Claudia Campuzano is a Cuban Computational designer. Her Cuban background shaped her appreciation for design and aesthetics, having been heavily influenced by her homeland's vibrant colors, art, music, food, and architecture. Pursuing her passion, Claudia completed a Master's in Architecture from Florida International University, where she practiced many emerging technologies in architecture, such as Grasshopper and Houdini. Her professional career began as a junior designer at Ballinger in Philadelphia, where she worked on healthcare projects. Claudia is interested in breaking the boundaries within architecture and has continued to explore this in her personal and professional work. As a lead designer for Bayo, she collaborated with a team to design an interactive sculpture for the stage of House of Blues in Boston and The New York City Pier 17. Claudia is currently pursuing a Master of Science in Design: Robotics and Autonomous Systems from the University of Pennsylvania's Stuart Weitzman School of Design.
Kirah Cahill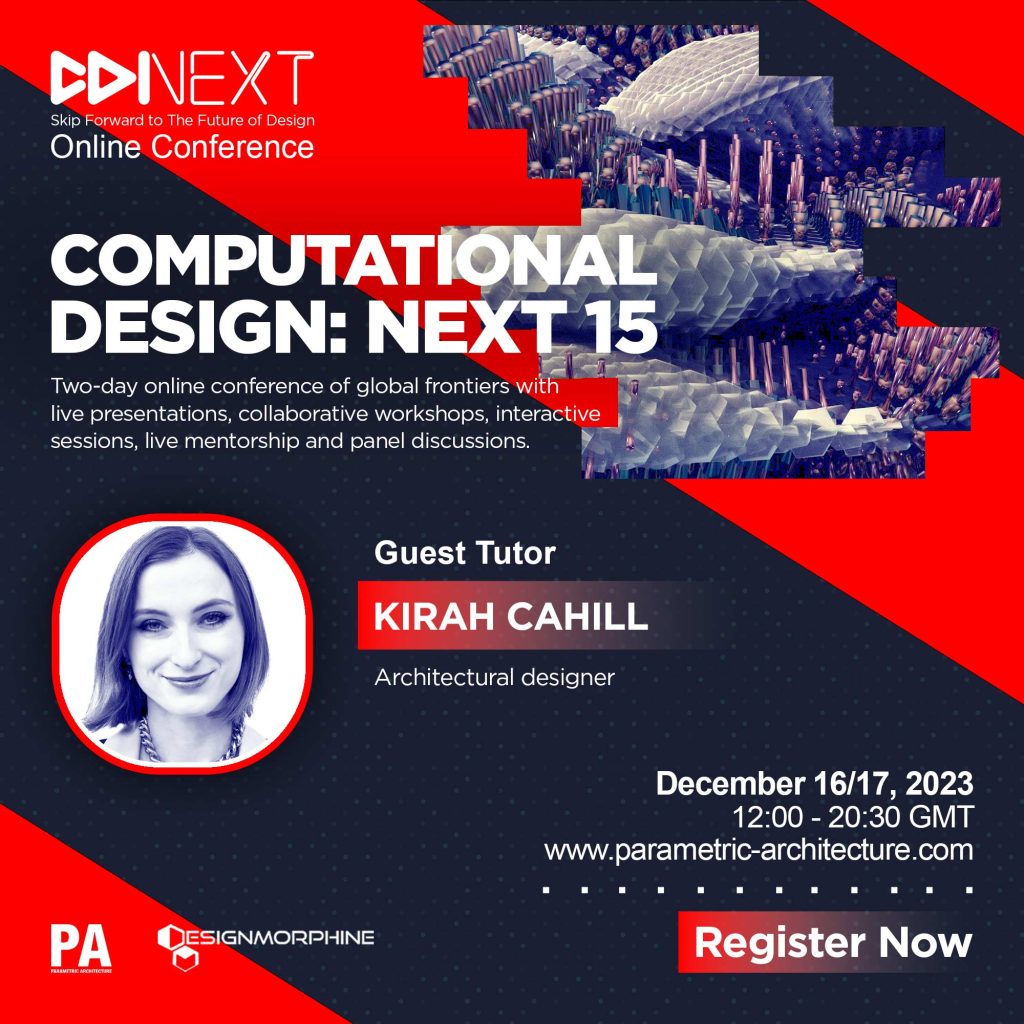 Kirah Cahill is a talented architectural designer and 3D artist who is currently based in Philadelphia, PA. She is a candidate for the Master of Architecture graduate program at the University of Pennsylvania Stuart Weitzman School of Design, and is expected to graduate in the spring of 2024. Her work explores formal and textural aesthetics through computational modeling and digital rendering. These explorations are developed through a diverse use of design programs, with an emphasis on Rhino, Grasshopper, ZBrush, Houdini, and Keyshot.
AbdulAlim U-K (Aikin Karr)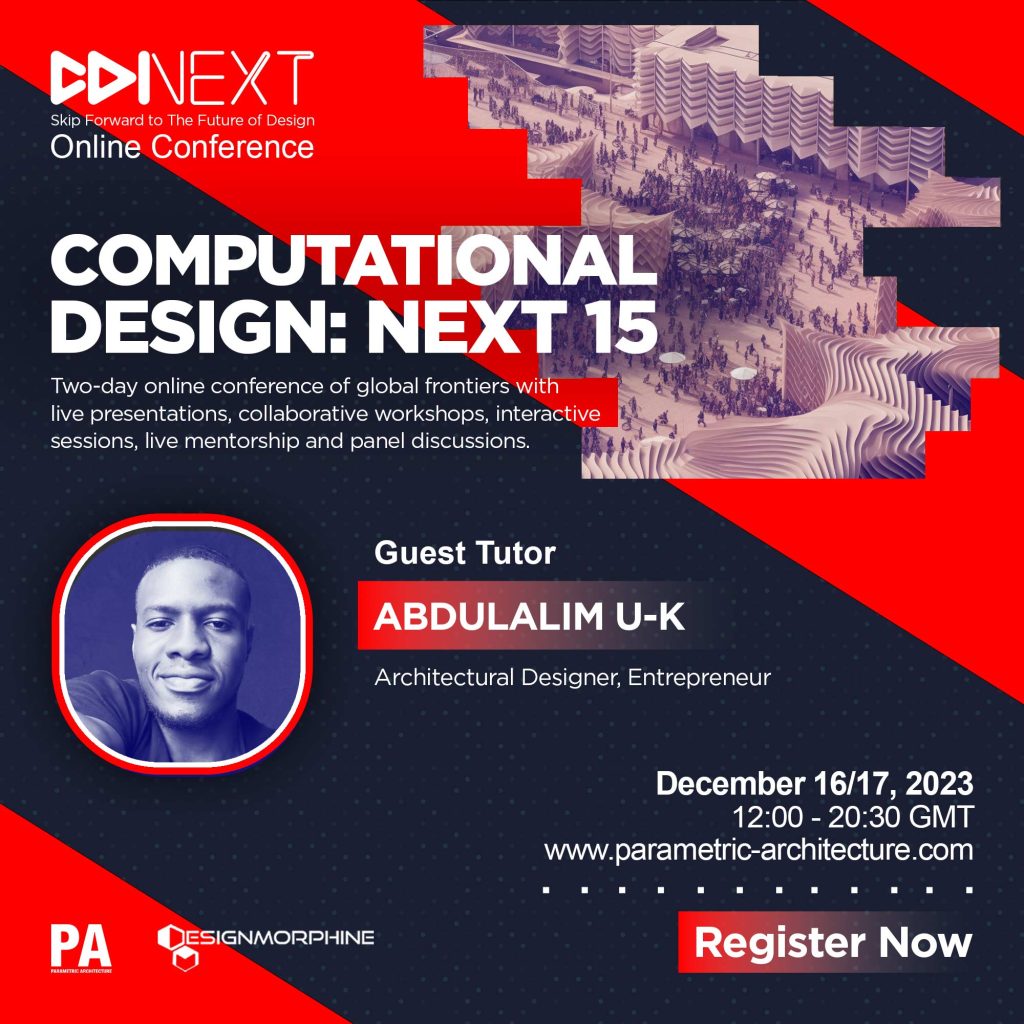 Aikin Karr is a pseudonym used by AbdulAlim U-K, a UK-based 24-year-old Nigerian architectural designer and entrepreneur; his name pays homage to his ethnic heritage as he redefines Sudano-Sahelian architectural design aesthetics and principles in tandem with cutting-edge technology. With a unique focus on the evolution of vernacular architecture, he leverages artificial intelligence to explore contemporary and futuristic forms of traditional architecture that are culturally and environmentally bound to the Sahel region. AbdulAlim coins Regional Tectonics in this design process, which he uses to create captivating urban layouts, facades, and industrial designs for a global audience. In addition, AbdulAlim studied architecture and environmental design at the University of Westminster in London, has 2+ years' experience working in a design-build firm in Nigeria, co-founded an award-winning startup with the aim of alleviating urban crime supported by the National Space Research & Development Agency of Nigeria, and is currently studying towards a master's degree in computer science at Cardiff University in Wales with a focus in artificial intelligence. It's the role in the built environment and in the enterprise.