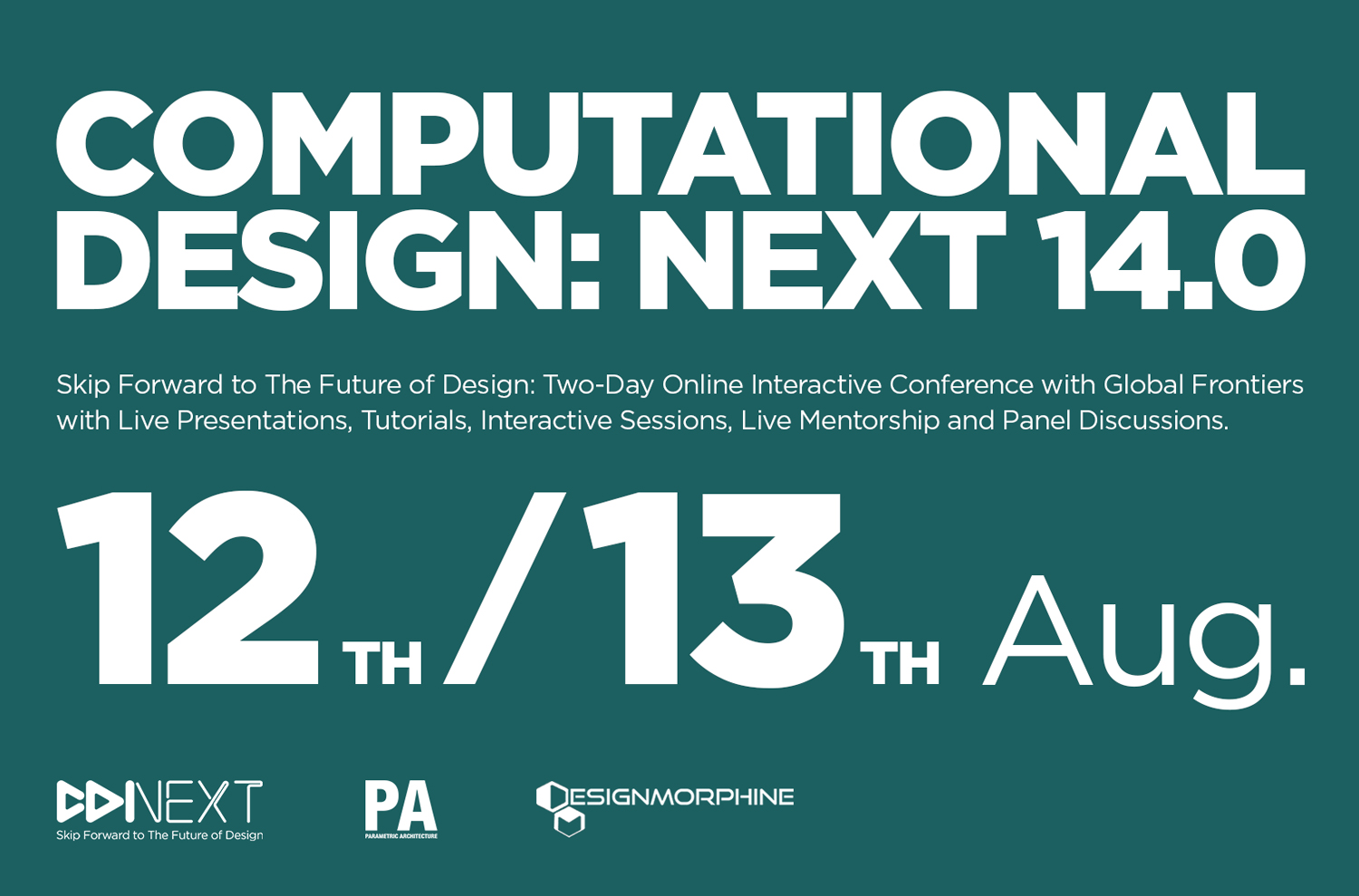 Topic: Computational Design: NEXT 14
Time: Saturday and Sunday, August 12 – 13, 2023
Day 1 Starts: August 12, 12:00 GMT
Day 1 Ends: August 12, 20:45 GMT
Day 2 Starts: August 13, 12:00 GMT
Day 2 Ends: August 13, 20:45 GMT
Where: Online – Zoom, hosted by PA
Duration: Two Days Conference (18 Hours)
Hosts: Hamid Hassanzadeh, and Michael Pryor
Collaborators: ParametricArchitecture and DesignMorphine
Early-bird Registration: €56 (Till 23:59 GMT, July 12, 2023)
General Registration: €69 (Till 23:59 GMT, August 11, 2023)
"Skip Forward to the Future of Design"
COMPUTATIONAL DESIGN: NEXT
Introduction:
THE PAST, PRESENT & FUTURE: An online interactive conference with global frontiers. Two-day online conference with live presentations, tutorials, interactive Sessions, live mentorship & panel discussions. A collaborative initiative by ParametricArchitecture (PA) and DesignMorphine (DM). Computational Design: NEXT 14 brings together pioneers and professionals from all industries to meet and discuss new emerging technologies in art, architecture, design, and manufacturing.
Computational Design: NEXT is a joint effort by some of the world's leading experts in computational design to create an online learning platform that will also serve as a full-fledged online conference. ParametricArchitecture (PA), one of the leading media platforms concentrating on computational design and its different subsets, will host the event, including conversations, dialogues, tutorials, and mentoring to a worldwide audience via thought-provoking and relevant speeches.
Following the success of CD Next 1-13, Computational Design: NEXT 14 takes another step forward in exploring new-age design technologies by worldwide technology champions. The conference will take place on Saturday and Sunday, August 12 – 13, 2023, and will include workshops, panel discussions, technology demos, and presentations.
Important Notes:
Details about the guests will be published soon
The entire conference will be recorded, and videos will be available for participants just a day after the conference.
A certificate of attendance will be provided to all participants of the conference.
We will send the Zoom link just a week before the conference starts.
You can make payments in cryptocurrencies. For more details, please email us at [email protected].
The event has a capacity of 400 people, and limited (100) spots are allocated for early-bird registrations.
Tickets are non-refundable and non-transferable. Please read before you register.
Guest Speakers:
Studio Symbiosis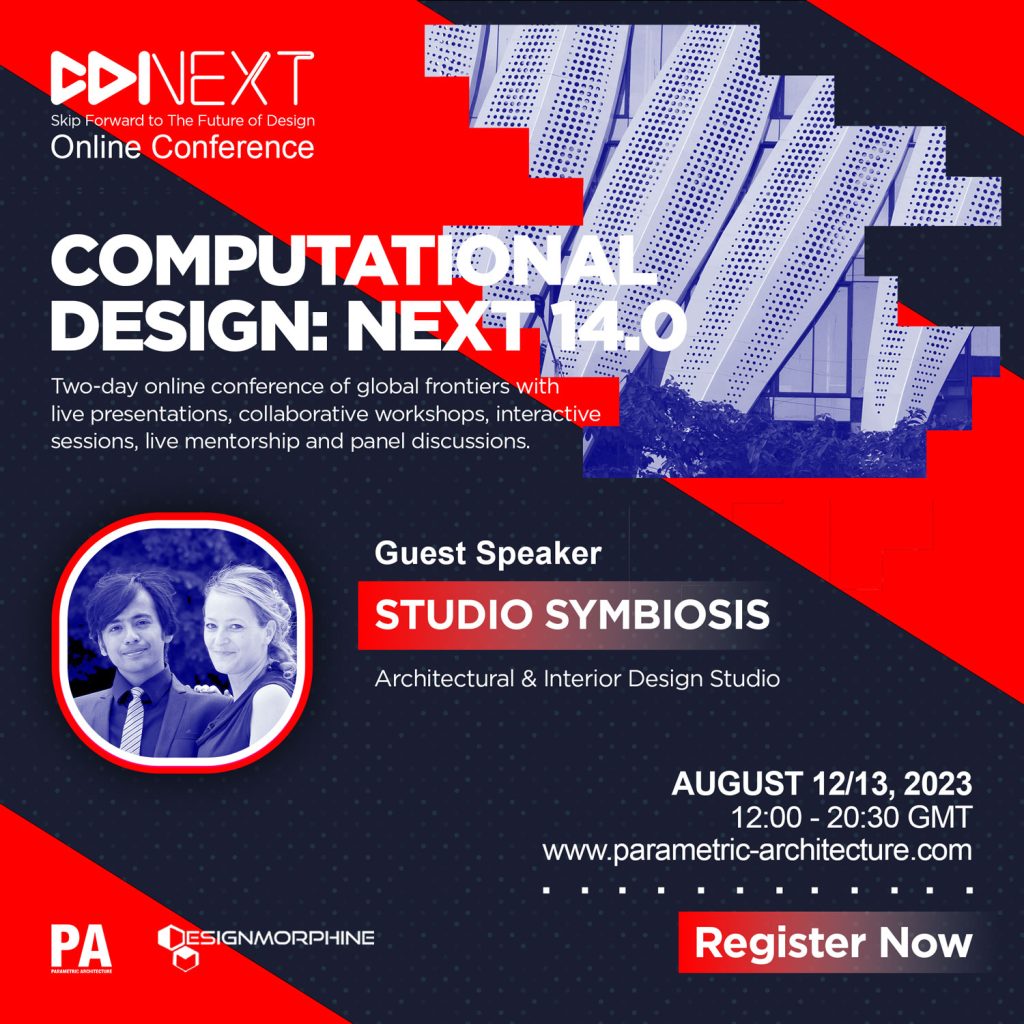 Studio Symbiosis is a Stuttgart-based architectural, master planning, and interior design firm that works on projects of all sizes and sectors. The Studio will lecture at the Computational Design: NEXT 14.0 conference about its philosophy to create integrated design solutions that incorporate amalgamated, efficient, robust, and long-lasting designs that result in performative architecture. The practice's research and intent is to use performance as a design driver to achieve Sustainable and Smart buildings. This integration of performance-based aesthetics can be found all around us in nature. Nature has tested and evolved these systems through an iterative process to produce robust and elegant design solutions. The complexity of the various subsystems is selectively articulated to generate the final design solution. The practice believes that intelligent design solutions driven by performance are possible using computational tools.
Kais Al Rawi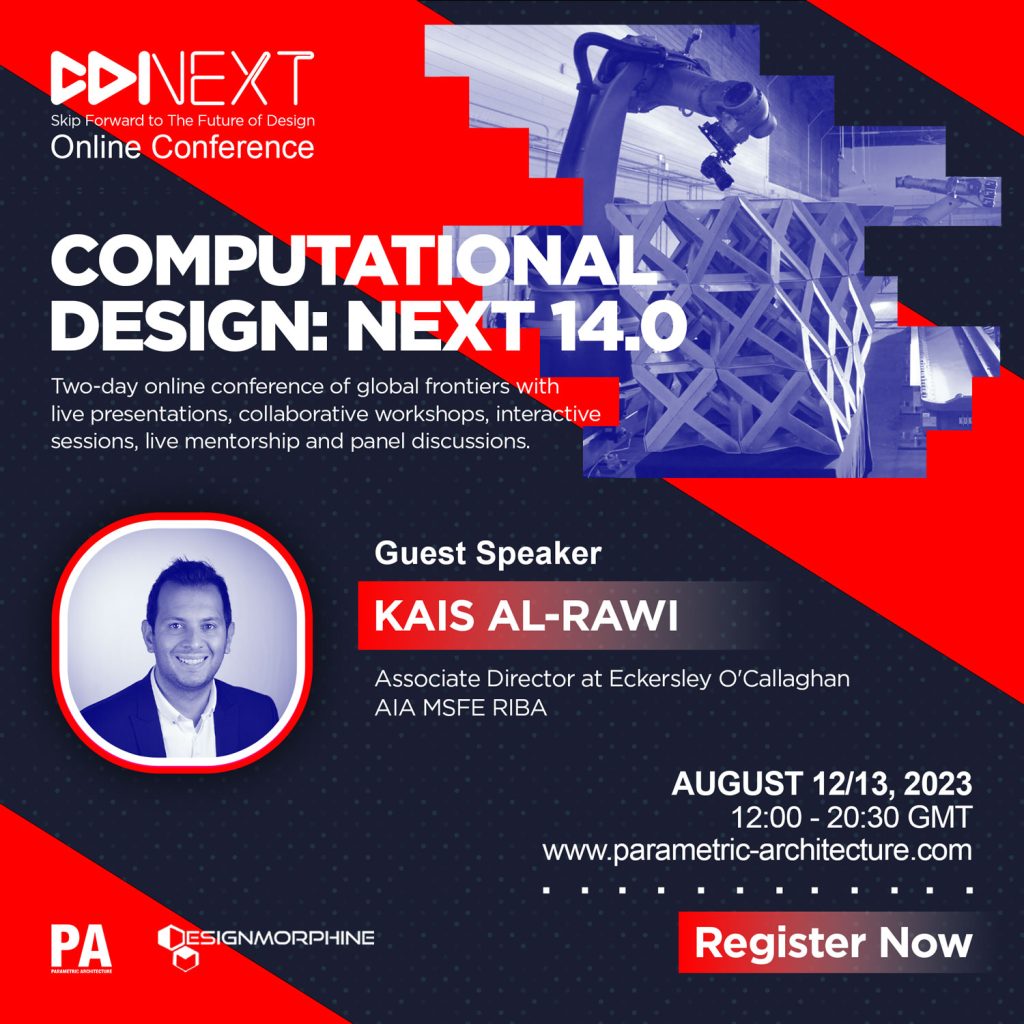 Kais Al-Rawi, AIA, is an architect, engineer, and technology expert who will give us 45 minutes speech at CD NEXT 14 about his specialization in solving complex building challenges through digital design. He is an Associate Director at the award-winning Structures and Facades firm Eckersley O'Callaghan's Los Angeles office. Kais was named to the Airport Business Top 40 Under 40 (2022) list. His expertise has been used on world-class projects such as SoFi Stadium, the Lucas Museum of Narrative Art, the San Diego Airport T1 redevelopment, West Gates at LAX, Daily's Place, New Orleans Airport, and the Orange County Museum of Art, among others. He specializes in computational design and its application in the AEC industry, from concept to construction. Kais is an Adjunct Lecturer at the University of Southern California (USC) School of Architecture and has taught and directed the Architectural Association Visiting School programs in Los Angeles and Jordan with a focus on space architecture. He was also a juror to NASA's centennial challenge competition for Martian habitats.
Stefano Bastia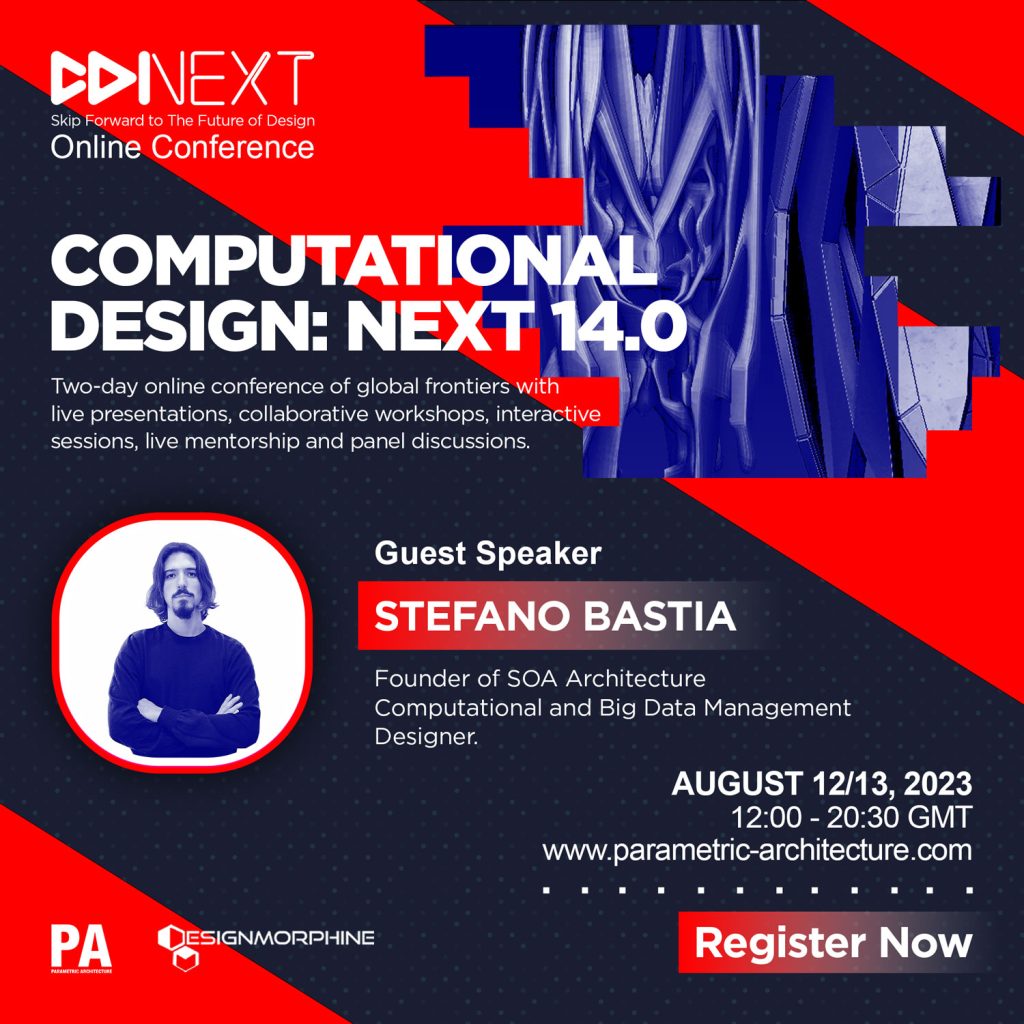 Stefano Bastia joined Mario Cucinella Architects in Bologna in 2016, after completing his Bachelor of Architecture degree at the University Alma Mater Studiorum of Bologna. Throughout his tenure, he has been extensively involved in various projects and international competitions, demonstrating a keen focus on parametric design, computational design, and managing and optimizing large datasets. With a wealth of experience in these areas, Stefano is poised to share his expertise and insights at CDNEXT 14, delving into the multifaceted realm of parametric design, computational design, and big data management. His particular interest lies in exploring the implications of these phenomena on everyday life and their broader social and political ramifications.
Nikita Replyanski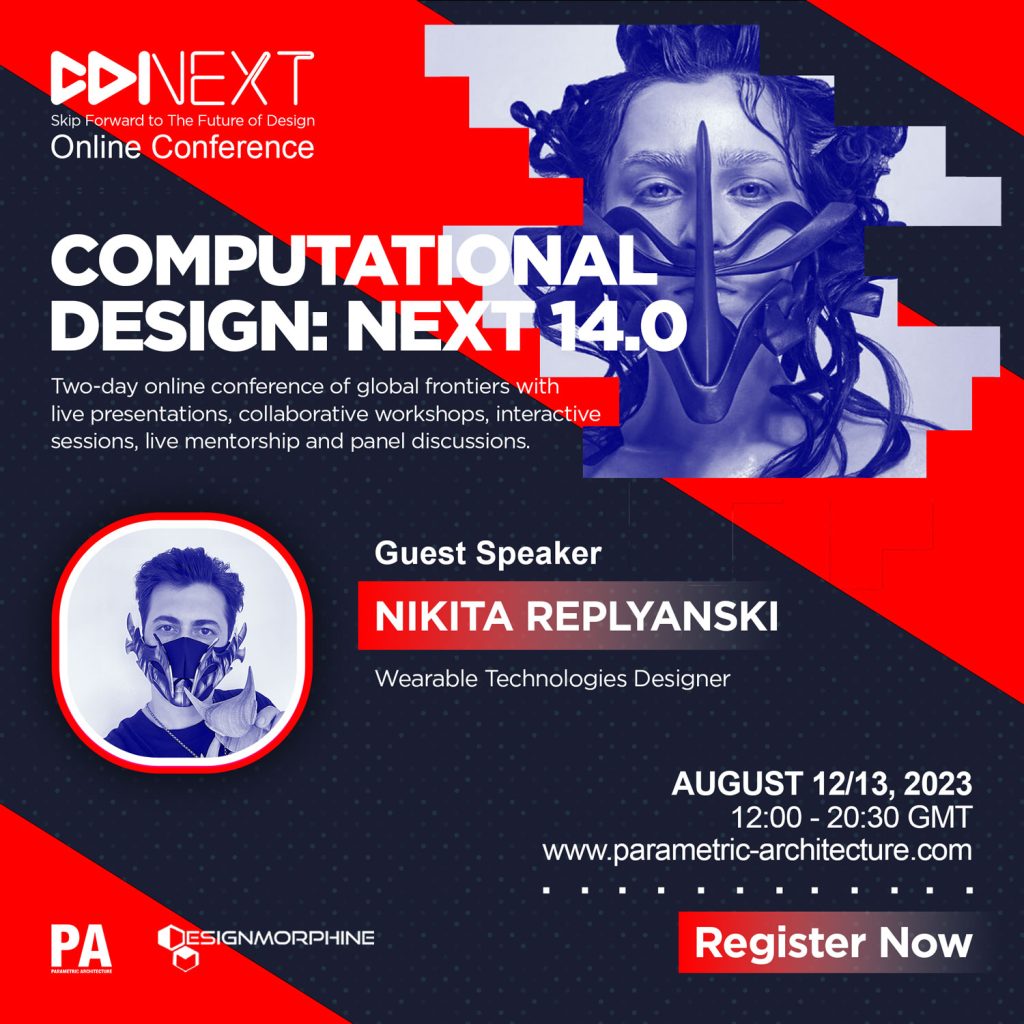 Nikita Replyanski is a Moscow-based Technological Artist and Cyber Fashion Designer renowned for his fusion of technology and the human body in physical and digital cyber art. With a decade of experience in the Digital Entertainment Industry, he transitioned from 3D game art to designing 3D printed prosthetic arms, ultimately making it his primary career focus. Today, Nikita creates captivating art projects in AR and 3D printing, excelling in High-Quality Cyber Fashion filters with custom designs and animations. Attendees at CDNext 14 can look forward to a 45-minute session where he'll share insights into his visionary designs and the interplay of art and technology in cyber fashion.
Natalie Alima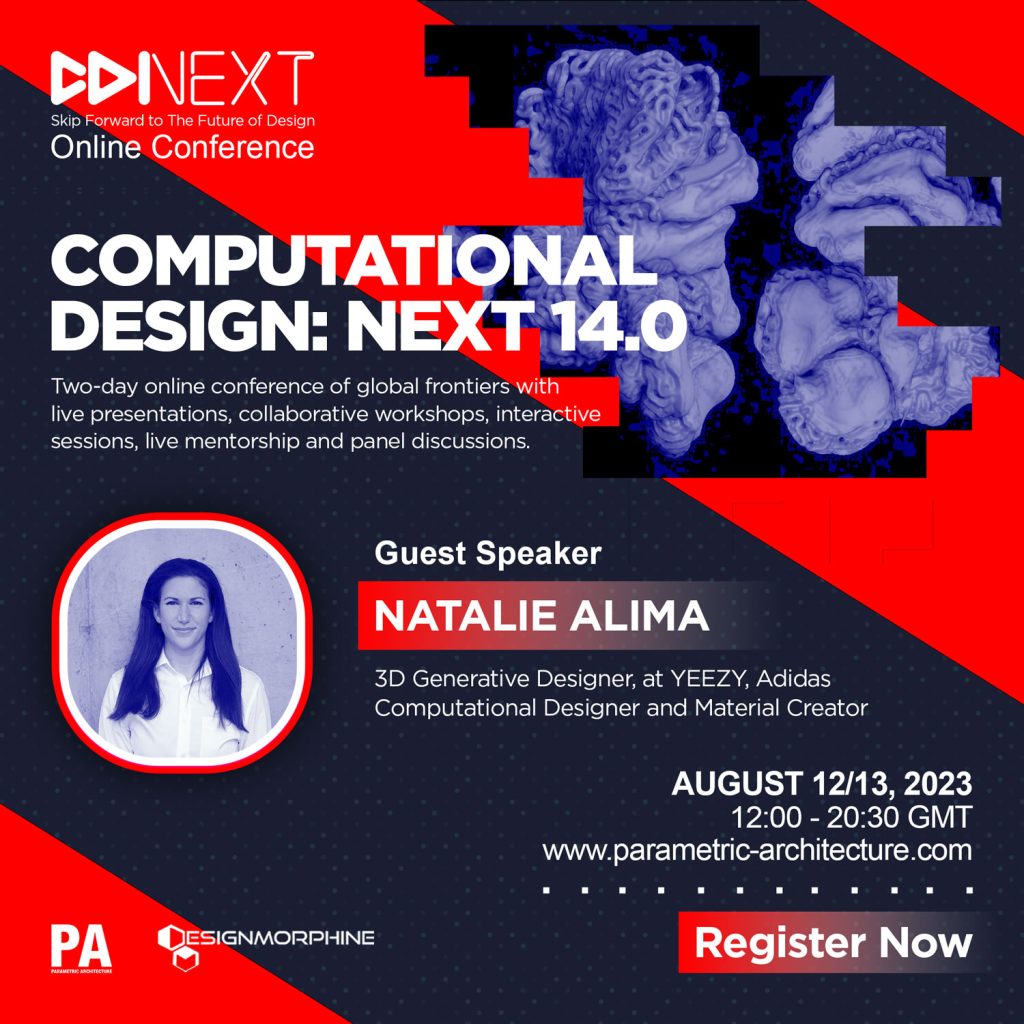 With a focus on radical computational design methodologies, innovative robotic fabrication technologies, and the utilization of cutting-edge sustainable materials like mycelium, She specializes in exploring the future of the architectural form. As a speaker at CDNEXT 14, her expertise lies in speculating on the evolution of architectural design and pushing boundaries through a multidisciplinary approach. By seamlessly integrating technologies and techniques from fields such as biomedical, scientific, and robotic industries, She aims to create a new architectural language and introduce innovative products. Her deep admiration for nature inspires me to merge 3D printing techniques with sustainable materials to replace conventional petrochemical substances and foster the development of a sustainable built environment.
ROLO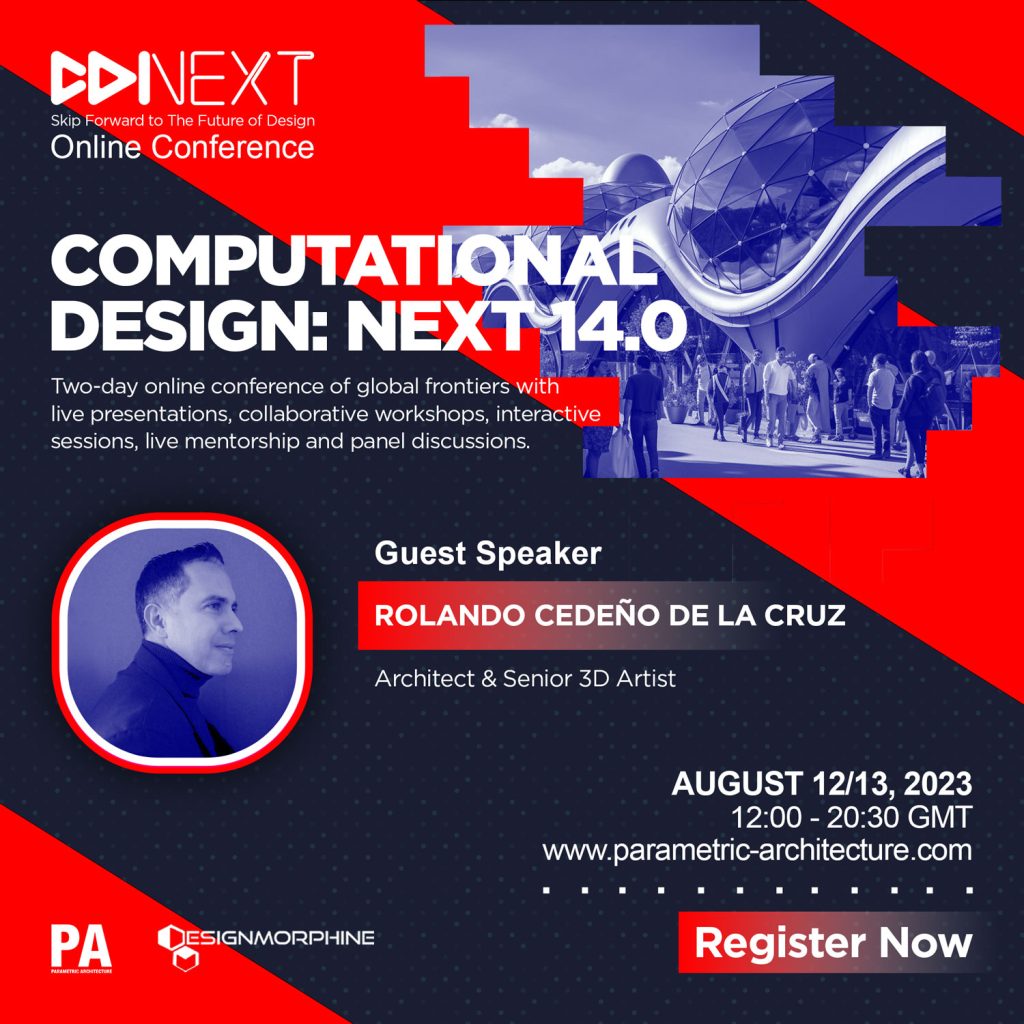 Rolo is an accomplished professional with a proven track record of success in the architecture and commercial design industries. With expertise in Architectural Design, POS Design, Stand Design, and Furniture Design, Rolo has demonstrated a high level of proficiency in delivering innovative and visually stunning projects. Holding a Licentiate degree in Architecture and 3D Arch Visualization from the prestigious Universidad de Costa Rica, Rolo possesses a strong foundation in architectural principles and advanced visualization techniques. Currently, Rolo is channeling their focus towards Metaverse content development and architectural conceptualization, leveraging the power of AI. As a distinguished speaker, Rolo has been invited to deliver a compelling oration at the esteemed Computational Design: NEXT 14.0 conference, where they will delve into the transformative potential of AI in shaping the future of architectural design and conceptualization.
Madalin Gheorghe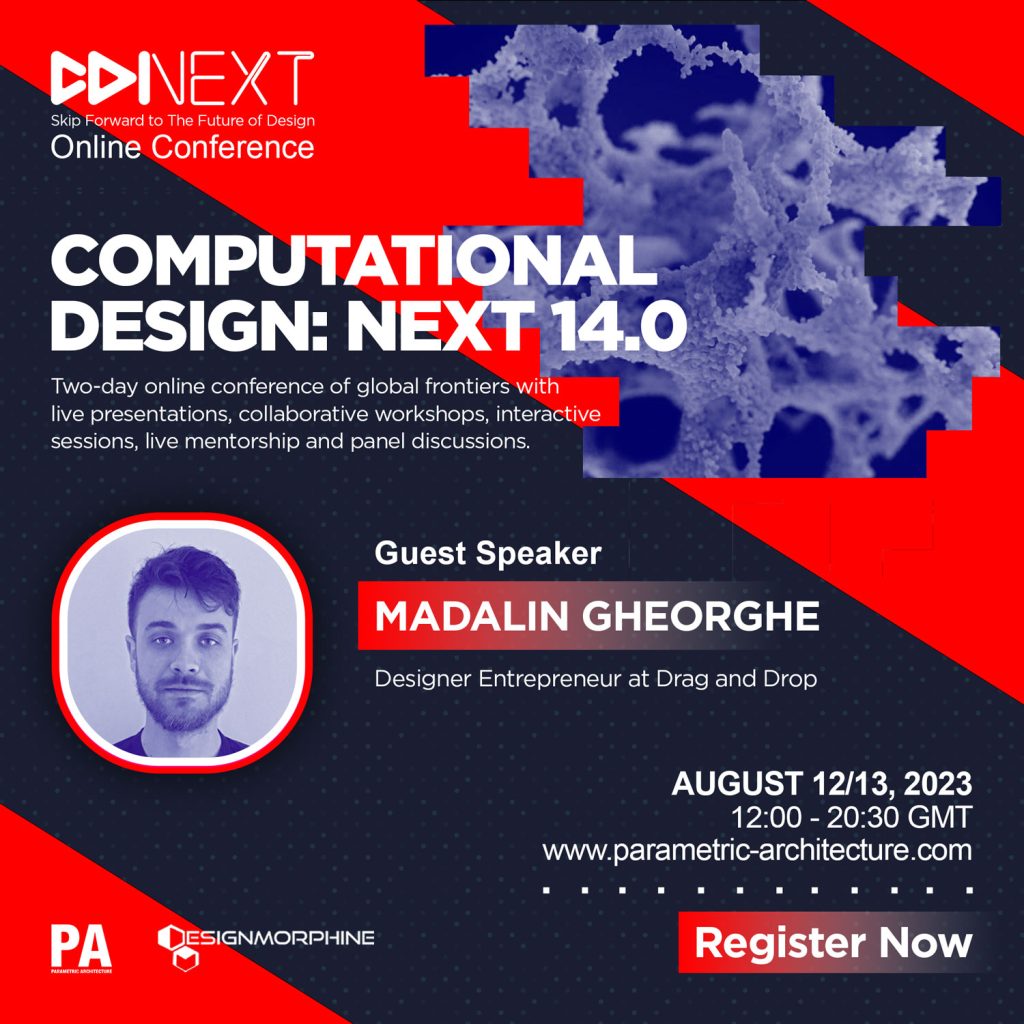 Madalin is a computational designer and entrepreneur with a MArch degree from UCL Bartlett, where he specialized in advanced computational workflows, high-resolution simulations, and robotic fabrication under Alisa Andrasek, Andy Lomas, and Daghan Cam. He played a key role in designing one of the world's largest 3D-printed structures for the National Pavilion of Croatia at the Venice Biennale 2018. As an influential instructor at Design Morphine's workshops, he focuses on coding and fabrication. Madalin developed the Nuclei Plugin for Grasshopper, exploring particle simulations through a logic inspired by the Slime Mold organism. Additionally, he imparts his expertise as a faculty member for Design Morphine's Master of Science in Computational and Advanced Design program. Presently, Madalin fervently drives the development of Drag And Drop, a venture committed to redefining the aesthetics and functionality of everyday objects sustainably, leveraging cutting-edge design tools and 3D printing.
Danny McInnis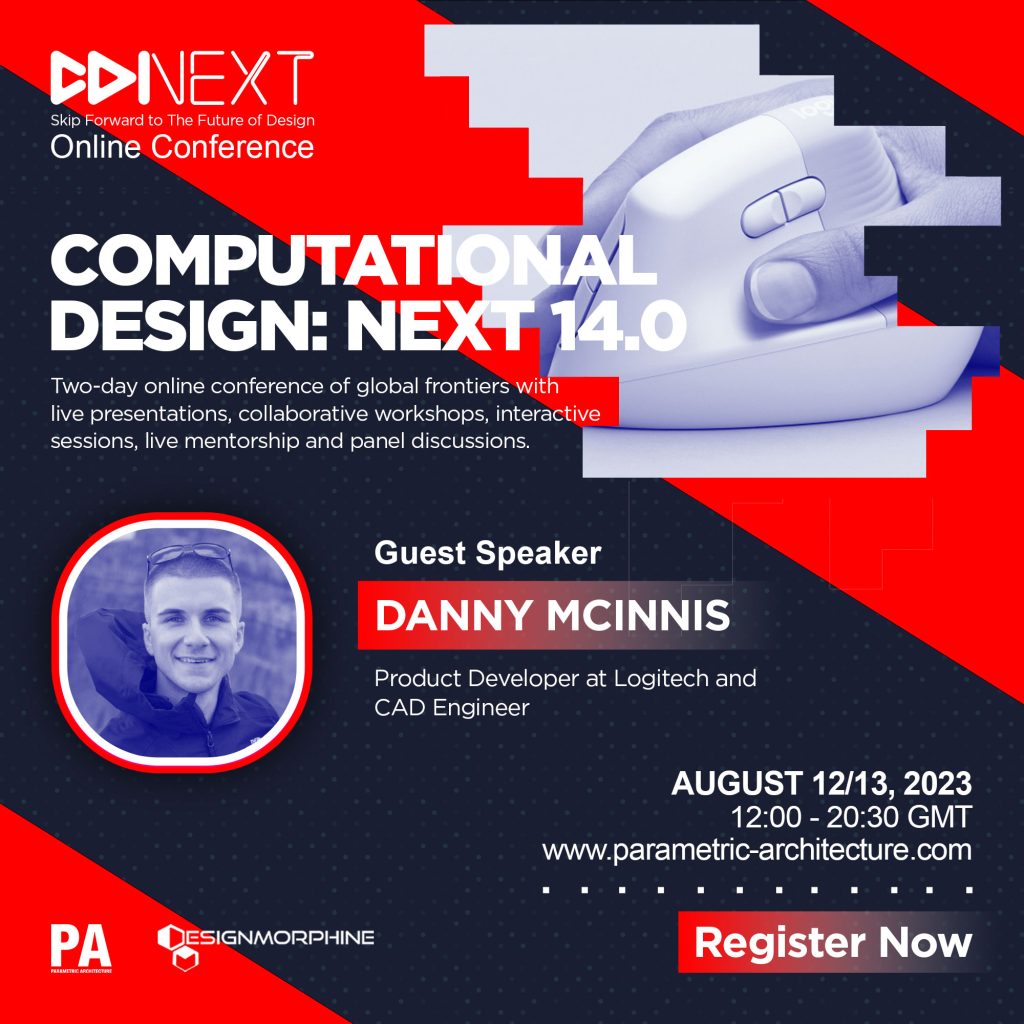 Danny McInnis is a Mechanical Engineer and CAD Expert at Logitech. He gets to work in between the mechanical engineering and industrial design teams, helping them solve complex product development problems through the lens of modern CAD & prototyping workflows. Danny supports a range of product teams, including MX, Gaming, Ergo, and Sim Racing, whether through Class-A Surfacing work, exploring new tools & workflows, or leading the company's computational design efforts. In his presentation, he'll demonstrate a workflow that's become of interest to the company lately, where 3D scanning and SubD Modeling are used to extend Logitech's foam modeling capabilities. This mix of physical craft and computational tools allows for a wide range of ergonomic shapes to be explored quickly to arrive at the best product for the consumer.
Oksana Gritcai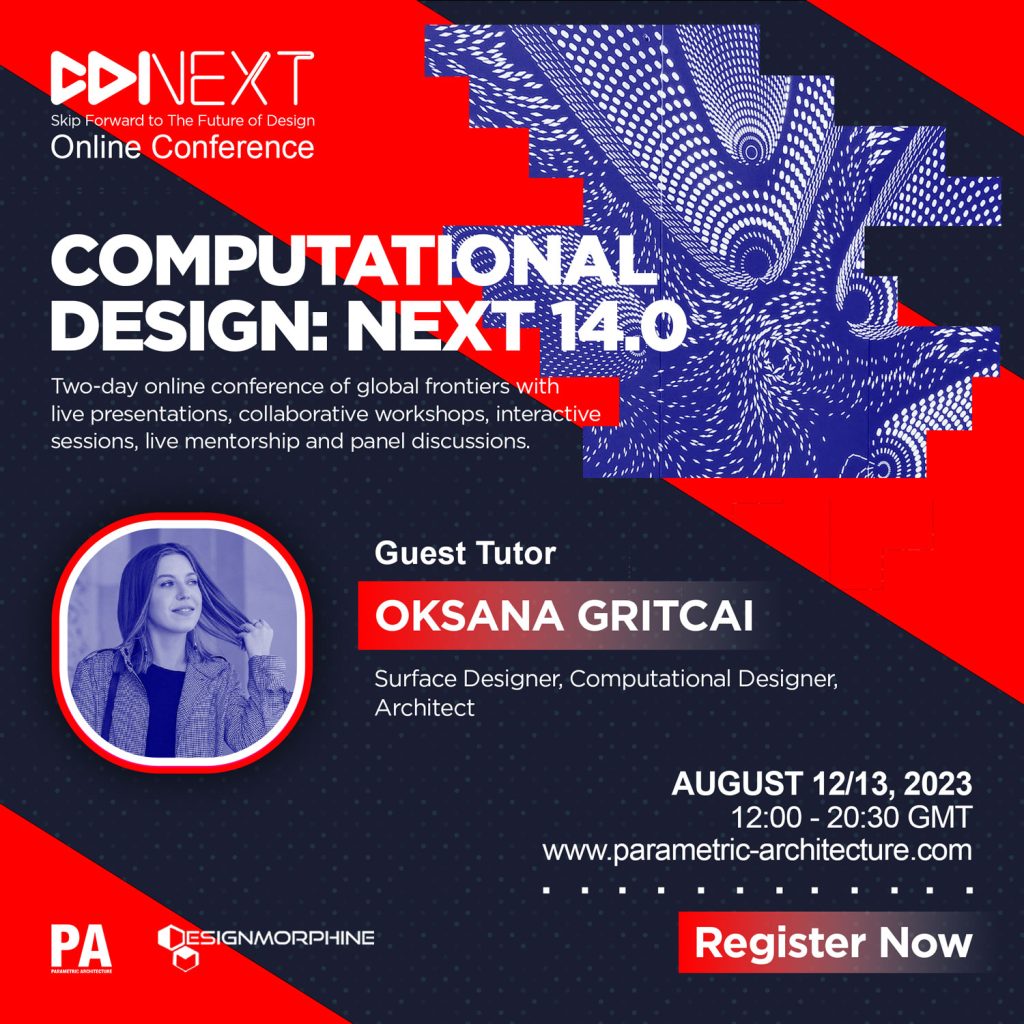 Oksana is a surface designer who creates captivating patterns and will give a 45-minute-long lecture during Computational Design: NEXT 14. She aims for a design understanding of where art meets math and beauty merges with logic. She weaves creative fabrics, wallpapers, and products that ooze personality and charm, from vibrant floral motifs to intricate geometric shapes. Also, she holds a master's degree from the Southern California Institute of Architecture (SCI-Arc). Her expertise includes product development, creating virtual reality tools, designing customized interfaces to boost sales, leading R&D teams, and collaborating with cross-functional teams on projects of all sizes on value-based priorities. She mastered parametric modeling software to create design and engineering solutions, including developing current products and producing new products to extend the company's portfolio. She has collaborated with Zaha Hadid Architects, UNStudio, HOK, SOM, and Grimshaw Architects.
Guest Tutors:
Nolan Kim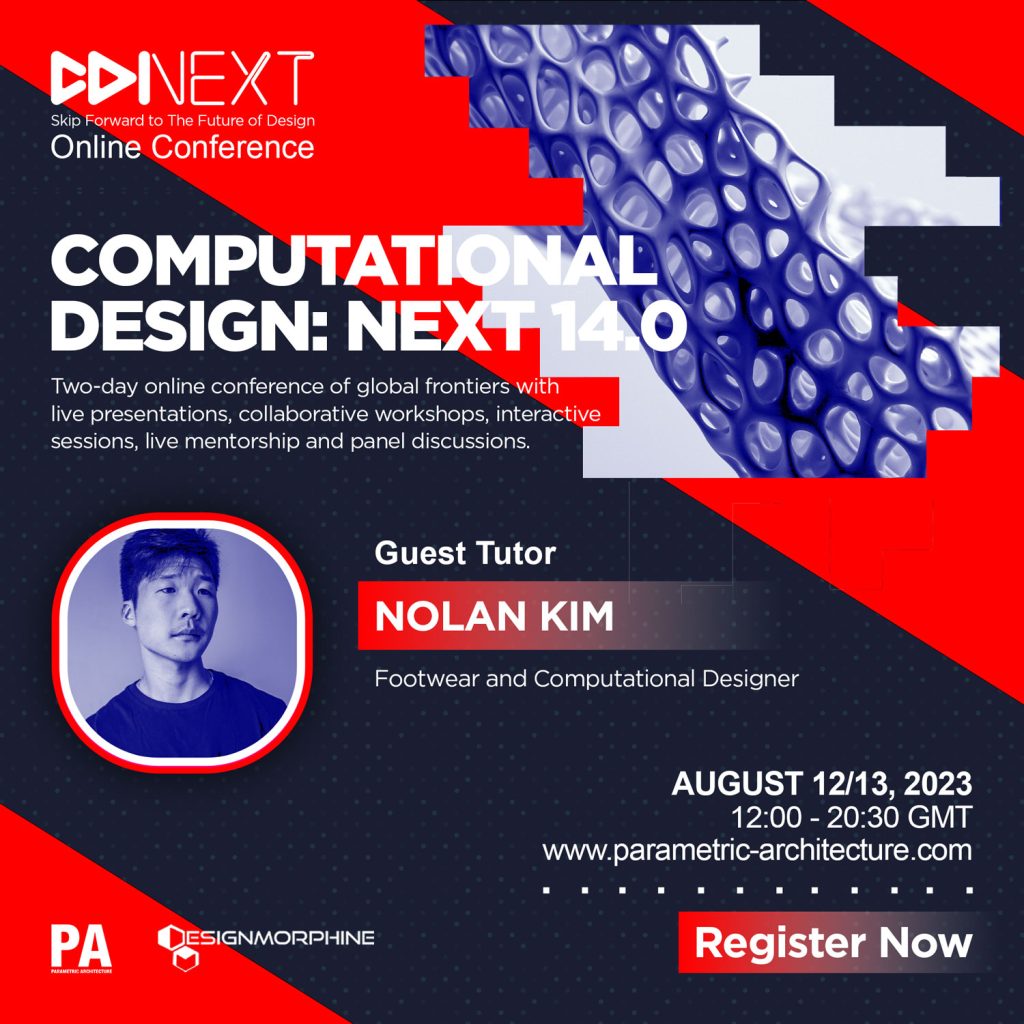 Nolan Kim is a computational designer who will deliver his explorations in highly-functional parametric structures and additive manufacturing. Drawing from nature and procedural patterns, his work explores how complex geometries can re-imagine commonplace products. Beyond appealing aesthetics, his projects encourage the discovery of heightened function within the interplay between efficient material usage and conscious structural forms. Much of his early work investigated the correlation between 3D-printed geometries and long-distance running performance. He went on to head many of the computational design projects at Desktop Metal, leveraging his knowledge of parametric structures and access to a wide array of additive manufacturing resources to develop applications for automotive components, sports products, industrial tools, and interior designs.
Kate Reed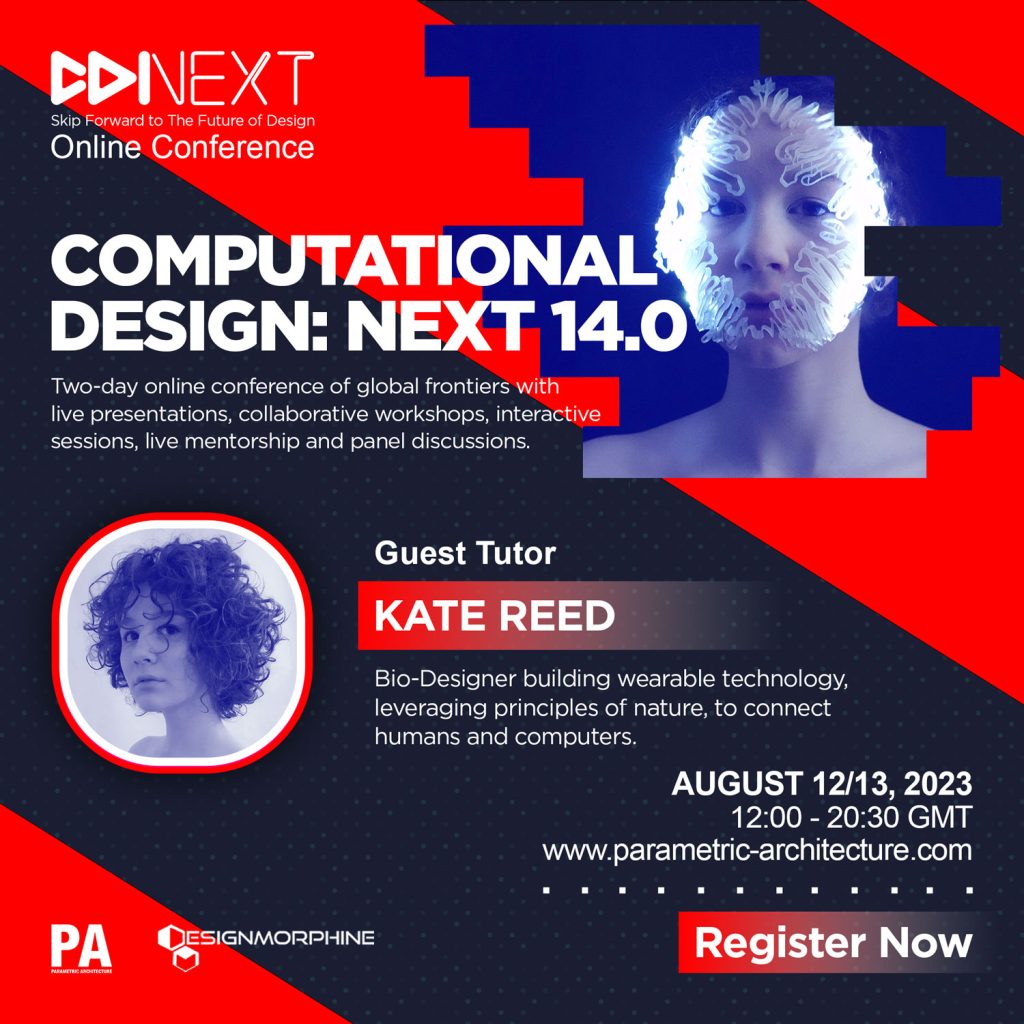 Kate Reed is a Bio-designer who will demonstrate wearable technology and deliver a 90-minute-long exciting tutorial at the upcoming Computational Design: NEXT 14 online conference. She created her first wearable when she was 13, prior to the release of the Apple Watch. She has designed, engineered, and built hundreds of wearable computers since then. Kate received two undergraduate degrees after graduating from the MIT-backed NuVu Studio, one in Social Innovation & Entrepreneurship at Brown University and the other in Industrial Design & Computational Technology at The Rhode Island School of Design. Her designs and inventions have been displayed at the White House, New York Fashion Week, the Museum of Design Atlanta, the Hackaday Superconference, the MIT Museum, and other locations.
Zvonko Vugreshek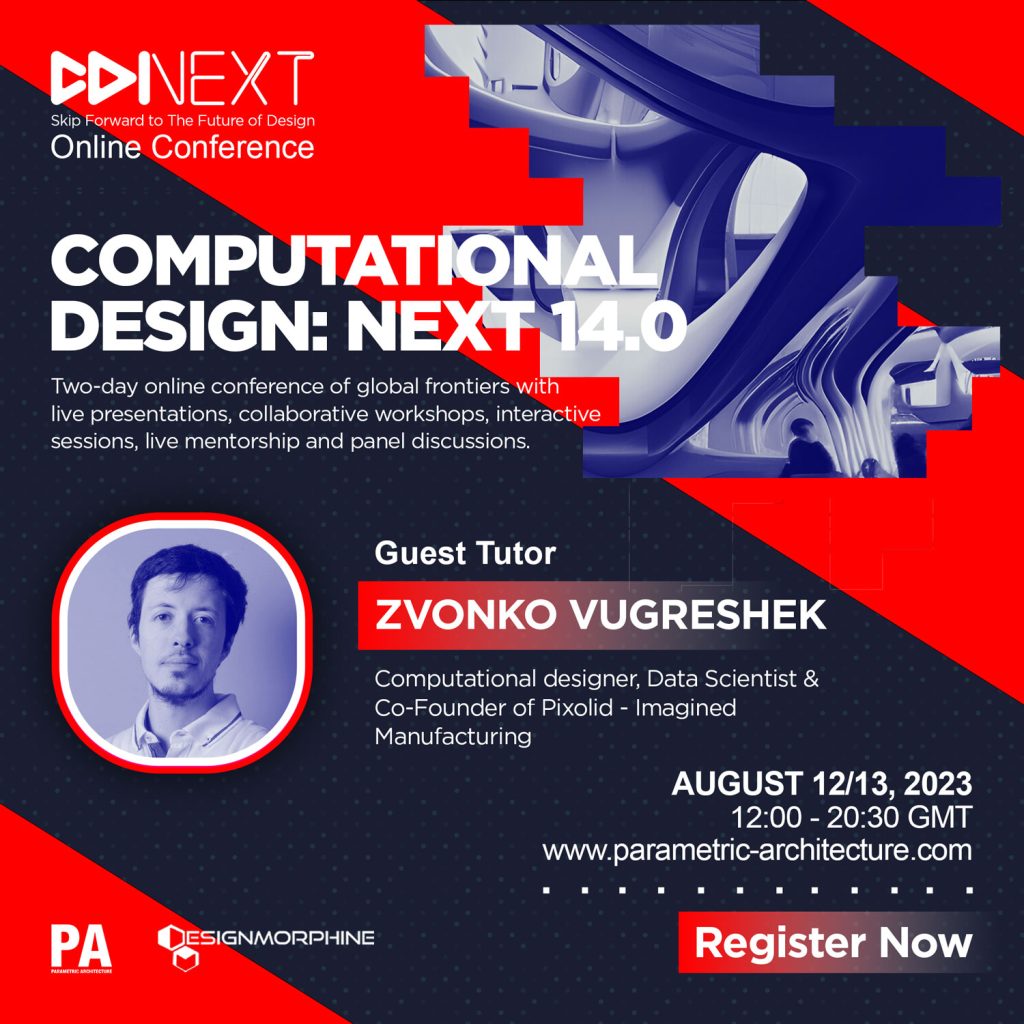 Zvonko Vugreshek is a Berlin-based computational designer, digital fabrication specialist, and data scientist passionate about pushing creative boundaries and will deliver a 90-minute-long exciting tutorial at the upcoming Computational Design: NEXT 14 online conference. He has been involved as a research assistant at the Digital Design & Fabrication department of the Brandenburg University of Technology in Cottbus as well as a teacher at the chair of biodigital architecture and sensorics (CyPhyLab) at the Technical University of Berlin. He has worked at offices for all scales of design and engineering, most notably at 3XN, doing optimization and fabrication of large projects, such as the Sydney Fish Market. Zvonko has been applying Machine learning and automation techniques in all scopes and scales of design and engineering. He co-owns the Berlin-based generative design and fabrication studio Pixolid, bringing his experience in AI/ML to the physical world. He has been involved in many workshops, webinars, and lectures aiming to popularize computational practices.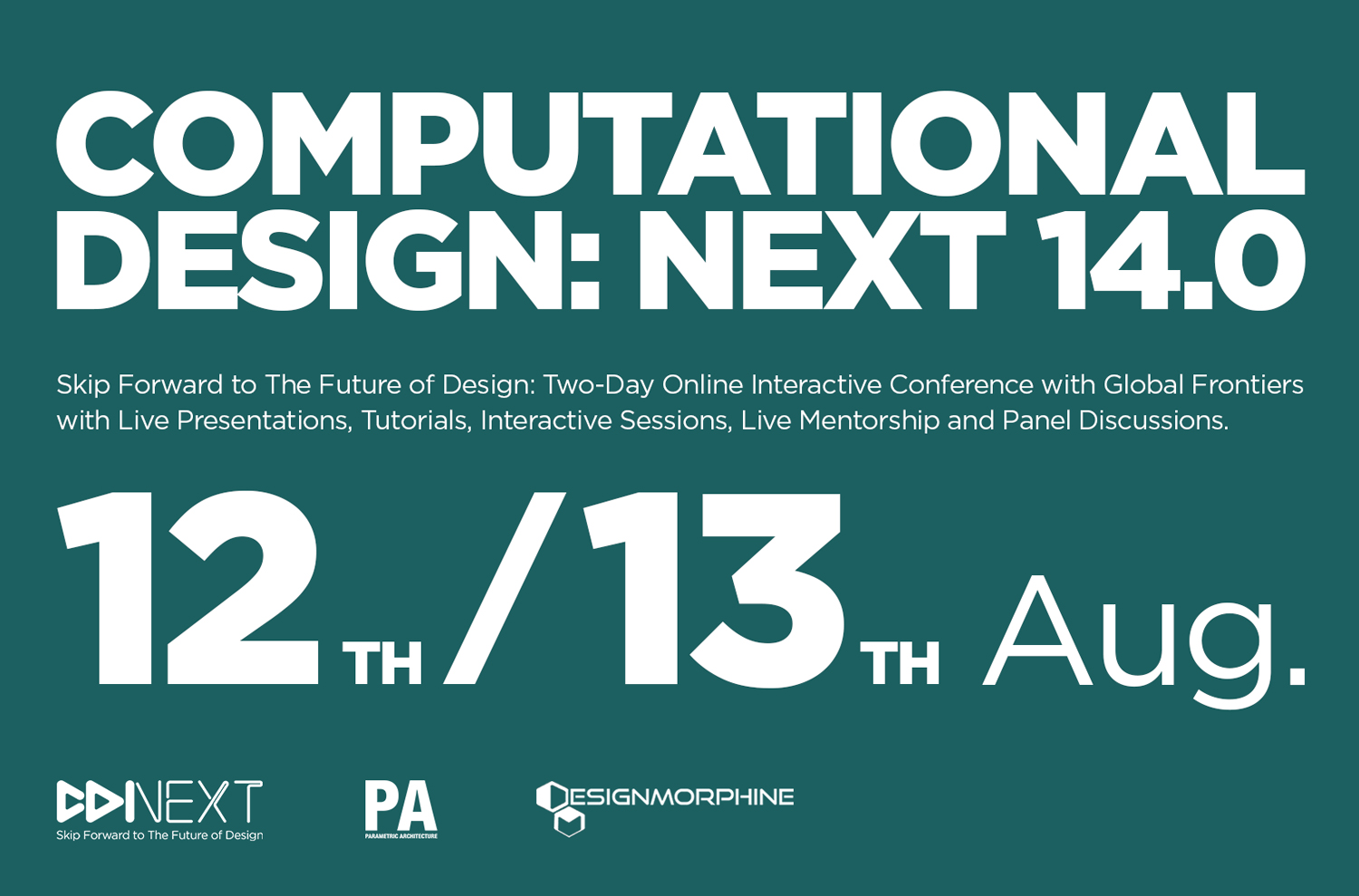 Topic: Computational Design: NEXT 14
Time: Saturday and Sunday, August 12 – 13, 2023
Day 1 Starts: August 12, 12:00 GMT
Day 1 Ends: August 12, 20:45 GMT
Day 2 Starts: August 13, 12:00 GMT
Day 2 Ends: August 13, 20:45 GMT
Where: Online – Zoom, hosted by PA
Duration: Two Days Conference (18 Hours)
Hosts: Hamid Hassanzadeh, and Michael Pryor
Collaborators: ParametricArchitecture and DesignMorphine
Early-bird Registration: €56 (Till 23:59 GMT, July 12, 2023)
General Registration: €69 (Till 23:59 GMT, August 11, 2023)