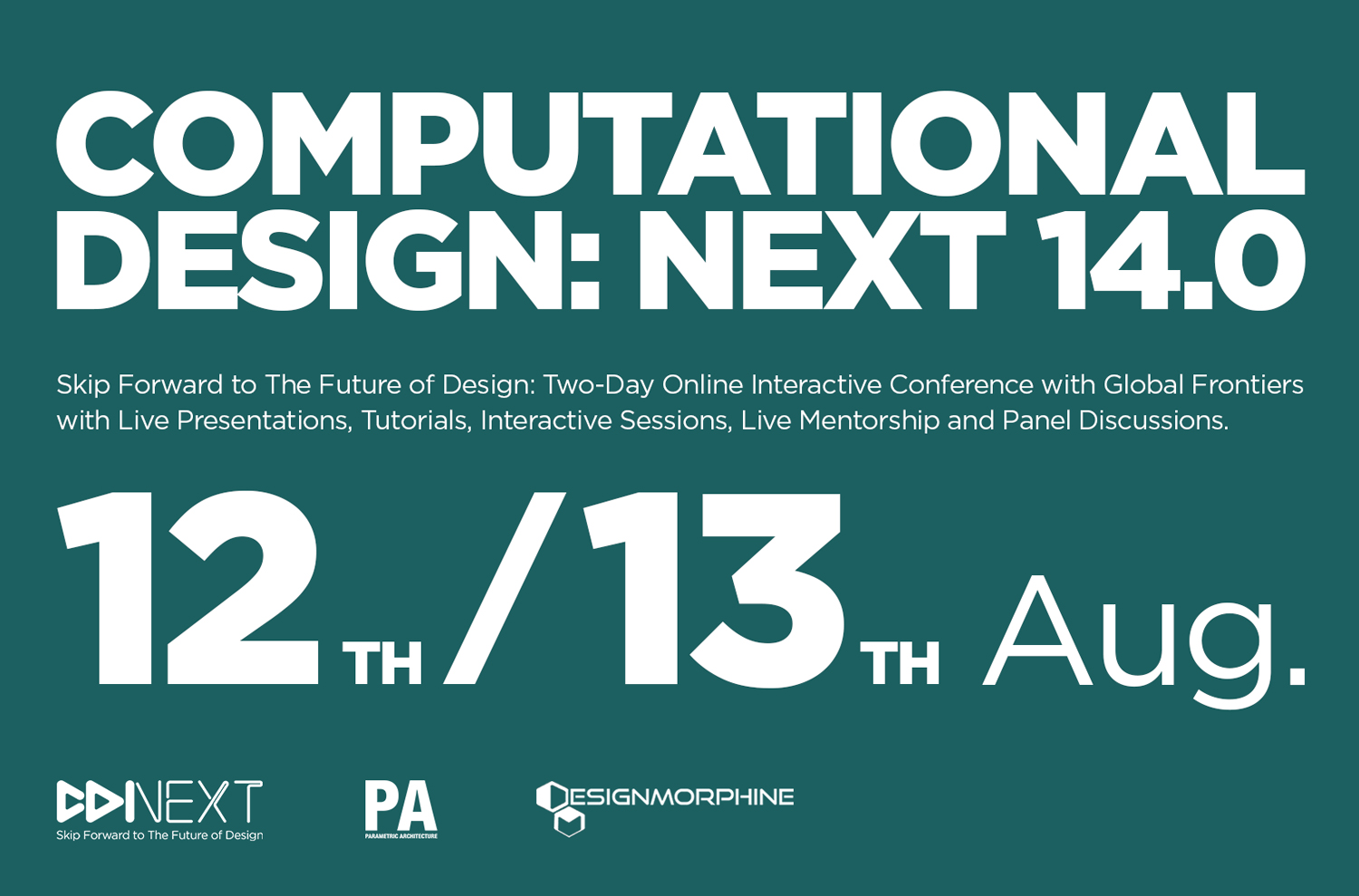 Topic: Computational Design: NEXT 14
Time: Saturday and Sunday, August 12 – 13, 2023
Day 1 Starts: August 12, 12:00 GMT
Day 1 Ends: August 12, 20:45 GMT
Day 2 Starts: August 13, 12:00 GMT
Day 2 Ends: August 13, 20:45 GMT
Where: Online – Zoom, hosted by PA
Duration: Two Days Conference (18 Hours)
Hosts: Hamid Hassanzadeh, and Michael Pryor
Collaborators: ParametricArchitecture and DesignMorphine
Early-bird Registration: €56 (Till 23:59 GMT, July 12, 2023)
General Registration: €69 (Till 23:59 GMT, August 11, 2023)
"Skip Forward to the Future of Design"
COMPUTATIONAL DESIGN: NEXT
Introduction:
THE PAST, PRESENT & FUTURE: An online interactive conference with global frontiers. Two-day online conference with live presentations, tutorials, interactive Sessions, live mentorship & panel discussions. A collaborative initiative by ParametricArchitecture (PA) and DesignMorphine (DM). Computational Design: NEXT 14 brings together pioneers and professionals from all industries to meet and discuss new emerging technologies in art, architecture, design, and manufacturing.
Computational Design: NEXT is a joint effort by some of the world's leading experts in computational design to create an online learning platform that will also serve as a full-fledged online conference. ParametricArchitecture (PA), one of the leading media platforms concentrating on computational design and its different subsets, will host the event, including conversations, dialogues, tutorials, and mentoring to a worldwide audience via thought-provoking and relevant speeches.
Following the success of CD Next 1-13, Computational Design: NEXT 14 takes another step forward in exploring new-age design technologies by worldwide technology champions. The conference will take place on Saturday and Sunday, August 12 – 13, 2023, and will include workshops, panel discussions, technology demos, and presentations.
Important Notes:
Details about the guests will be published soon
The entire conference will be recorded, and videos will be available for participants just a day after the conference.
A certificate of attendance will be provided to all participants of the conference.
We will send the Zoom link just a week before the conference starts.
You can make payments in cryptocurrencies. For more details, please email us at [email protected].
The event has a capacity of 400 people, and limited (100) spots are allocated for early-bird registrations.
Tickets are non-refundable and non-transferable. Please read before you register.
Details about the guests will be published soon.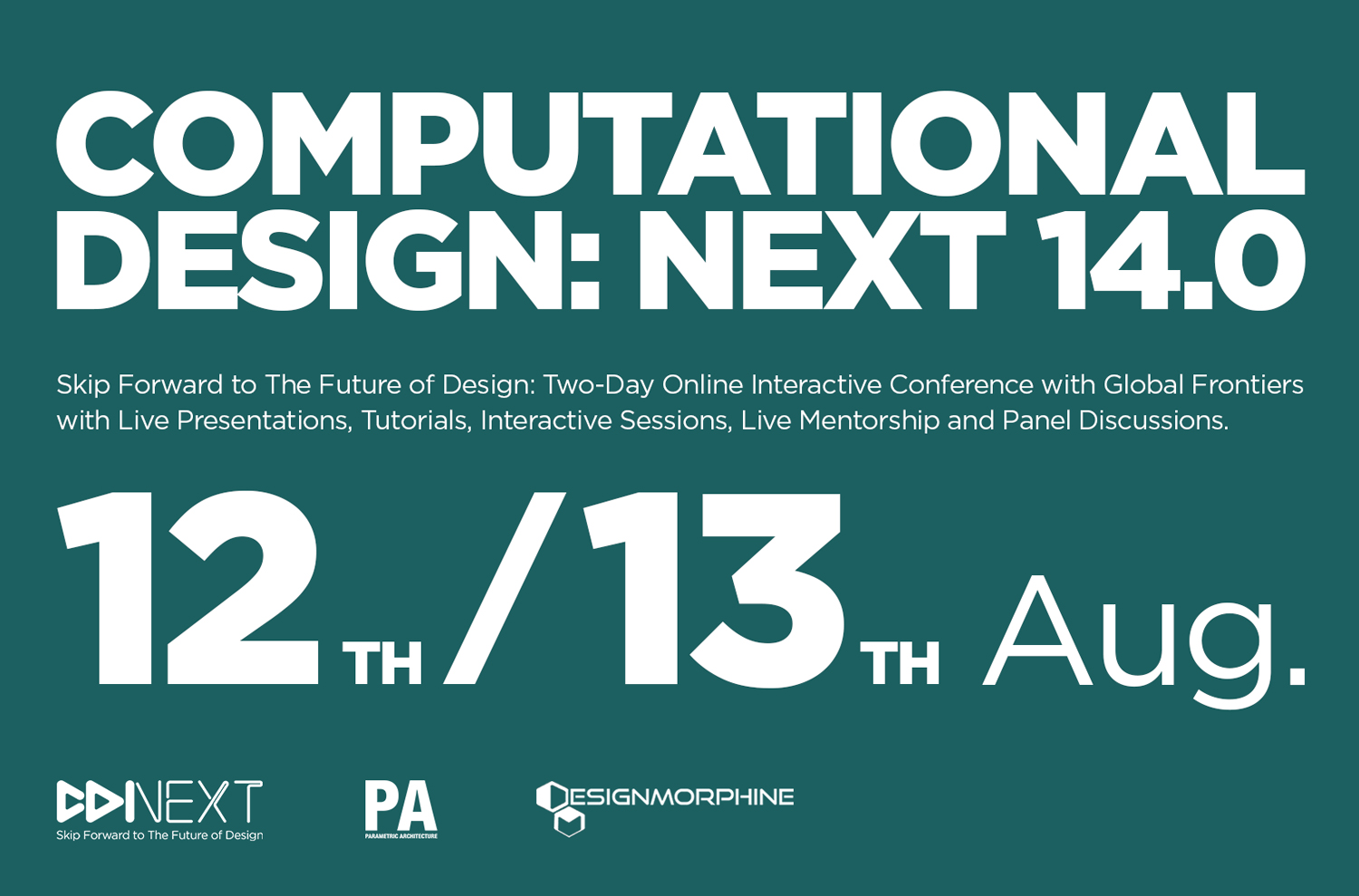 Topic: Computational Design: NEXT 14
Time: Saturday and Sunday, August 12 – 13, 2023
Day 1 Starts: August 12, 12:00 GMT
Day 1 Ends: August 12, 20:45 GMT
Day 2 Starts: August 13, 12:00 GMT
Day 2 Ends: August 13, 20:45 GMT
Where: Online – Zoom, hosted by PA
Duration: Two Days Conference (18 Hours)
Hosts: Hamid Hassanzadeh, and Michael Pryor
Collaborators: ParametricArchitecture and DesignMorphine
Early-bird Registration: €56 (Till 23:59 GMT, July 12, 2023)
General Registration: €69 (Till 23:59 GMT, August 11, 2023)