3d Printed Installation, Cheekwood Playhouse by Gould Turner Group in Cheekwood Botanical Gardens, Nashville, Tennessee, USA in 2016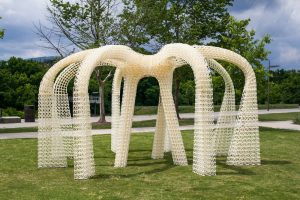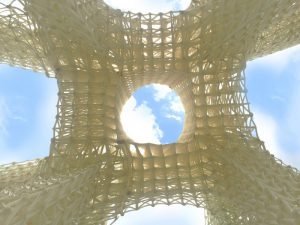 Gould Turner Group partnered with Branch Technology to create the first large-scale 3D printed open-cell structure in the country for the Cheekwood International Playhouse Design Competition in Nashville, Tennessee. The exhibit named Casa d'Espanya showcased an outdoor playhouse inspired by the Cheek family's visit to Spain during the 1920s and 1930s. The Gould Turner Group design team, comprised of architecture graduates from the University of Tennessee, the University of Pennsylvania, Kansas State University, and the University at Buffalo (SUNY), used innovative materials and technology to provide a fun, visually mesmerizing and enjoyable space for children. By partnering with Branch Technology, a Chattanooga-based startup who uses a state-of-the-art Kuka Robotics arm to print large 3D structures, the design team discovered that the open-matrix cellular fabrication technique allowed them to create freeform and lightweight structures that would have otherwise been extremely difficult to build using traditional methods of construction. It's an exciting time as technology has the potential to revolutionize the way we manufacture and build things.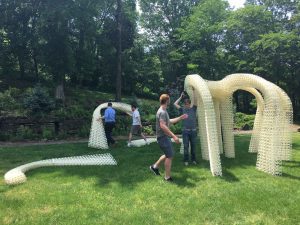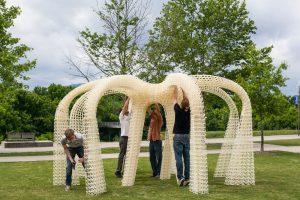 The design team at Gould Turner Group found that cross-pollination with other professionals, such as those in material science is instrumental in challenging notions of high-performance building design and construction. Other related collaborations over the past year include, the Oak Ridge National Laboratory ORNL Group developing one of the world's first printed cars using the Cincinnati-based Big Area Additive Manufacturing (BAAM). In the last month, SHoP Architects from NYC also partnered with Branch Technology to use the same 3D printed technology for an installation at the Miami Institute of Contemporary Art to surpass the Casa d'Espanya exhibit in size, now holding the world record for the largest 3D printed object.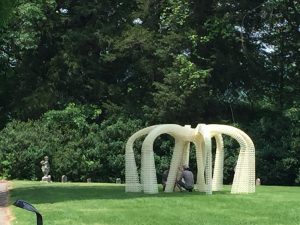 > Via Gould Turner Group