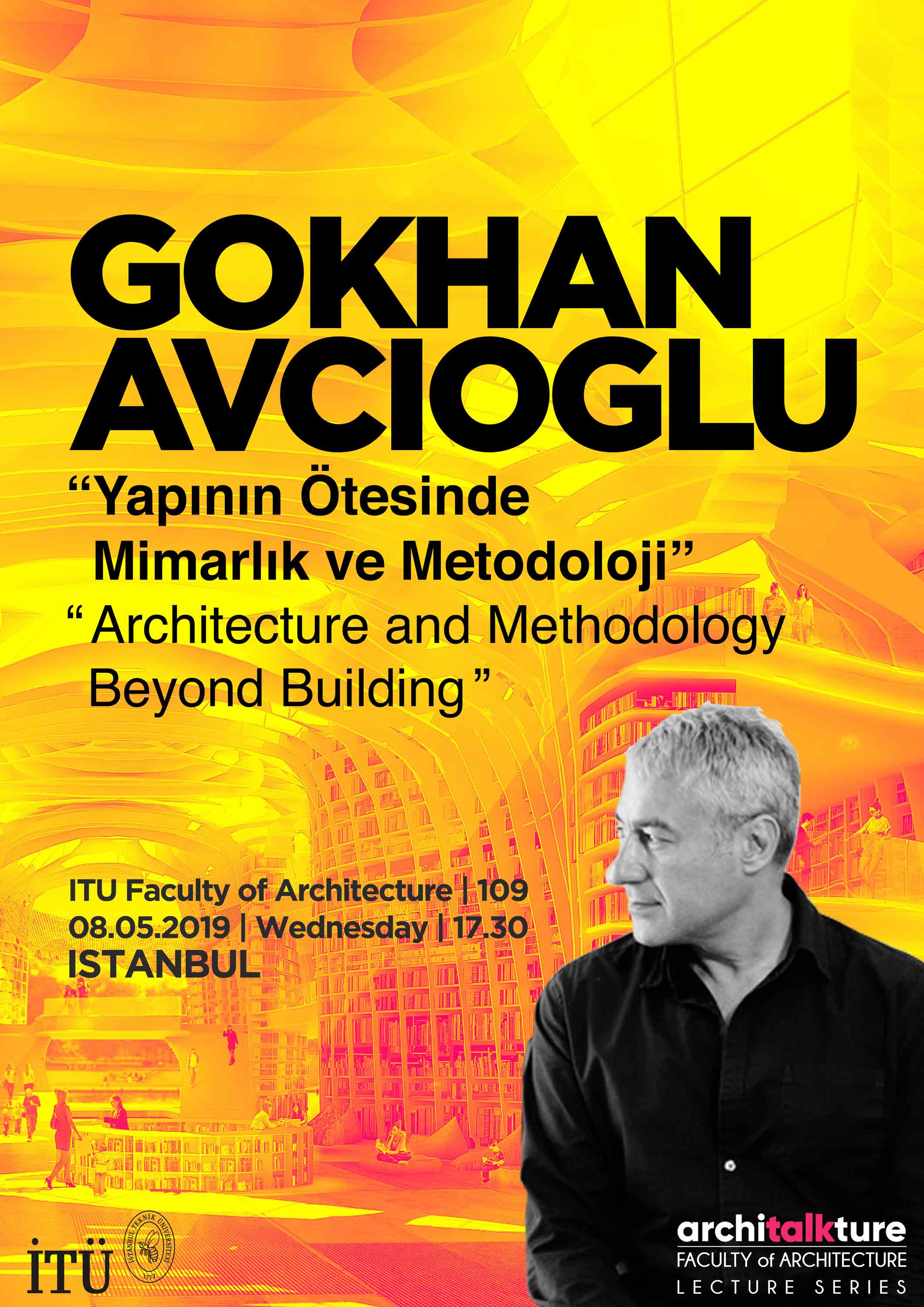 About ArchiTalkTure – Architecture, and Methodology Beyond Building
Architect Gokhan Avcioglu, the founder of Istanbul practice Global Architectural Development, invites professionals, students, educators, and enthusiasts in the fields of architecture, design, urbanism, and landscape architecture for a thought-provoking discussion on critical issues in how architecture is pursued today. This insightful session accounted for making the young minds well-versed with the current happenings in the Architectural Industry.  Avcioglu presented details of his approach to architecture using examples from his own work and historical precedents in a lecture entitled "Architecture and Methodology Beyond Building" that will take place at 5:30 pm on Wednesday, May 8th, 2019, in Conference Hall 109 of ITU's Taskısla Campus. 
About Gokhan Avcioglu
Gokhan Avcioglu completed his education in KSU/BA in Architecture. He is the principal and founder of GAD in Istanbul, established in 1994.
Among his projects are office buildings, public spaces, commercial spaces, and residences in Istanbul, Bodrum, New Jersey, Washington DC, Virginia, and Connecticut. Among his most recent award-winning projects are Media City, AKH KNDU Villas, KUUM Hotel and Residences, Pınar Logistics Centre, Fish Market, and Trump Cadde.  A number of his projects have been short-listed for the Aga Khan Award for Architecture, including two projects in Kadikoy Park, completed in 1998 and 2004, Yalova Elyaf completed in 2001, and Esma Sultan completed in 2005. Recent awards include the 2017 WAFX Smart City Prize, 2017  The American Architecture Prize, the 2017 AR Future Projects Awards, Jeu d'Esprit Prize, the 2015 Green Good Design, 2014 German Iconic Awards.
Gokhan Avcioglu has been recognized by a number of different publications, including Wallpaper, Surface, City Magazine, NY Times, The New York Post, Transforming Cities – Urban Interventions in Public Cities, Braun Malls and Department stores, Archtekturfuehrer Istanbul, Gestalten Lets go out, Monocle, Architectural Digest, Architectural Record, plus design books such as World Houses Now, Urban Houses and Cafes, Restaurants and Bars, Atlas of Contemporary Architecture, Modern Interiors – Cool Restaurants in Istanbul. Gokhan has also been featured in TV programs, including BBC & Channel 4.Since 2001, Mr. Avcioglu has been conducting studios and seminars at the Ecole Speciale d'Architecture in Paris, Yildiz Technical University, and Istanbul Technical University.
Gokhan Avcioglu is a member of AIA New York Chapter, Chamber of Architects Turkey.