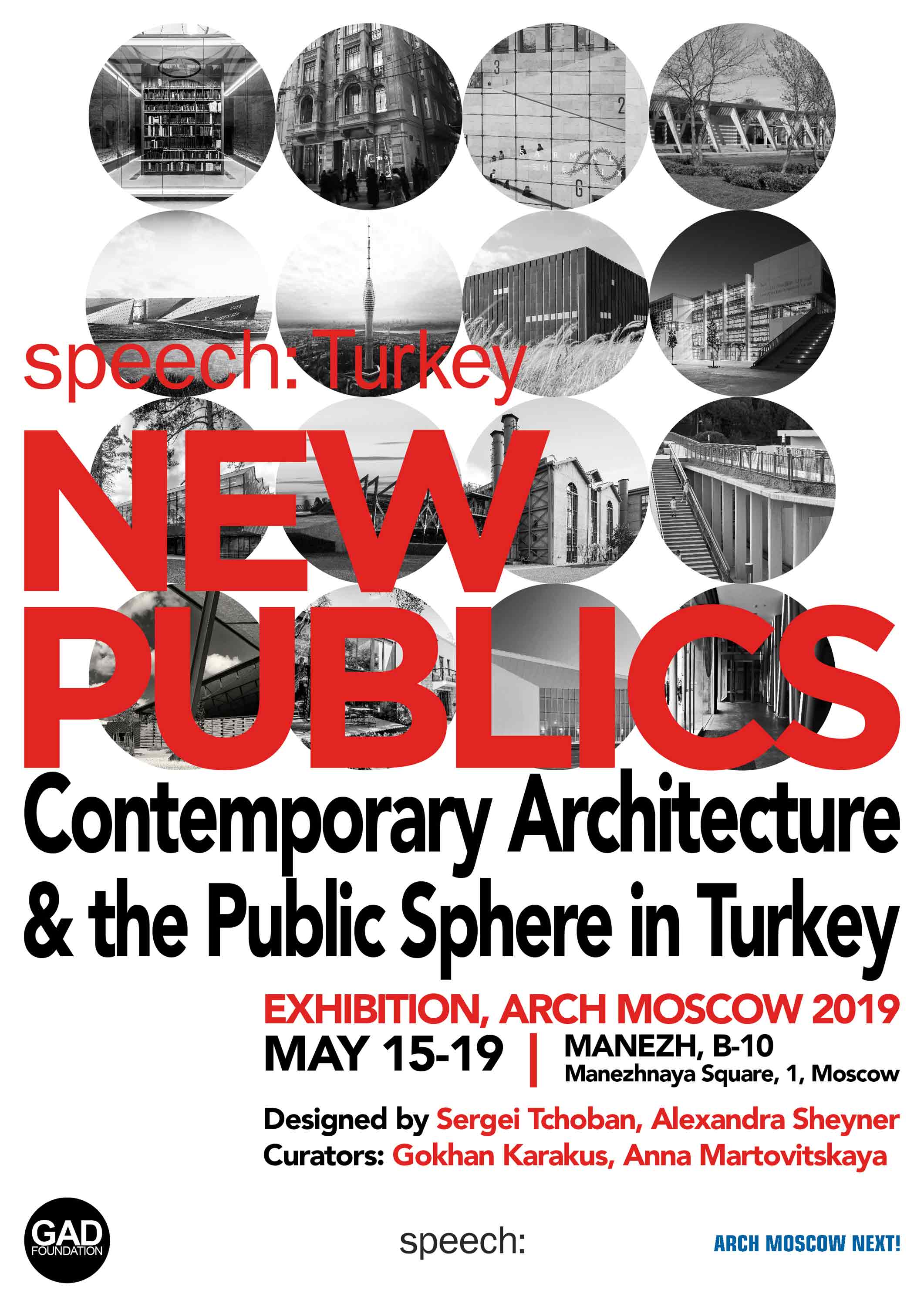 The rapidly expanding urban context and real estate development activities in Turkey in the 21st century generated a series of important public buildings for culture, education, sports, and public space with distinctive and exemplary architecture. This architecture is the focus of an exhibition entitled "New Publics: Contemporary Architecture and the Public Sphere in Turkey" to take place at the Arch Moscow 2019 XXIV International Exhibition of Architecture and Design to be held from 15 to 19 of May 2019 at the exhibition hall "Manege" in Moscow.
The exhibition features a selection of 15 architectural works completed in the last 10 years by leading Turkish architecture practices that focus on "New Public" spaces created within the context of hybrid building programs such as cultural centers, libraries, educational institutions, sports facilities, museums, and outdoor public spaces. Organized by Istanbul-based GAD Foundation led by Gokhan Avcioglu and Moscow architecture practice SPEECH led by Sergei Tchoban and co-curated by architecture critic Gokhan Karakus and Anna Martovitskaya – chief editor of speech: magazine, the exhibition aims to expand the notion of public architecture as civic-minded and spatially inventive design.
Architectural strategies in Turkey spurred on by the need to accommodate newly expanding cities and societies with sustainable economic and ecological models will be shown in this exhibition that will also feature digital and virtual projects showing these new publics on the internet and new media.
speech: the architectural magazine was established in Moscow in 2008 by architects Sergei Tchoban and Sergei Kuznetsov. It is released twice a year in Russian and English and distributed in Europe and the USA by JOVIS. Editor in chief Anna Martovitskaya is responsible for publishing the magazine in coordination with an editorial board that also organizes lectures, new public talks, and curates international exhibitions. Each issue of speech: is entirely devoted to a single theme that is explored in a comprehensive manner from the point of view of both Russian and global architectural practice.
BORUSAN MUSIC & ARTS CENTER / Gokhan Avcioglu & GAD , ISTANBUL, 2009
SCHOOL OF ARCHITECTURE, BILGI UNIVERSITY, BOILER ROOMS 4 & 6, santralistanbul CAMPUS / Nevzat Sayın Mimarlık Hizmetleri, ISTANBUL, 2013
BERGAMA CULTURAL CENTER / Emre Arolat Architecture, BERGAMA, 2016
BOLLUCA MARKET HALL / Çinici Architects, ISTANBUL, 2014
YKKS – YAPIKREDI CULTURE AND ARTS / TEGET, ISTANBUL, 2017
BEYAZIT STATE LIBRARY / Tabanlıoglu Architects, ISTANBUL, 2016
ISTANBUL TV & RADIO TOWER / Melike Altınısık Architects, ISTANBUL, 2019-2020
NEDIM UYSAL TECHNICAL AND TRADE HIGH SCHOOL / M + D Architecture, IZMIR, 2016
BOSTANLI FOOTBRIDGE & SUNSET LOUNGE / Studio Evren Başbuğ, IZMIR, 2016
LABORATORY BUILDING, ABDULLAH GÜL UNIVERSITY / Mimarlar & Han Tümertekin, KAYSERI, 2019
S INTERNATIONAL EQUESTRIAN CENTER / Brigitte Weber Architects, ISTANBUL, 2015
MUSEUM OF TROY / Yalin Architectural Design, CANAKKALE, 2018
ISTANBUL CITY MUSEUM / Alper Derinbogaz, Salon, ISTANBUL, 2020
ZAI BODRUM / a + a Architecture, BODRUM, 2018
MUSTAFA VEHBI KOC SPORTS HALL / Yazgan Design Architecture, BURSA, 2016
Gad Foundation
Since 2011 the GAD Foundation has brought architecture professionals, students, and the general public together to discuss and plan issues related to architecture, design, society, education, and the environment. Founded by Istanbul-based practice Global Architecture Development, GAD, led by Gokhan Avcioglu, the GAD Foundation works to positively influence practice and theory with a focus on education, society, and their intersection with architecture. The GAD Foundation team initiates many activities in Turkey and globally such as workshops, internships, exhibition curation, student exchange programs, book editing, and publishing and importantly connecting key figures in architecture with students, government, private institutions, and society.
Title
New Publics: Contemporary Architecture and the Public Sphere in Turkey
Type
Exhibition
Website
Organizers
From
May 15, 2019 09:00 AM
Until
May 19, 2019 09:00 PM
Venue
exhibition, moscow, gadfoundation, speech, tchoban, archmoscow, gad, gokhan avcioglu, architecture, conteporary, public, turkey
Address