79&Park by Bjarke Ingels Group in Stockholm, Sweden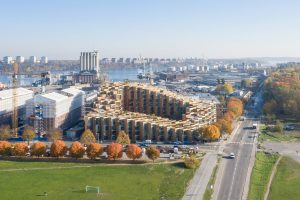 In 2011, Oscar Properties commissioned BIG to design the multi-residential development, which appears like a "gentle hillside" rising from the edge of the Gärdet national park. The cascading building, which comprises of 3.6m x 3.6m cedar-clad modules organized around an open green courtyard, "combines the splendors of a suburban home with the qualities of urban living," Bjarke Ingels said in a statement.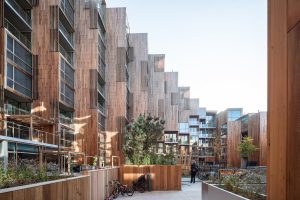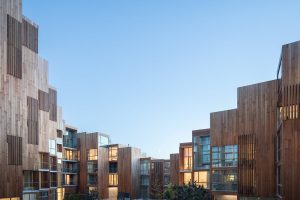 The structure's tallest corner rises up to 35 meters to maximize the inflow of natural daylight and provide views of the Gärdet and the nearby Frihamnen port for most of the residential units. The modules then cascade all the way down to its lowest profile at 7 meters. The central courtyard includes different-sized plateaus for activities and amenities, a shared outdoor area with lush landscaping, a preschool, dog daycare, and bicycle racks. The ground floor of the building includes commercial spaces that are open to the public.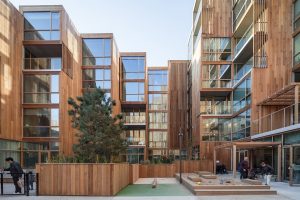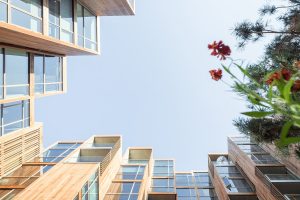 Almost all of the 169 residential units were designed with unique layouts to appeal to various residents across different age groups. Interior spaces are decked out in tactile natural materials like white oak floors and wooden details, natural stone in the kitchens, and ceramic granite in the bathrooms. Large windows offer views of the surrounding landscape outside, and all the units have access to private and shared roof terraces. From perennials to trees, various plants are sprinkled across the rooftops of the building.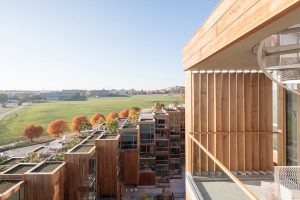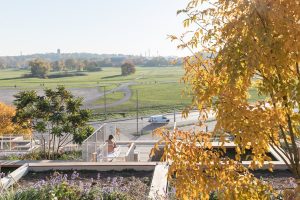 "The communal intimacy of the central urban oasis offers peace and tranquility while also giving the residents a feeling of belonging in the larger community of 79&Park," Ingels said.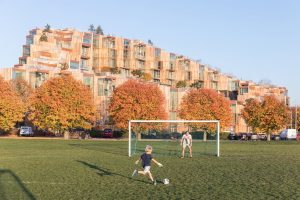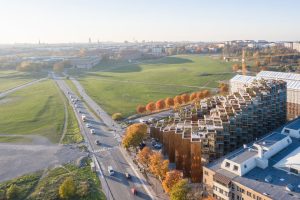 Client: Oscar Properties
Collaborators: Acad International, Andersson Jönsson Landskapsarkitekter, BIG IDEAS, De Brand Sverige, Dry-IT, HJR Projekt-El, Konkret, Metator, Projit, Tengbom, HB Trapper
Partners-in-Charge: Bjarke Ingels, Jakob Lange, Finn Nørkjær
Project leader: Cat Huang
Project Manager: Per Bo Madsen
Project Architects: Høgni Laksáfoss, Enea Michelesio
Constructing Architects: Jakob Andreassen, Tobias Hjortdal, Henrik Kania
Team: Agata Wozniczka, Agne Tamasauskaite, Alberto Herzog, Borko Nikolic, Christin Svensson, Claudio Moretti, Dominic Black, Eva Seo-Andersen, Frederik Wegener, Gabrielle Nadeau, Jacob Lykkefold Aaen, Jaime Peiro Suso, Jan Magasanik, Jesper Boye Andersen, Jonas Aarsø Larsen, Julian Andres Ocampo Salazar, Karl Johan Nyqvist, Karol Bogdan Borkowski, Katarina Mácková, Katrine Juul, Kristoffer Negendahl, Lucian Racovitan, Maria Teresa Fernandez Rojo, Max Gabriel Pinto, Min Ter Lim, Narisara Ladawal Schröder, Romea Muryn, Ryohei Koike, Sergiu Calacean, Song He, Taylor McNally-Anderson, Terrence Chew, Thomas Sebastian Krall, Tiago Sá, Tobias Vallø Sørensen, Tore Banke
> Via Archinect