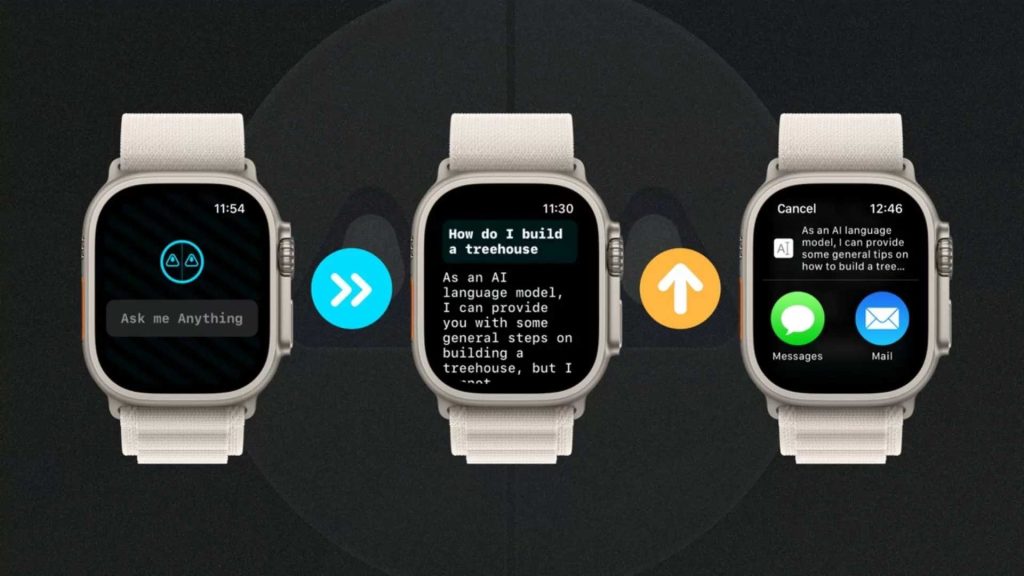 Featured on March 9th, 2023, Open AI debuted on the Apple Watch with a third-party app called watchGPT. Developed by Hidde van der Ploeg, this app makes it possible to interact with ChatGPT directly with your Apple Watch. With this app, you can quickly share the app's response via text, email, and social media.
Key Features:
Interact with ChatGPT right from your Apple Watch
Quickly get answers to your questions or generate longer messages without typing
Share the outcome of your interaction with others via text, email, or social media
Set the app as a complication for easy access
watchGPT is available now as a one-time $3.99/€ 4,99 purchase from the App Store.
If you're not familiar with ChatGPT, yet. It is an artificial intelligence chatbot created by OpenAI that will be released in November 2022. It is based on OpenAI's GPT-3 family of big language models, which have been fine-tuned using both supervised and reinforcement learning techniques.
You can use ChatGPT more than generate basic texts. For example, a few weeks ago, Arturo Tedeschi experimented with an incredible new technique that combines ChatGPT with Grasshopper 3D to generate the codes he required for his latest project. He was able to generate a mathematical surface represented by points in XYZ by inputting natural language cues. The chatbot's capacity to generate Python code that was particularly tailored for the GhPython environment was the most impressive feature. The point cloud was created using a single line of code and nicely thickened using the Curve to Volume component. This cutting-edge method will undoubtedly change the face of architecture and design as we know it!
Parenthetically, If you are curious to how you use AI with Grasshopper and Rhinocerous, you can check the Creative Artifacts – Studio Arturo Tedeschi by PAACADEMY.