Visually stirring horizontal elements layer up in enigmatic fashion, stacked and assembled to outline as a massive museum streaming through waters. Kengo Kuma and Associates envisions V&A museum, a sculptural icon located along the waterfront in the city of Dundee in Northern Scotland. The Victoria & Albert Museum enshrines itself as a uniquely showcased element with architectural magic strewn about it. The design of the museum replicates the concept of a liner composed of dashing concrete pieces elevated in sharp angles and verticals.
The gaudian exposition of the museum, in addition, exhibits assorted artwork in the V&A collection. The spectacle integrates contemporary Scottish art and product design from their surrounding context, configuring an opportunity, making it a facility expected to become a new cultural centre in Scotland.
The site slashes against the magnificent River Tay, and the architecture proposes in a brutalist manner while achieving harmony and compositional affluence with the environment. The façade heralds a variety of shadows and alterations buffered along with horizontal layers of precast concrete. The architecture reminisces about expressing the beautiful serenading cliffs of Scotland into its elegant charm.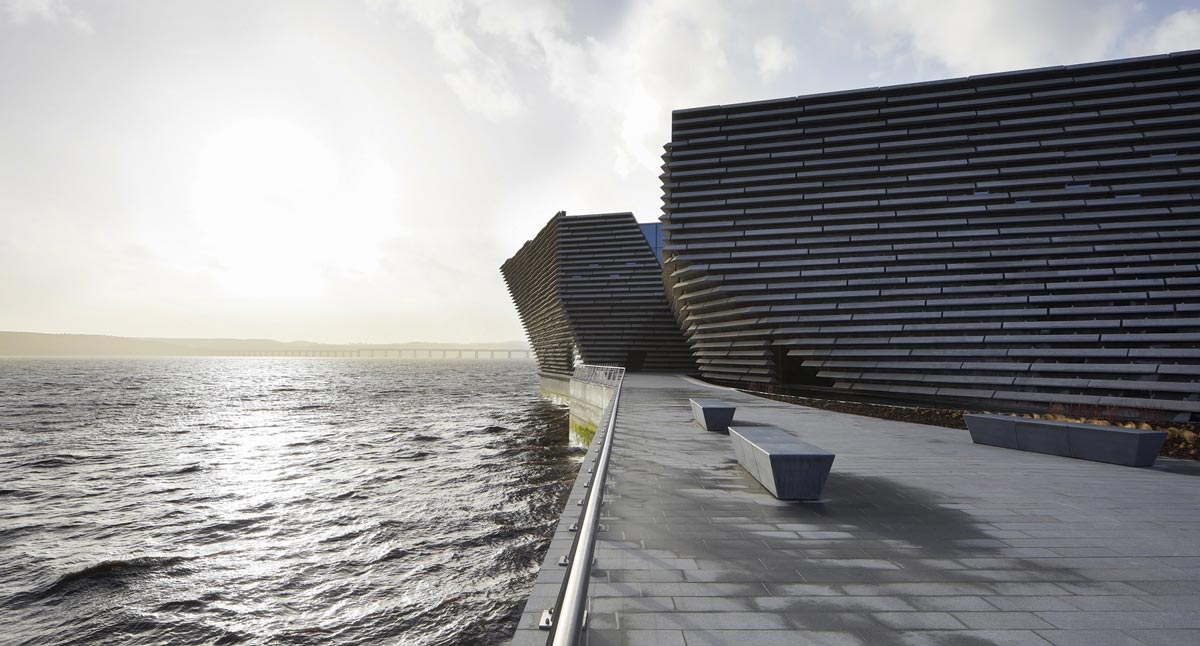 Incorporating a large horizontal "hole" infused in the centre of the building represents an attempt to connect Union Street, which runs through the centre of Dundee, with the beautiful natural scenery of the River Tay. This modern 21st-century feature adopts to overthrow the 20th-century type of museum, where they cut off from the surrounding fabric yet unite within the contextual drama.
The foyer ensembles a large void wrapped with local wood in a soft texture. The interior space intends to be used as a 'Living Room' to revitalize the community by providing a venue where various concerts and performances can accomplish and flourish in prominence. The other exhibition spaces are well composed in deft quality and vital use of materials. A daring black metal staircase streams from the large hall, defining a bold stature in the interior space.
The V&A Museum stands exceptional and riveting in its myriad ways. Kengo Kuma reflects upon the image of a cultural centre that opens doors to the public and delves into the natural fabric of its scene.
Project Details
Architects: Kengo Kuma and Associates
Area: 8500 m²
Photographs: Hufton+Crow
Architectural Wire Mesh – MULTI-BARRETTE 8130
Delivery Architect:PiM.studio Architects
Executive Architect: James F Stephen Architects
Structural/Maritime And Civil Engineer: Arup Mechanical
Electrical, Fire And Acoustic Engineer: Arup Façade Engineering
Wayfinding And Signage: Cartlidge Levene
Designer: Kengo Kuma & Associates, PiM.studio Architects
Principal Designer Advisor:C-MIST DDA
Consultants: C-MIST, James F Stephen Architects
Water Feature Specialist: Fountains Direct
Partners In Charge:Kengo Kuma, Yuki Ikeguchi, Teppei Fujiwara
Project Architect:Maurizio Mucciola
City: Dundee
Country: United Kingdom