UNStudio's Vision for a Hyperloop Transfer Hub for Future Transit in Europe.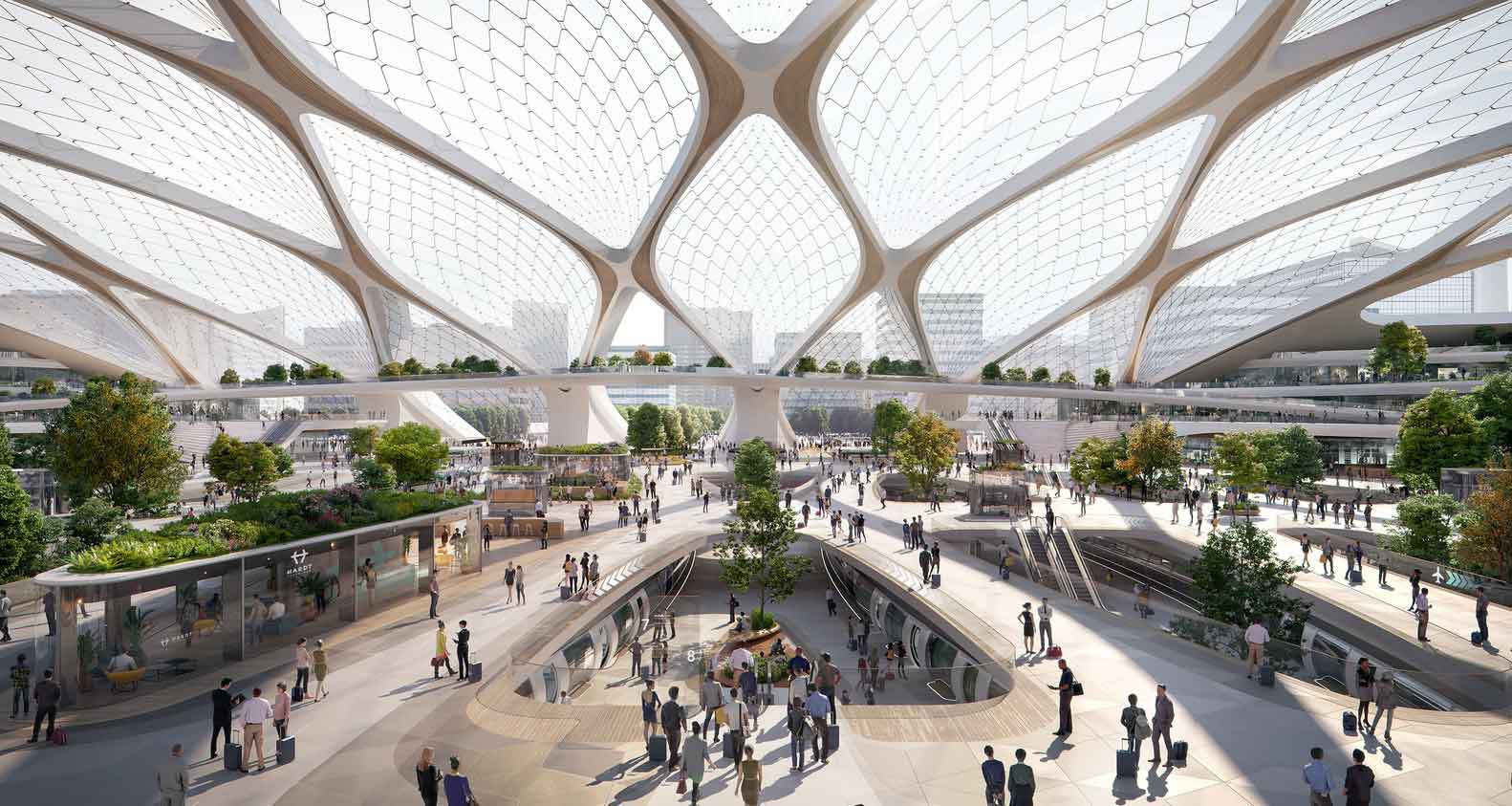 The Dutch architectural practice, UNStudio, shares visions for a hyperloop transfer hub for future transit in Europe. The project is done in a collaboration with Hardt Hyperloop. The station prototype focuses on a tessellated module that can expand or contract to adapt to a variety of contexts. The project was designed by UNStudio's future-focused think tank, UNSFutures.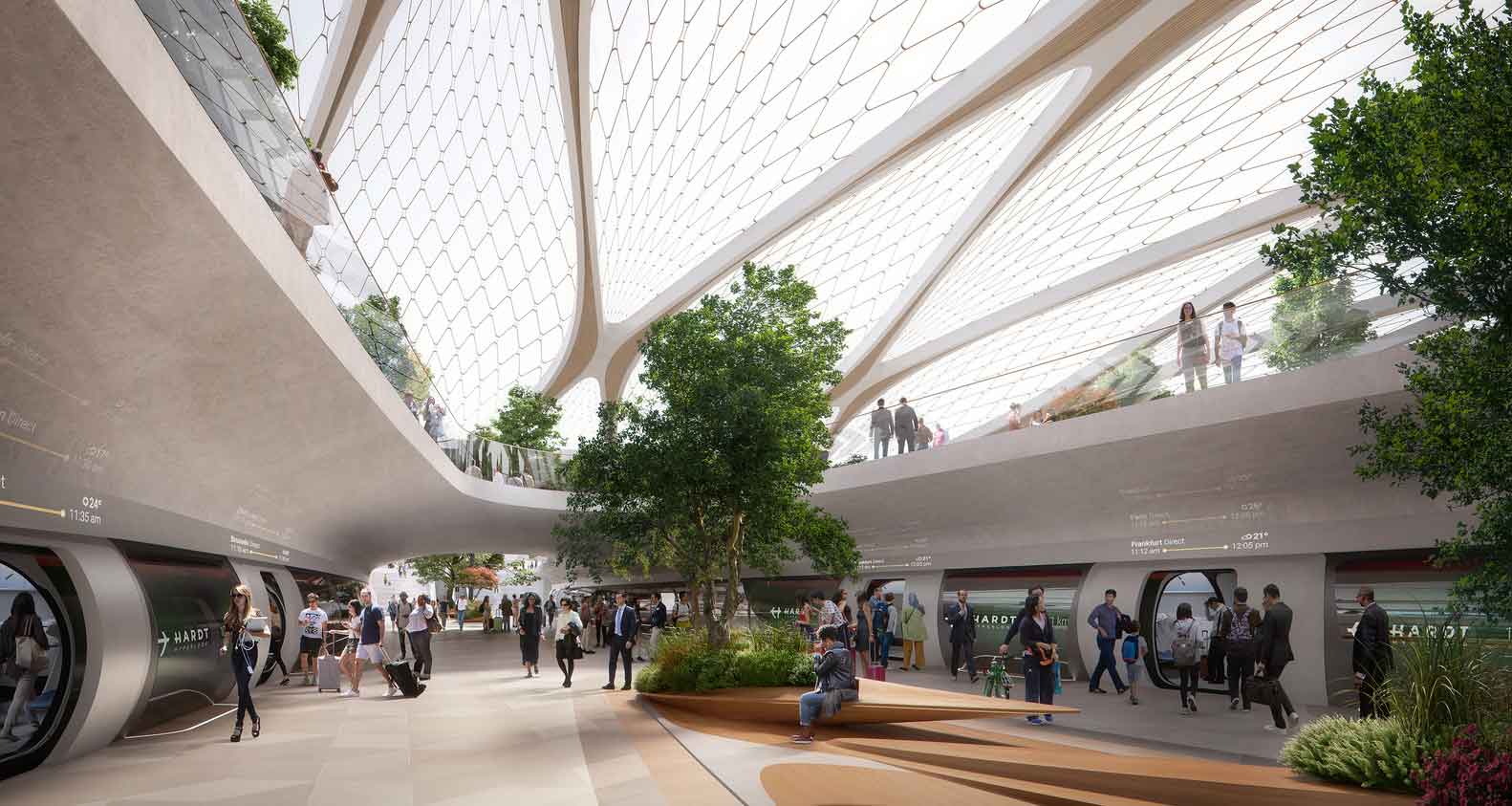 Text description provided by architects. This is the Hardt Hyperloop Hub: a vision for the future of European Hyperloop stations, and a study of how the Hyperloop can incorporate itself into cities and towns of different sizes and contexts. Existing cities have existing parameters, and we envisage a symbiotic, modular approach to integrating into the local environment.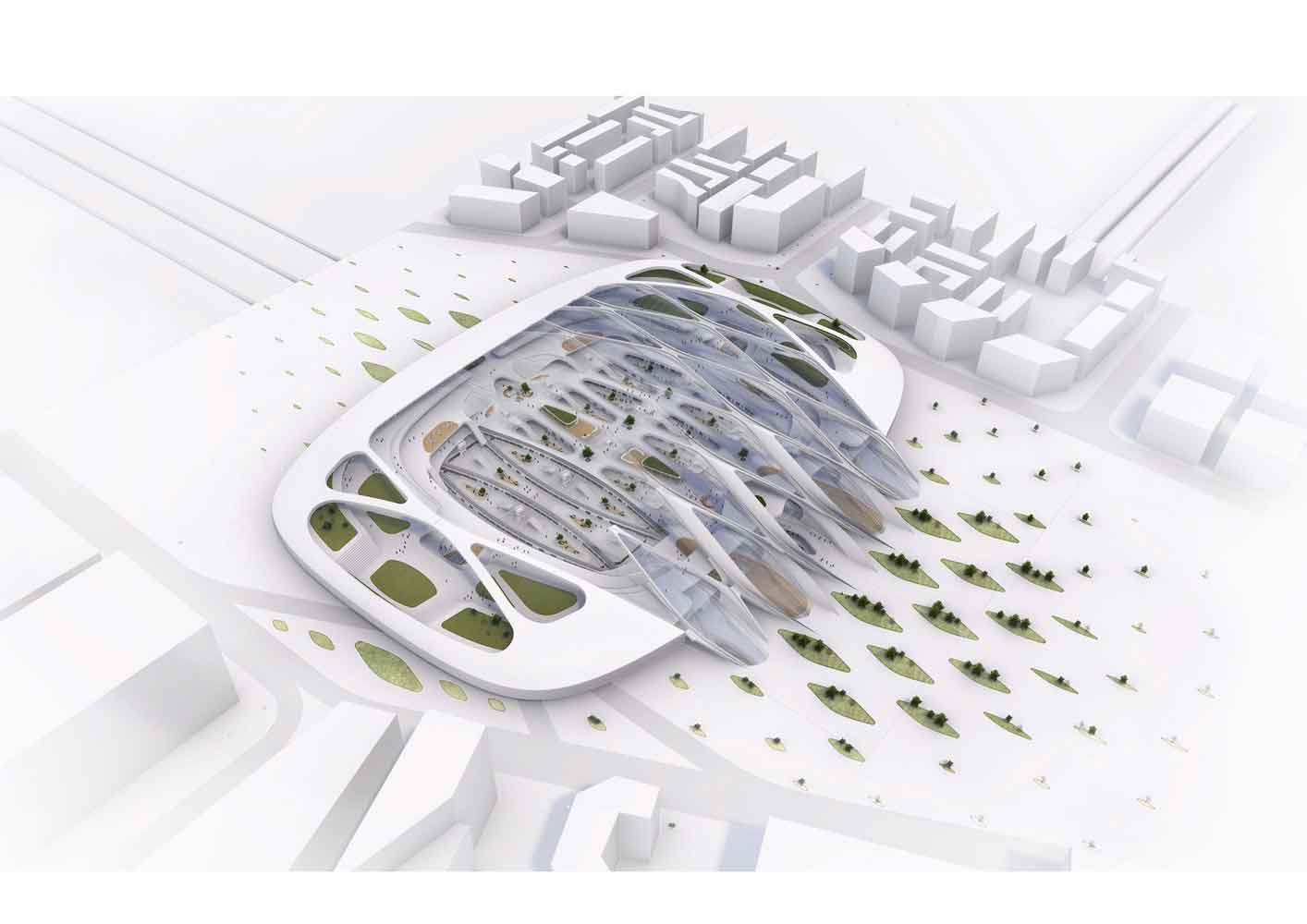 Modularity is what makes this system scalable, resilient and adaptable to existing conditions. Within the Hub's design, a series of tessellating components allow it to adapt to a range of contexts: city-centre, city periphery or joint to an existing infrastructural hub, such as an airport. It blends into the built fabric whether above or overground, in dense inner city neighbourhoods or in low-rise settings. From platforms, functional spaces and a roof that extends out over the transfer hubs, a modular design framework organises and connects all parts.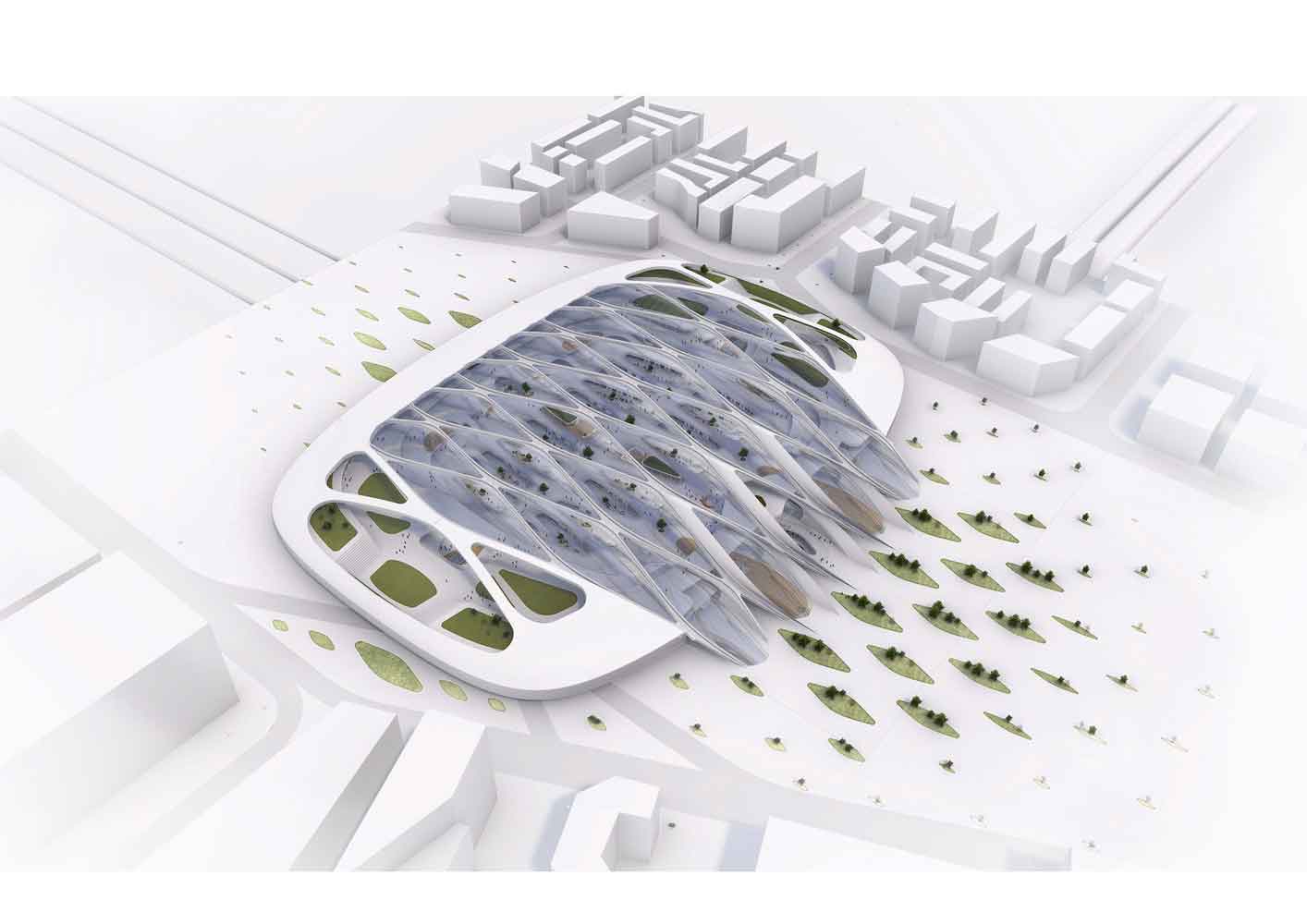 Form, Function & Speed
At speeds between 600 and 1000 km/h, the Hyperloop can travel at the same speed as airplanes, but delivers users right into the heart of cities, connecting them immediately with other forms of sustainable transport. For the Hyperloop Hub building, this speed opens up new opportunities for programmes within and around the Hub.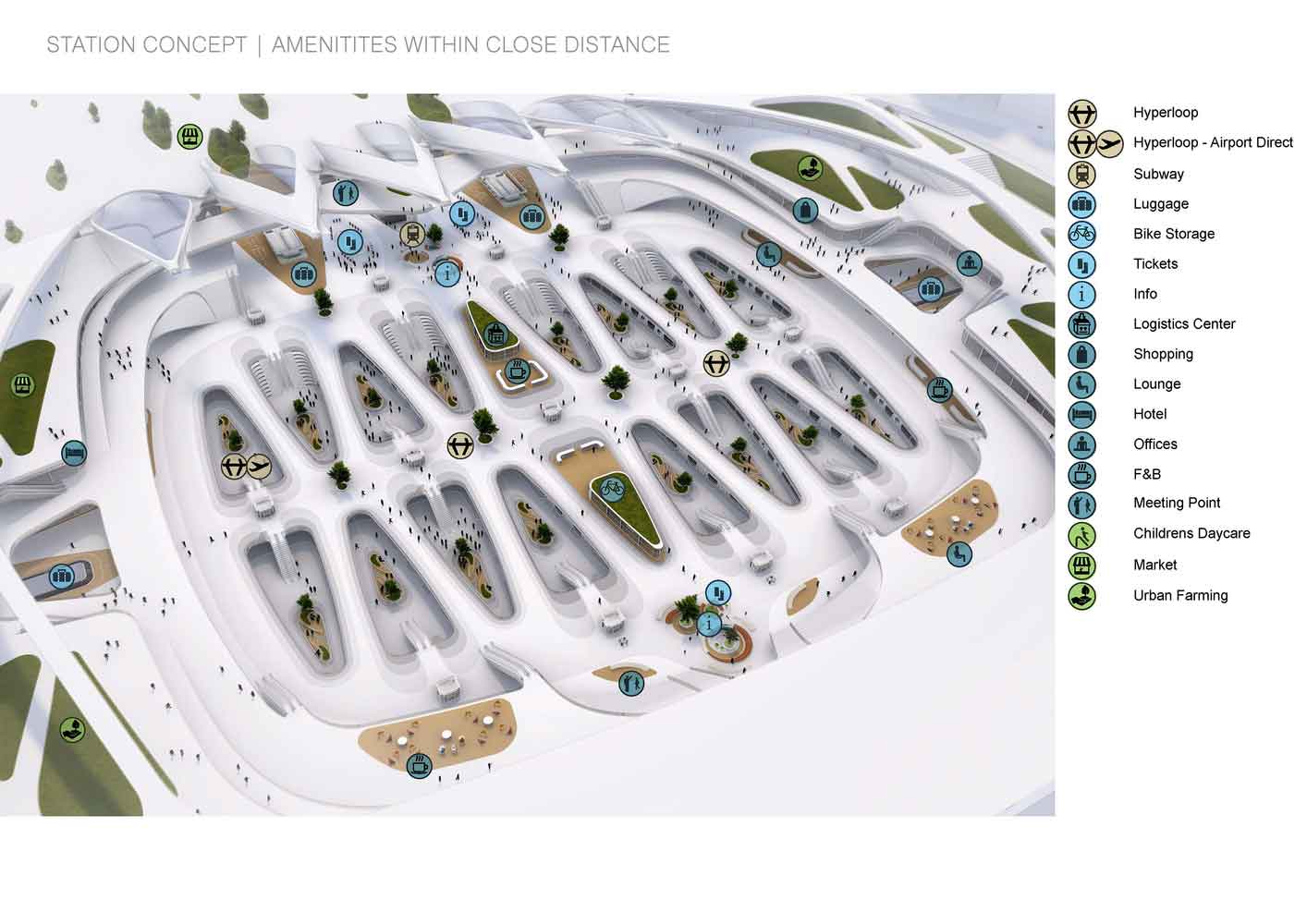 By collapsing distances between producer and consumer we can create shorter food supply chains: super-fresh, high quality produce, picked or caught on the day, can be delivered across continents and right into the heart of cities within hours. This creates the basis for markets to emerge around and within the Hyperloop Hub.
The ramifications for logistics also means that Hubs could become urban centers for circular and shared economy initiatives. As for knowledge transfer, the Hubs can establish a network of mobile learning spaces that connect to established institutions, drawing them closer toward one another.
Spaces of work will also naturally coalesce around Hyperloop stations, as the Hubs become natural meeting spaces for busy workers. We can also envisage benefits for medicine, especially in situations where time is a crucial factor in saving the life of someone in need.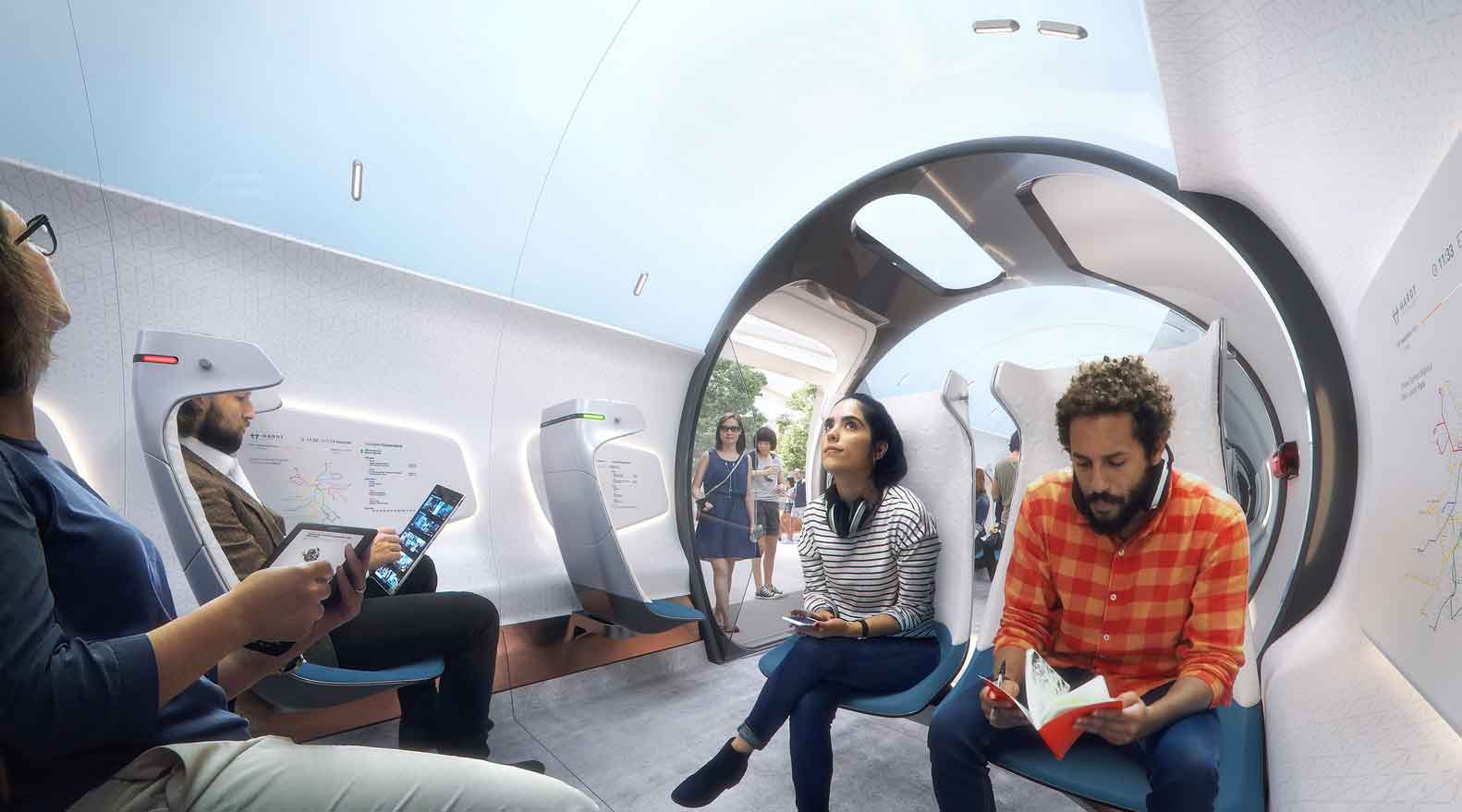 To accommodate this wide range of potential uses, flexible modules can hold different functions, from the purely pragmatic luggage check-in, parcel pick up point or bicycle dock, to daycare for busy parents or small pocket parks for children and adults.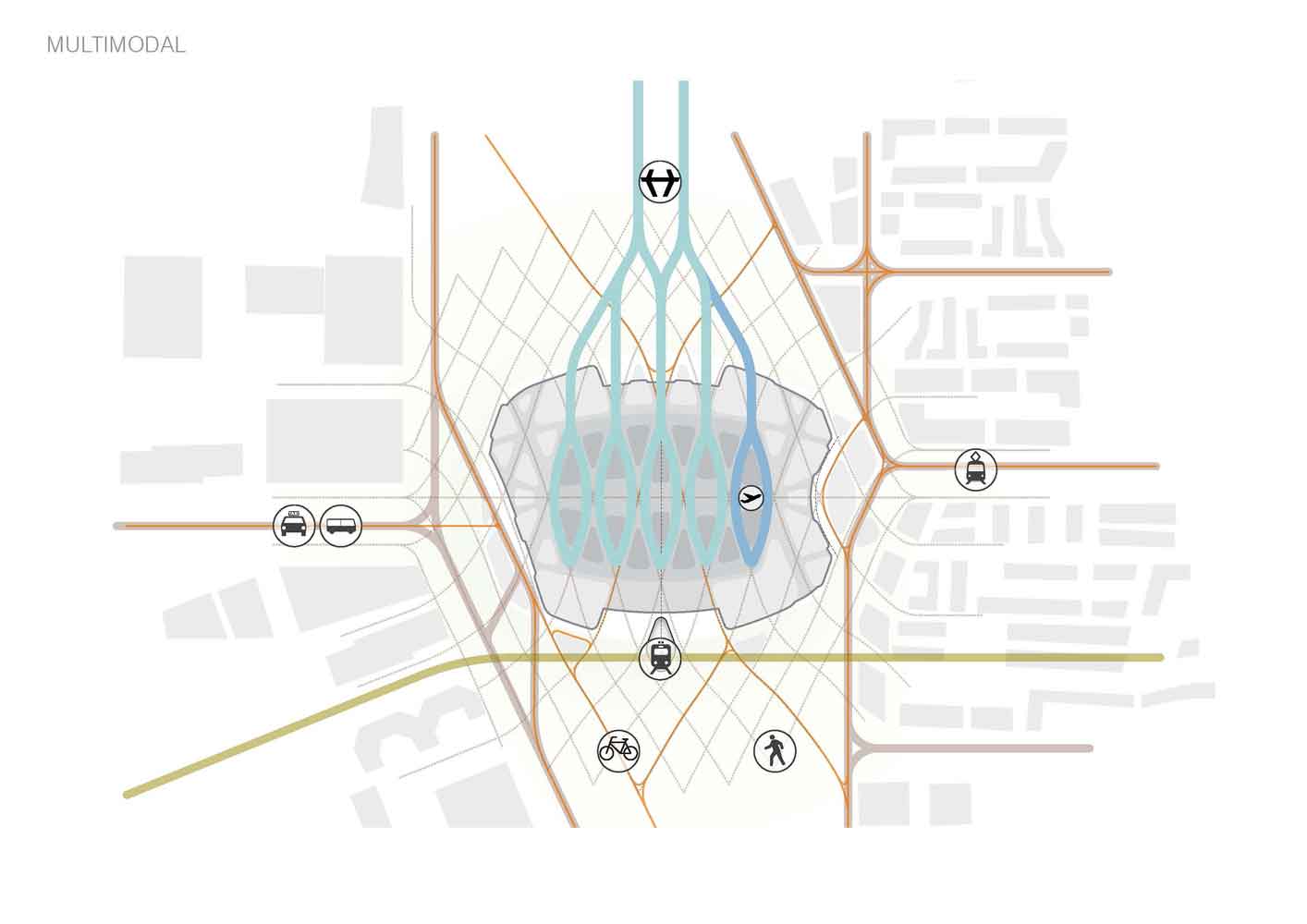 A Station Powering a Region
'In the very near future, buildings will function as batteries, providing energy not only for their own immediate needs, but also for surrounding public amenities and transportation modes.' Ben van Berkel
Global urbanisation, population growth and urgent environmental concerns create infrastructural challenges that cannot be resolved with our current modes of transport. A sustainable alternative to air travel is imperative.
Just as each Hyperloop line will draw power from solar panels on the tube, each Hyperloop Hub must also act as a battery to sustain itself. The roof canopy provides daylight, protects passengers, ensures climatic balance, and harvests energy and water. Surplus energy produced at the Hubs and along the Hyperloop tubes could also power autonomous vehicles, buses and bicycles which passengers can use to complete their journey.
The station then regulates the highs and lows of the solar-powered system, as well as its internal environment through high-performance materials that respond to changing heat, light and humidity levels.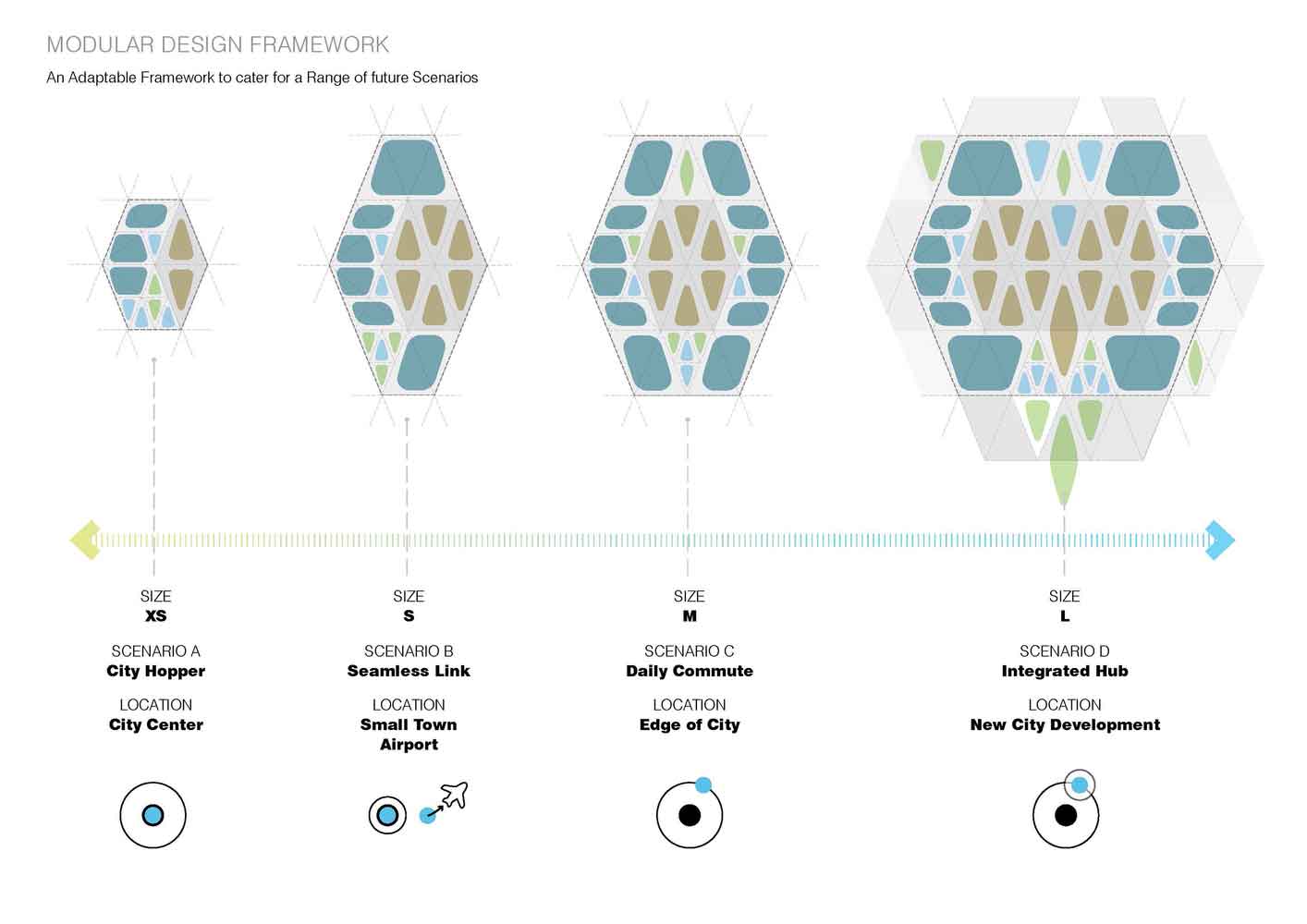 The First Route
The Hyperloop Implementation Programme (HIP) is a programme by Hardt Hyperloop that investigates the feasibility of the Amsterdam-Frankfurt line. Their research shows that, among other things, a route between Amsterdam and Frankfurt is 450 kilometres long, and with seven intermediate stations the journey takes about 50 minutes. This is in contrast to the four hours lost when regular transport is used.
With this route alone, more than 4.3 million inhabitants could be served, and on an annual basis, the hyperloop could carry more than 48 million passengers. The hyperloop would offer a sustainable alternative for the approximately 2 million aircraft passengers on an annual basis, saving 83,690 tonnes of CO2 emissions per year.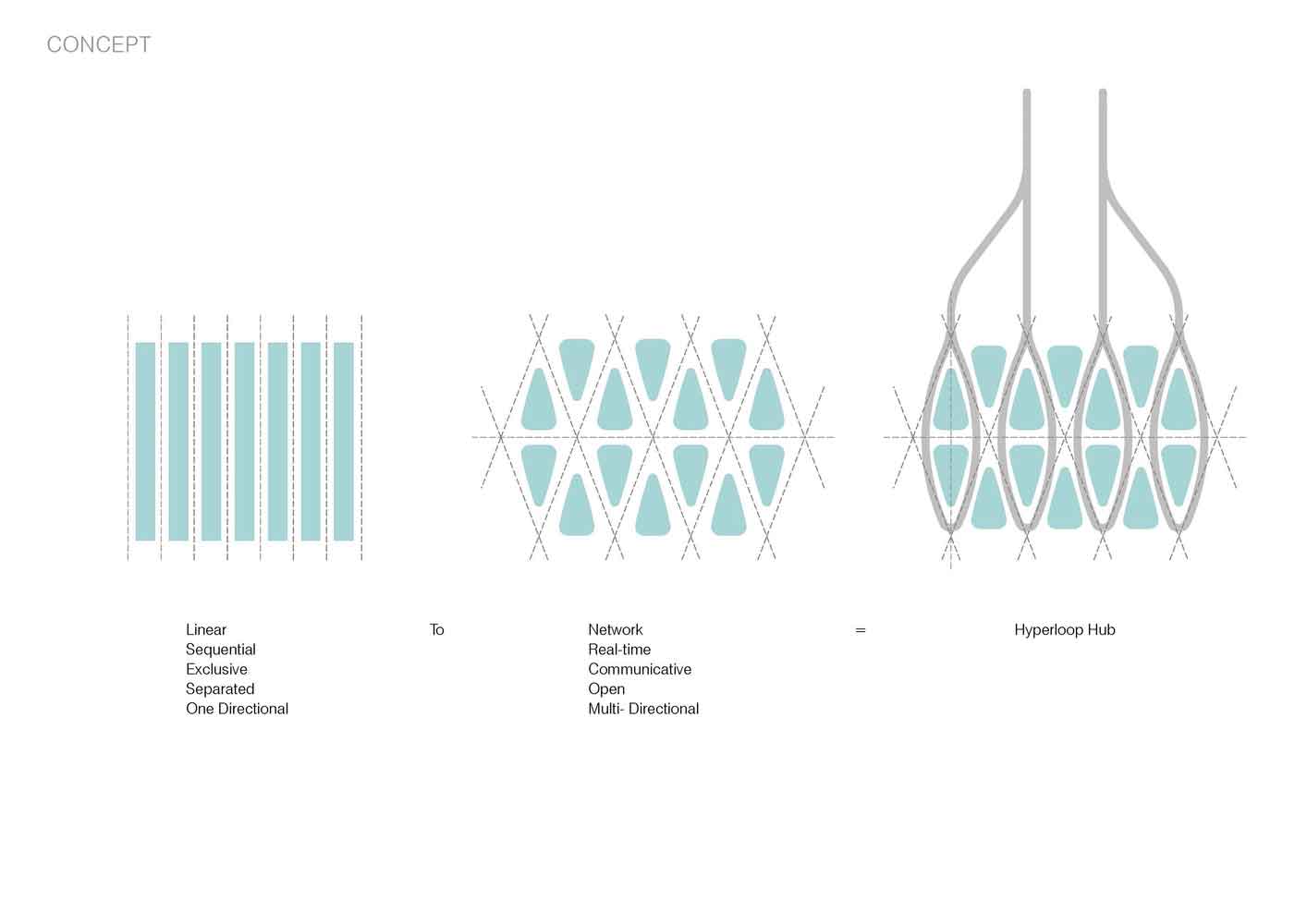 Architect : UNStudio
Lead Architect : Ben van Berkel
Client : Hardt Hyperloop
Location : Netherlands
Programme : Hyperloop stations of the future, urban integration of Hyperloop
Status : Design            
Team : Ben van Berkel with Ren Yee, Arjan Dingste and Alice Haugh, Jan Sobotka
Year : 2018
Via > UNStudio
Los Angeles based transdisciplinary design firm AN.ONYMOUS lead by Iman Ansari and Marta Nowak , reveals their proposal by Hyperloop Abu Dhabi station for Hyperloop Transportation Technologies (HTT). Hyperloop Abu Dhabi Station proposal for Hyperloop Transportation Technologies (HTT) rethinks and reinvents the very concept of travel and passenger experience in response to new innovation in transpor tation technology and the emergence of a new mode of transportation and mobility: Hyperloop.
Twisted Link concept project by WAU Design has won the team a Commendation in Ideas Competition for Liantang / Heung Yuen Wai Boundary Control Point Passenger Terminal Building for its unique twisted design that connects Hongkong and Luohu in Shenzhen , China .