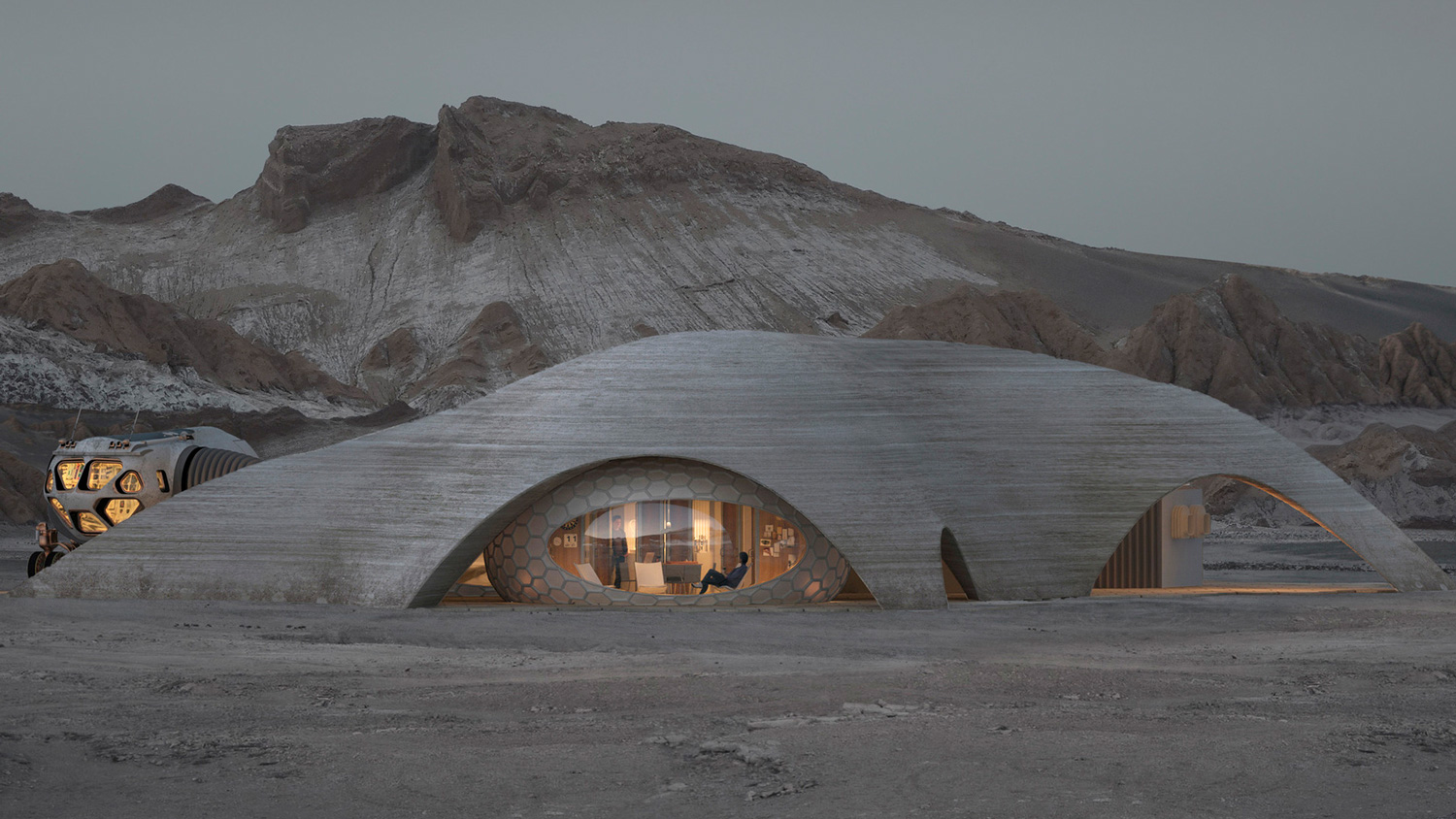 Hassell's Mars Settlement divides the structural mechanism into two parts: an outer shell to be made by remote-control machines and the inflatable pods to be instantly built by astronauts.
Through the ongoing planetary studies carried out by America's space agency NASA, moving to Mars has become an everyday subject. Supervised by NASA's Centennial Challenges Program and Bradley University in Peoria, the 3D-Printed Habitat Challenge was an attempt to anticipate the possibilities of building technology on the Red Planet, which could also enhance future research for the Space environment.
Selected among the top ten designs in this competition, the smart construction idea of Australian-based architecture studio Hassell and the UK-based Eckersley O'Callaghan Engineers presented a manufacturing innovation with robotics and 3D printing technology.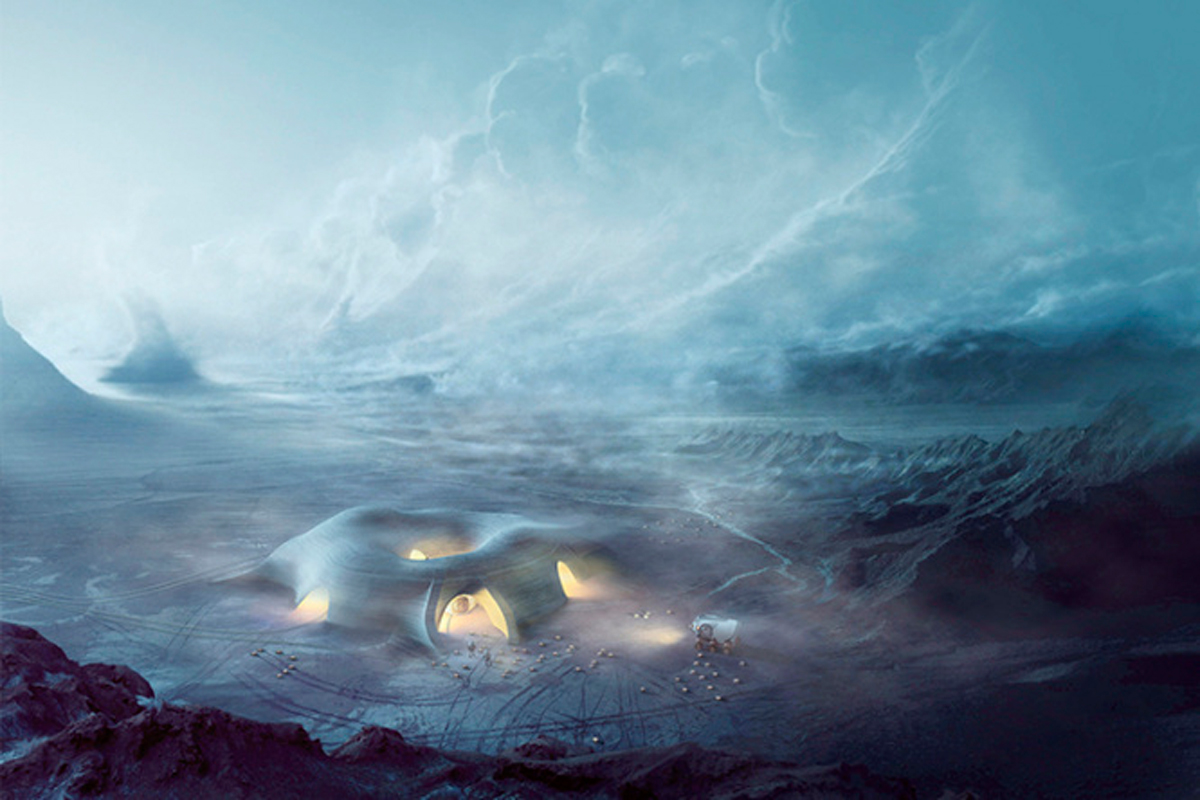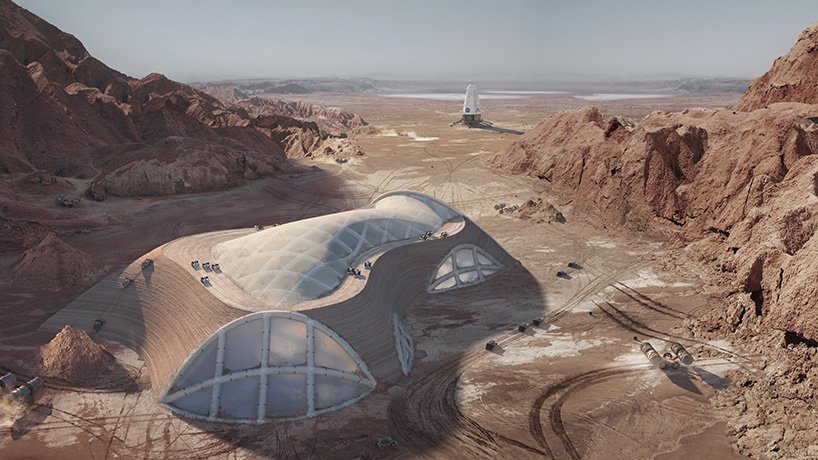 Designing a spacecraft for astronauts is about surviving on another planet for a certain period of time but creating a place that helps adapt our lives to different spatial conditions goes further than that. To propose a human-centric habitat, the architects of this project aimed to keep the people thriving on Mars. Moreover, building on a totally different globe was another issue for this competition.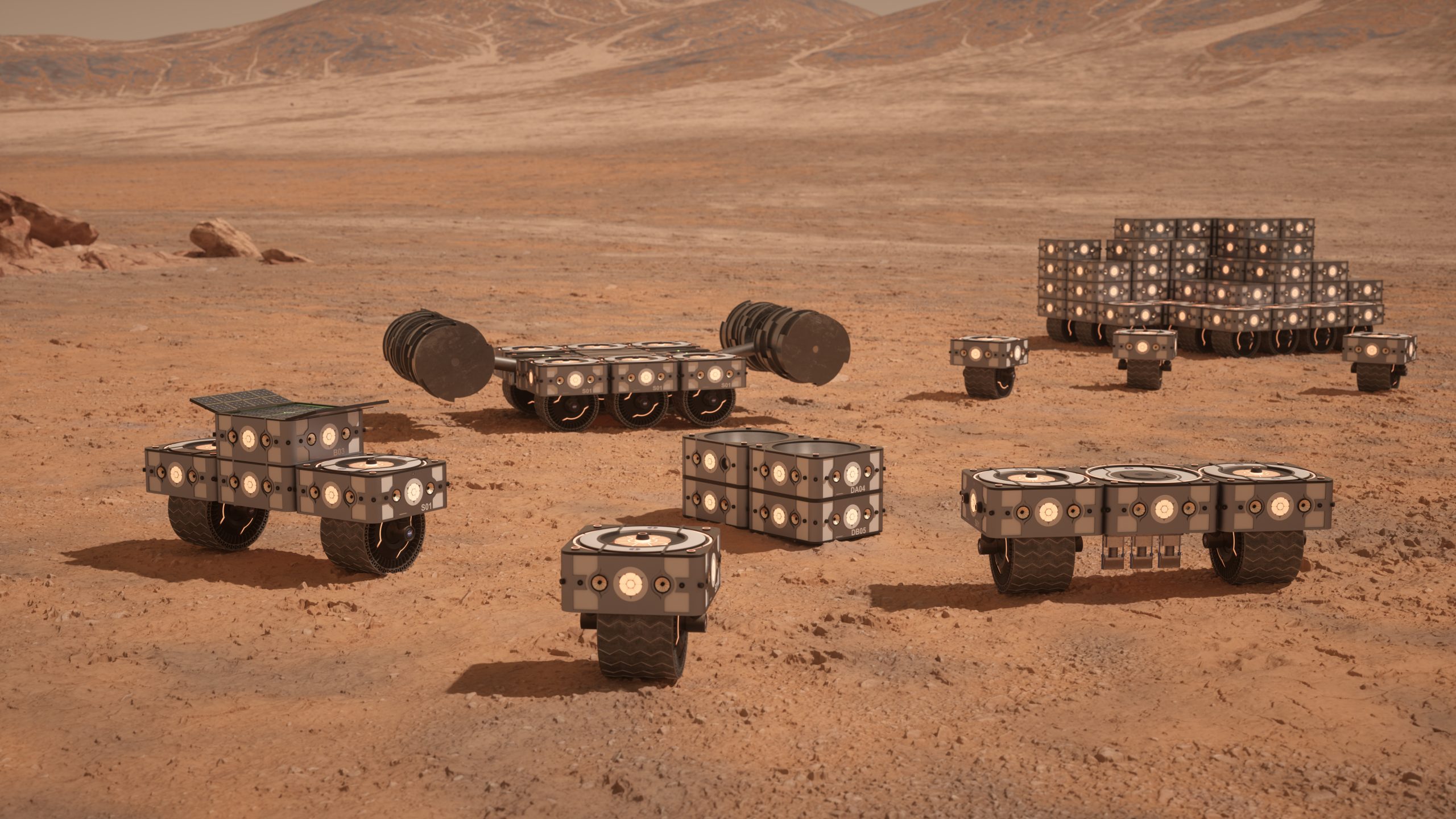 Due to the difficulty of controlling a robotic system in space from Earth, it was not a good option to construct every component of a building on Mars. For that reason, the architecture studio came up with the idea of dividing the structural mechanism into two parts: an outer shell to be made by remote-control machines and the inflatable pods to be instantly built by astronauts.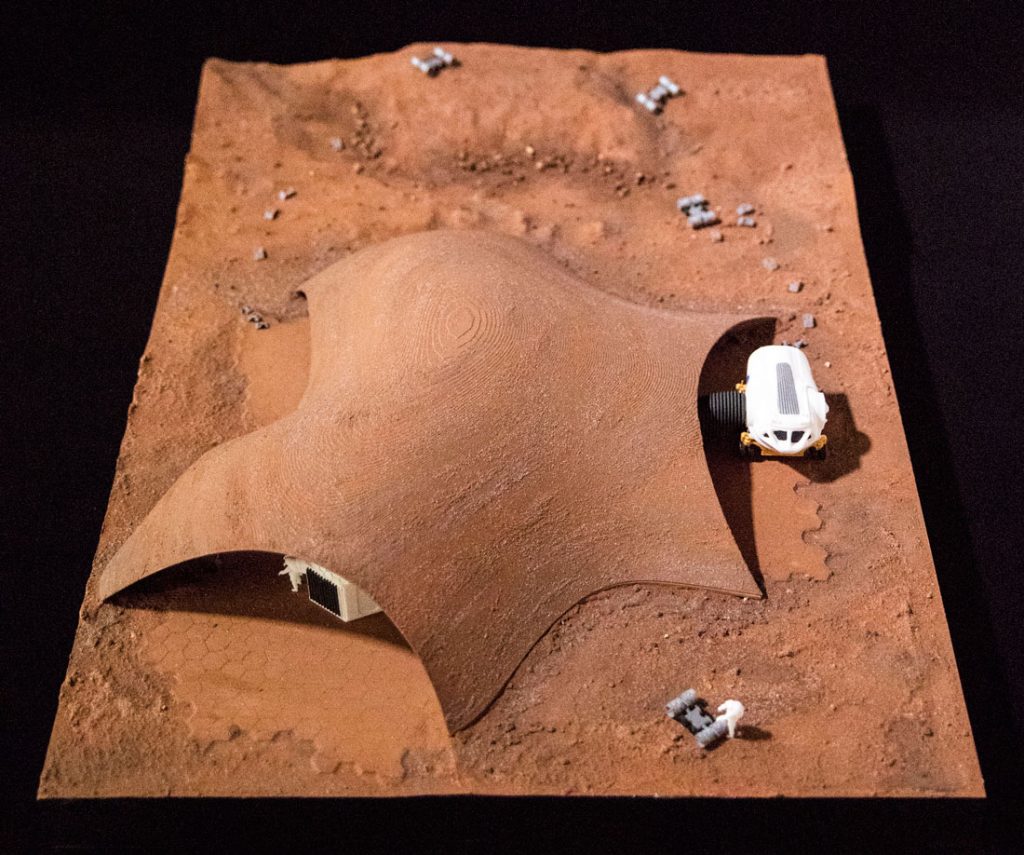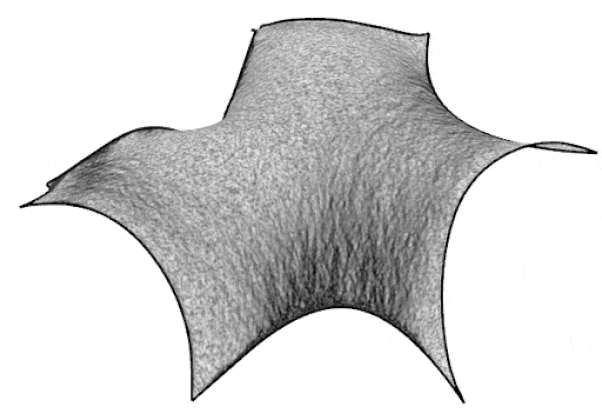 The degree of radiation exposure on the surface of Mars is much higher than that of Earth, suggesting that a shell structure could be used as radiological protection for astronauts to live in such an environment. This cave-like building envelope was designed to be completely 3D printed using regolith, the natural soil of Mars, as an autonomous robot production. Meaning that the skin of these futuristic habitations would be ready before the arrival of the space explorers.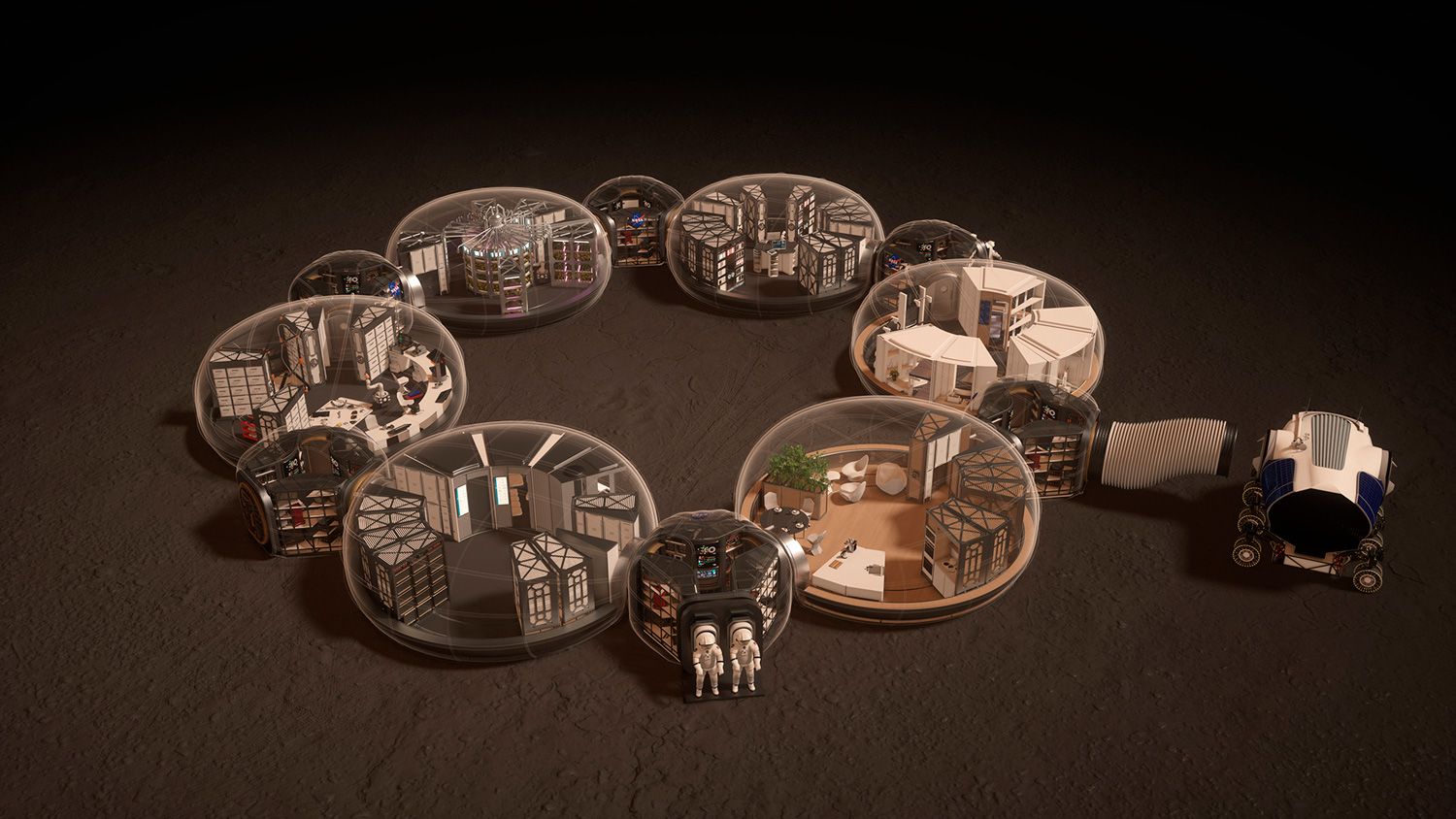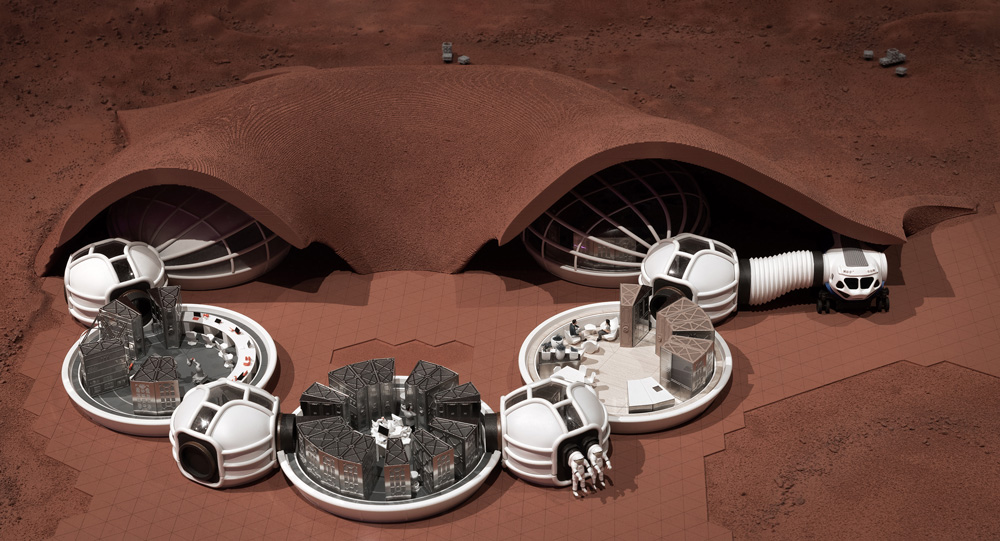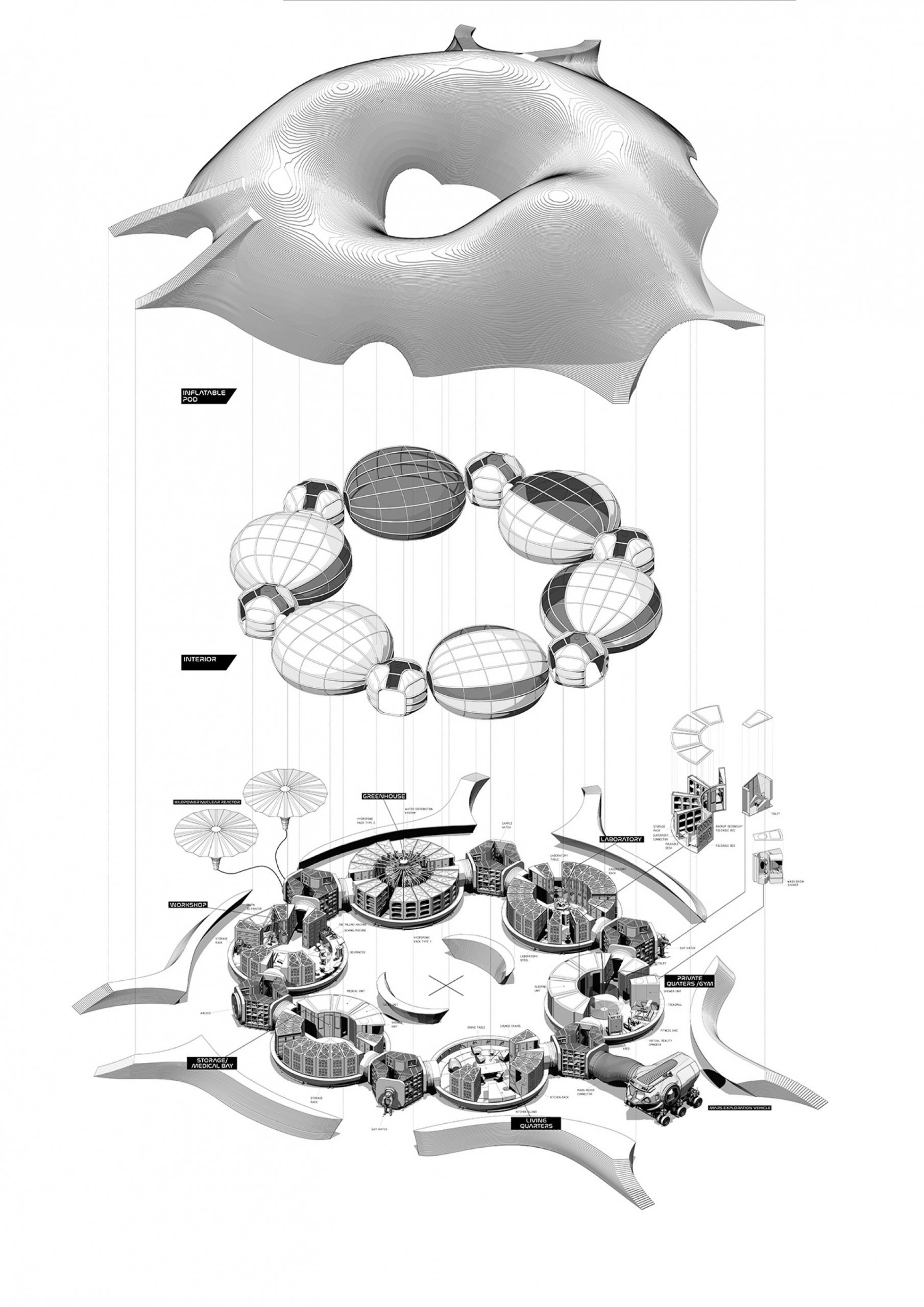 The livable part of Hassell's Mars Settlement project corresponds to the prefab inflatable modules that would be transported from the Earth. These six interconnected pods serving a variety of work and living activities were proposed to be placed under the external shell using a movable rack system. The location of the racks, which can also be used as storage units, characterizes their behavior and even gives a possibility to duplicate their function.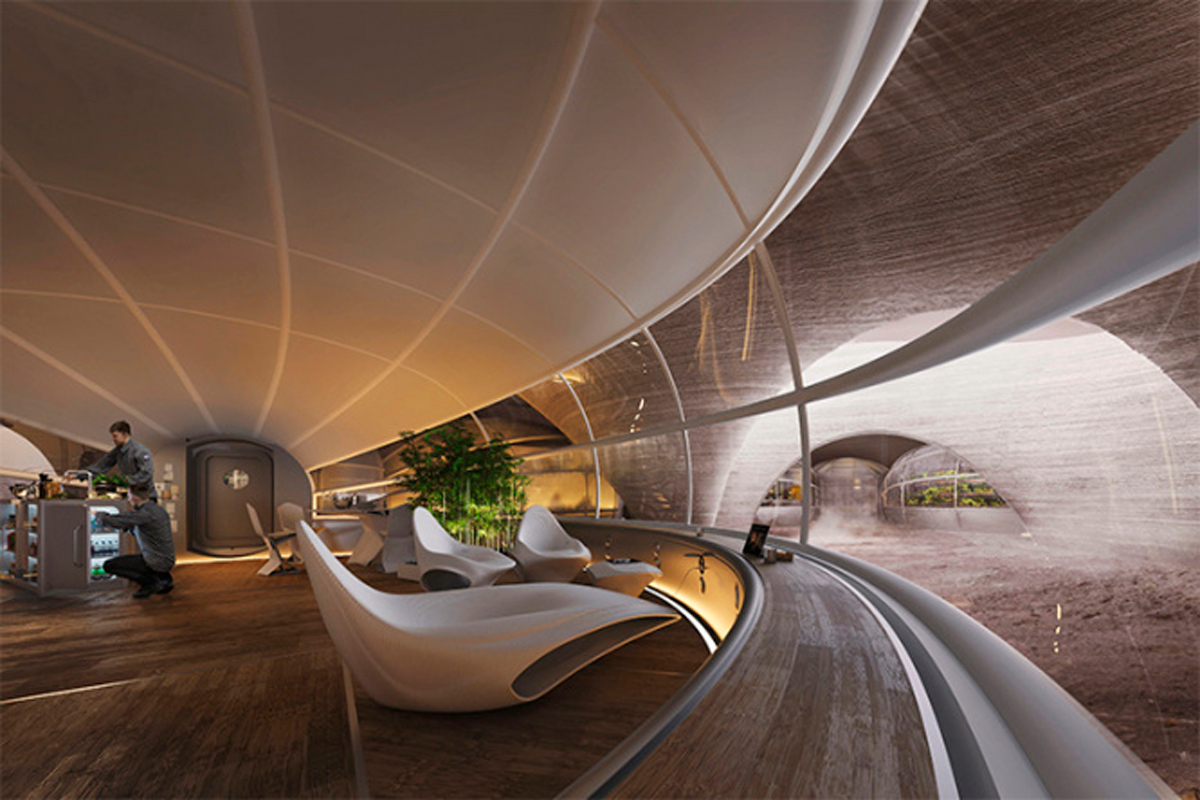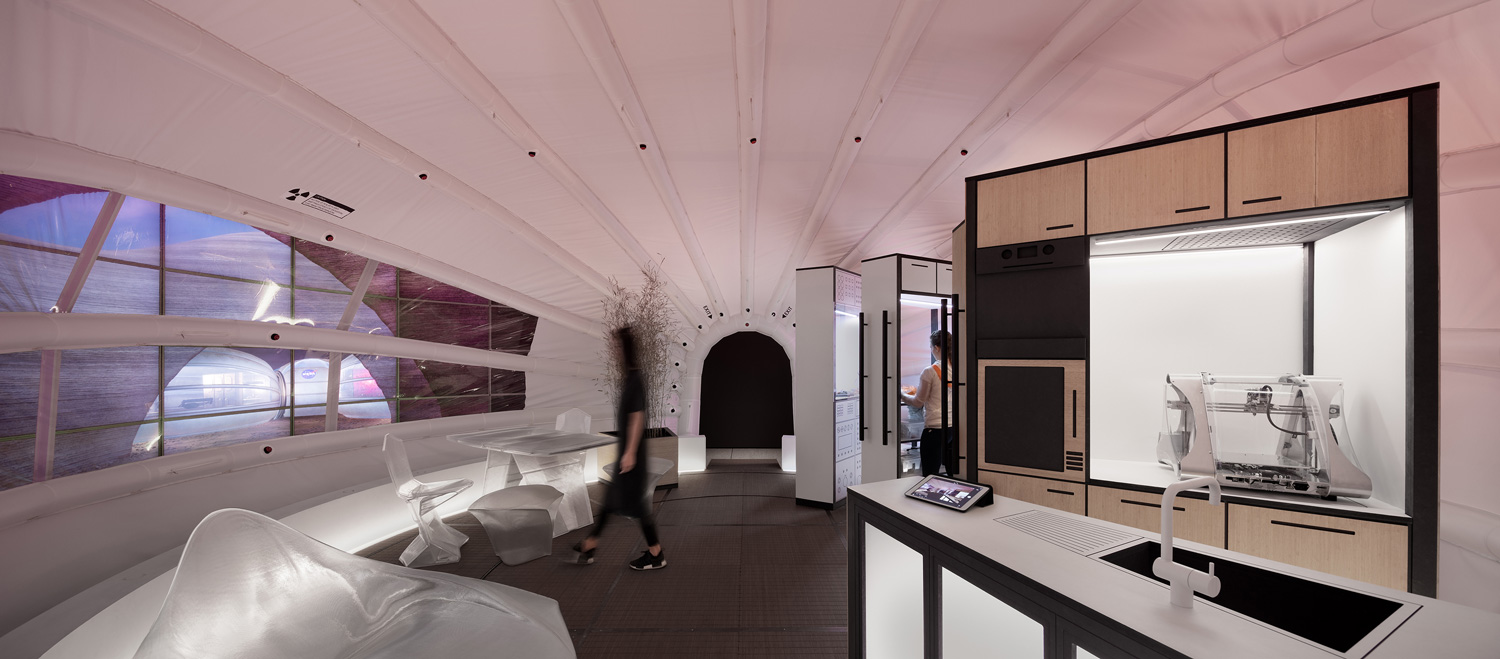 One approach of the architects who introduced this whole idea was to create an easily expandable quarter that made us think about a much more technological version of the Metabolist movement. After all, an existing building could be combined with the new one, providing an atmosphere to form the local group of the future.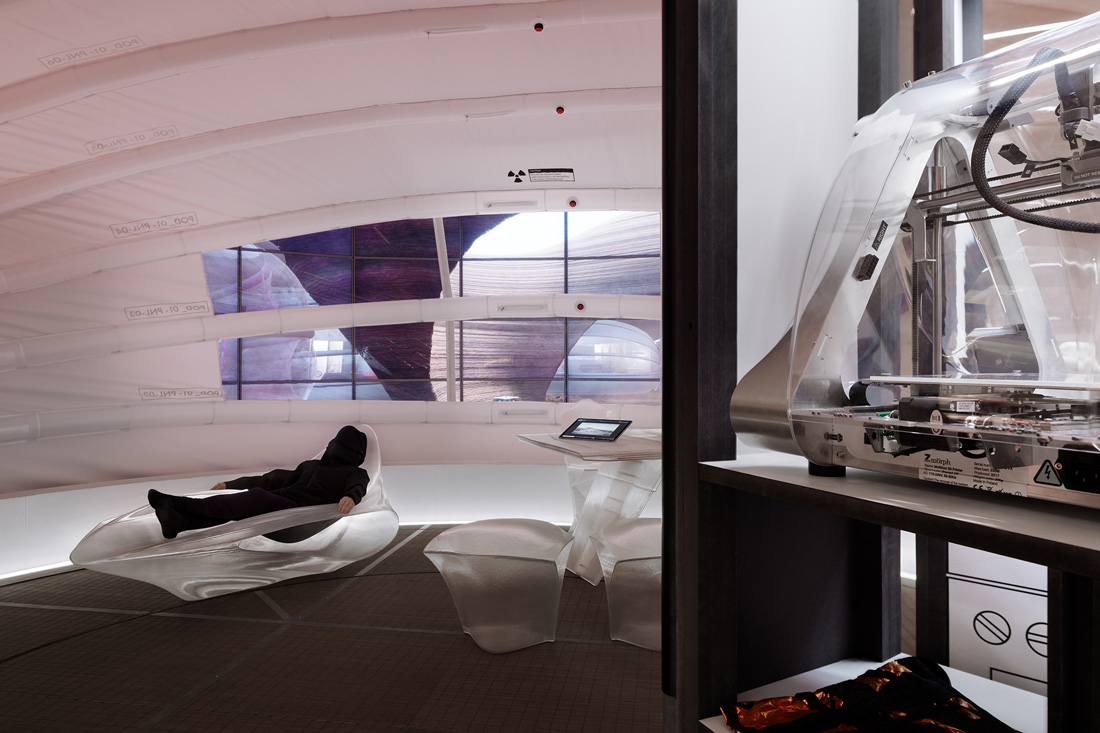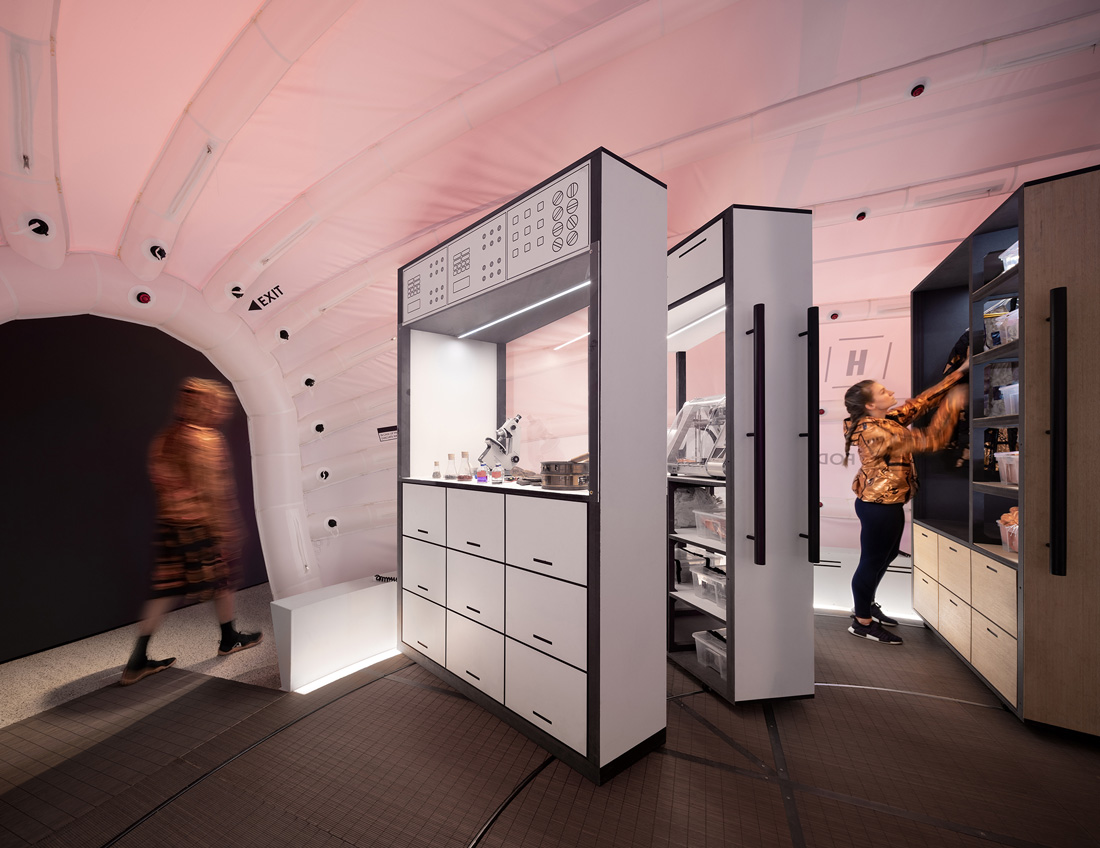 After designing this innovative project, Hassell built one of the inflatable pods at full scale for the Moving to Mars Exhibition. This model highlighted a variety of physical and virtual features that allowed habitat visitors to perceive everyday life on Mars through a kitchen or science lab. Besides, a video wall screening the Martian landscape was installed to experience the environment ahead of our time.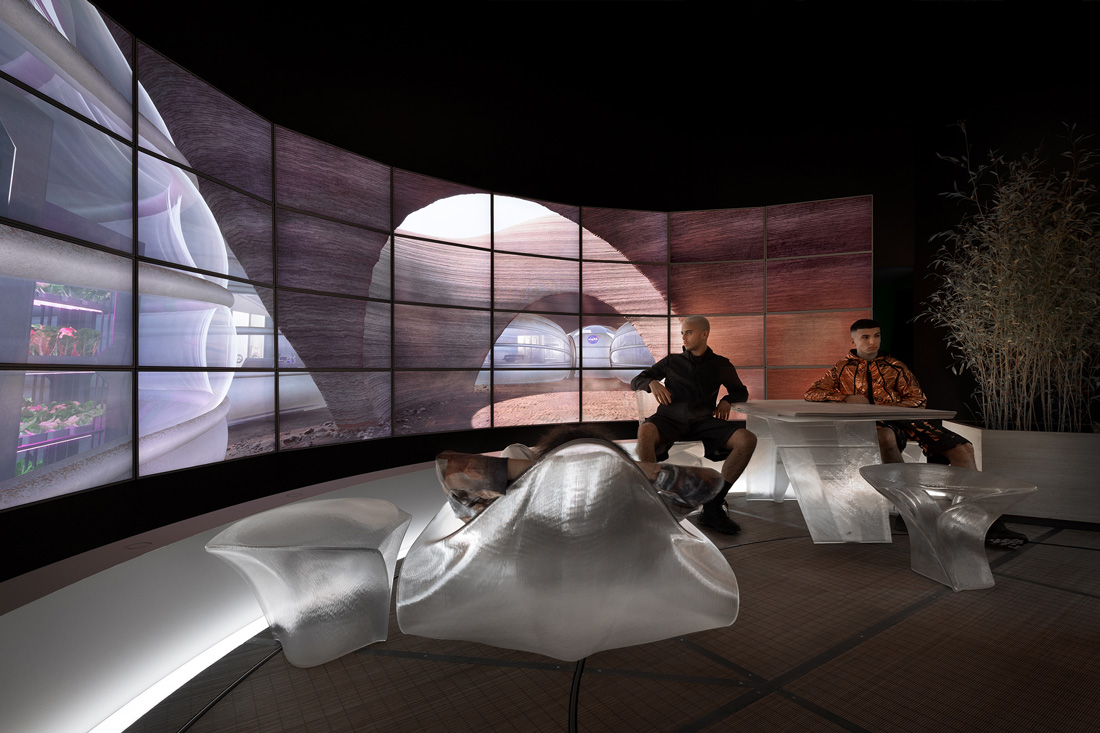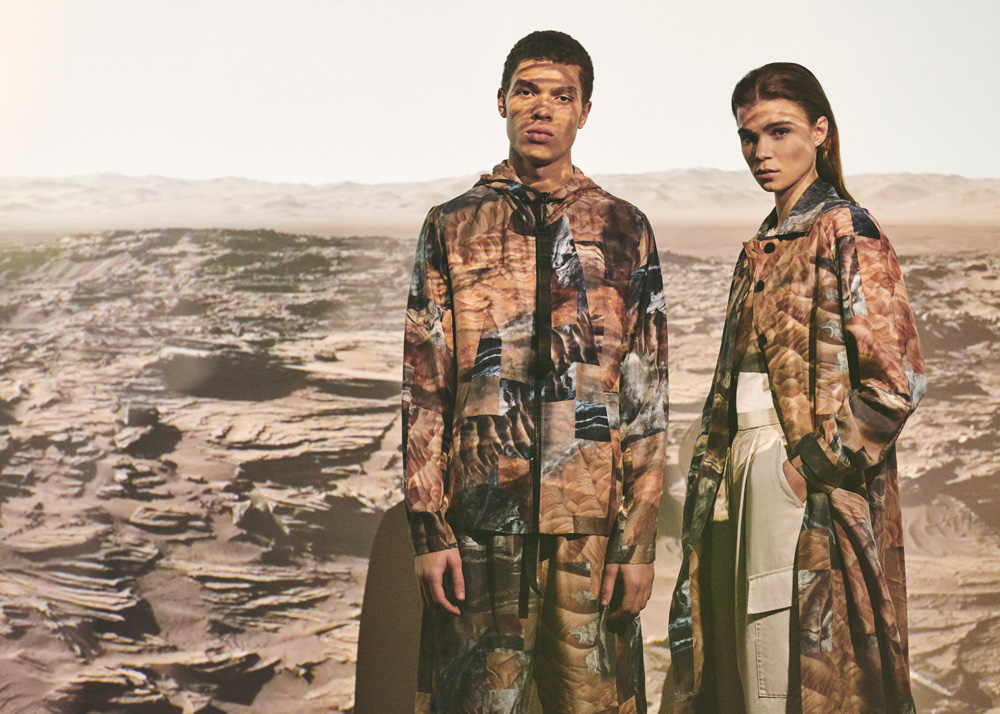 ARCHITECT: Hassell
COLLABORATORS: Eckersley O'Callaghan
CLIENT: NASA
PHOTOGRAPHS: Studio NAARO
LOCATION: Mars
STATUS: Temporary
YEAR: 2018