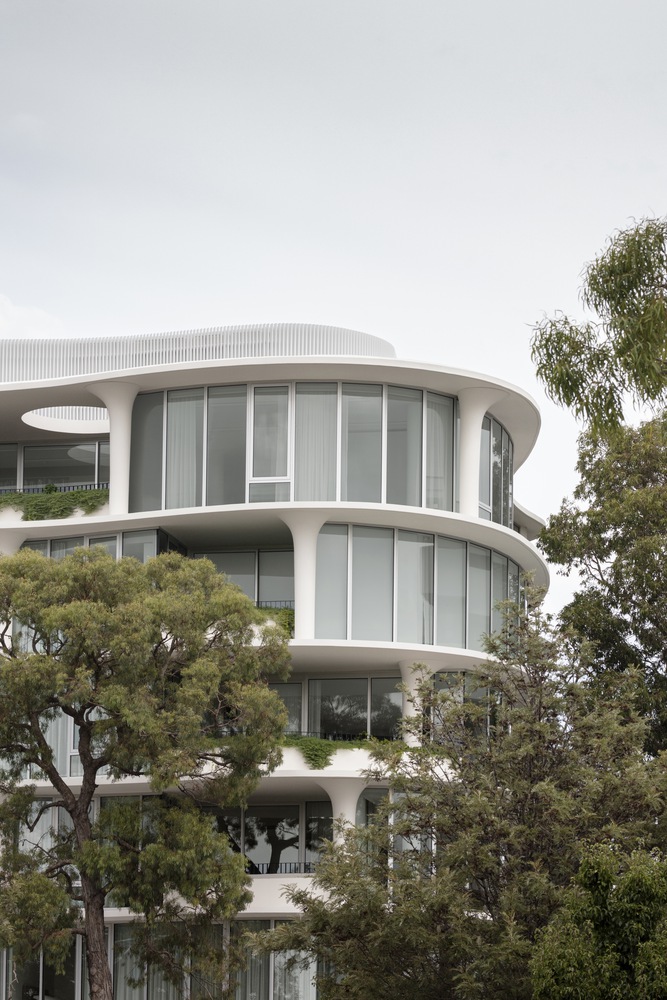 No. 6 Sydney St. Apartments are designed by Wood Marsh in 2022 and is a collection of 15 residences located within the inner city of Prahran, Australia. The sculpture-like structure has strong connectivity to its natural surroundings.
The silhouette of the building references the sinuous curves found in nature, its asymmetrical volumes appear to be chiseled from a single raw material. The soft-edged slab is the main element of the building, with a thin and delicate form attached to an irregular grid characterized by curved columns. The fluid forms interact to bring visual movement to the building. The undulating façade creates an alternating void and solid spaces, interspersed with plant-filled gardens, further softening the building's appearance.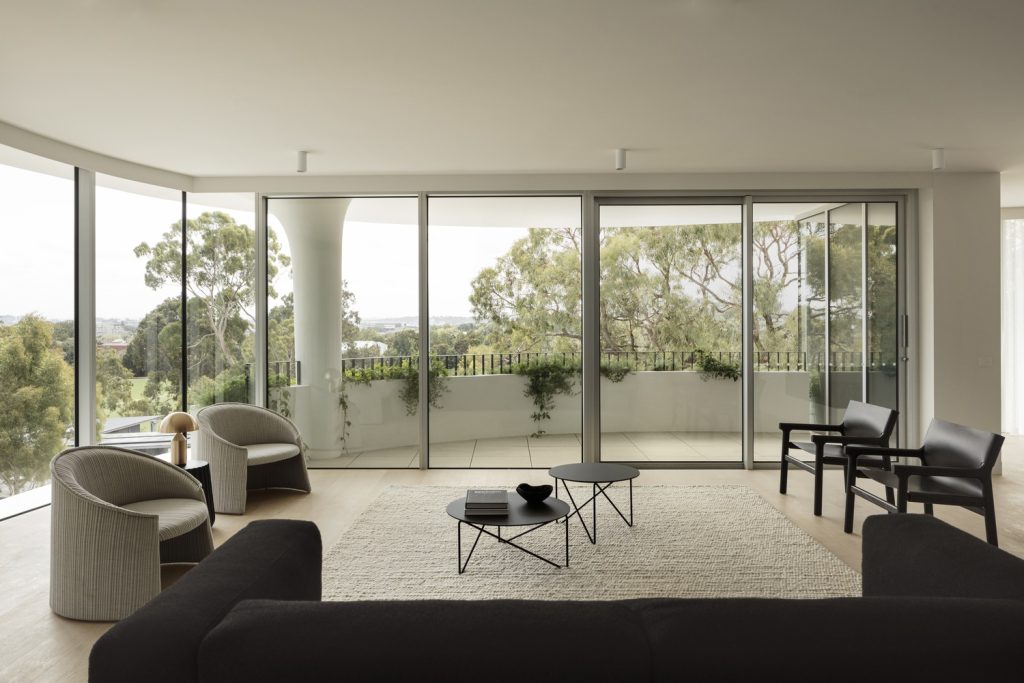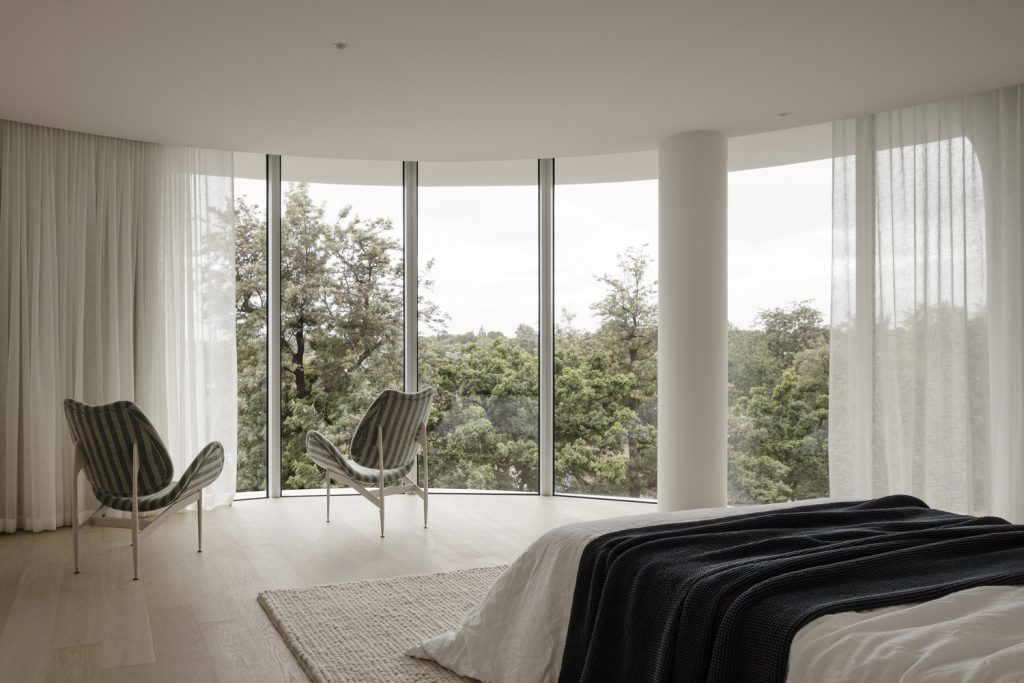 The ground floor of the building is hidden in a lush garden, and the entrance area is set between two curved columns and can be accessed through a winding path. From the entrance, the exquisite natural materials and craftsmanship details of the building change gradually, allowing the exterior space to transition naturally into the interior. The wooden doors, adorned with silver cast-bronze doorknobs, are the first noticeable sign of this process.
Each apartment is unique, with different lighting, views, and terraces. Expansive glazing and facades bring plants, parks, and cityscapes into the interior. The surfaces of some interior spaces are softened by curved volumes and plaster materials, while also drawing on the design elements of the building's exterior.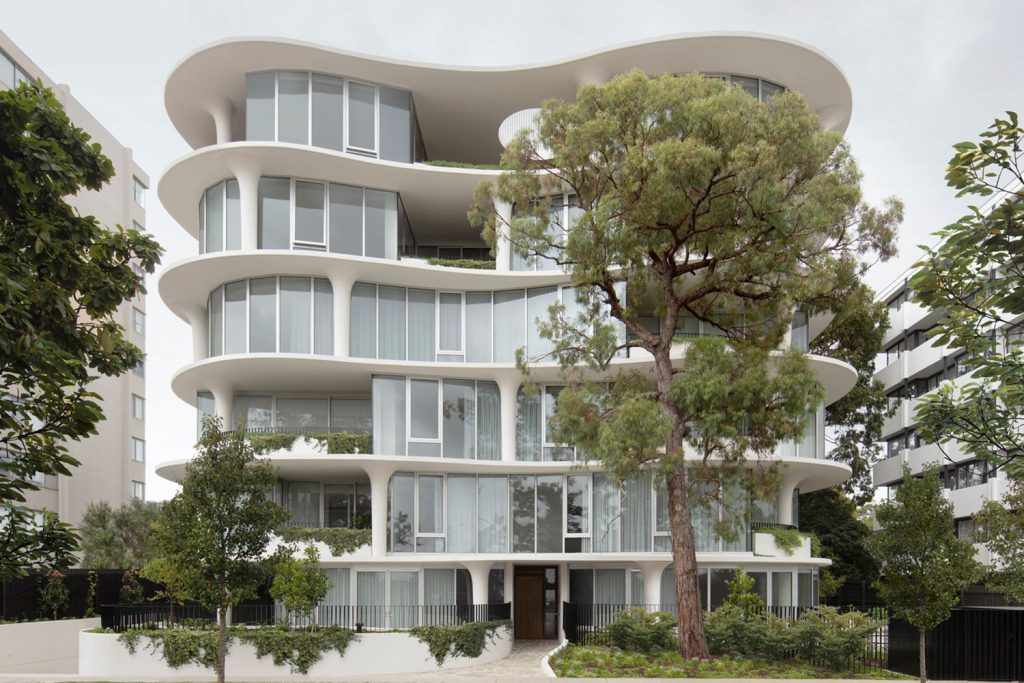 Furnishings crafted from natural wood and marble add warmth to the space as a whole, while also displaying the contrast between materials and a unique ambiance of simplicity and luxury. The bathroom walls are clad in travertine mosaic veneer, giving the space a subtle texture and texture and contrast with the stained wood and stone vanity.
The No. 6 Sydney St. apartment building project was jointly created by the V-Leader developer and the design team. It was "carved" from an urban block, breaking the walled streetscape constructed by the surrounding square buildings. Its soft overall form and single color together highlight the spatial characteristics of the combination of virtual and real. The connection between the building itself and nature, as well as its design ingenuity in terms of circulation and art, together create a unique project that stands out from the surrounding residential environment.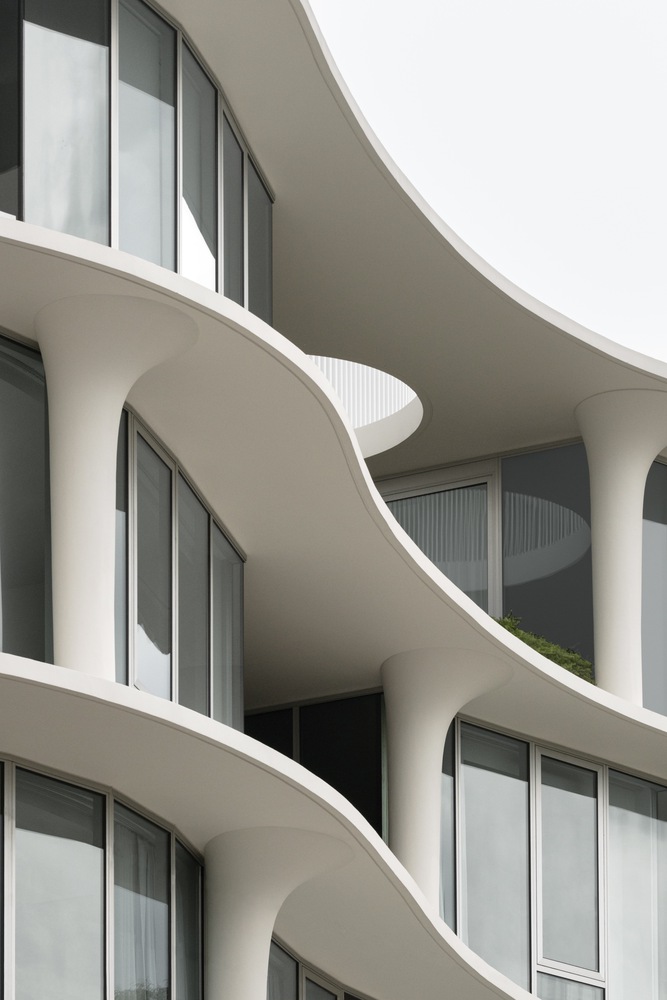 Project Info
Architects: Wood Marsh
Year: 2022
Landscaping: Eckersley Garden Architecture
Builder: VCON
Developer: V-Leader