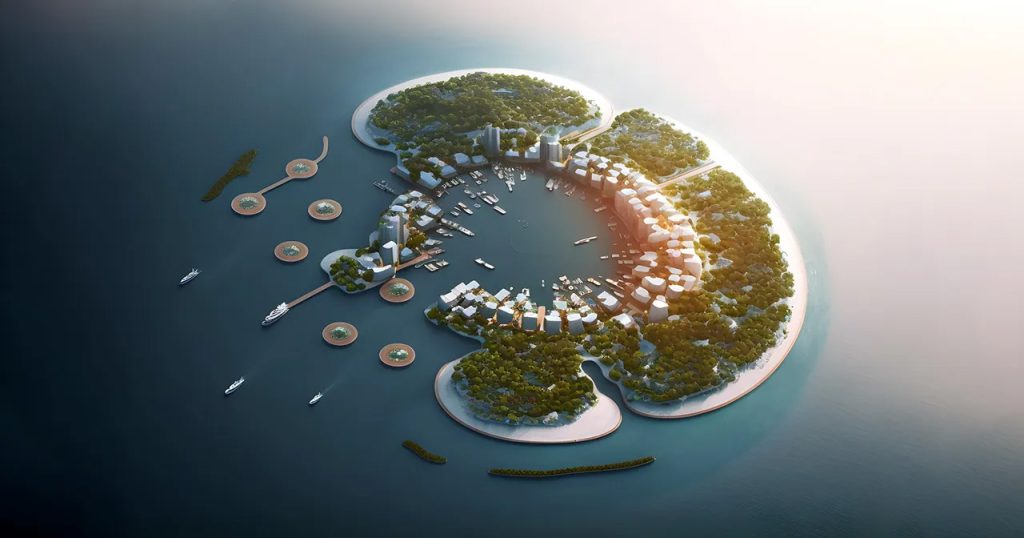 Recently, floating city concepts became popular with the global climate crisis leading to the sea-level rise. A city on water may sound utopian, but floating cities are not new. Humanity has a long history of communities living on the water. Water-based communities or canal cities like Amsterdam or Venice come to mind when discussing floating cities. But the latest developments and conditions of the globe led people to think of more futuristic and sustainable ocean-based communities.
Self-sustaining complex cities on water may seem like a solution for the sea-level rise and compact city planning caused by rapid population growth. Many fully-thought architectural projects have been produced in this regard and waiting for their realization.
Maldives Floating City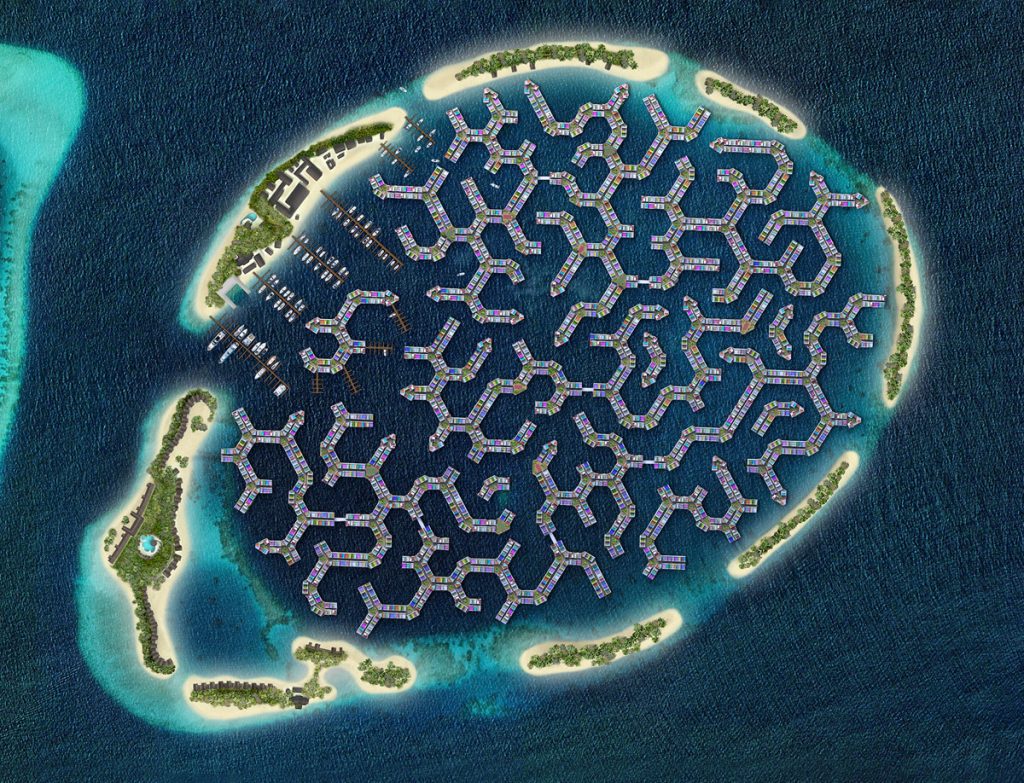 Designer: Koen Olthuis Waterstudio.NL
Waterstudio.NL is an architectural firm specializing in floating structures founded by Dutch architect Koen Olthuis. Waterstudio.NL's projects focus on innovative urban development solutions in response to rising sea levels, water management, and climate change.
The primary objective of the Maldives Floating City project is to provide a solution to the impending threat of sea-level rise, which poses a significant risk to the country's existence. The project aims to create a resilient and adaptable urban environment that can rise and fall with changing sea levels by constructing an entire city on floating platforms.
The design of the city highlights functionality and sustainability. The structures needed to be designed with enforcement for the strong waves and storms while comforting residents' living spaces. As a scalable city proposal, the design includes residential areas, commercial zones, recreational facilities, and infrastructure. Since the whole city is floating, all the connections are provided by floating walkways and roads.
Unlike many conceptual stage projects, the Maldives floating cities project is in construction. The images shared in February 2023, showing the placement of the first island, have excited those eagerly following the project's realization.
Oceanix City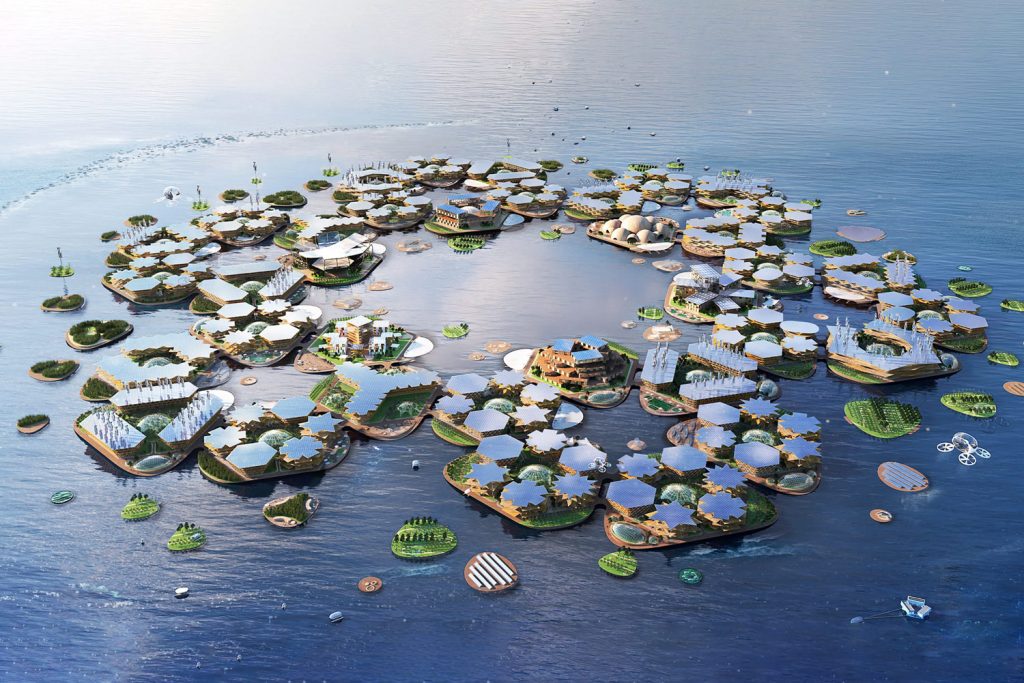 Designer: BIG (Bjarke Ingels Group)
The Oceanix City project is one of the most popular initiatives to explore floating cities as a sustainable solution for urban development in response to climate change and rising sea levels. The initiative aims to create self-sustaining floating communities which can adapt and grow over time.
BIG Architects led by Bjarke Ingels, one of the starchitects of the current, proposes a hexagonal platform system to form an adaptable floating city. Natural formations like coral reefs inspired the design. Each platform is planned to accommodate various functions, such as residential areas, commercial spaces, parks, and infrastructure.
One of the most important strategies is the self-sufficiency criterion of floating city projects, which makes sense to operate independently of the existing urban infrastructure. Many factors have been planned and designed regarding sustainability in the Oceanix City project. For the utilization of renewable energy, sources such as solar, wind, and wave power have been included. The city has been designed to be self-sufficient in many terms. For food production, the project promotes green spaces and urban agriculture. While production is the most common idea for off-grid operation, waste management of this independent city is also an important point. Oceanix City proposes advanced waste management systems and water treatment technologies to control the environmental impact.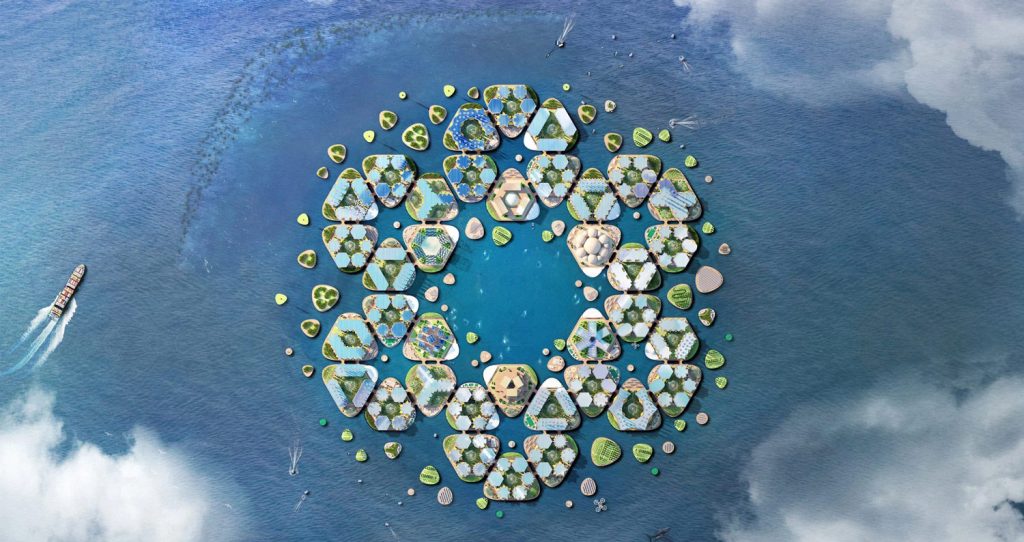 With the Oceanix City project BIG's design aims to allow flexibility and scalability for the upcoming needs. The project claimed to be able to adapt to different locations and conditions, is a new urban development proposal that can be expanded and developed with variable network connections.
BIG architects have collaborated with experts in various fields, such as engineering, sustainability, and policy-making, to create a comprehensive framework for floating urban environments. With the project, BIG and Oceanix City aim to promote collaboration between governments, private sector entities, and communities to realize these concepts. In December 2021, Oceanix City announced Busan, South Korea as the site for the prototype production. It is anticipated that the construction of the prototype will begin at the end of 2023 and be completed within three years.
Floating City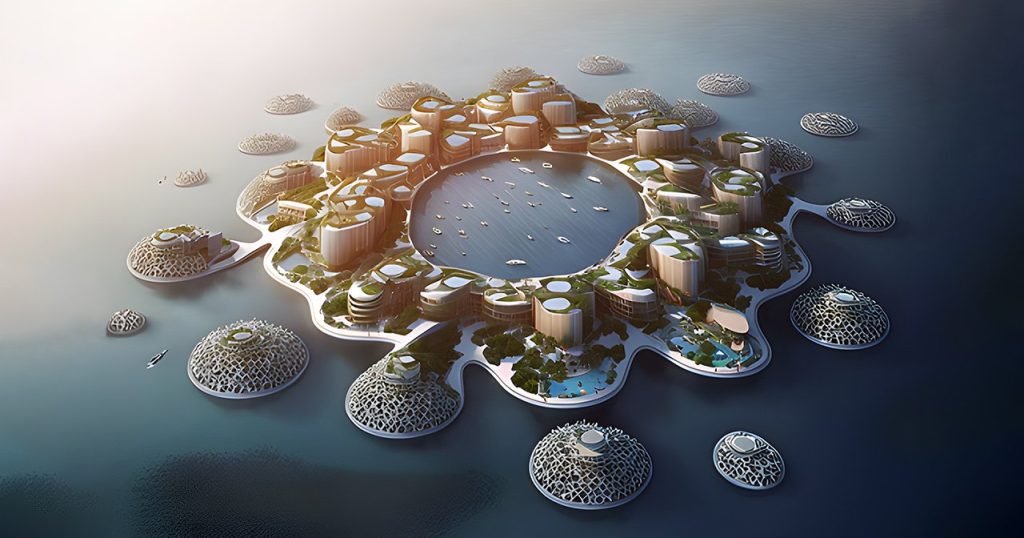 Designers: Luca Curci Architects and Tim Fu Design
The Floating City is a project proposal for sustainable urban development designed in collaboration with an international team of architects and designers with the support of artificial intelligence. The project aims to provoke a re-thinking of the traditional concept of community and society.
The Floating City can host more than 50,000 residents which answers the aim of combining sustainability and dense population. The 25 acres project includes residential units, green zones, energy production units, urban farms, community centers, markets, and spiritual and cultural hubs.
Reaching the fully floated hypothetical city planned to be by air or water. Supporting the zero-energy city concept, the city's transportation is designed to be %100 green systems by producing energy from the photovoltaic envelopes of the buildings.
The adaptable and scalable floating city project proposal has not been realized yet. But according to many, these projects are the future's cities. The Floating City project is now being presented at the Venice Architecture Biennale 2023 "The Laboratory of the Future," at the Palazzo Albrizzi-Capello. It can be seen in Venice from May 20th to November 26th, 2023.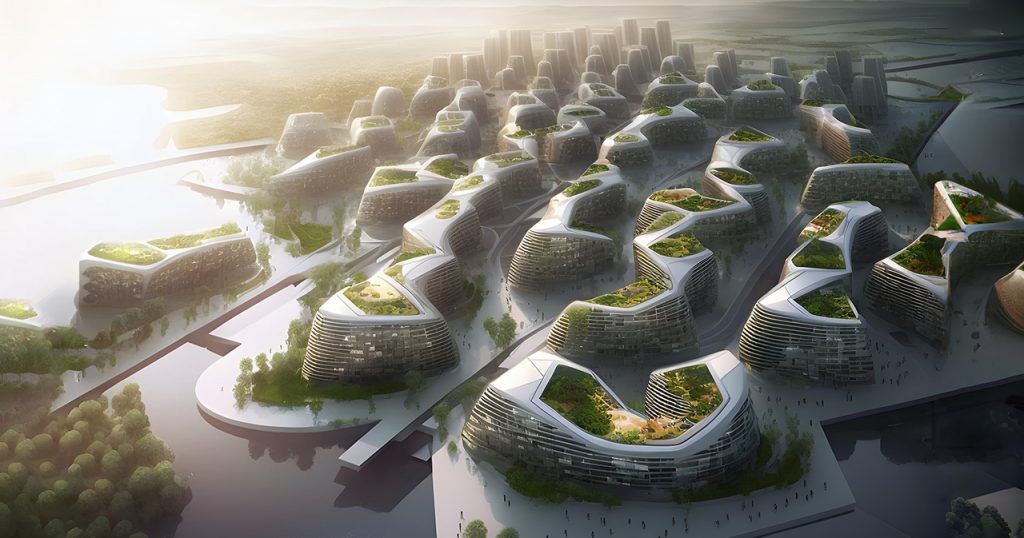 In recent years, the increasing number of floating city designs has been regarded as "the solution" for many problems. These ideas are gaining momentum: a California nonprofit proposed plans for a floating city off the coast of French Polynesia in 2017, Bjarke Ingels Group unveiled Oceanix City in 2019, there's a floating community in the Maldives already taking shape, mobile floating pods are being manufactured in Panama, and construction may soon begin for a floating city in Busan.
Most of these recent floating cities, which are portrayed as "the solution" against challenges such as sea-level rise accompanying climate change and rapid population growth, have been implemented. Although these floating cities have been designed in detail with many aspects in mind regarding sustainability, their long-term effects on the environment are not yet known. The feasibility of all the strategies planned with the assumption of self-sufficiency and that living on the water will be the best solution for both users and the world is also open to discussion.