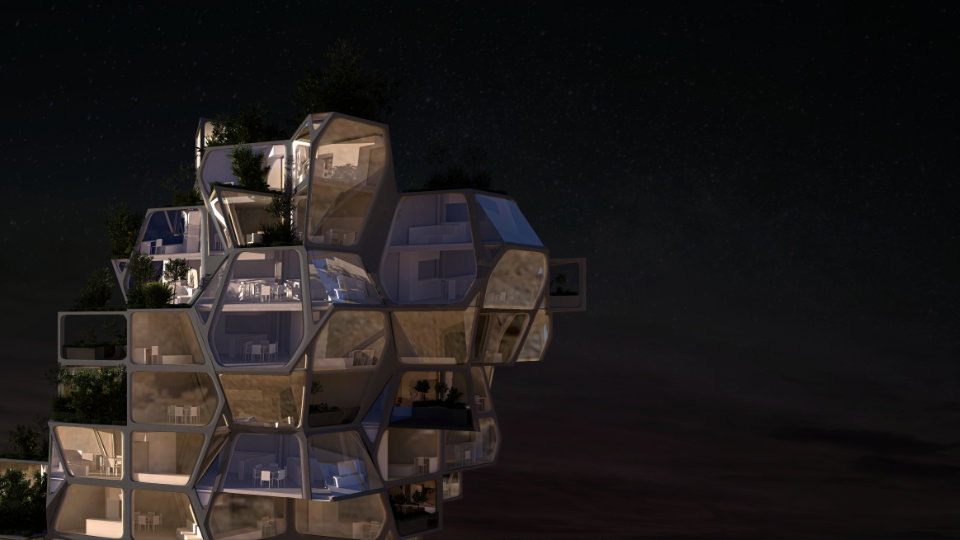 The Prykhystok Skyscrapers are a reaction to the worldwide trend of increasing numbers of forced migrants. Recently, the number of refugees has increased significantly, from 221 million in 2010 to 271 million in 2019, or nearly 3.5 percent of the world's population. Because forced displacement is strongly related to acute events like political, social, environmental, and technical developments, its scope and location cannot be precisely prevented or foreseen. As the Aranchii Architects stated about the project: the Prykhystok Skyscrapers project aims to shelter temporarily displaced people by adapting its geometry and function to the requirements online.
The idea behind the Prykhystok Skyscrapers design is to rapidly house refugees and provide them with the necessary resources by creating modular shelters. Since the towers are composed of self-replacing modules resembling the elements of a truncated octahedron, it is simple to modify their size and layout to meet the needs of various refugee populations. The modules are interchangeable of a truncated octahedron shape, 8.2 m in height and 10 m in width. These modules produce enough room for three floors. Six sections totaling 18 elements make up each floor. Units may also be turned upside down for better fusion. Thereby producing six units of each type, each corresponding to a room or a section of a larger space.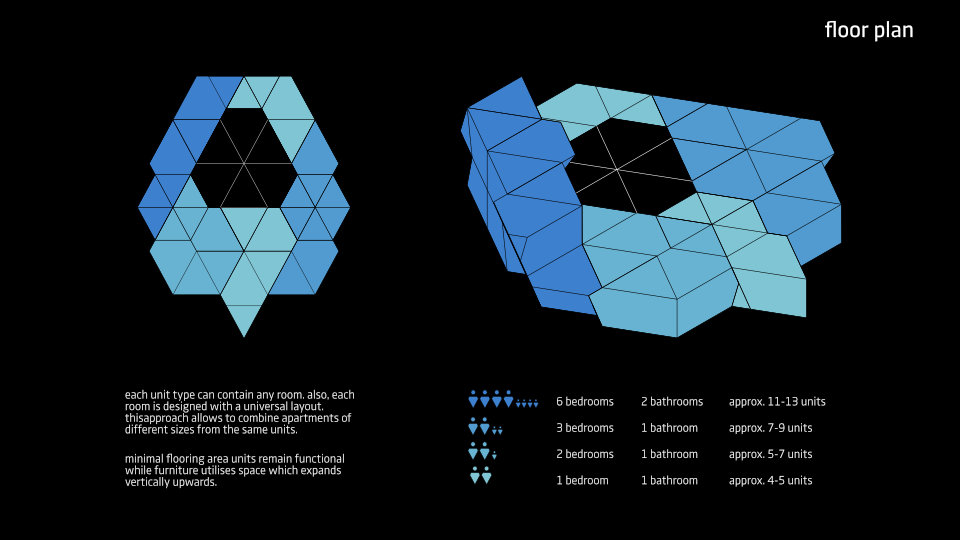 The Prykhystok Skyscrapers' program could be tailored to accommodate various refugee groups thanks to the interchangeable module technology, which enables the construction of variously shaped towers. For instance, in addition to flats, the typical tower offers amenities including workshops, administrative, catering, and medical care. The skyscraper currently is made up of 3 linked structures. Refugees from various buildings may work and socialize in the horizontal junction without traveling to the lower floors or leaving the tower.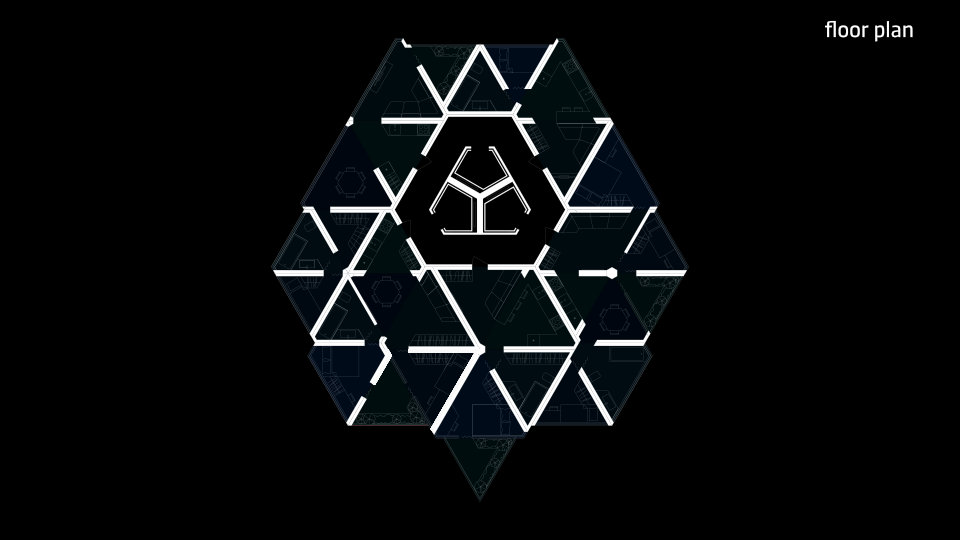 The room units (modules) can be used to construct apartments with various layouts. Apartments can be made up of collections of just one level from a module plus other floors and modules. Units can put together different residences or a different function configuration as needed. Units can quickly connect and separate, forming the required assembly at the correct location and time. Each unit type could contain any room, thanks to the standard modules. Every room is designed with universal standards. This approach makes it easy to link apartments of various sizes from the same units.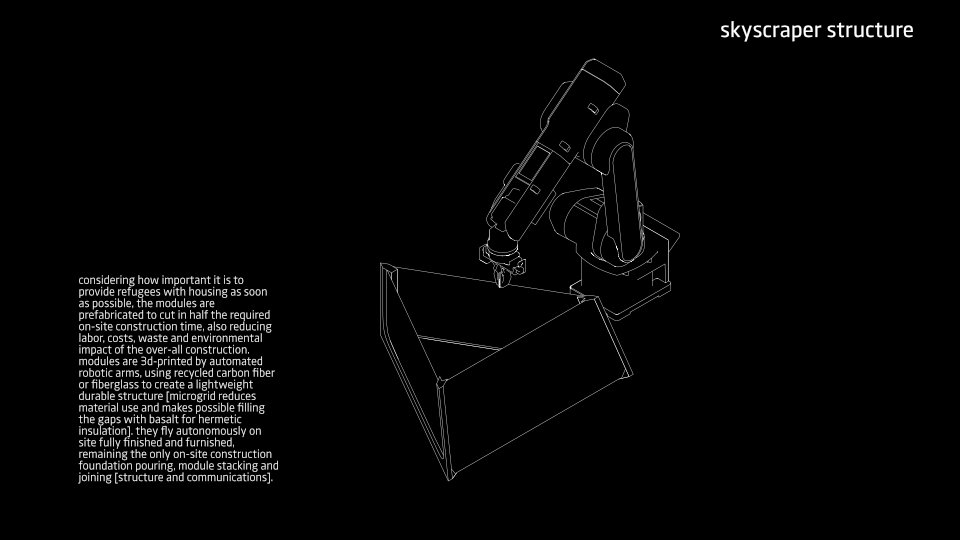 Given how critical it is to give refugees housing as quickly as possible, the modules are prefabricated to reduce the time needed for building on-site while also lowering labor expenses, waste, and the construction process' overall environmental impact. Using recycled carbon fiber or fiberglass, modules are 3D printed by automated robotic arms to produce a robust and light framework (microgrid reduces material use and makes it possible to fill the gaps with basalt for hermetic insulation). They fly autonomously on-site, fully finished and furnished, remaining the only on-site construction foundation pouring, module stacking, and joining (structure and communications).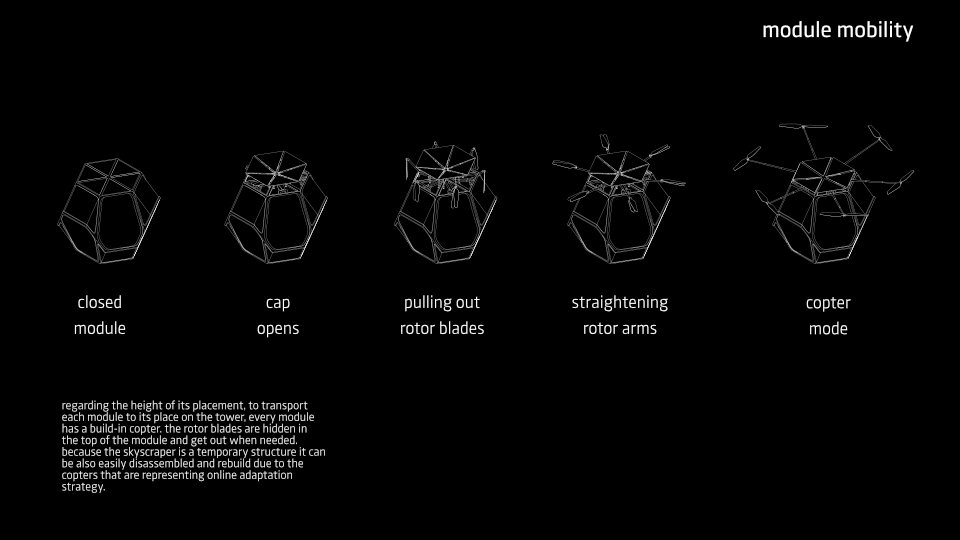 The Prykhystoks skyscraper's height was a barrier, but giving each module an integrated helicopter to deliver it to its location on the tower is a good solution for such a temporary building. Because the helicopters are an online adaptation technique, they can also be rapidly disassembled and reassembled. The rotor blades are concealed in the module's top and can emerge as needed.