Pierres Vives, Living Stones in English Designed by Zaha Hadid Architects in Montpellier, France
Text description provided by the architects. The pierresvives building for the department de l'Herault is the unification of three institutions – the archive, the library and the sports department – within a single envelope. These various parts combine to create a building with a strong single identity when viewed at a distance, but as one moves closer, the division into three parts becomes apparent.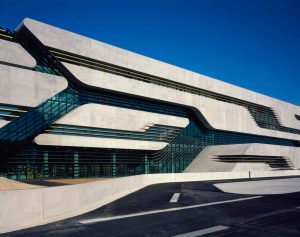 The building has been developed using functional and economic logic: the resultant design reminiscent of a large tree-trunk that has been laid horizontally. The archive is located at the solid base of the trunk, followed by the slightly more porous library with the sports department and its well-lit offices on far end where the trunk bifurcates and becomes much lighter. 'Branches' project vertically off the main trunk to articulate points of access to the various institutions.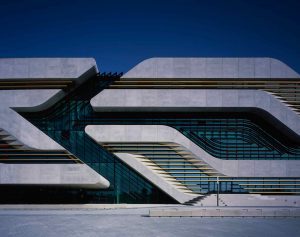 This longitudinal division of serviced and servicing spaces is maintained along the full length of pierresvives. The front of the building contains all the public functions of each institution, linked by a linear lobby with an exhibition space in the centre. Above this connective ground level, the three institutions remain strictly separated, each with its own core for internal vertical circulation.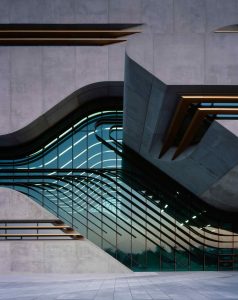 On arrival at the main entrance, visitors are directed from the lobby to the educational spaces of the archives on ground level; or via lifts and escalator to the main public artery on level one. This artery is articulated all along the facades as a recessed glass strip, with the reading rooms of the archive and library are immediately accessible. Central in this artery and therefore located at the heart of the building, are the main public facilities shared between the three institutions: the auditorium and meeting rooms. These important public spaces form the primary central volume of the grand cantilevering canopy above the entrance.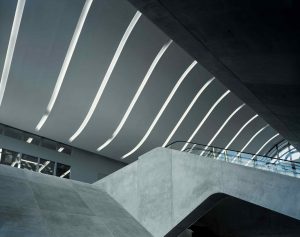 Architects : Zaha Hadid Architects
Location : l'Herault, Montpellier, Francia
Design Team : Joris Pauwels, Philipp Vogt, Rafael Portillo, Jaime Serra, Renata Dantas, Melissa Fukumoto, Jens Borstelman, Thomas Vietzke, Patrik Schumacher, Kane Yanegawa, Loreto Flores, Edgar Payan, Lisamarie Villegas Ambia, Karouko Ogawa, Stella Nikolakaki, Hon Kong Chee, Caroline Andersen, Judith Reitz, Olivier Ottevaere, Achim Gergen, Daniel Baerlecken, Yosuke Hayano, Martin Henn, Rafael Schmidt, Daniel Gospodinov, Kia Larsdotter, Jasmina Malanovic, Ahmad Sukkar, Ghita Skalli, Elena Perez, Andrea B. Caste, Lisa Cholmondeley, Douglas Chew, Larissa Henke, Steven Hatzellis, Jesse Chima, Adriano De Gioannis, Simon Kim, Stephane Carnuccini, Samer Chamoun, Ram Ahronov, Ross Langdon, Ivan Valdez, Yacira Blanco, Marta Rodriguez, Leonardo Garcia, Sevil Yazici, Hussam Chakouf, Marie-Perrine Placais, Monica Noguero, Naomi Fritz, Stephanie Chaltiel
Local Execution Architect : Chabanne et Partenaires
Structural Engineering : Ove Arup & Partners
Services : Ove Arup & Partners (Concept Design) & GEC Ingenierie
Acoustics : Rouch Acoustique, Nicolas Albaric
Costs : Gec LR, Ivica Knezovic
Cliente : Municipalidad de l'Herault
Area : 35.0 m2
Project Year : 2012
Photographs : Helene Binet
Manufacturers : Reynaers Aluminium
> Via Archdaily