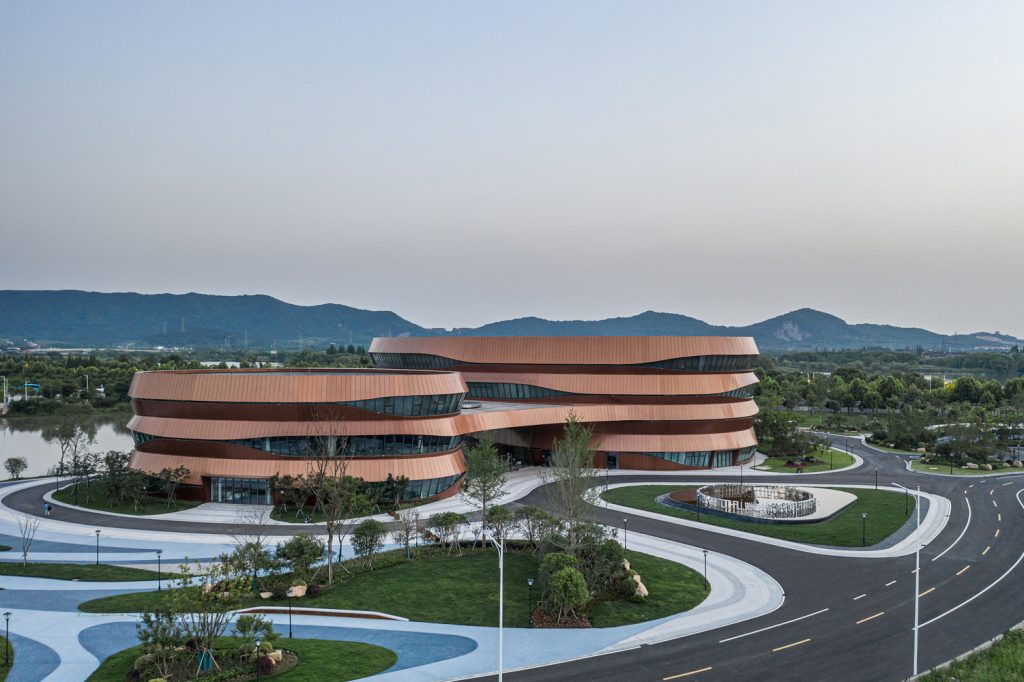 The Huzhou Urban Planning Exhibition Museum, designed by Perkins+Will, is a testament to its innovative approach and collaborative spirit. The project, Led by renowned architects James Lu, Jason Hsun, and Leo Li, brought together a talented team of professionals.
The landscape design was assigned to Zhejiang HOKEN Architectural Design Institute, while the Huzhou Urban Planning and Design Research Institute provided structure, MEP consultancy, and sustainability expertise. Studio Illumine contributed their lighting consultancy, and the project saw construction collaboration with Zhejiang Da Dong Wu Construction Group and Triumpher Steel Structure Construction Group. Additional partners involved in the project include Schmidlin Façade Shanghai Co., Suzhou HIS Design Construction Co., Zhejiang Nuclear Survey Planning & Design Institute, and Zhejiang Southeast Construction Administration.
Nestled along the historic Silk Route and graced by the enchanting Tai Lake, Huzhou is a gem of rich history and vibrant culture. Renowned as a silk cultivation birthplace, Huzhou's significance extends back over 4,000 years. Today, it continues flourishing as a center for silk and textile industries, contributing to the city's economic growth. Huzhou's unique location, with its name drawing inspiration from Tai Lake, adds to its appeal and sets the stage for an architectural masterpiece that celebrates its heritage.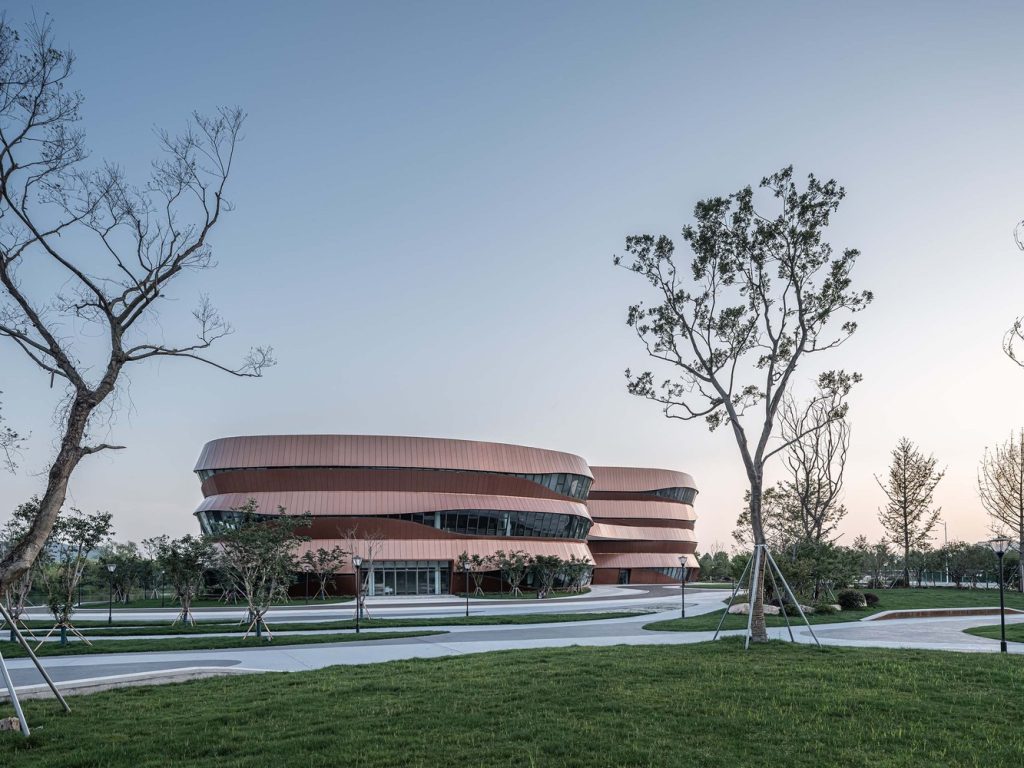 Spanning a vast floor area of 15,600 square meters, the Huzhou Urban Planning Exhibition Museum harmoniously blends architectural excellence with the essence of Huzhou's natural surroundings. Inspired by water and silk texture fluidity, the museum serves as an urban planning exhibition space, housing offices, a conference center, and educational classrooms. Situated within the lush green landscape, the museum offers breathtaking views of the scenic mountains, creating a prominent cultural landmark that resonates with the city's rich history.
The cocoon-shaped volumes, connected by a glass entry hall, pay homage to the silk production process. The museum's exterior facade features undulating ribbons, drawing inspiration from the organic forms of water and silk. This design element creates a sense of fluidity, allowing excellent natural light to permeate the interior spaces. The entry hall, enclosed by full-height glass facades, seamlessly connects visitors with the surrounding landscape, blurring the boundaries between inside and outside. Using wooden louvers in the interior replaces the exterior's folded metal forms, resulting in a warm and inviting ambiance.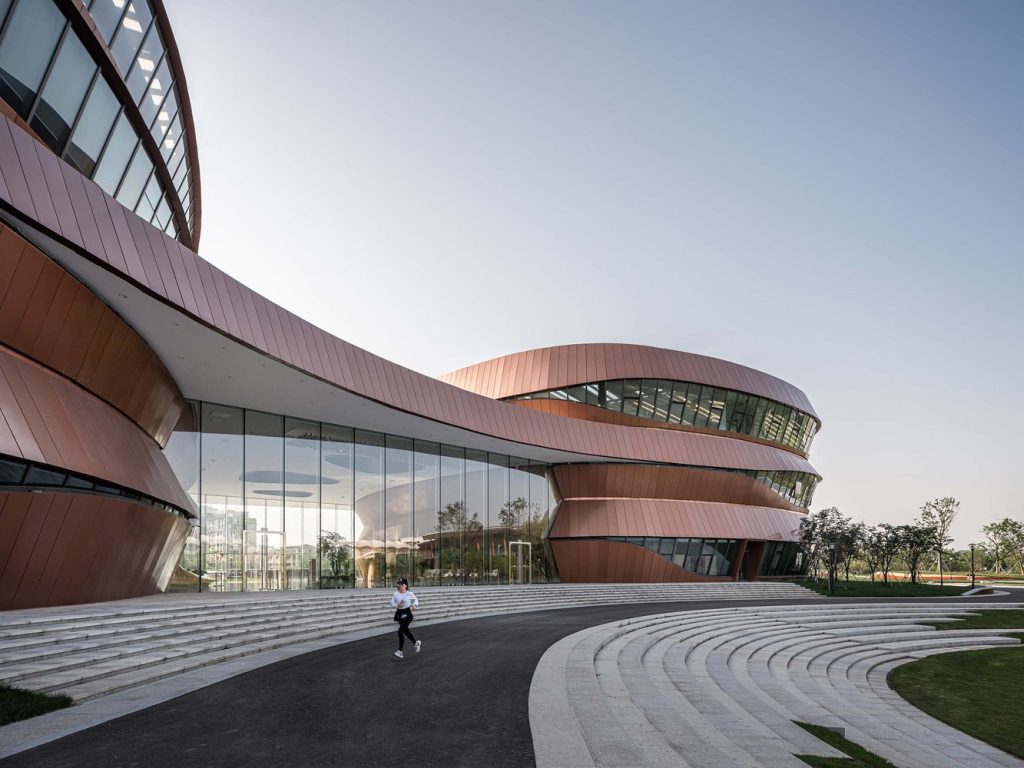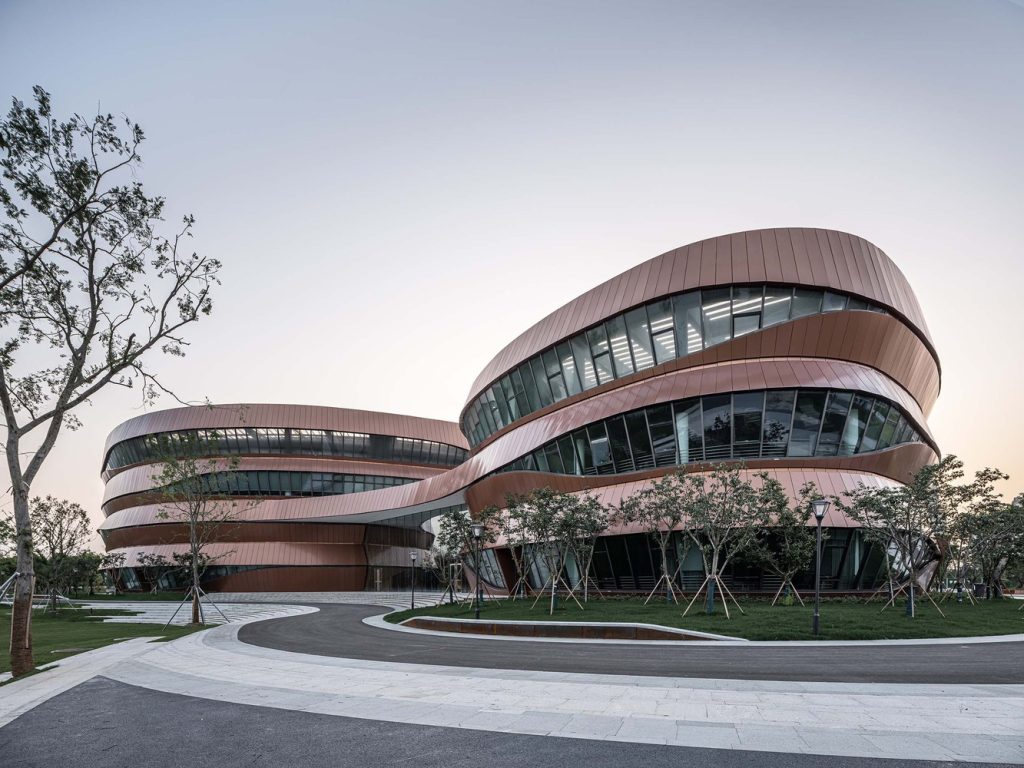 The Huzhou Exhibition Museum's internal circulation strategy draws inspiration from the meandering character of traditional Chinese gardens. Visitors along the main exhibition route are treated to panoramic views of the natural surroundings, creating a sense of harmony and tranquility. Integrating a library and cafe completes the museum's program, offering guests a serene and engaging space to rest during their visit.
Recognized with China's Three-Star Green Building certification, the Huzhou Exhibition Museum is a shining example of sustainable design and practices. The building's form, orientation, and façade were meticulously optimized through sunlight simulation studies, ensuring ample natural light floods the interior spaces while minimizing the need for artificial lighting. Operable glazing panels in the curtain wall allow for natural ventilation, reducing energy consumption during appropriate times of the year. The project incorporates a rainwater collection system, utilizes recycled materials, and employs various energy-saving intelligent technologies to minimize its carbon footprint. In maintaining a cohesive and organic relationship with the adjacent wetlands, the museum is dedicated to preserving and protecting the surrounding natural environment.
The Huzhou Urban Planning Exhibition Museum, an architectural marvel envisioned by Perkins+Will, intertwines history, culture, nature, and sustainability. Its design, inspired by water's fluidity and silk texture, symbolizes Huzhou's profound connection to its heritage. By offering an immersive experience within its exhibition halls and captivating visitors with breathtaking views, the museum becomes a significant cultural landmark within the city. Furthermore, its sustainable features and environmental commitment pave the way for a harmonious future, reflecting Huzhou's aspirations for growth and progress. The Huzhou Exhibition Museum is a testament to the city's past, present, and future, inviting all to explore, appreciate, and engage in the remarkable journey of Huzhou's development.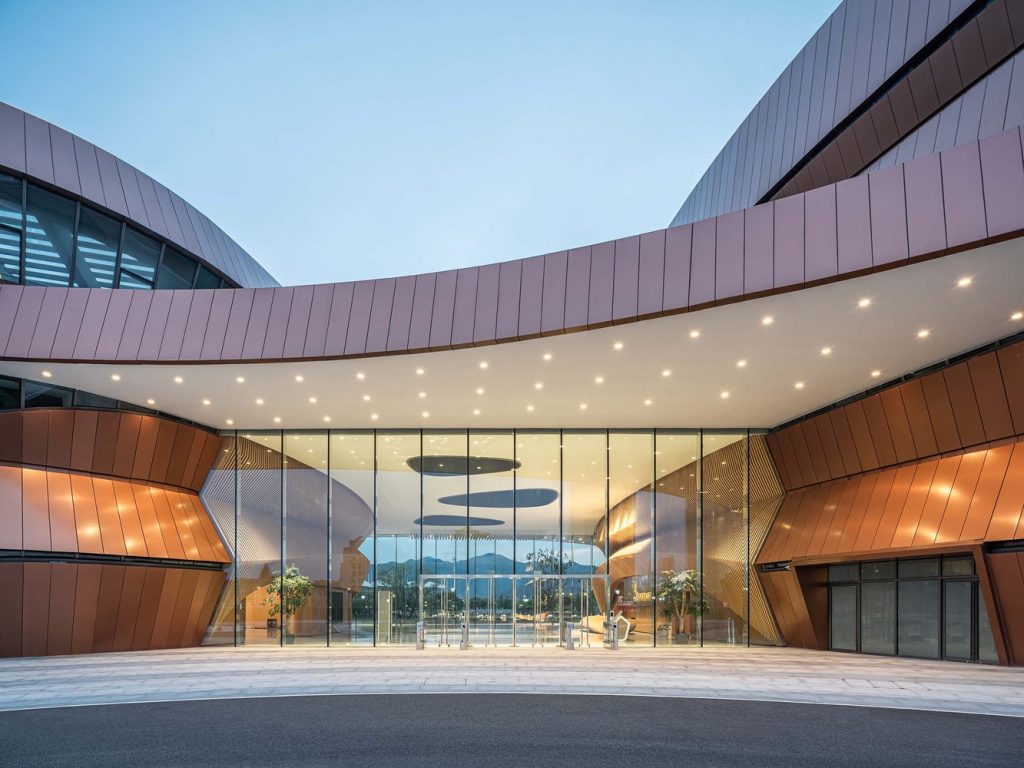 Project info
Architects: Perkins+Will
Area: 15663 m²
Year: 2021
Lead Architects: James Lu, Jason Hsun, Leo Li
Landscape: Zhejiang HOKEN Architectural Design Institute Co. Ltd.
Structure Consultant: Huzhou Urban Planning and Design Research Institute
MEP Consultant: Huzhou Urban Planning and Design Research Institute
Sustainability Consultants: Huzhou Urban Planning and Design Research Institute
Lighting Consultant: Studio Illumine
Construction: Zhejiang Da Dong Wu Construction Group Co. Ltd., Triumpher Steel Structure Construction Group Co. Ltd.
Site Survey: Huzhou Nuclear Survey Planning & Design Institute Co. Ltd.
Client: Huzhou Urban Construction Investment (Group) Co., Ltd.
Facade Consultant: Schmidlin Façade Shanghai Co. Ltd.
Exhibition Design: Suzhou HIS Design Construction Co. Ltd.
Supervision: Zhejiang Southeast Construction Administration Co. Ltd.
Location: Huzhou, China
Photographs:Tri-Images