Parametric Modulations Workshop by Material Driven / rat[LAB]Education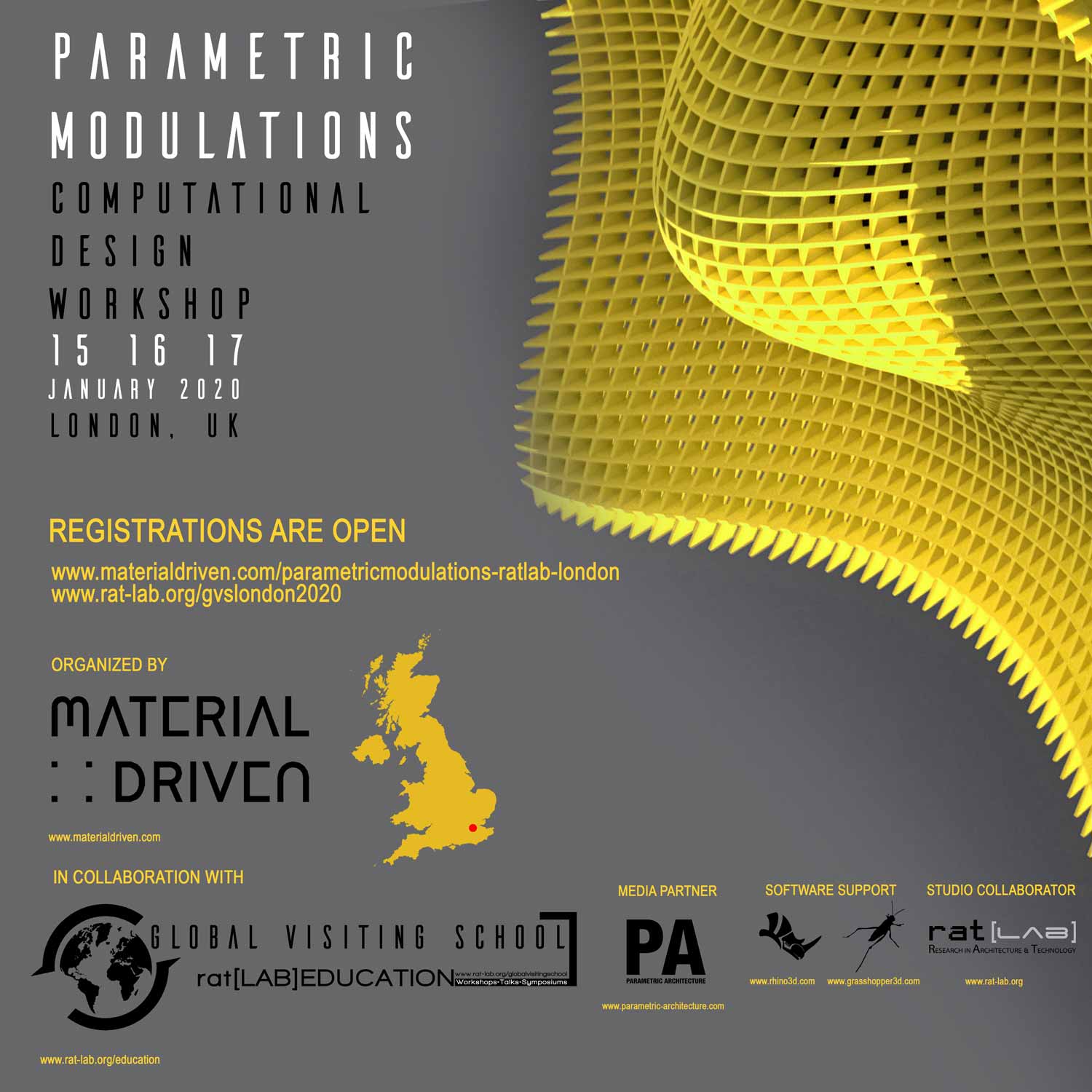 Time: 15th – 17th January 2020
Country: United Kingdom
City/Town: London
Location: Anglo Educational Services
Website: www.materialdriven.com & www.rat-lab.org/gvslondon2020
Workshop Type: Computational Design Workshop
Registration Deadline: 31st December
Topic: Parametric Modulations
Organized By: Material Driven – rat[LAB]EDUCATION
Agenda
Parametric Design, in the history of architecture, has defined many rules for current designers and for future practitioners to follow. One of the strongest aspects that are prominent from this style is 'geometry'. Arguably, there is nothing new about geometry and aesthetics forming the most prominent aspect of any style or era. The language of any style, in the long history of architecture, is visually defined by geometry or shape, beyond the principles that define the core of the style. In the distinguishable style of parametric architecture, geometry has played, and is continuing to play an integral role. And with this fairly young style, there are many strings of myths and false notions associated.
The workshop aims to provide a detailed insight to 'parametric design' and embedded logics behind it through a series of design explorations using Rhinoceros & Grasshopper platforms, along with understanding of data-driven design strategies. An insight to Computational Design and its subsets of Parametric Design, Algorithmic Design, Generative Design and Evolutionary Design will be provided through presentations, technical sessions & studio work. Studio work will be focusing on differentiation of geometry and iterative form using Parametric Design methods that will lead to explorations of spatial geometries that can be articulated as architectural constructs or abstract artistic interventions.
Level
Basic & Intermediate (Previous parametric design knowledge not obligatory).
Methodology
Workshop has been structured to teach participants the use of Grasshopper® (Generative modelling plug-in for Rhinoceros 3D) as a generative tool, and ways to integrate it with architectural design process. There will be a focus on parametric modulation of geometry that can lead to a design process that utilizes data to inform geometry and space through use of Grasshopper3D and its associated plug-ins that would be introduced during the 2-day programme.
The 3-day studio / workshop shall focus on inculcating the following aspects as a part of syllabus:
Computational Design Techniques & Parametric Design
Data, Mathematics & Geometry
Geometry Rationalization
Iterative Form Development
Digital simulation of forces
Environmental Analysis (Basics)
Documentation and Presentation
Schedule
DAY 01 [SKILL BUILDING]
Presentations / Lectures on Parametric Design & Computational Thinking
Talk/Presentation on use of Computational Design in architecture.
Introduction to Rhinoceros 3D – GUI & Basic Use
Grasshopper GUI & Basic Functionality
Points, Lines, Surfaces.
Parameters, Inputs, Numbers.
Simple & Referenced Geometry, Locally Defined Geometry, Baking, etc.
Lists & Data Tree Management
Data Manipulation & Visualization
Surface Tessellations
DAY 02 [IDEATION, SKETCH, COMPUTE]
Patterns & Geometric Explorations
Release of pre-designed tools (Grasshopper scripts) to all participants
Functionality of tools for design explorations
Design development (Team work)
Discussions on submission panels & output
Documentation
DAY 03 [DEVELOP, VISUALISE, DOCUMENT]
Group Discussions & Preparation of Panels
3D Visualizations, Diagrams, Drawing Preparations
Presentation of participant works
Note:
Timings for each day would be 9:30 AM to 6:30 PM.
There will be talks on each day by guest tutors on subjects related to computational design.
Each day would be followed by an optional informal session with tutors & organizers. (Not obligatory to attend).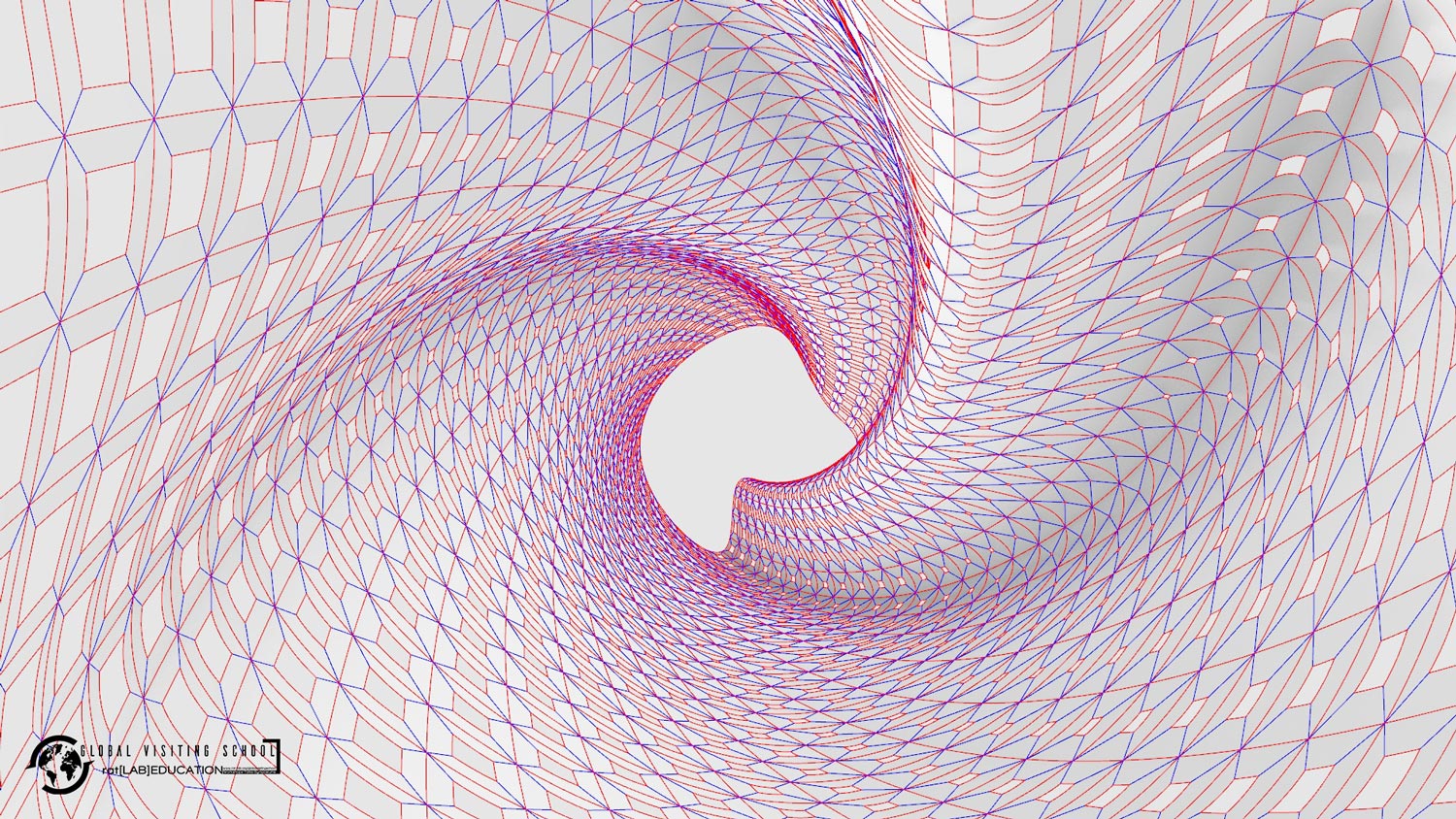 Participation Fee & Categories
A- Student Category : £ 295
Early-bird: £ 236 (20% fee waiver)
(Currently enrolled in a B.Arch. / BA / B.Sc. or equivalent undergraduate programmes)
B- Academics / Post-graduate students /PhD Researchers : £ 345
Early-bird: £ 276 (20% fee waiver)
(Currently enrolled in a M.Arch. / MA / M.Sc. or equivalent postgraduate programmes)
C- Professionals / Graduates: £ 395
Early-bird: £ 316 (20% fee waiver)
(Currently working / practicing architecture or similar profession)
*GROUP DISCOUNTS available on request. Contact organizers for queries.
*Please note that all participants will be required to show ID proof and student / academic status as per category. Failure to submit a proof of student status (or graduation year proof) will lead to a non-refundable cancellation.
Registration Dates
Early-bird Registrations Open: 07th Nov 2019
Early-bird registrations End: 2330 hrs GMT, 30th Nov 2019 [Limited spots for early-bird]
General Registrations End: 2330 hrs GMT, 31st Dec 2019 [Registration will close earlier if all spots are filled up]
*All registrants during early-bird period will receive an online course preparation tool-kit and access to video tutorial to prepare for the workshop in advance. An early registration is advisable to block your spot & prepare well for the workshop.
Tutors & Speakers
The 3-day workshop would be taught by rat[LAB] Co-Founder Sushant Verma (Architect, Computational Designers, Educator).
Induction on 'Innovation in Materiality' would be given by Adele Orcajada (Partner, MaterialDriven).
There will be guest lectures / talks during the workshop focusing on Design Technology & Computational Design from industry experts. List of guest tutors & speakers will be unveiled in due course of time.
Software & skills
Basic 3D modelling skills in any software are preferred (Previous knowledge of Rhino3D is not obligatory).
Participants should bring their own laptop with pre-installed software.
NOTE: Grasshopper does not fully function on Rhino for MAC. A windows-enabled laptop is necessary.
Level
Basic & Intermediate (Previous parametric design knowledge not obligatory).
The workshop will cover basics and intermediate level of Parametric Design through use of Grasshopper3D. Some of the advanced aspects such as Environmental Design using Ladybug & Honeybee, physics simulation using Kangaroo, etc would also be introduced towards the end of the workshop as a demonstration.
Workshop Overview
Studio is structured to teach participants the use of computational techniques through Grasshopper® (Generative modeling plug-in for Rhino®) and ways to integrate it with architectural and spatial design.
No previous knowledge of Grasshopper & Rhinoceros is required for the workshop as basic technical knowledge will be provided on Day 1.
Pre-designed customizable tools will be provided on Day 2 for design explorations & experimentations, pertaining to applications for architectural projects as per studio brief.
The studio is flexible to basic, intermediate & advanced users of computation.
The workshop is curated in the form of a design studio with collective learning than mere software sessions.
Eligibility & Visa Rules
Workshop is open to architecture and design students, academicians and professionals from all parts of UK & EU.
Having an educational background of architecture or similar spatial design stream is a requisite. Basic knowledge of 3D modelling is important for quick learning.
All international participants must check visa eligibility rules as per their local embassies and request for necessary documents. Organizers will provide invite letter on request.
Travel and Accommodation costs (if applicable) are to be borne by each participant themselves.
More Details About Workshops:
www.materialdriven.com/parametricmodulations-ratlab-london
​www.rat-lab.org/gvslondon2020
Queries:
Adele Orcajada : adele@materialdriven.com
Purva Chawla : purvac@materialdriven.com
rat[LAB]EDUCATION: education@rat-lab.org
*Kindly use PARAMETRIC MODULATIONS LONDON in Subject Line, for any queries.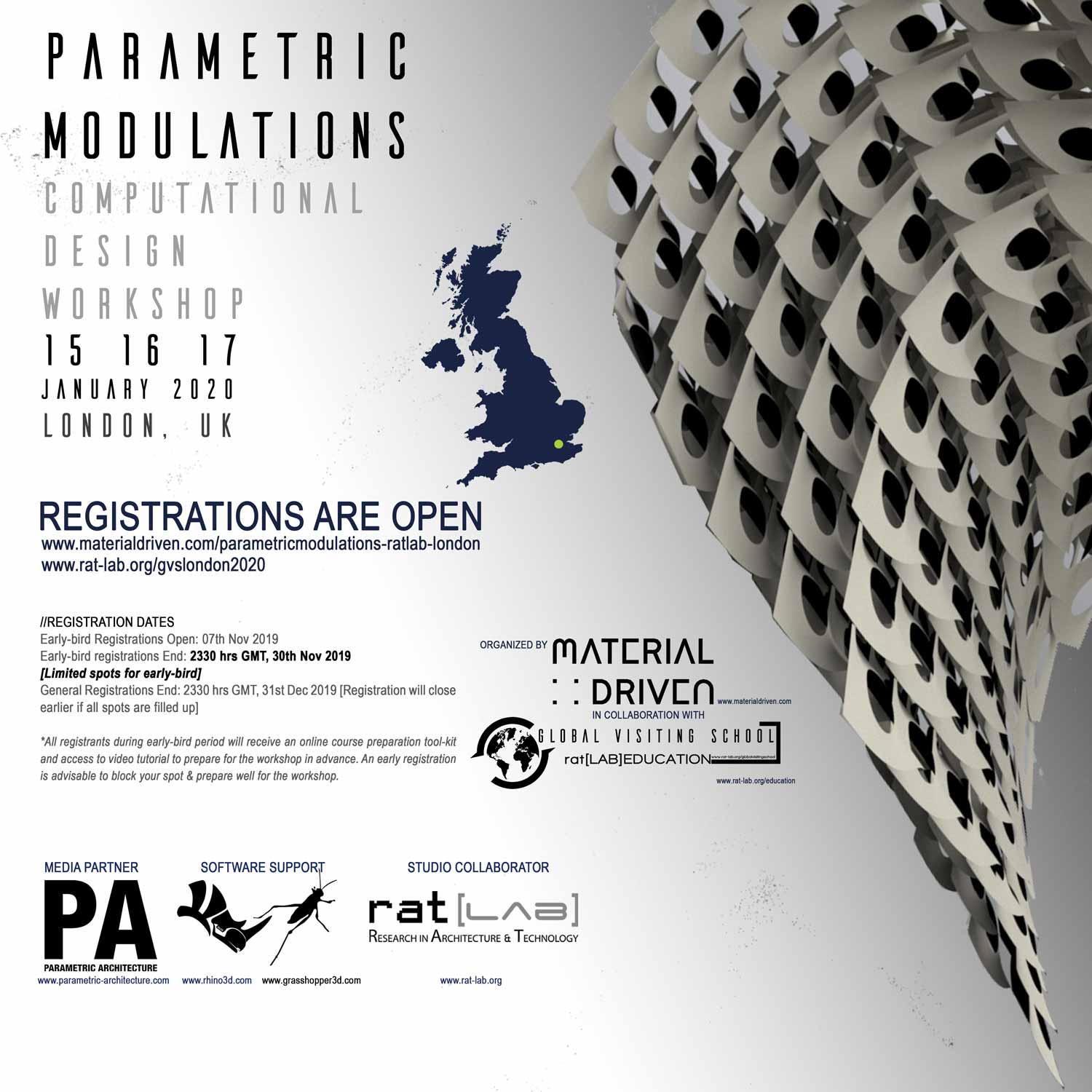 Time: 15th, 16th, 17th January, 2020
Country: United Kingdom
City/Town: London
Location: Anglo Educational Services
Website: www.materialdriven.com & www.rat-lab.org/gvslondon2020
Workshop Type: Computational Design Workshop
Registration Deadline: 31st December
Topic: Parametric Modulations
Organized By: Material Driven – rat[LAB]EDUCATION