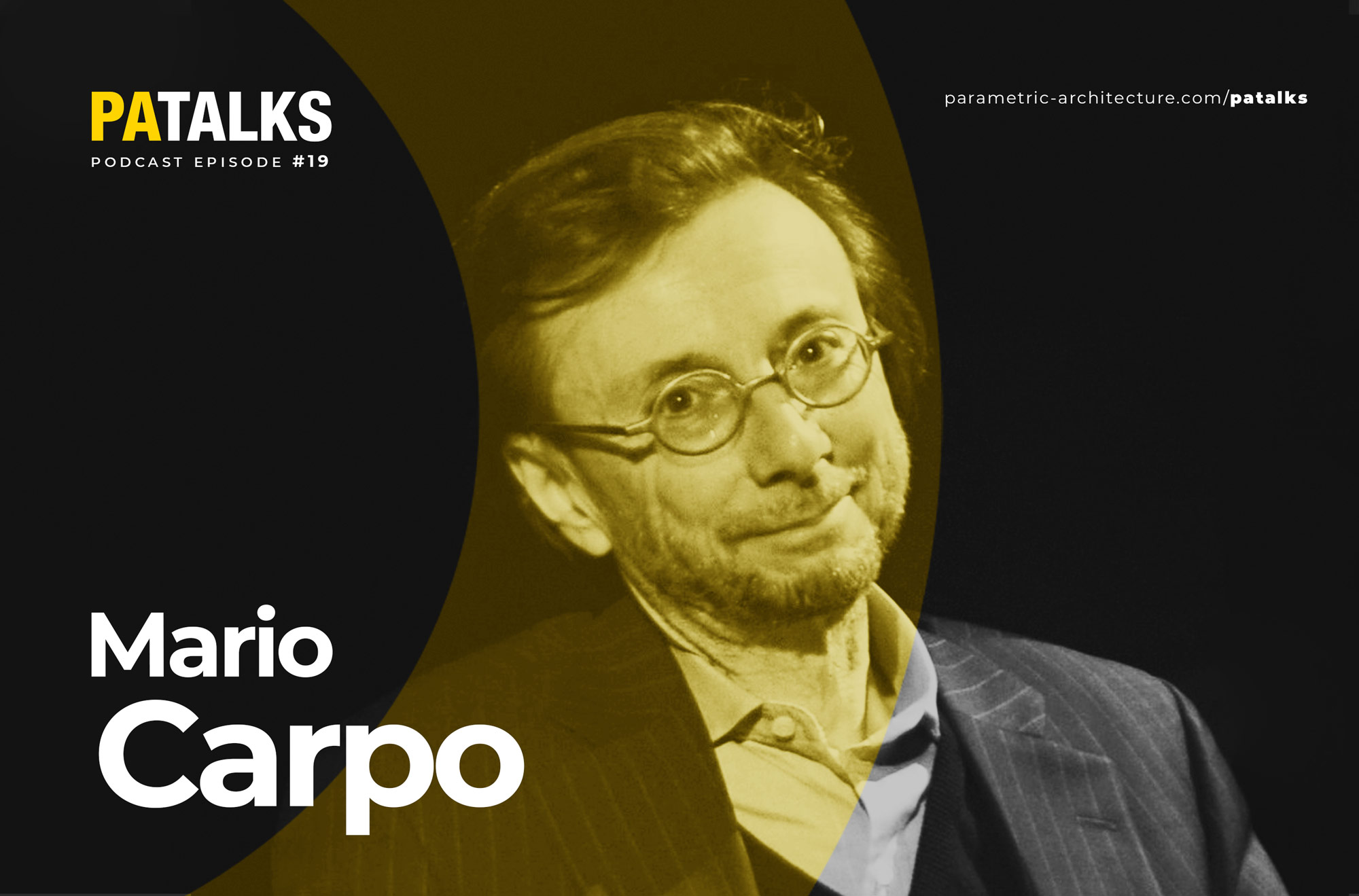 In this episode of PA Talks, Mario Carpo and Gilles Retsin discuss architecture and automation in the context of the COVID-19 crisis and its aftermath. As global production chains have proven to lack resilience, local, digital manufacturing presents a compelling alternative.
Automation and Architecture
What does this mean for architecture? How do we as architects shape an agenda for increased automation in such a way that it benefits all? This talk explores a series of urgent questions that will deeply affect all of us in the near future.
Mario Carpo
After studying architecture and history in Italy, Dr. Carpo was an Assistant Professor at the University of Geneva in Switzerland, and in 1993 received tenure in France, where he was first assigned to the École d'Architecture de Saint-Etienne, then to the École d'Architecture de Paris-La Villette and more recently to the École d'Architecture de Paris-Malaquais. He was the Head of the Study Centre at the Canadian Centre for Architecture in Montréal from 2002 to 2006, and Vincent Scully Visiting Professor of Architectural History at the Yale School of Architecture from 2010 to 2014 and in 2017. He
Mr. Carpo's research and publications focus on the relationship between architectural theory, cultural history, and the history of media and information technology. His award-winning Architecture in the Age of Printing (MIT Press, 2001) has been translated into several languages. His most recent books are The Second Digital Turn: Design Beyond Intelligence (MIT Press, 2017); The Alphabet and the Algorithm (MIT Press, 2011; also translated into other languages); and The Digital Turn in Architecture, 1992-2012 (Wiley, 2012). Mr. Carpo's recent essays and articles have been published in Log, The Journal of the Society of Architectural Historians, Grey Room, L'Architecture d'aujourd'hui, Arquitectura Viva, AD/Architectural Design, Perspecta, Harvard Design Magazine, Cornell Journal of Architecture, Abitare, Lotus International, Domus, Artforum, and Arch+.
Gilles Retsin
Originally from Belgium, Gilles Retsin is an architect and designer living in London. He studied architecture in Belgium, Chile, and the UK, where he graduated from the Architectural Association. His design work and critical discourse have been internationally recognized through awards, lectures, and exhibitions at major cultural institutions such as the Museum of Art and Design in New York, the Royal Academy in London, and the Centre Pompidou in Paris. He recently edited an issue of Architectural Design (AD) on the Discrete and has co-edited Robotic Building: Architecture in the Age of Automation, with Detail Verlag. Gilles Retsin is Programme Director of the M.Arch Architectural Design at UCL, the Bartlett School of Architecture. He is co-founder of UCL AUAR Labs, which does high-profile research into new design and fabrication technologies and its spin-out company AUAR ltd, a start-up working towards an automated platform for affordable housing.
Tune in to the PA Talks series with Mario Carpo and Gilles Retsin for some thought-provoking discussions.
In the PATalks interview series, PA's founder and creative director, Hamid Hassanzadeh, sits down with leading architects and designers to discuss their lives, careers, and visions for the future. Watch/Listen to the episode or subscribe on YouTube, Apple Podcasts, Spotify, and Google Podcasts to catch the whole series.
I hope you enjoy this discussion. Don't forget to subscribe to our YouTube Channel. Please give us your idea about the podcast. Make sure to follow the platform on Instagram, Youtube, and Twitter, and support us on Patreon. Also, you can listen to our podcasts on Spotify, Apple Podcasts, and Google Podcasts. Also, you can use #patalks on Twitter, Instagram, and Facebook to give us feedback about the podcasts. Thank you!