Oct Design Museum by Studio Pei-Zhu in Shenzhen, China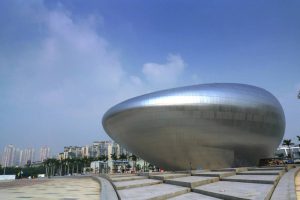 The inspiration for the project comes from the context of the bay and from the desire for a surreal exhibition space. The OCT design museum focuses mainly on fashion shows, product design, and conceptual automotive shows.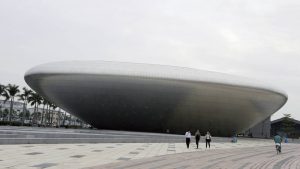 The goal was to create a space that is surreal to the subject matter but also transcendental in surrounding and feeling. The design of the interior relies on a continuous white curving surface that casts no shadows and reads no depth. The result is a boundless space that seems to continue infinitely, similar to the feeling of a JamesTurrell installation. The effect creates a tangible sensation in which it begins to feel like a cloud or dense fog. The building becomes a blank surreal background, with only small triangular windows scattered randomly, as if they were birds in flight. Typically an automobile looks very heavy but in this limitless space it becomes weightless, letting its curves, shadows, and intense colors become the focal point of the show.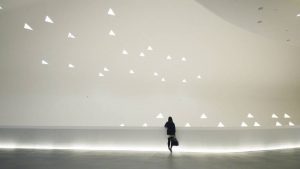 The first floor of the building holds the entry lobby and café, while the second and third is mainly exhibition space. Storage space is spread out evenly through the floors, with movable walls that allow the exhibition spaces to bevery flexible in scale and function.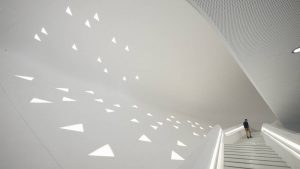 The exterior metallic shell acts in contrast to create a finite edge to an unexpectedly infinite white interior. The smooth organic form creates a different yet surreal feeling when compared to its urban setting. The building's form floats above the ground, as if it's an object that's been placed there temporarily. Being 300 meters from the ocean, the building form resembles the smooth stone that's been cast from the shore and displaced in this saturated urban setting.
Architect : Studio Zhu-Pei
Design :  2009-2010
Construction :  2010-2012
Location :  Shenzhen, China
Design Principal : Zhu Pei
Lead Designer : Zeng Xiaoming
Project Team : He Fan, Ke Jun, Jiao Chongxia, Yin Xiao, Li Si
Structural Consultant : Fu Xueyi
Video : Goethe-Institut
> Via Studio Pei-Zhu