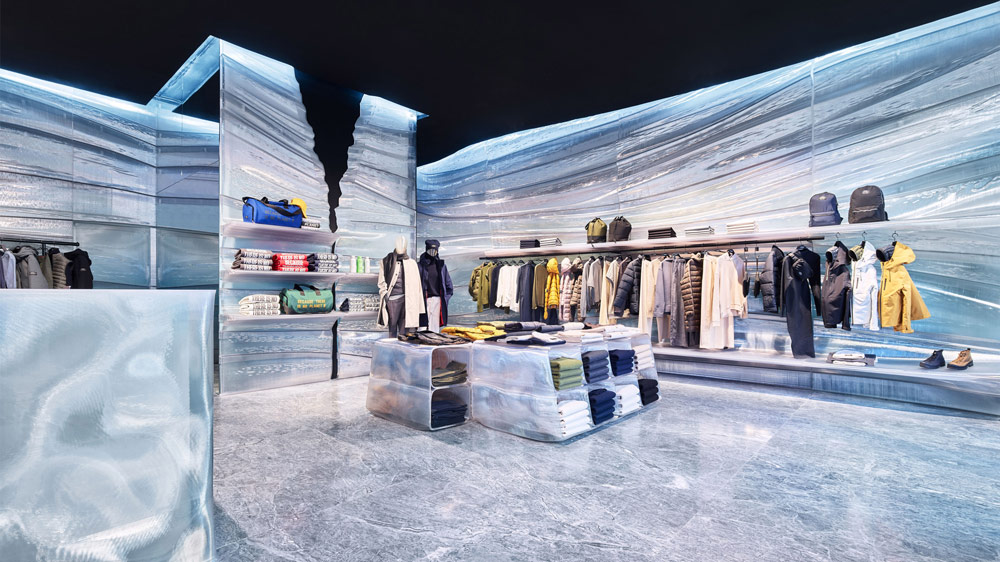 Madrid-based design studio Nagami has designed a 90 sqm eco-friendly clothing shop interior for Ecoalf Store in Las Rozas Village Madrid. It is nearly entirely made of recycled plastic, 3D printed in the studio. Nagami Design Studio redefines the idea of design, production, and consumption through robotics and 3D printing in 'Singularity'2, with innovation and research at the core of their practice.
The Ecoalf Foundation began 'Upcycling the Oceans,' an attempt to remove marine garbage from the bottom of the oceans through the collaborative efforts of more than 4,000 fishermen, and has retrieved more than 1,000 tonnes of rubbish so far. The project has since extended to Thailand, Italy, Greece, and France, and it will continue to do so throughout the waters of the Mediterranean, transforming ocean garbage into high-quality clothes.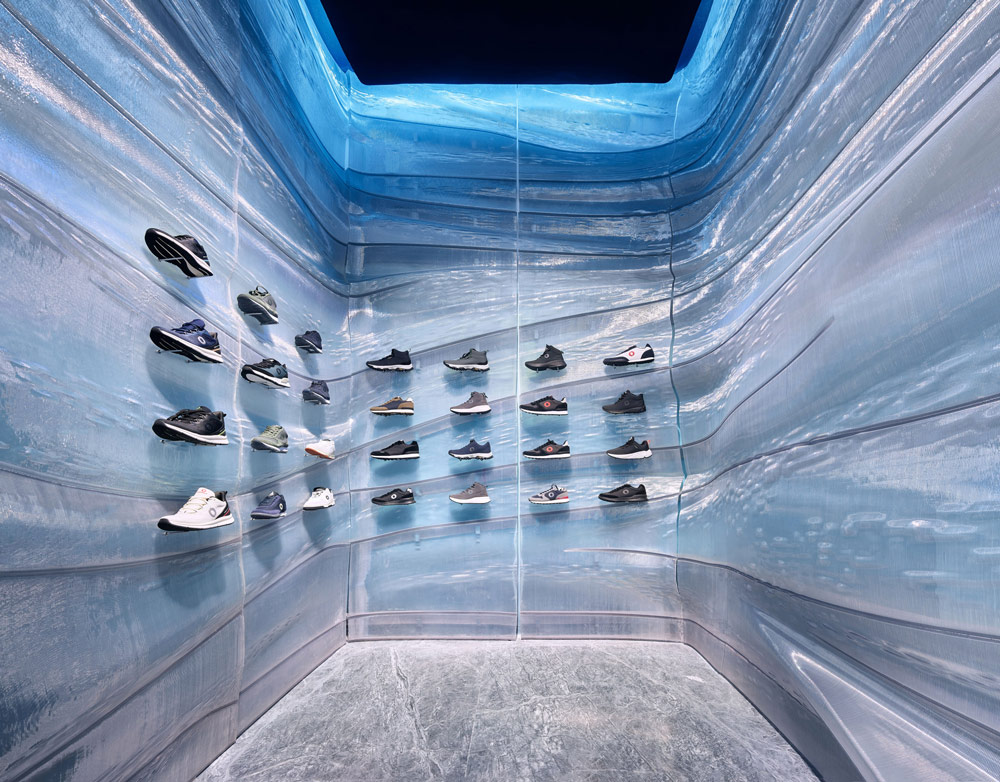 Inside the Las Rozas Village designer outlet, walls, shelves, and display tables are made from 3.3 tonnes of reused plastic trash, primarily from hospitals, and used to generate translucent surfaces that mimic melting glaciers. This project is a testament to the power of upcycling, as the recovered materials from the ocean are able to be transformed into high-quality goods that not only have an aesthetic purpose but a material purpose as well.
Nagami, an additive manufacturing specialist, developed the plastic panels with a robotic arm outfitted with a custom-built extruder capable of printing complicated 3D structures, with the goal of combining technology with design to raise awareness about climate catastrophe. An analogy was made between wind and snow affecting the ice over time, and the goal was to simulate the feeling of walking within a glacier. Nagami has produced the first totally 3D-printed interior, and the architect feels that it may be the world's first fully 3D-printed object made entirely of recycled plastic. The project was completed in a record-breaking three months, from design to installation.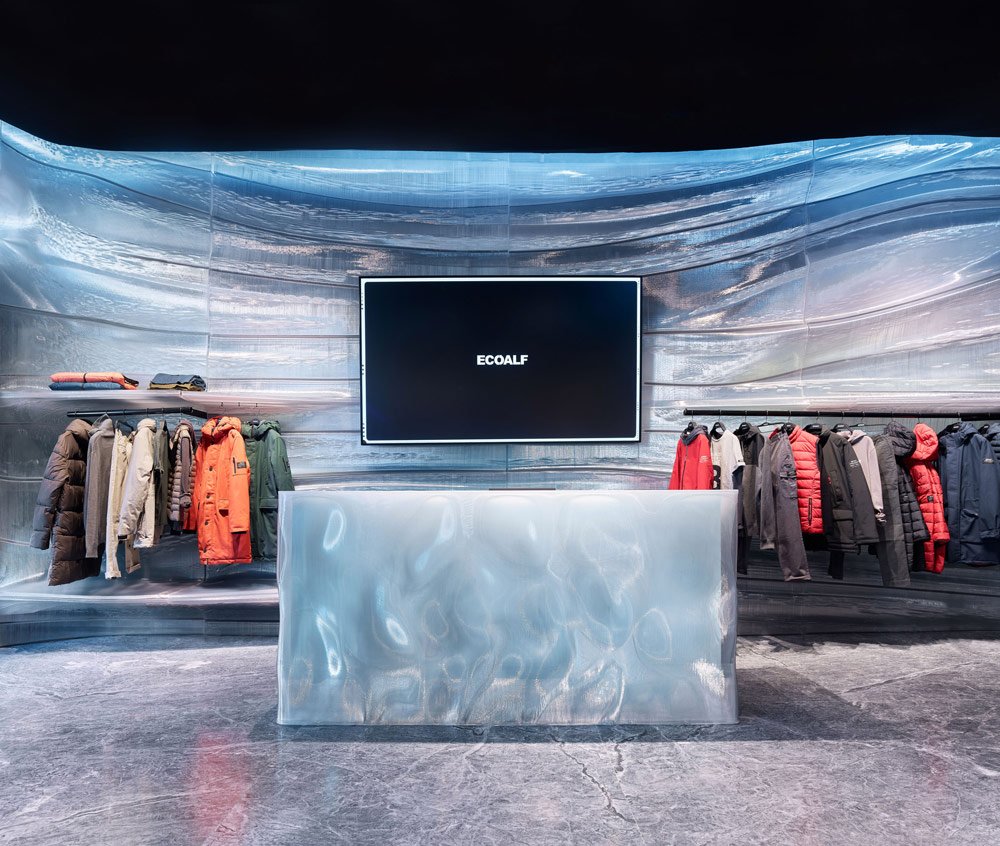 Nearly all of the interior surfaces of this store had undulating forms created by robotic printing. Natural stone tiles on the floor have veins symbolic of cracking ice, giving the impression of standing on a glacier. All of the interior components can be removed and reused for future projects. Nagami claims that the plastic itself is nearly indefinitely recyclable, losing only 1% of its structural performance with each new use. Both enterprises are interested in environmentally friendly production, with Ecoalf producing apparel, footwear, and accessories out of recycled materials such as bottles of plastic, used fishing nets, used tires, and post-industrial wool and cotton. Similarly, Nagami uses recycled plastic in a closed-loop production process to make furniture, sculptures, interiors, and architectural elements.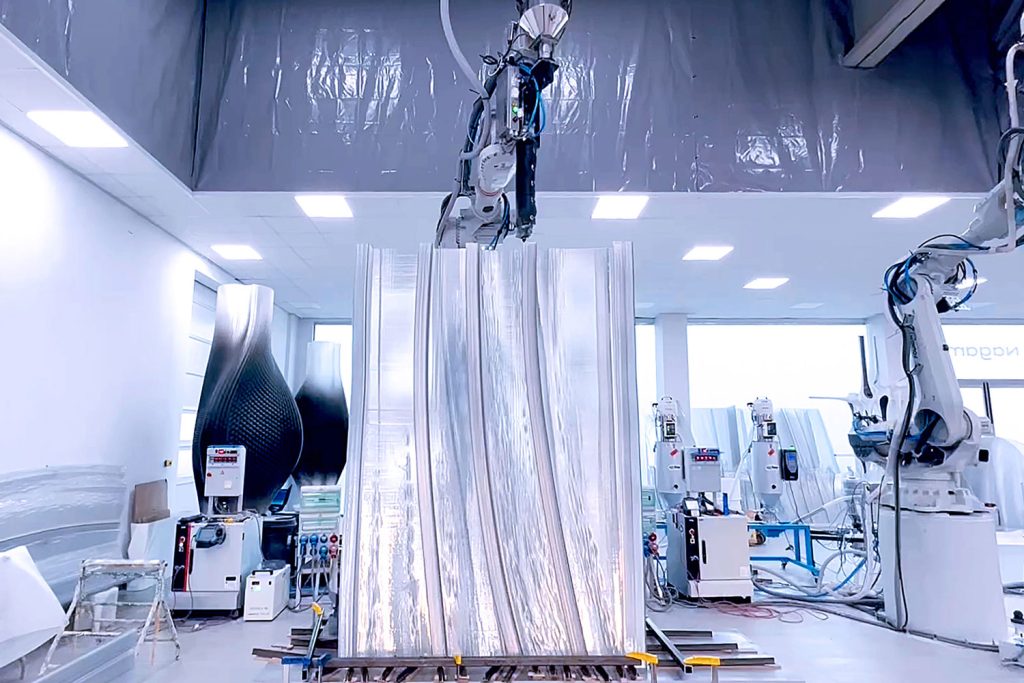 Project Info
Architects: Nagami Design Studio
Area: 90 sqm
Location: Madrid
Photographs: Alfonso-Quiroga