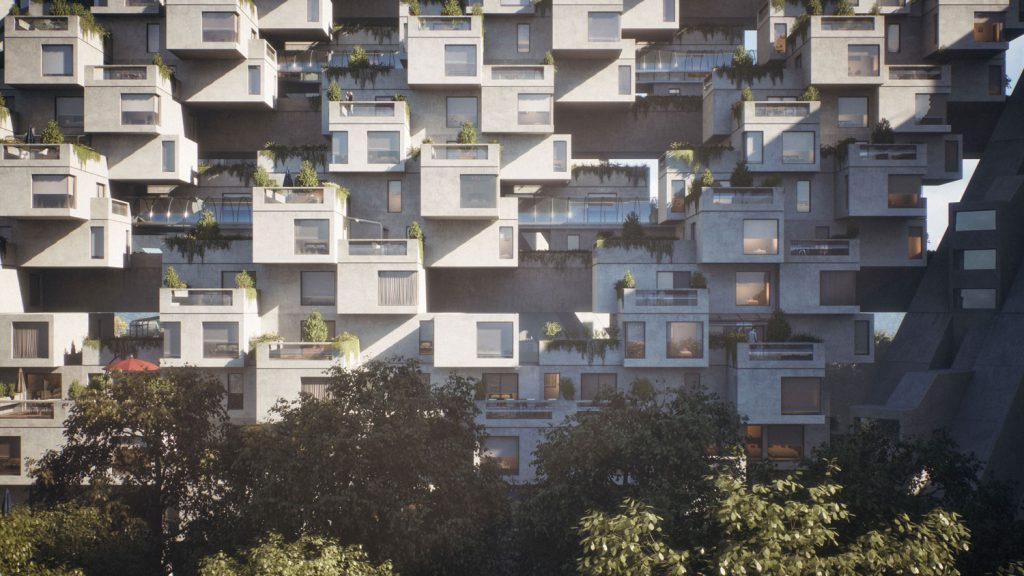 Architect Moshe Safdie's visionary concept for Habitat 67, a groundbreaking model for urban housing, has finally come to fruition through a collaborative effort between Epic Games, Safdie Architects, and Neoscape. Today marks the launch of Hillside, a digital realization of Safdie Architects' iconic project utilizing Unreal Engine's cutting-edge 3D capabilities. This remarkable achievement opens up the enduring principles of affordable, quality living to new generations who will shape the cities of tomorrow.
Originally designed by Moshe Safdie, Habitat 67 emerged as a response to the pressing need for affordable, high-quality housing in densely populated urban areas. The complex comprises stacked modular concrete units that form interconnected residential blocks. Habitat 67 fosters a sense of community and encourages social interaction by offering private terraces, abundant natural light, and communal spaces.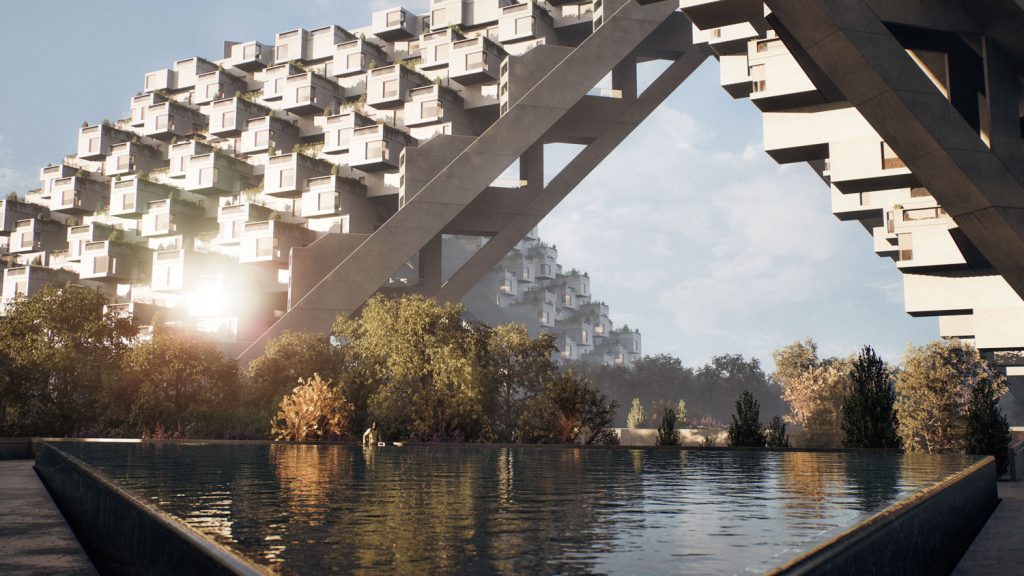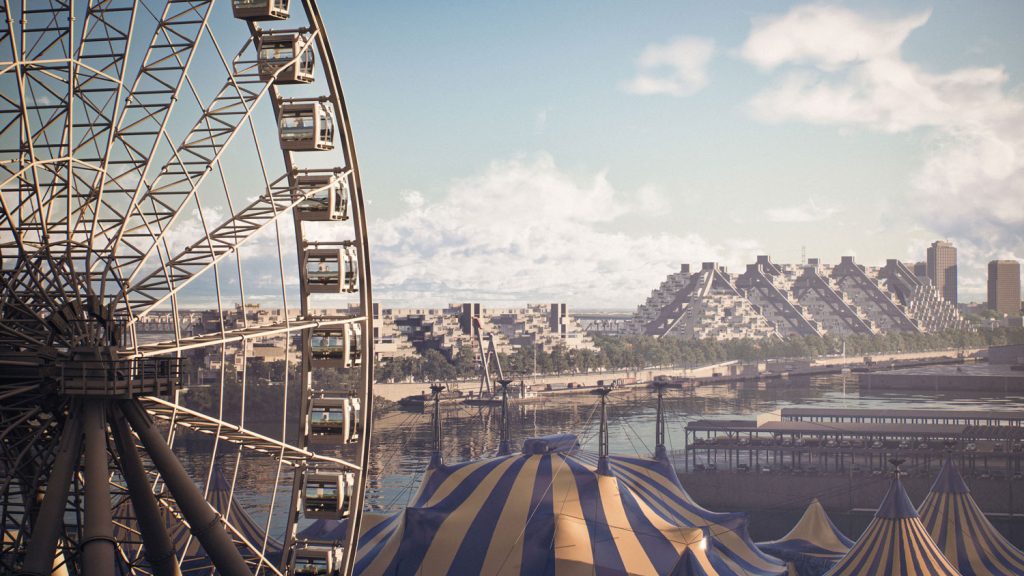 Over the years, Habitat has evolved into a highly sought-after residential complex. However, due to economic and logistical constraints, Safdie's original vision of constructing a 30-story, 1,200-family complex was never fully realized. Nonetheless, Habitat 67 retains its significant importance within the architectural community, challenging conventional urban housing concepts and demonstrating the potential of prefabrication and modular construction techniques.
In collaboration with Neoscape, Safdie Architects embarked on an ambitious project to fully materialize Habitat 67 within the digital realm. Leveraging archival drawings, the design team meticulously developed the necessary details to create a comprehensive 3D model, reviving the project more than five decades after its conception. Safdie Architects additionally designed key elements such as a hotel, school, office spaces, and surrounding landscapes, seamlessly integrated into the virtual environment by Neoscape.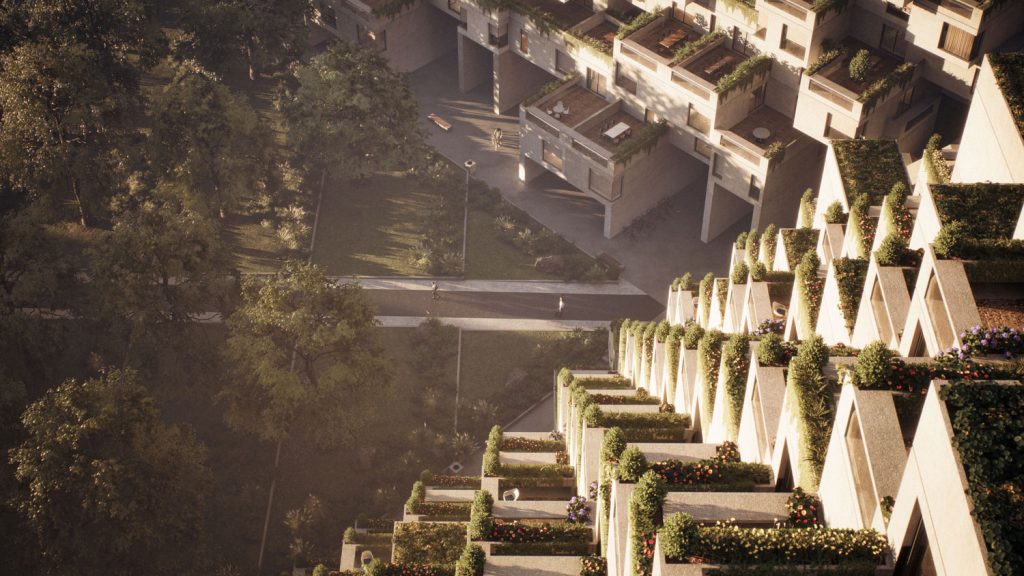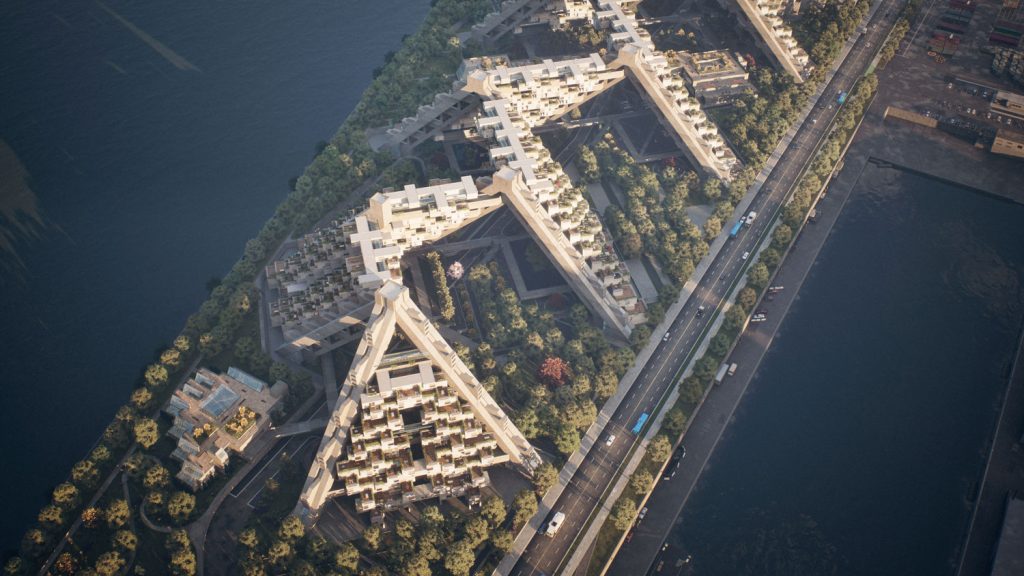 The project's initial phase involved a meticulous scanning process of the current Habitat structure in Montreal. A drone, equipped with a camera and LiDAR technology, captured 207 scans, while an additional drone acquired over 4,000 high-resolution images. These datasets were meticulously combined and processed by Epic using their RealityCapture Software, resulting in an accurate and intricate model of Habitat. This comprehensive approach not only facilitated Neoscape's work on the unfinished aspects of the project but also digitally preserved the current state of the structure.
The technical implementation of the project utilized industry-leading software, including 3ds Max, Rhino, and Unreal Engine. The initial model was meticulously constructed in Rhino and 3ds Max before being seamlessly imported into Unreal Engine using the efficient Datasmith data importer. To optimize performance, elements such as vegetation, windows, and set dressing were thoughtfully grouped to minimize the number of draw calls within the engine. Given the geometric complexity of the design, a bespoke tool was developed to convert native Rhino groups and blocks into static meshes, precisely placing them in their designated locations. Lighting conditions were meticulously crafted using Lumen, an Unreal Engine feature enabling real-time rendering.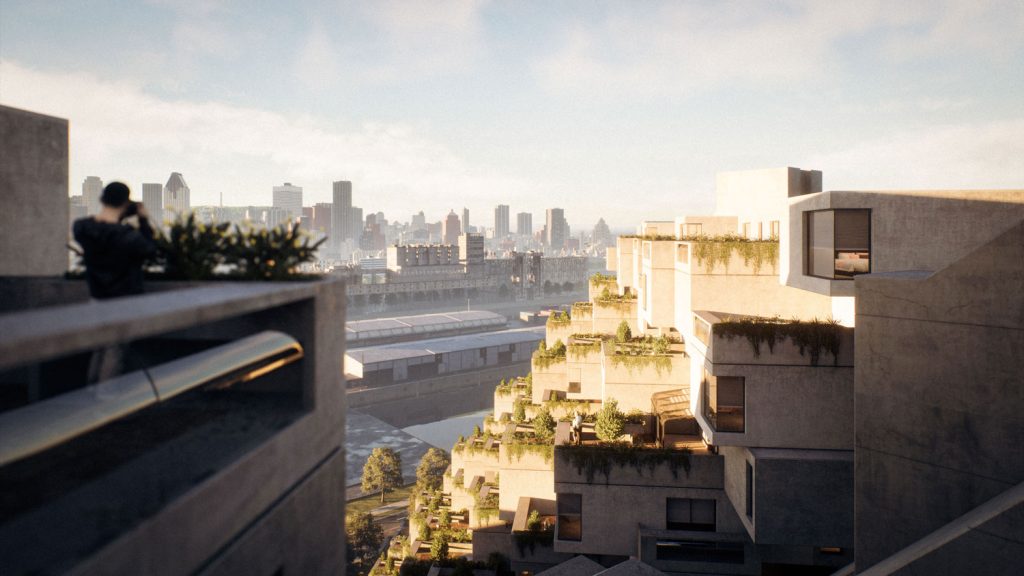 This extraordinary collaboration highlights the transformative potential of Unreal Engine as more than a mere tool. It serves as a gateway to new possibilities, enabling the recreation of unrealized architectural visions and encouraging a reimagining of our cities. Hillside exemplifies the immense power of digital technologies, empowering architects and urban planners to shape the future of urban environments.
Through the collaboration between Unreal Engine, Safdie Architects, and Neoscape, Moshe Safdie's Habitat 67 has been magnificently brought to life, realizing his pioneering vision for urban housing. This remarkable achievement inspires architects and urban planners to explore innovative solutions that enhance the quality of life for future generations.
Learn more about Moshe Safdie's philosophical and architectural works, PA Talks 24 – Moshe Safdie!