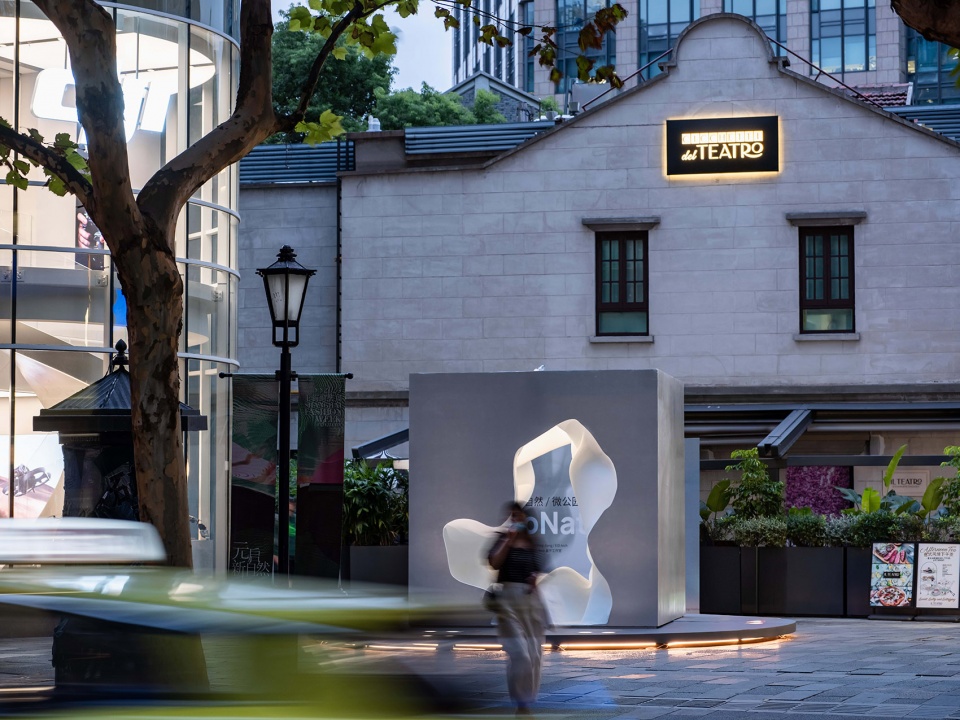 MicroNature Pavilion is a public art installation created by Atelier Ping Jiang | EID Arch for Design Shanghai / Xintiandi Design Festival 2022. The design experimentally incorporates a space art installation that simulates microscopic natural forms, making it a part of the human-made environment; while highlighting the contrast between nature and human-made, it also uses ingenuity to bring people to participate.
Create an immersive and interactive experience with a strong sense of sensibility and create fun in the neighborhood, and stimulate the imagination of rejuvenating the city through acupuncture-like intervention.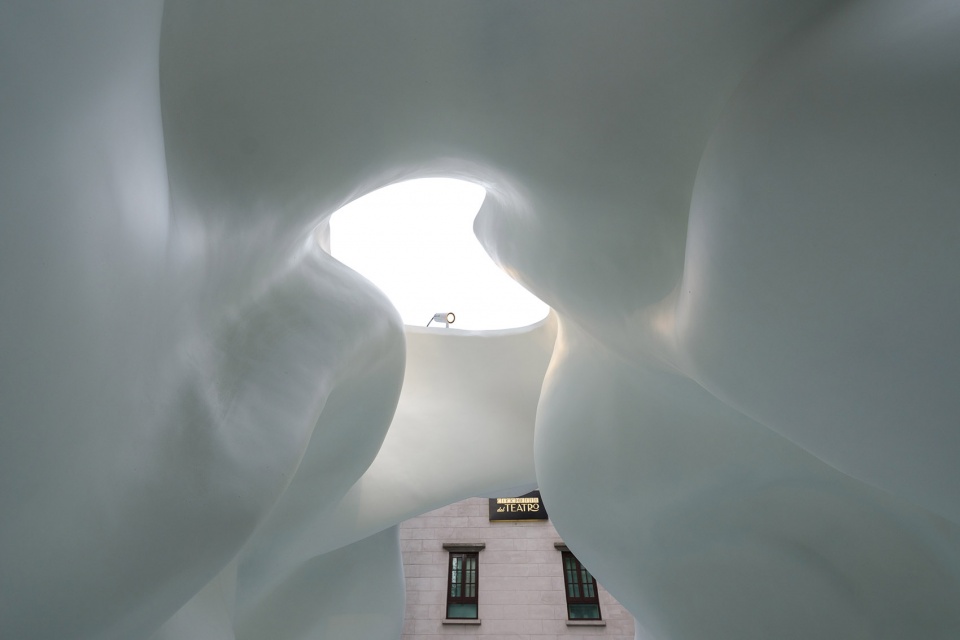 The "Xintiandi" section of Madang Road in the hinterland of Shanghai is the quintessential commercial resort of the former French Concession. It is not only a fashion landmark of the city but also connects the century-old legend of Shikumen's traditional lane blocks with modern commerce. MicroNature is located just along Madang Road, at the junction of old and new in the city. It is like a space-time tunnel from the future, freely presenting a dialogue between ancient and modern, Chinese and Western, history and modern, tradition and fashion.
This cube of about 3×3×3 meters is the smallest space design practice of Jiang Ping Studio recently. The design uses layers of soft curves to outline the landscape and canyon-like surfaces. It is constructed by rational logic and vector calculation. In the contemporary city, it is integrated into a "miniature nature" that is almost like a wormhole.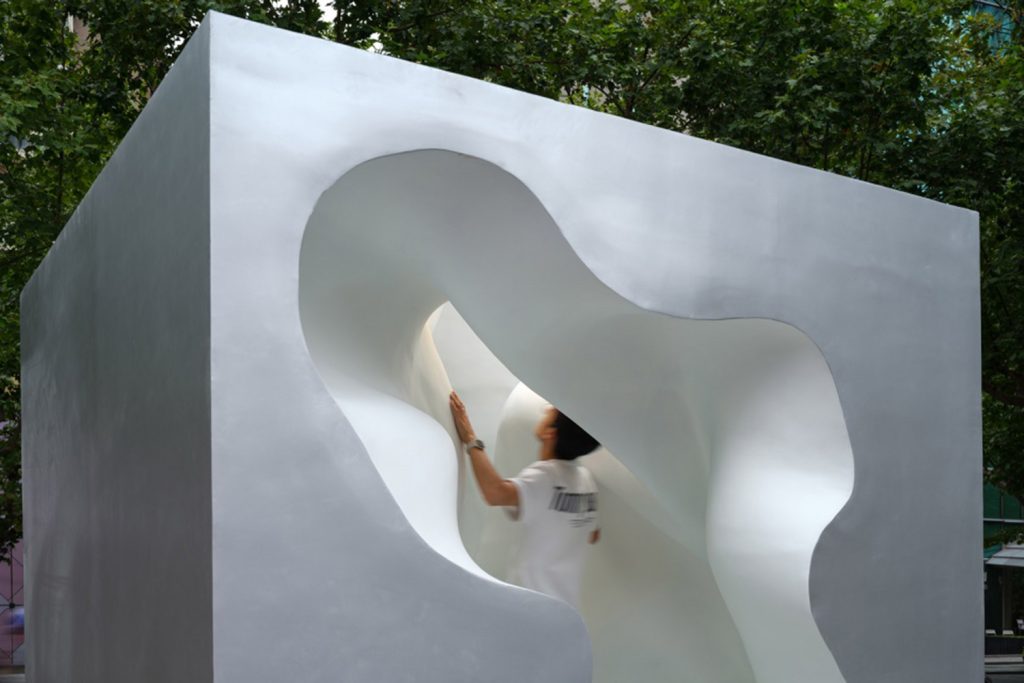 The urban environment with crisscrossing buildings is full of geometric shapes composed of linear vectors, while nature is fond of complex, diverse, and unrestrained organic forms. The two have completely different scenery, and the linear geometry and organic forms are reflected in comparison. strong contrast.
MicroNature is also a spatial experiment on the human scale. The design team repeatedly calculated and tested the internal space, and finally formed a place that can be used in a variety of ways. Whether it is to stop and watch, touch experience, or in-depth interaction, it welcomes all kinds of exploration behavior patterns of visitors: children with flexible stature can't wait to climb and play among the folds inside the installation and place them in a position suitable for their body scale.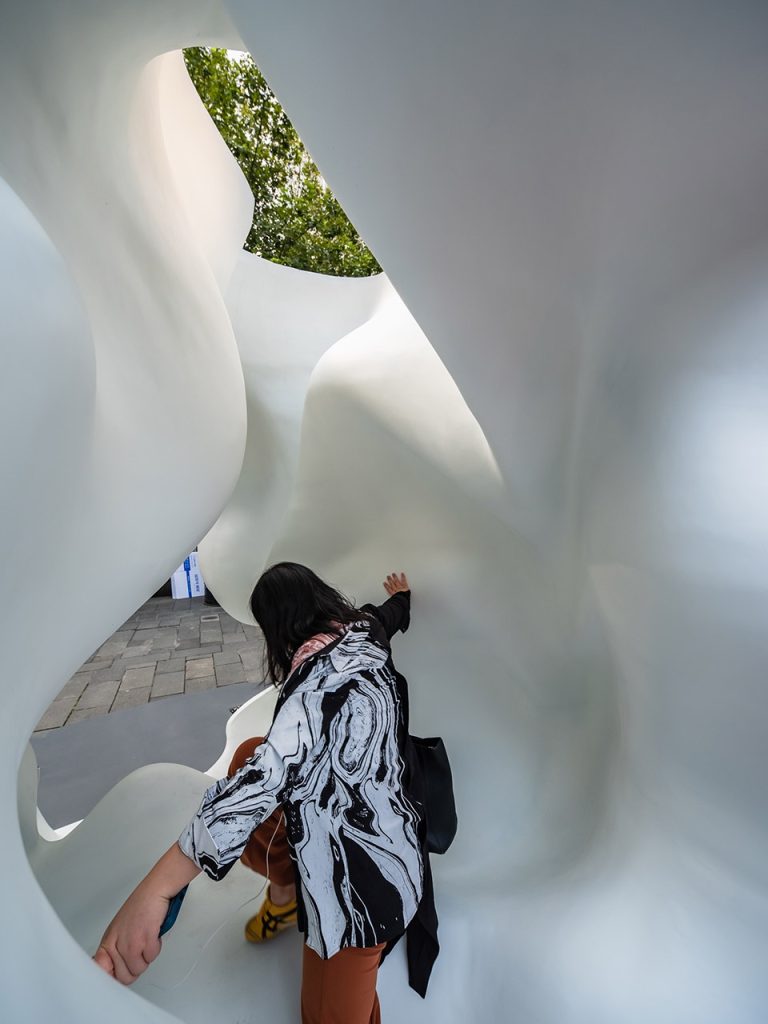 MicroNature is not only a natural landscape carved by hand but also an urban furniture that participates in the sharing of public spaces. Thanks to contemporary parametric design techniques and digital construction techniques, the design reinterprets the viewing experience of rockery in traditional Chinese gardens. After the internal curved surface is molded by modular 3D printing with PLA material, it is assembled with material composite technology and installed firmly on the steel structure.
Some of the ways people interact with MicroNature are not fully expected by the designer, but the self-consistency of these spaces is also the surprise and excitement of the design.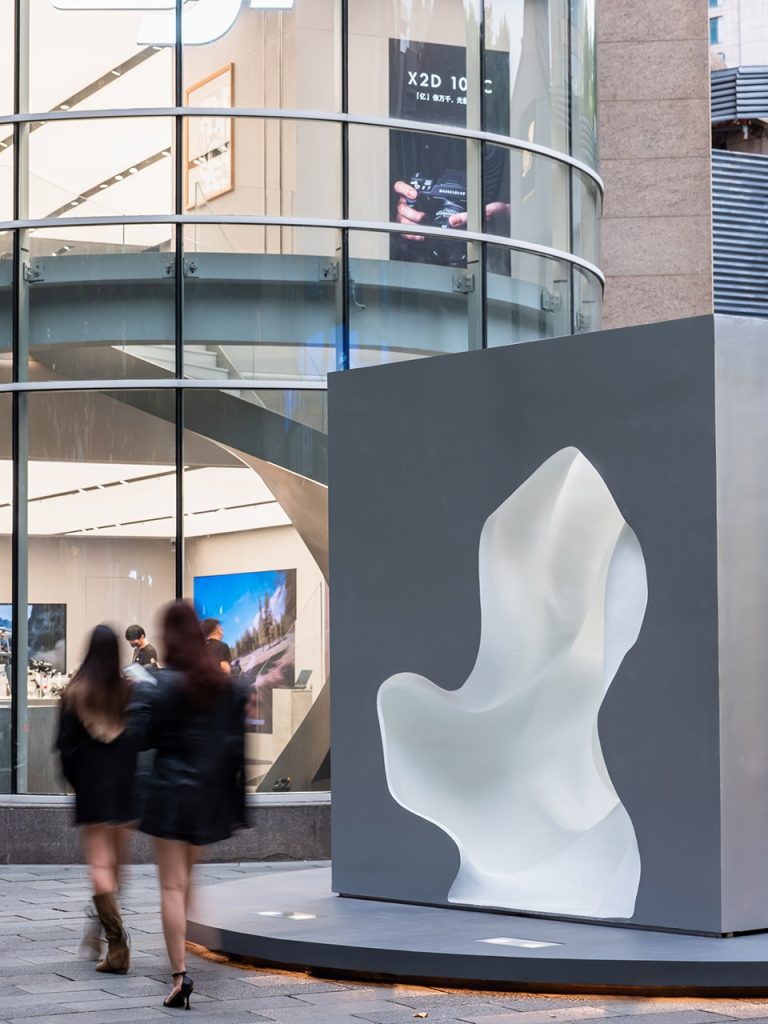 Project Info
Location: Shanghai, China
Completion Year: 2022
Built Area: 9 Sqm
Architect: Atelier Ping Jiang | EID Arch
Design Team: Ping Jiang, Iris Li, Michelle Bao, Ling Niu, Sai Leng
Sponsor: Xintiandi Design Festival / Design Shanghai
3D Printing & Material Consultant: Wuhu Jiang Zhu 3D Technology Co.,Ltd.
Lighting Consultant: BPI
Lamp Sponsor: Linea Light Group
Photography: Runzi Zhu