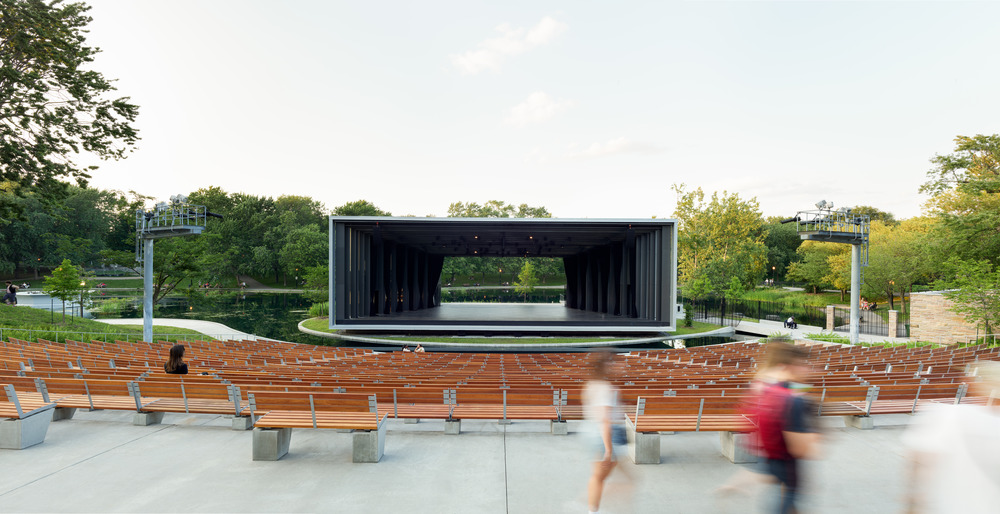 Lemay redesigned Montreal's Théâtre de Verdure, which opened in 1956. The theatre has been improved with a new four-season concept that reimagines the relationship between theater and park, architecture and landscape, and the built and natural worlds.
Lemay's new design is visible from the banks of the water basin all the way into the park's interior, with various uses arranged in a way that promotes a timeless presence.
The reanimation of the site goes beyond the concept of a standalone stage, creating a new theatrical destination integrated with nature, allowing everyone to rediscover not only the Théâtre de Verdure but also its park and basin. The venue is ready to host major outdoor artistic productions, comfortably accommodating crowds of up to 2,500 spectators who can watch from the space's seats or dedicated greenspace while being carried away by the spellbinding scenery and what is happening on stage.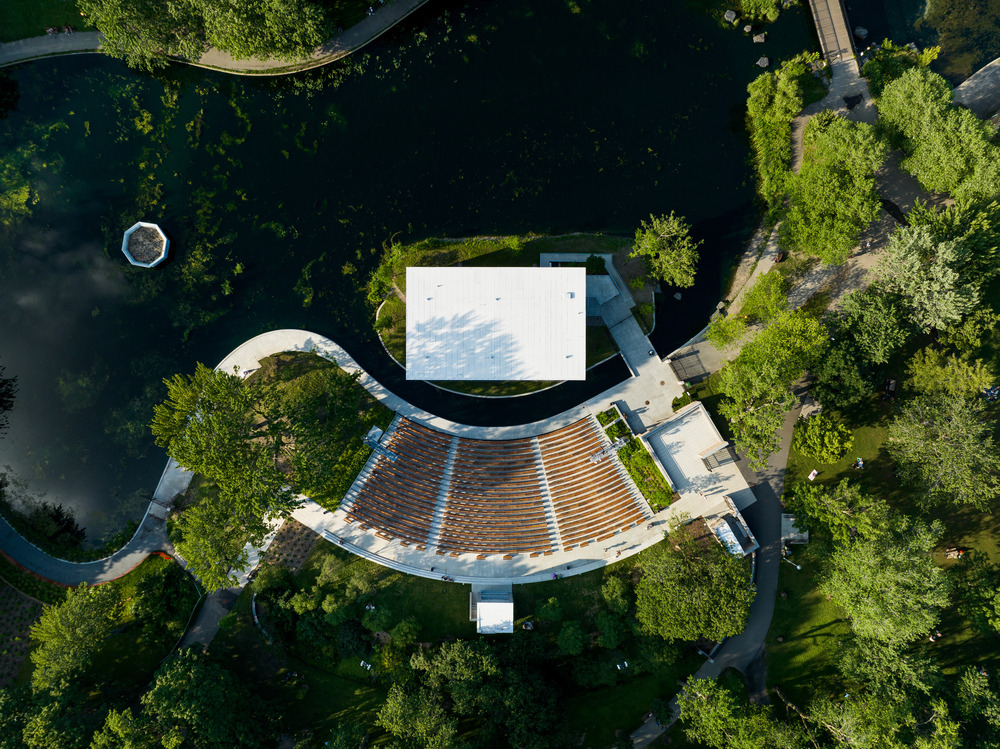 "Intervening on the Théâtre de Verdure was an incredible opportunity to offer its visitors an architectural, landscape, and artistic experience. In an approach where the limits between the two became blurred, the project developed as a vast scenography of the landscape through architecture," explains Eric Pelletier, Senior Partner at Lemay and Lead Designer on the project.
Lemay used the sustainable strategies of its NET POSITIVE™ framework to reduce the project's environmental impact. Designers made almost every space open to the outside, including the green room, which is a balcony that projects onto the pond that surrounds the theatre.
"Throughout the project, we were keen to reaffirm the theatre's heritage identity, and we took care to develop new interventions compatible with the memory of the site," describes Marie-Ève Parent, Associate and Discipline Director in Landscape Architecture at Lemay.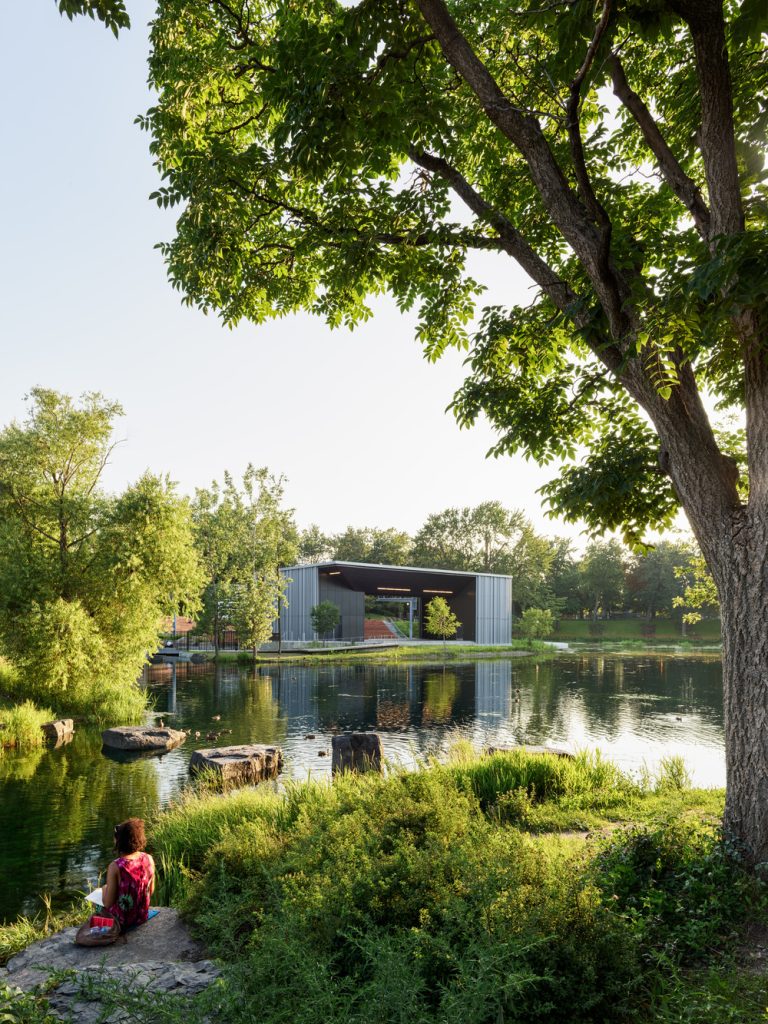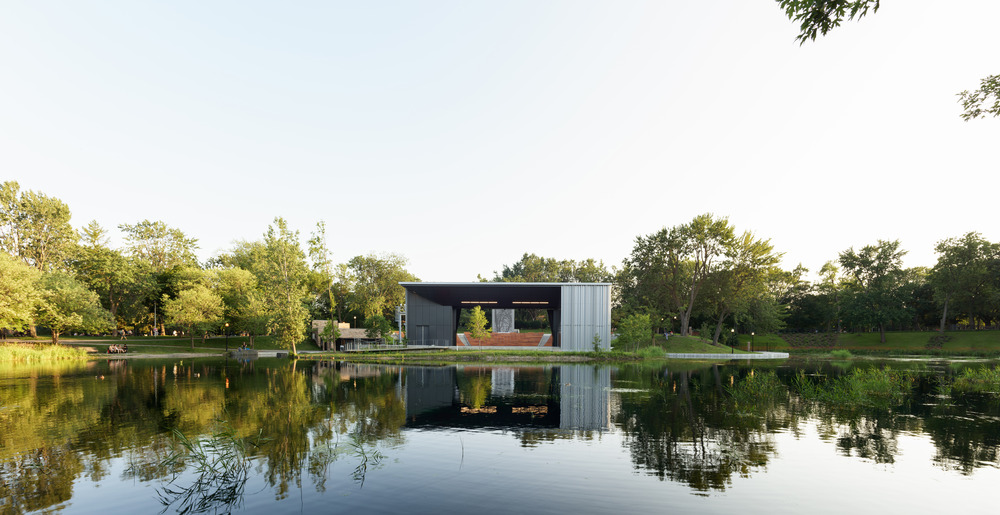 Project Info
Architecture: Lemay
Landscape architecture: Lemay
Mechanical and electrical engineering: Bouthillette Parizeau
Stuctural engineering: Calculatec Inc.
Civil engineering: Marchand Houle
Acoustic specialists: Atelier 7Hz
Forestry Engineering: Luc Nadeau
Scenography: Trizart Alliance
Regulations: Technorm
General contractor: Axe Construction