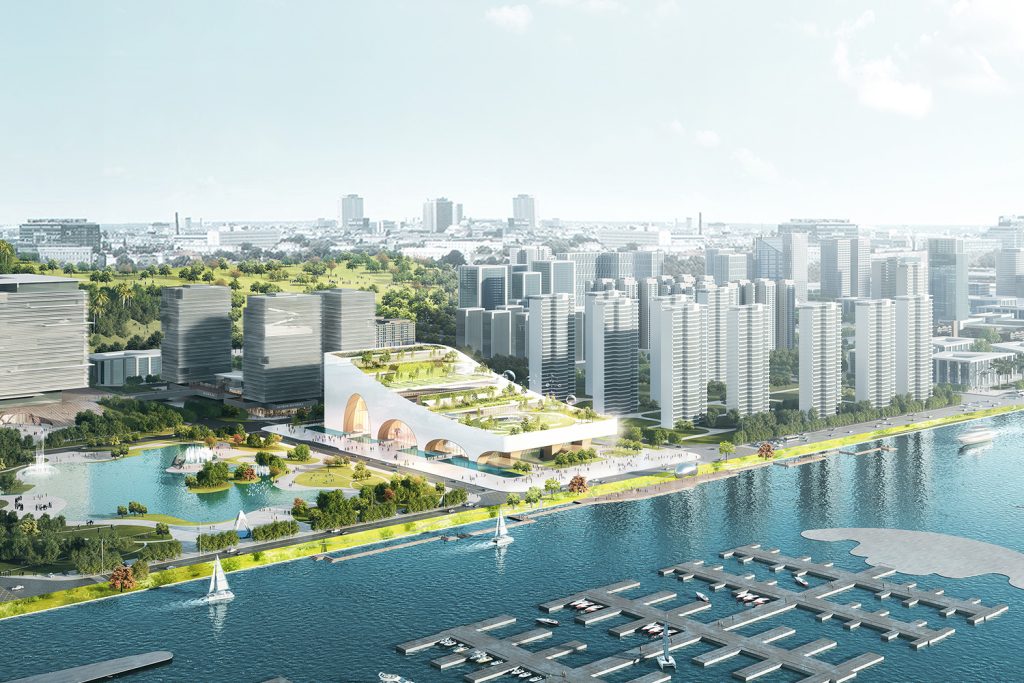 The Hengqin Culture and Art Complex will be built as part of a thriving new neighborhood in China's third-fastest developing urban center, behind Hong Kong and Macao, by Yunchao Xu/Atelier Apeiron, who won a competition held by the Chinese government for submitting concepts for the center. The winning proposal focused on the firm's adoption of an innovative and unique strategy for the huge nine-block complex.
The Hengqin Culture and Art Complex with an area of 142,560 sqm is a future focal point in one of China's fastest expanding cities, destined to service the whole Guangdong-Hong Kong-Macao Greater Bay Area. Yunchao Xu/Atelier Apeiron's work on the new complex is nearing completion after six years of planning, design, and construction.
The site for the Hengqin Culture and Art Complex is located between two existing residential buildings and a large city park. Atelier Apeiron came up with a plan to build a dynamic complex that could accommodate a variety of future uses. As part of that plan, the firm advocated for an architectural approach characterized by large-scale porosity tailored to the site's high-density urban context.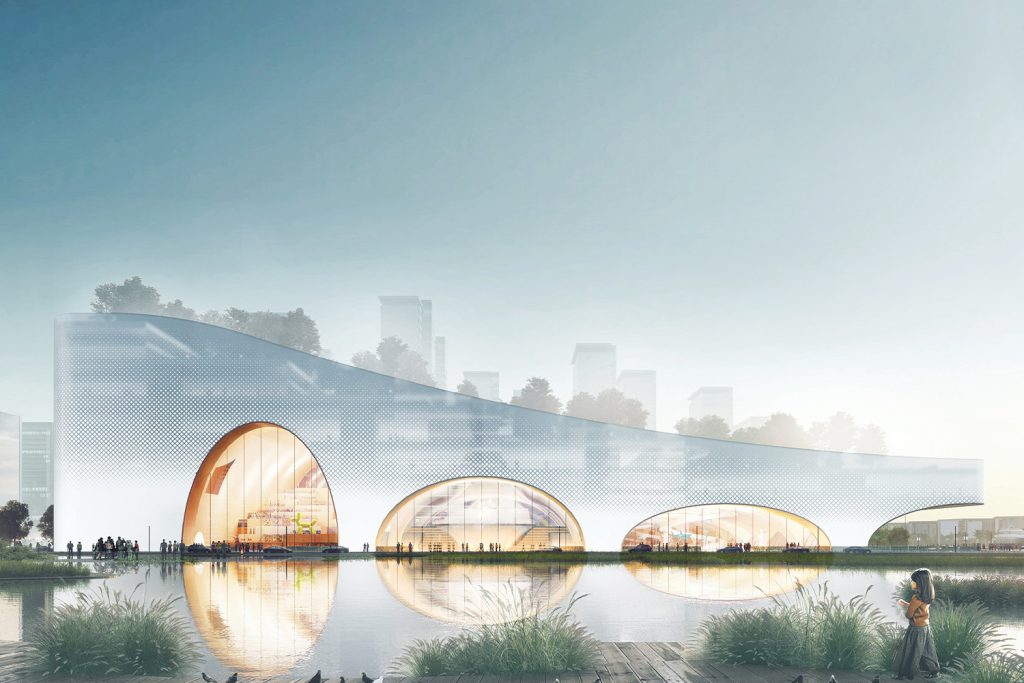 Yunchao Xu/Atelier Apeiron attempted to unify the experience by designing the massive complex that houses nine different functions – a library, an archives center, a concert hall, a cultural center, an art gallery, a science museum, women as well as children's activity center, an elderly activity center, and a youth activity center. This building is designed as three urban living rooms, each with its own archway leading into an exhibition hall, a performance hall, and a knowledge hall.
Apeiron utilizes an inverted catenary geometric concept to build three beautiful arches of varying shapes on the complex's lower level, expressing a style of architecture that integrates Chinese and Western components. Each arch leads to a distinct hall with its own personality and program. To bring natural light into the dark areas, the design team integrated a skylight over the arches to link with the rooftop gardens, as well as two diffuse reflectors that filter soft sunlight into the chambers. The arches, made of wood and bamboo panels, provide a transparent window between the building and its surroundings. By day, visitors will have unrestricted views of the nearby park, while at night, the soft illumination provided by the arched hallways will serve as a stage backdrop for a range of public events to be hosted in the park.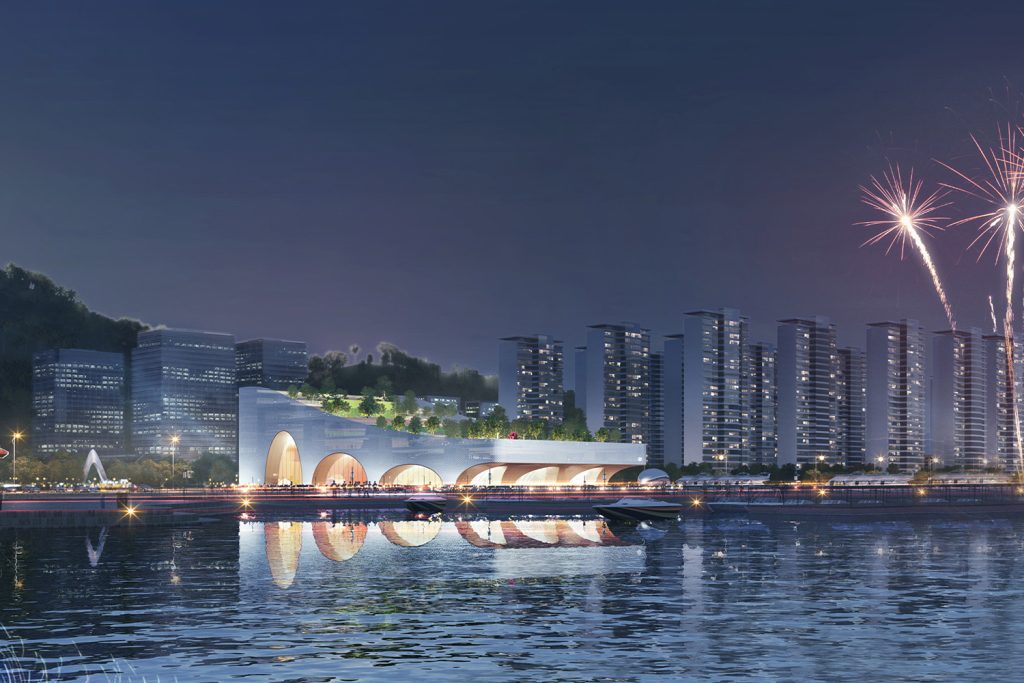 To ensure maximum flexibility possibilities for a broad range of future programs, modular space units have been incorporated into the design above the archways. Small rooms have also been incorporated into the arch joints to accommodate machinery and building services. The skyline of the buildings flows in a catenary from the north hill to the south river. Three dedicated theme parks are located on the green covering urban balconies. People can hold a wedding or a large birthday party on the first platform of the ceremony. Visitors can go along the spiral steps to the bamboo garden, from where they can enjoy a peaceful teatime overlooking the sky.
The entire building's skin is made of white hollow LOW-E printed glass, with a white printing coverage rate of more than 75%. Above the three arched halls is a skylight window system. On one hand, both ends can be mechanically opened to release the building's inside heated air. On the other hand, the transparency of the building's cooling system can be altered in response to changes in the weather, and the carbon footprint of the building's air conditioning system can be lowered.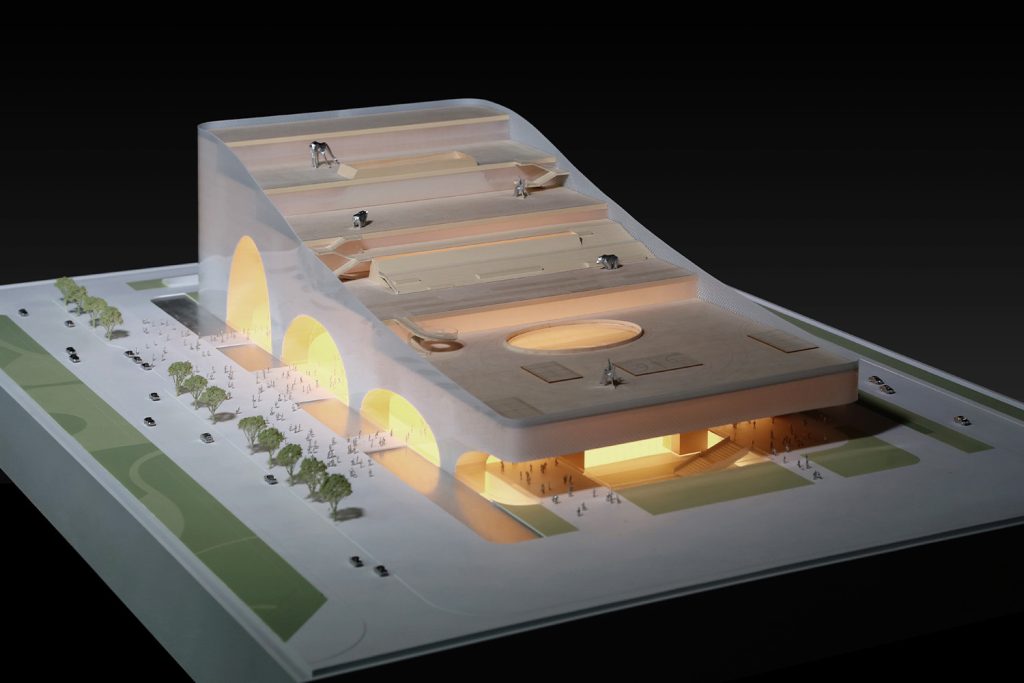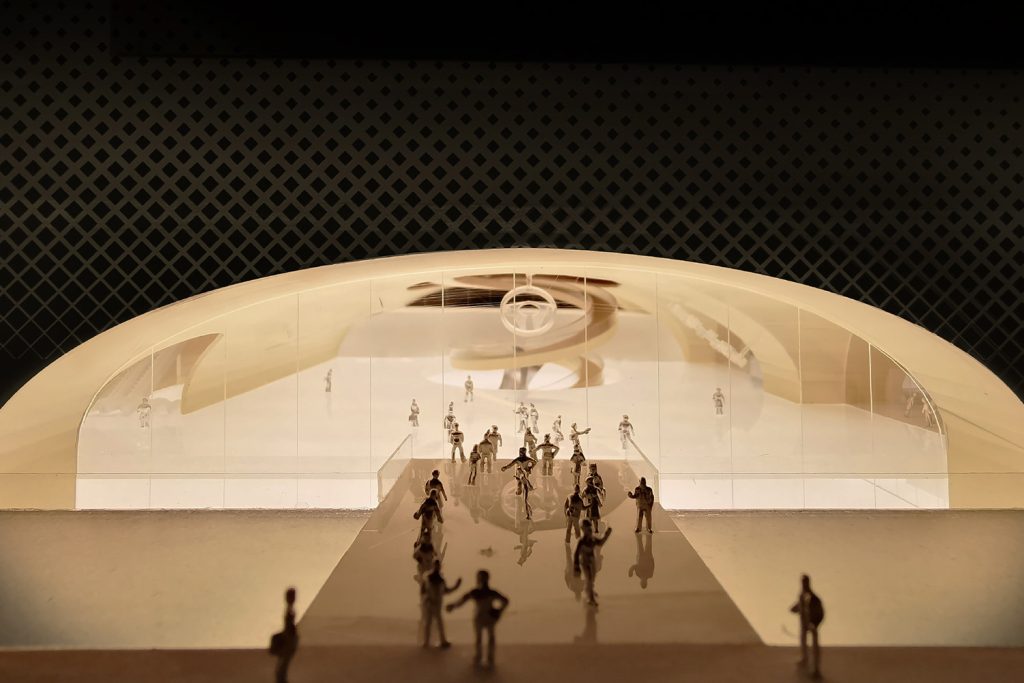 Project Info
Project Name: Hengqin Culture and Art Complex
Location: Hengqin island, China (Guangdong-Macau In-Depth Cooperation Zone)
Client: Zhuhai Gree Construction Investment Co,. Ltd.
Project Completion: 2024
Total area: 142,560 sqm
Architecture Firm: Yunchao Xu/Atelier Apeiron
Lead Architect: Yunchao Xu
Designers/Architects team: Jiachuan Qi, Hongrui Liu, Kan Gao, Guohong Li, Zhendong Shi, Jianxuan Chen, Shengjie Zhang, Kun Qian, Kai Liao, Zheng Xu, Zhen Shen
Technical Designer CAD: SZAD
Contractors: Zhuhai Gree Construction Investment Co,. Ltd.
Constructors: Zhuhai Jianan Group Co,. Ltd.
Engineers: SZAD
Interior Designers collaborators: Ruan Bin Design
Landscape architects: GVL Green View Landscape Group
Lighting consultant: GD Lightning
Acoustics Consultants: Zhongfutai Architecture Construction Co., Ltd.