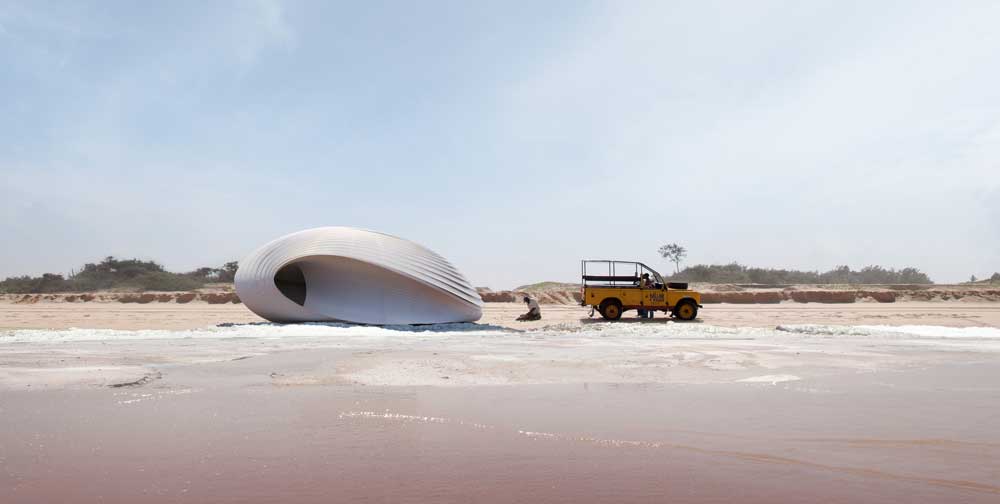 International design studio, Hassell, and to.org develop a 3D printed public pavilion made from recycled plastic, with leading 3D printing design studio Nagami.
The 3D-printed public pavilion concept, inspired by indigenous shelters, may be quickly adapted to fit a variety of harsh climates and locales. Hassell and Nagami created the pavilion using computational approaches and constructed it entirely with 3D printing, allowing the structure to be changed at nearly no extra expense to match local climatic conditions in various places.
The design, which serves as a gathering place for meditation and education, is the first in a bigger concept to develop a succession of pavilions that stimulate debates about material waste and how technology might solve our planet's most pressing challenges.
Faced with the global crisis of plastic waste, this proposal seeks to establish a precedent by employing plastic garbage as an infinite resource for construction. The Pavilion concept emerged from a meeting between Hassell's Head of Design, Xavier De Kestelier, Manuel Jimenez Garcia, founder of Nagami, an additive manufacturing specialist, and Nachson Mimran, Co-founder and Creative Executive Officer of to.org.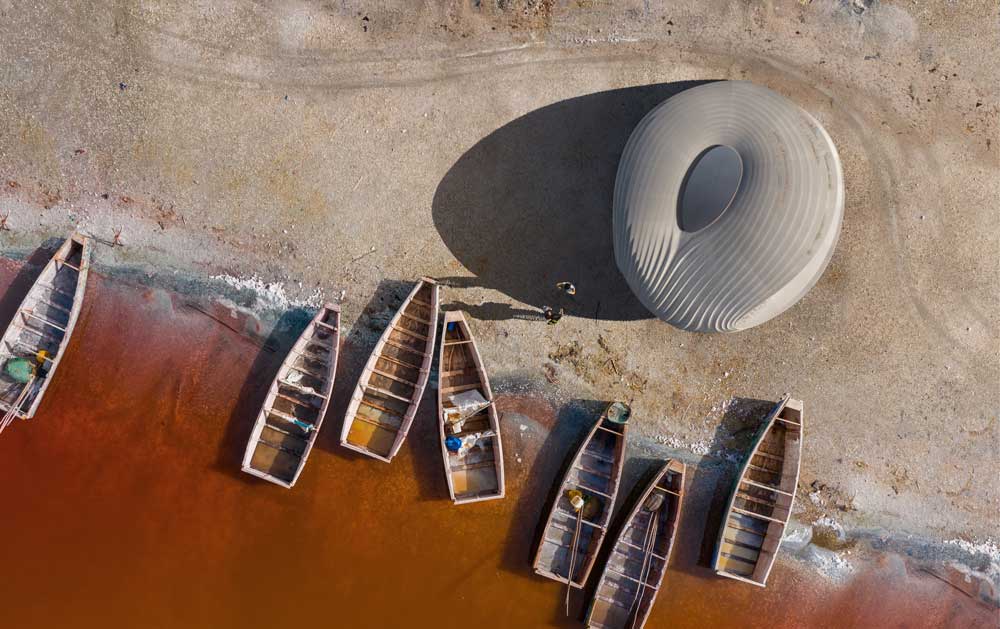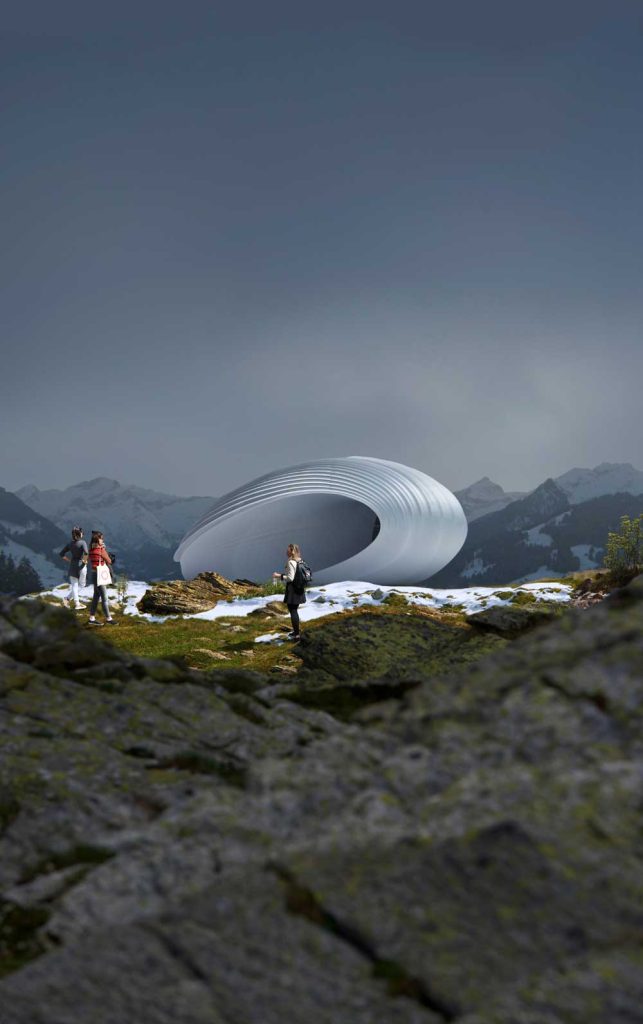 The public pavilion has been designed to be easily transported and assembled on-site, with the main structure 3D-printed in 24 separate pieces. Currently under construction at the Nagami factory in Spain, by utilizing 3D printing technology at an architectural scale, the design, which includes inbuilt seating, allows for increased capacity — and can offer a climate-sensitive response by quickly transforming and adapting the structure for a variety of environments and planetary settings.
The Pavilion utilizes 3D printing to construct full-scale practical architecture. The team compared to most traditional manufacturing methods, 3D printing provides more geometrical freedom. This architectural independence allowed the designers to shape the pavilions in such a way that they run with minimum energy and off the grid, setting a precedent for the future of design.
Xavier De Kestelier, Head of Design at Hassell said: "The implications of 3D printing at this scale are huge for architecture and we hope we can apply this aspect of adaptability across projects. We wanted a pavilion that will be able to exist completely off the grid and adapt to local climatic challenges and conditions to create as low as possible embodied and operational carbon footprint."
Nachson Mimran, Co-founder & Creative Executive Officer of to.org, said: "Our journey with plastic upcycling began in 2018 with the construction of a bottle brick toilet in the Kyebando slum in the Ugandan capital of Kampala. It was a natural next step for us to start playing with additive manufacturing, and in partnership with Nagami, we produced The Throne, a waste plastic 3D printed port-a-potty, and now, The Pavilion. As a Creative Director, my aim is to encourage those in the arts, design, hospitality, philanthropy, and construction to act responsibly and utilize waste plastic effectively. Treating waste plastic as the inexhaustible resource that it is and demonstrating a commitment to the circular economy will help reduce pollution and reverse the effects of climate change."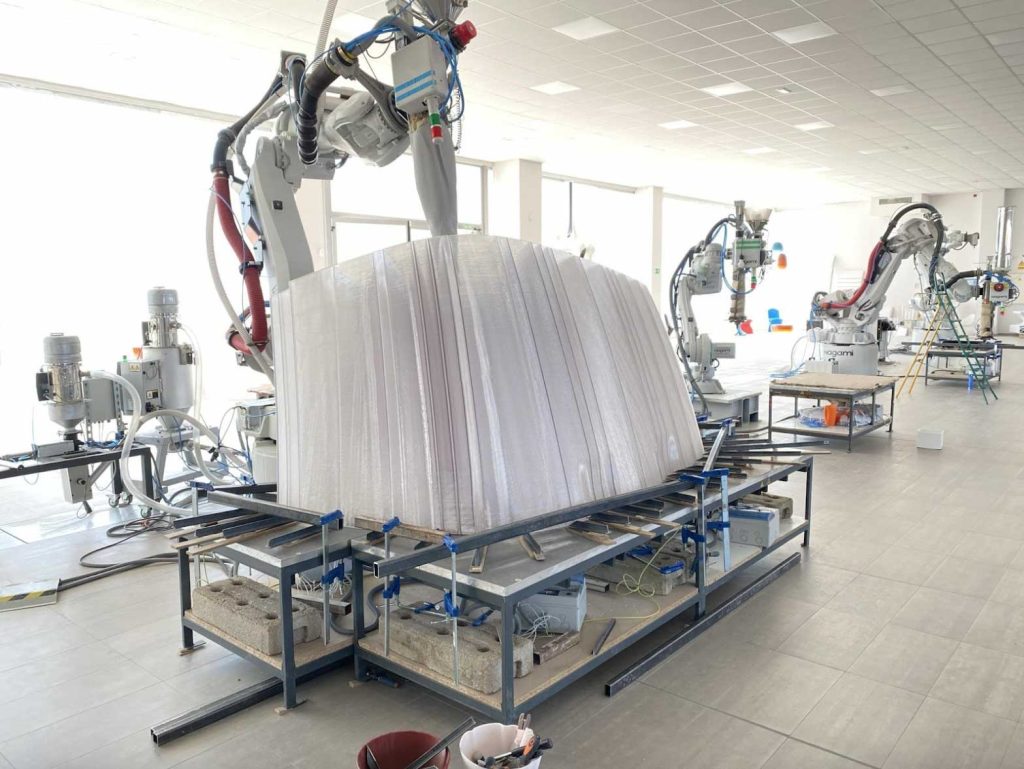 The Pavilion is intended as a space to gather and will serve as a proof of concept, designed for replicability and scalability. The project is in development and to.org is looking for partners to invest in its production.
Manuel Jimenez Garcia, Founder of Nagami, said: "We have more than 5 billion metric tons of plastic waste on our planet. As 3D printing scales up into the domain of architecture and construction, we can massively increase the demand for recycled plastics, and therefore speed up the cleaning process of our oceans and landfills. We hope this project will contribute to inspiring a new generation of architects to truly believe that a radical change in construction, driven by eco-innovation, is truly possible."
Similar in concept to that of a Qarmaq – an inter-seasonal, single-room family dwelling used by Inuits – Hassell has taken learnings from indigenous shelters and their structures to devise strategies that can address harsh environments in an adaptable and sustainable manner.
For colder climates, the Pavilion will be hermetically closed and its outer skin will feature fins designed to capture snow and create natural insulation – similar to the way in which snow is used to insulate igloos. In hotter climates, overlapping fins will act as natural shading and allow for passive cooling and cross ventilation, as well as water harvesting.
Designed with additive manufacturing specialist Nagami, the skylight, and opening provide a connection with the natural environment and serve for lighting, or ventilation depending on the context.
Xavier de Kestelier and the innovation team he leads at Hassell have also created a 3D-printed habitat for space explorers on Mars as part of NASA's international 3D Printed Habitat Challenge and the Design Museum's Moving to Mars exhibition. Xavier has also led the Robotics Atelier for the Norman Foster Foundation where he focused on large-scale 3D printing with recycled plastics.