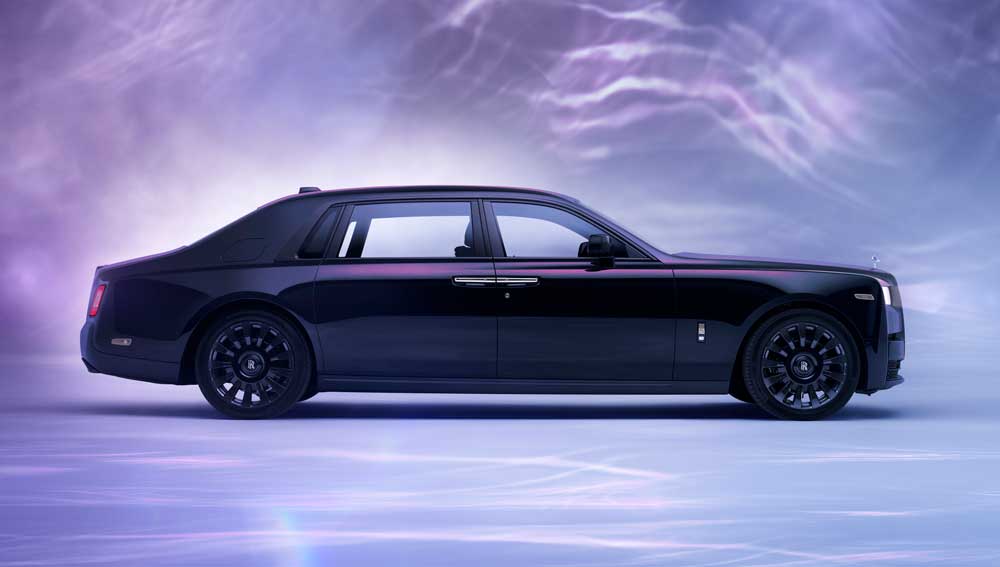 British luxury car and aero-engine manufacturing company Rolls-Royce and Dutch fashion designer Iris van Herpen collaborated on Haute Couture-inspired Bespoke, Phantom Syntopia.
"When I met the Bespoke Collective, I discovered that the world of Rolls-Royce is very similar to Haute Couture. Every garment I create is a one-off, tailor-made to my client's individual measurements, just like every Rolls-Royce. My clients come to our atelier in Amsterdam for fittings, just as Rolls-Royce clients are invited to Goodwood throughout the design and craft process. On many levels, this collaboration was a natural symbiosis." said Iris van Herpen in the press release.
The project, called Phantom Syntopia, was inspired by van Herpen's 2018 autumn haute couture collection which was designed on the principles of biomimicry in which art is inspired by patterns and shapes found in nature. Phantom Syntopia is a completely custom-built vehicle and ready to flaunt in the spotlight as the most technically advanced Rolls-Royce Phantom ever produced.
The design sees the unconventional pairing cross borders with the latest innovation and design practices. "For this special collaboration, I was inspired by the concept of 'Weaving Water' and transformed the sense of being in moving into an immersive experience of fluidity inside the Phantom. I wanted this to become a state-of-the-art experience of being overwhelmed by the forces of nature. The powerful movement of the Phantom is woven into the shifting three-dimensional waves inside the car to embody the ingenuity of nature." said Iris van Herpen.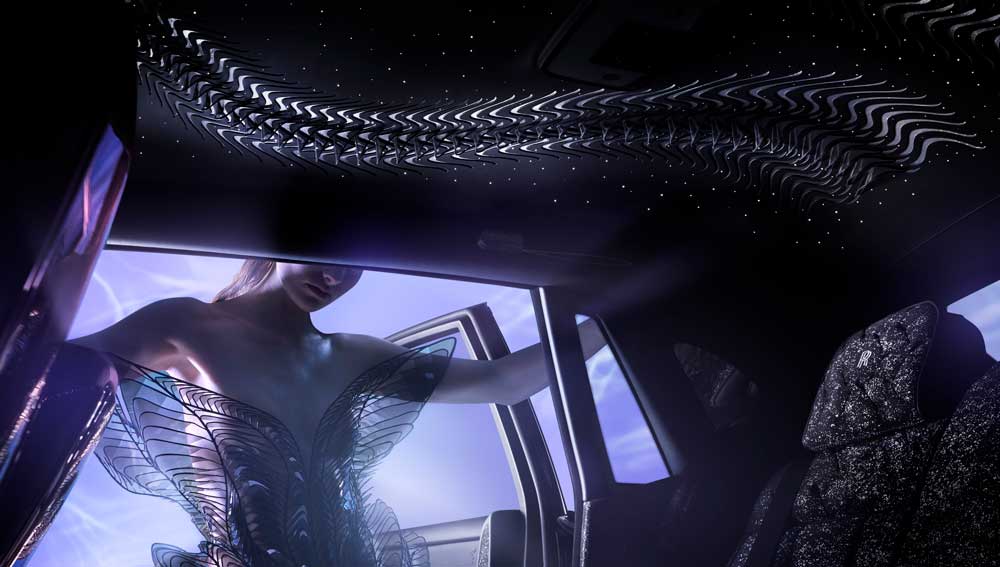 "Water can embody so many different stages — and it's that transformation that inspires me to think of fashion from a wider perspective."

Iris van Herpen
The design of Phantom Syntopia is inspired by the sculptural masterpieces of Iris Van Herpen, the outer casing sparkles with a holographic purple, blue, and magenta coating with a curved 'Liquid Noir' print that reflects fluidity and movement.
The piece is decorated with 162 glass organza petals, adorned by Iris van Herpen's team, taking 300 hours of work, making it the most complex headline in Rolls-Royce's history. Furthermore, 187 of the 995 glittering fiberoptic'stars' were hand-placed alongside the artwork, glowing progressively from the back and advancing forward to create a sense of movement. The entire Headliner alone required almost 700 collective hours of effort.
"Phantom Syntopia is the most ambitious, singular, and highly Bespoke Phantom we have ever created, and a clear statement of Rolls-Royce's standing as a true luxury house. Building on two decades of joint undertakings with the world's most celebrated design houses, artists, horologists, and jewelers, Phantom Syntopia secures Phantom's standing as the ultimate blank canvas for Bespoke personalization. In collaborating with internationally renowned designer and Haute Couturière Iris van Herpen, we once again redraw the boundaries of innovation, craftsmanship, and Bespoke possibility; not just for a motor car but across the wider luxury sector." said Torsten Müller-Ötvös, Chief Executive Officer, Rolls-Royce Motor Cars.