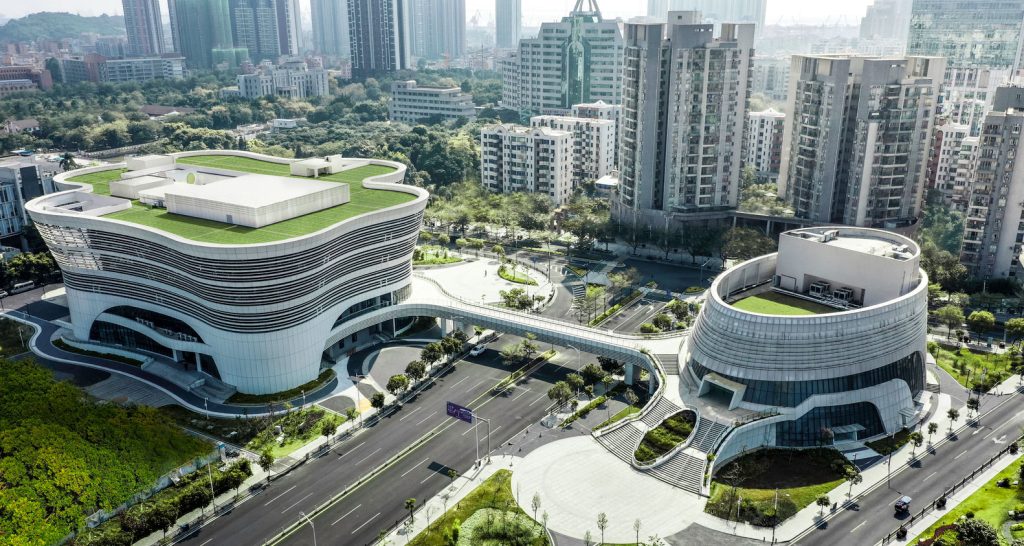 Guangzhou Third Children's Palace is one of the core buildings of the regional science education area, forming a cluster of urban public activity places with the sports center, library, and other public buildings. The project consists of a main teaching building and a 450-seat theater linked by an air corridor, has effectively increased the vitality of urban public space for the regional urban environment and has become a landmark of urban public culture in Huangpu District, Guangzhou.
The project designer connected the two groups of buildings with a streamlined bridge by conforming to the topography, forming a continuous citizen's corridor and urban interface. The Children's Palace was arranged on the west side of the site and the theater on the east side, achieving iconicity and uniformity in the city display interface. It integrates multiple functions such as young pioneers' activities, children's education display, science experience, science and aesthetic education, and sports fields, providing children with various learning and activity places.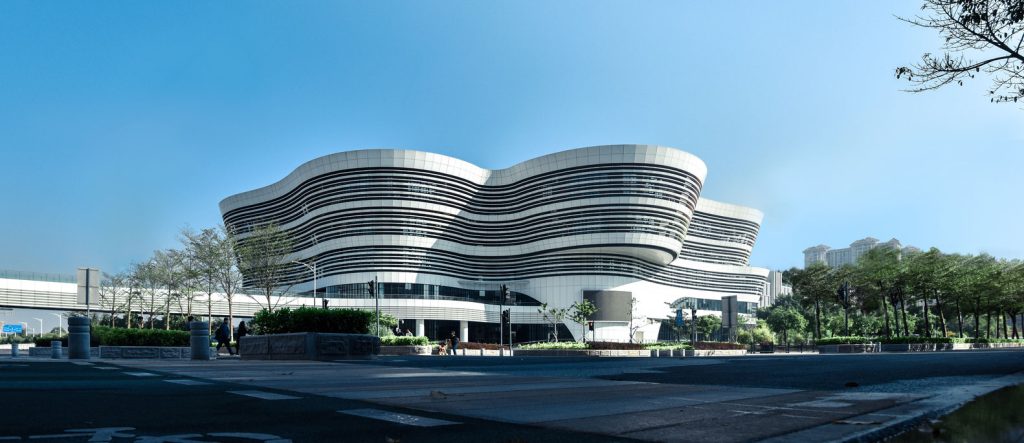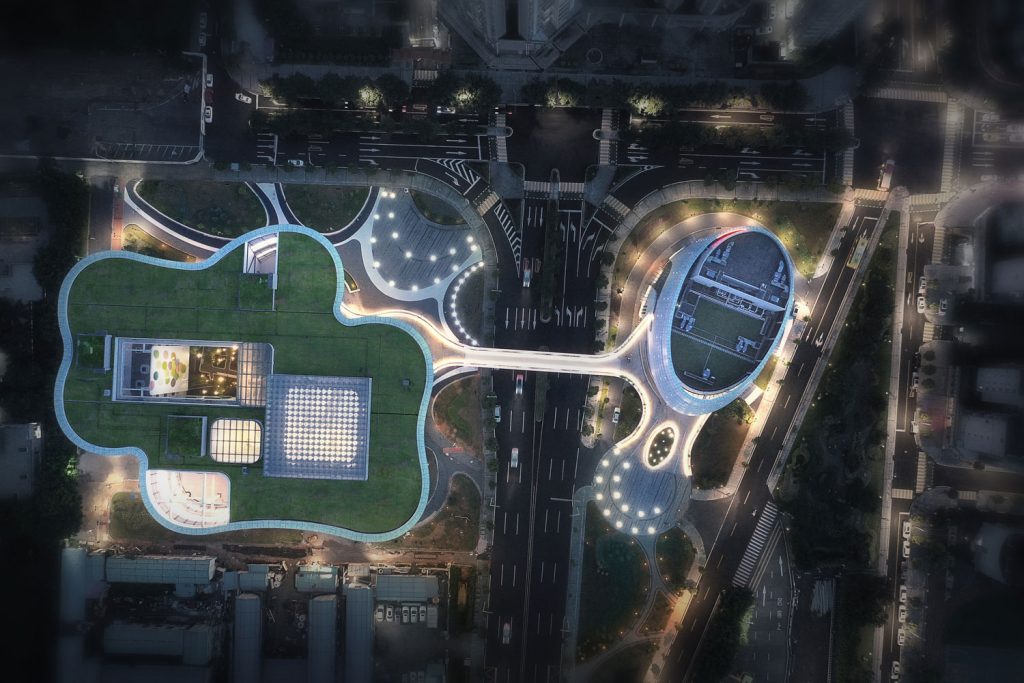 The building's outer contour is accessible and lively under the regular and rigorous plan. The free cloud-shaped space, combined with the colorful horizontal louvers, expresses uncertainty and flexibility while softening the external façade with the shape of colorful petals, resulting in a curved flowing shape. From various perspectives, various facades are displayed, and each glance is full of new ideas.
To make the building "fun," it adopts a free and lively "Rainbow Cloud" shape and incorporates children's game elements such as tangram, magic ruler, Rubik's cube, jumping plane, gyroscope, ball maze, rainbow circle, and rainbow circle into the interior and landscape, so that the wall, floor, ceiling, and any other corner in the building can become friends of children.
The central garden of the Children's Palace, with the theme "to let childhood dreams fly," provides a place for children to explore the enjoyment of a life refreshed in nature. In the eyes of children, the enjoyable large-scale balloon wall and the interspersed mini-platforms at various heights around the courtyard become fantastic universes.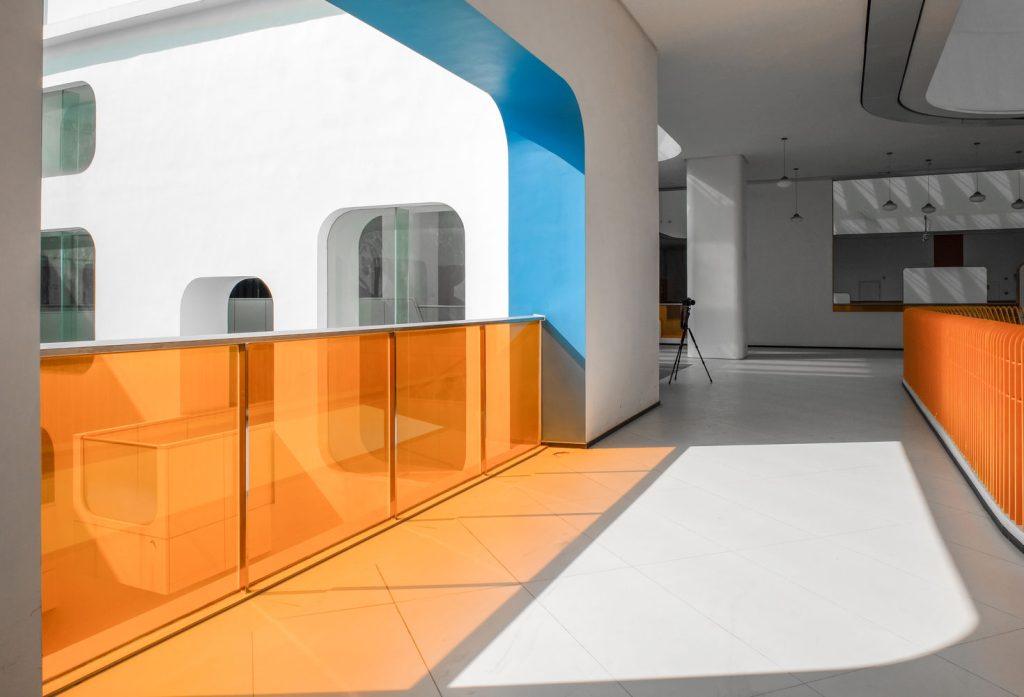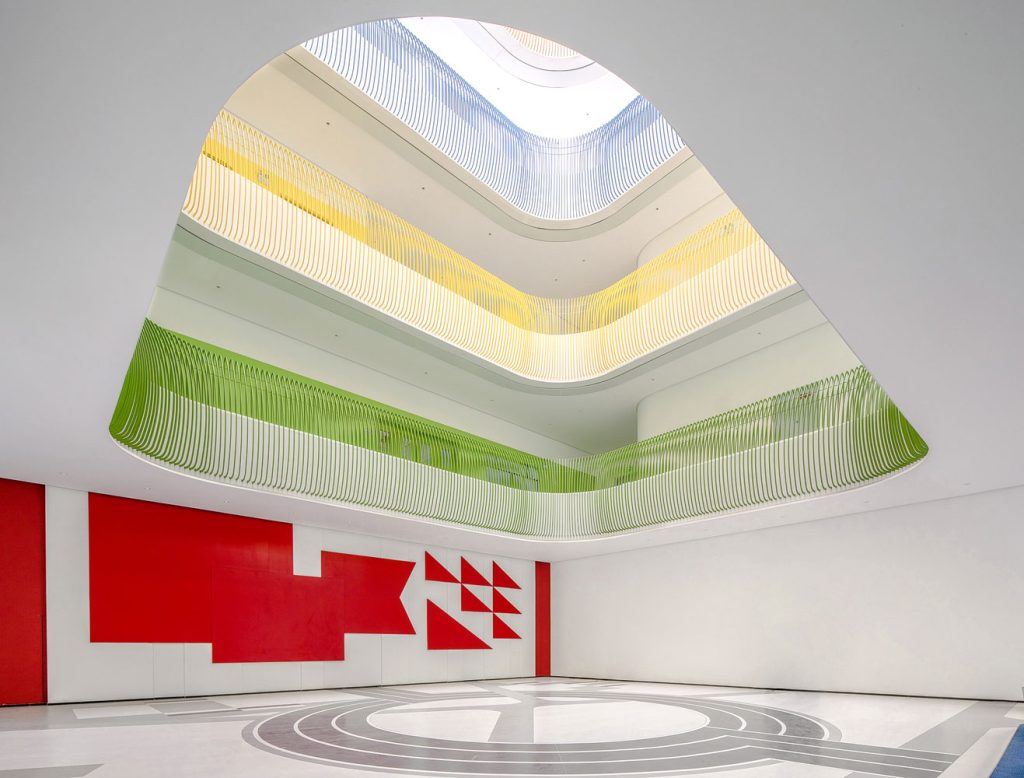 Project Info
Architects: Guangzhou Urban Planning & Design Survey Research Institute
Area: 29000 sqm
Year: 2020
Lead Architects: Zhanhong Hu, Yidui Lai
Interior Design Team: City Group
Engineering: Guangzhou Urban Planning & Design Survey Research Institute
Landscape: Guangzhou Urban Planning & Design Survey Research Institute
Consultants: Guangzhou Urban Planning & Design Survey Research Institute
Chief Designer: Zhanhong Hu, Yidui Lai
Architects: Zhanhong Hu, Yuehong Fan, Huimei Ou, Yidui Lai, Qingning Zhang, Han Yang, Chenghui Zhang, Ming Li, Qi Zeng, Yan Liang, Zhongjing Tan, Ziyan Li, Zuoan Xu
Structure Engineers: Yang Liu, Weijun Chen, Zhiqiang Yang, Runzhong Wei
Landscape Designer: Dan Ye
Water Supply & Drainage: Dongyan Liu, Bijuan Liu
Electrical Engineers: Bin Tian, Zhiqiang Zhou
Heating And Ventilating Engineers: Xianghui Zhang
Clients: Guangzhou Third Children's Palace
Collaborators: City Group