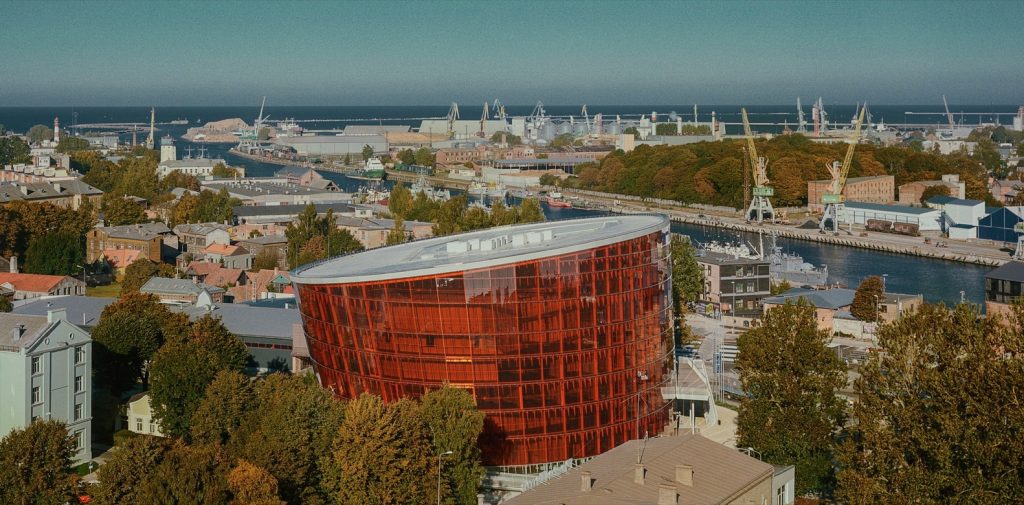 Graz-based architect Volker Giencke designed the Great Amber Concert Hall in Liepaja, Latvia. In 2003, Volker Giencke won an international architectural competition to build a new cultural center in this traditional Baltic port, and the project started in 2013.
"Great Amber" is a monolithic, conical, slightly distorted transparent structure with an amber-colored appearance. The exterior walls of the building are made of concrete structure in an irregular folded shape, forming the most important element of the project: the large concert hall with more than 1000 seats. The rooms surrounding the hall are the instruction and rehearsal rooms of the Liepaja Symphony Orchestra and the Music School, a combination of spaces that facilitates communication between artists, students, and teachers.
There is also a special hall located below the concert hall, ballet studios, and an experimental stage, and the bar and music club are located on the fifth floor, completing the space concept.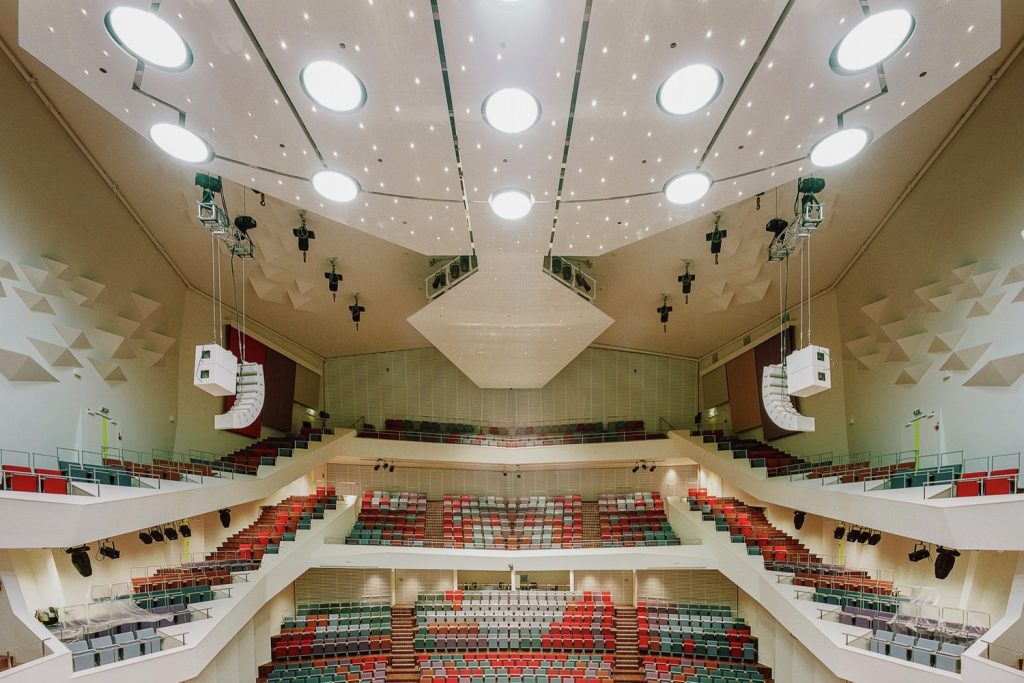 The concert hall can also be used as a congress hall, and exhibitions and receptions can be hosted by lifting orchestra pit and pit seats. In addition, "Civita Nova" provides an additional 2,000 square meters of multifunctional space, so the building fully responds to the various ideas of the "Great Amber" architects, making it a dining room that can enjoy various uses Liepaja residents can enter freely.
Volker Giencke also developed the acoustic concept together with Karlheinz Müller / Müller-BBM in Munich; the effect is very good, and the sound reaches higher than the house in this oval, terraced vineyard. Fourteen mirrors act as reflective tubes to direct daylight into the concert hall, creating a unique atmosphere.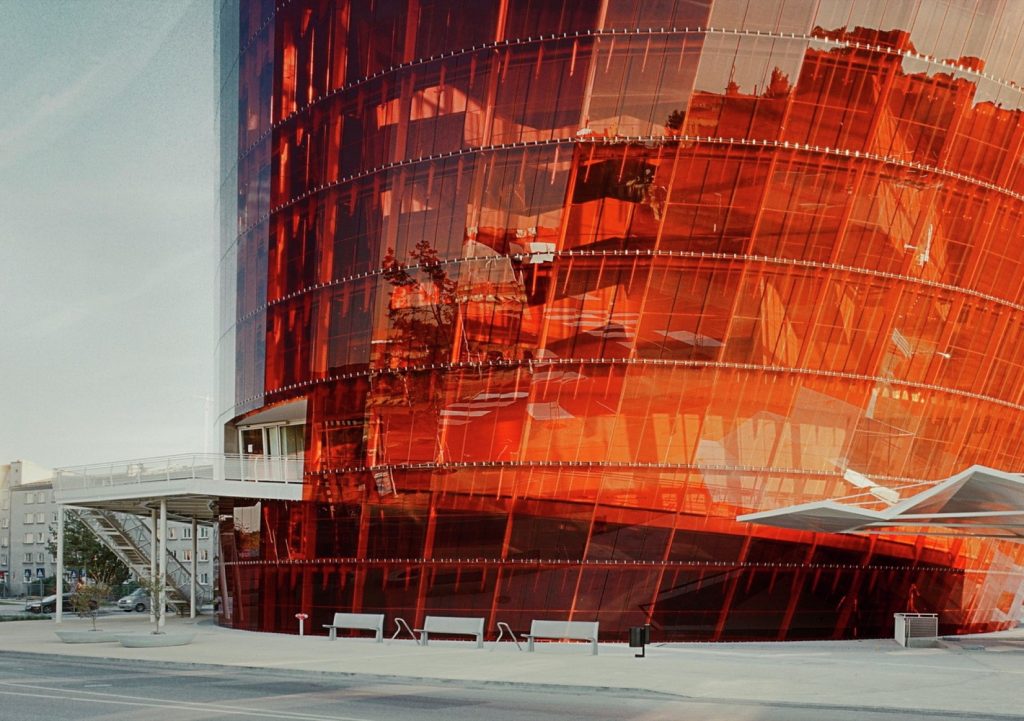 Light plays a key role in The Great Amber's facade. This amber-colored glass is a subtly intertwined steel structure that bathes in the warm sunlight. At night, the entire building becomes a transparent, luminous body so that the inside of the building can be seen from the outside. During the day, the building's façade glass glows in different colors, providing a truly stunning impression. It is a convincing building and content whose symbolic effect emphasizes the "Great Amber's" connection to the city. This is the new landmark of the modern Leipah Yapa.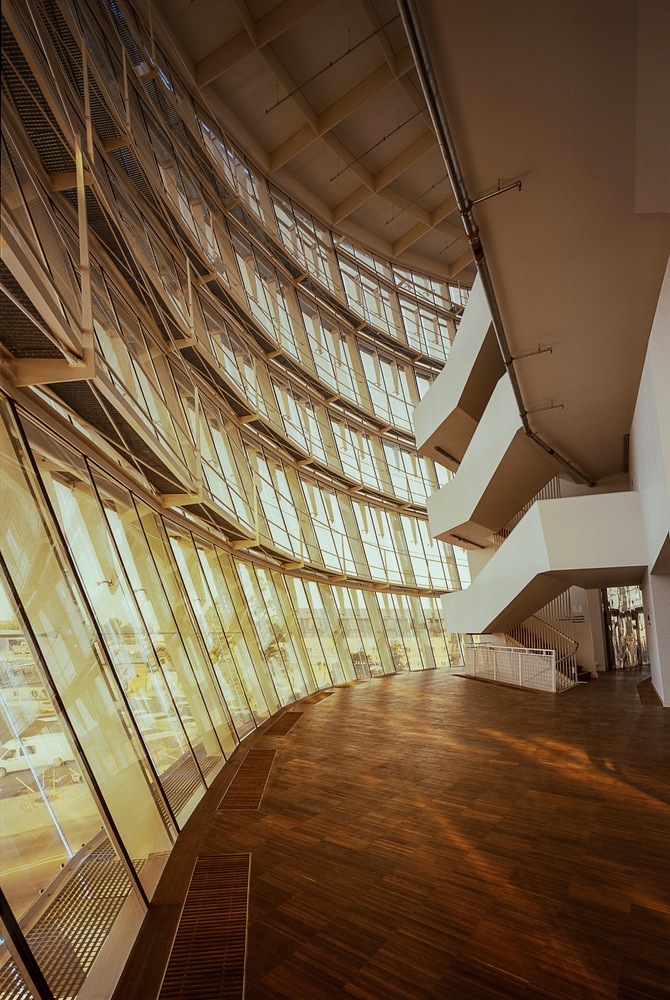 Project Info
Architects: Volker Giencke
Area: 16,523 sqm
Volume: 82,400 m3
Height: 30 m
Year: 2015
Manufacturers: UPPE, Waagner-Biro Stahlbau AG
Acoustics: Müller-BBM GmbH, Munich/Planegg, Karlheinz Müller
General Contractor: SIA Merks, Riga
Steel Constructions: UPTK, Liepaja
Planning: Volker Giencke & Company
General Planner: Giencke & Company – Latvija PS, Riga
Project Management: Petra Friedl
Stage Technic: Bühnenplanung Walter Kottke, Waagner-Biro
Structural Engineer: Johann Birner
Building Technology Concept: Altherm Engineering, Baden/Vienna, Hans Haugeneder
Lighting Designer: Bartenbach Lichtlabor, Christian Bartenbach, Innsbruck Landscape planning: Paul Giencke
Partner Architect: SIA Arhitekta J. Pogas Birojs, Riga