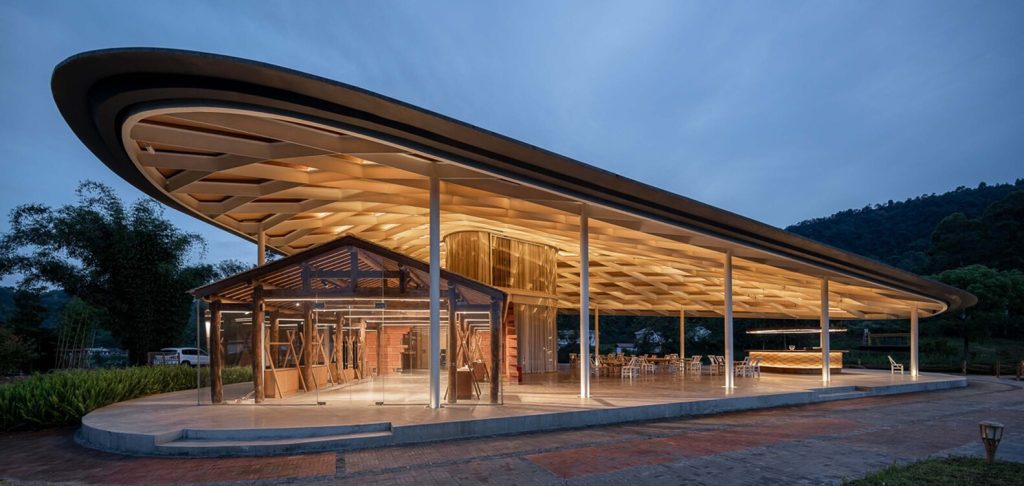 The Bamboo Workshop was designed by Zaixing Architectural Design at a crescent-shaped terraced field deep in Anshi Village, Yibin, Sichuan, which is an ordinary village, on the Nianpan Mountain. The village is a typical settlement in southern Sichuan.
The triangular site boundary formed by the natural texture of the surroundings and the country road naturally forms the outline of the building. Combined with the urban planning of rural revitalization in Anshi Village, the Bamboo Workshop is conceived as a workshop focusing on the research of bamboo weaving techniques.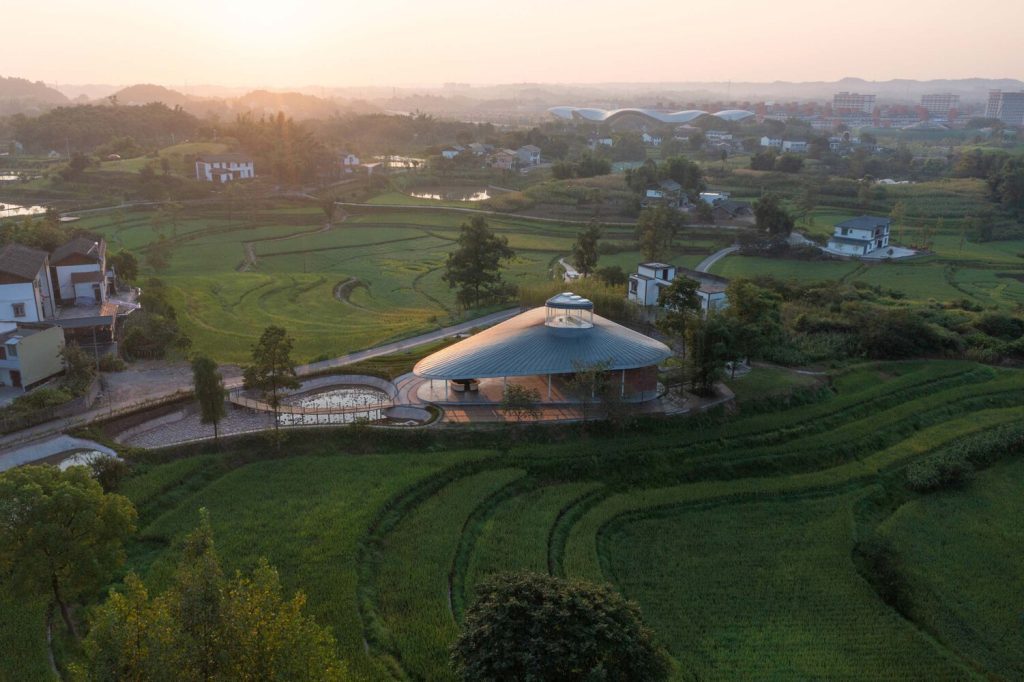 In traditional Chinese villages, family workshops often adopt the model of "shop in front and factory in back", integrating sales and production. Similarly, the Bamboo Workshop also includes the functions of research, production, display, and sales. They are led under a sloping roof with rounded triangles, forming an experiential workshop for tourists, and also a place for villagers.
Along the path among the terraced fields, a piece of a light roof supported by a circle of slender columns suddenly appears in front of you. Contrary to most courtyard roofs were "four drinks of water return to one", in the center of the bamboo workshop, a two-story circular glass "lighthouse" protrudes from the roof, forming a reception space that can look around the surrounding countryside. At the same time without affecting the spatial organization of the ground floor.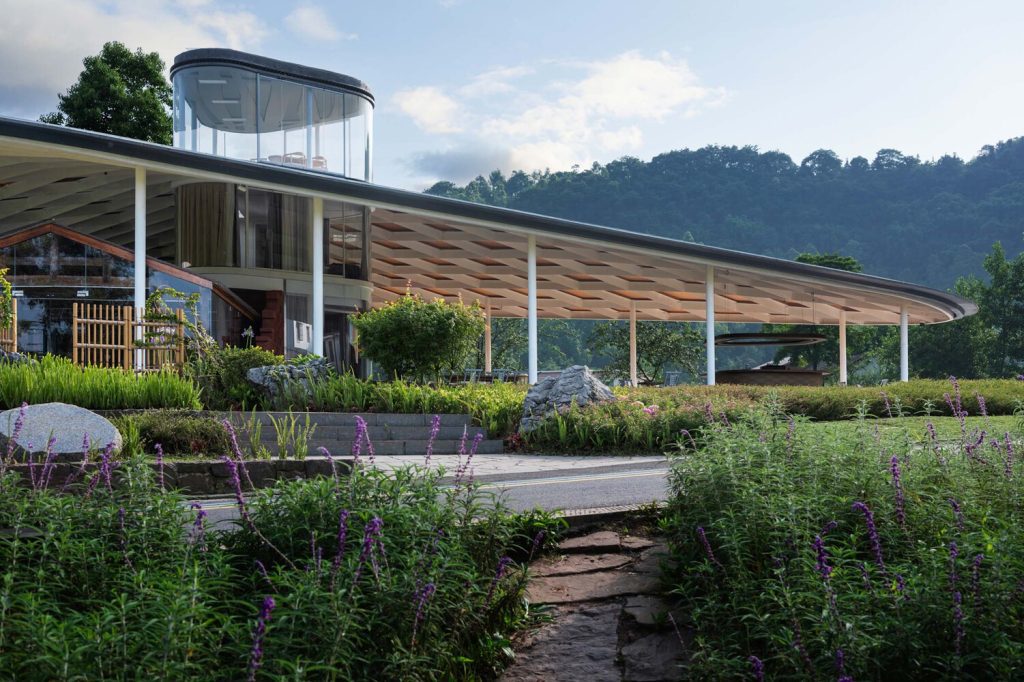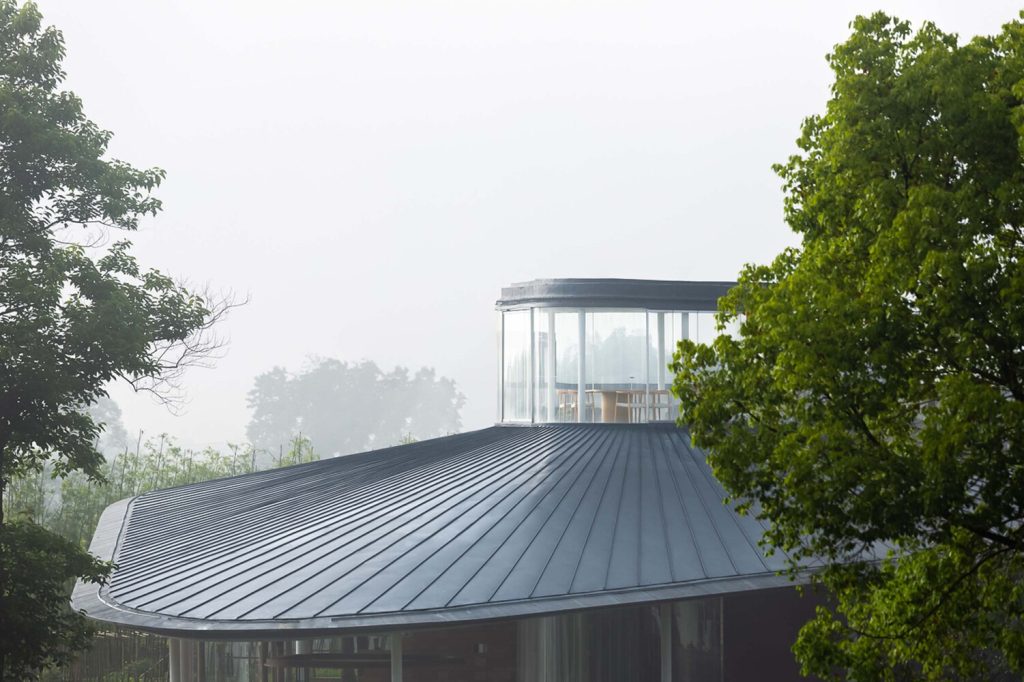 The rounded triangular roof is slightly raised towards the central "lighthouse", exposing the woven T-shaped steel sheet grid under the roof. The T-shaped elements constructed by 300mm and 100mm high steel sheets are "interwoven" together, just like the local bamboo weaving technique, forming the structural skeleton of the roof in an interlaced rhythm. Compared with most rustic rural constructions, Bamboo Art Workshop tries to challenge more complex construction methods in the countryside through some unconventional methods under the limitation of construction cost.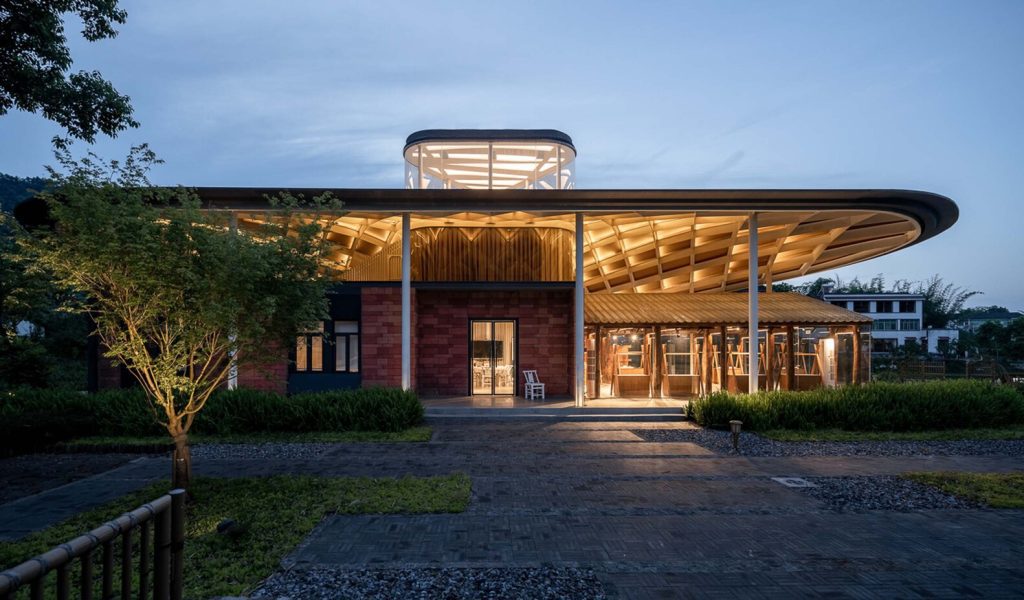 The original old house on the site is also covered under the roof. The beams, columns, and roof truss structure of the old house are preserved, while the original closed walls are replaced with transparent glass and glass tiles, forming a display area for bamboo weaving. The later part, made of red sandstone masonry, is used as a research space.
Project Info
Area: 520 sqm
Project year: 2021
Photographer: Lu Xiaobin, Arch Exist Photography
Design team: Wen Qinhao, Kong Rui, Xu Shiyong, Huang Ting, Zhou Ziyuan, Che Zhu, Han Xia, Shen Mingyang
Site Engineer: Carina Lau
Client: Yibin Cuiping Agricultural Development Investment Co., Ltd.
Construction Drawing: Zhicheng Jianke Design Co., Ltd.
Landscape Design: Chengdu Bochuang Engineering Design Co., Ltd.
Lighting Consultant: Lumi Lighting
Contractor: Yibin Sanding Construction Engineering Co., Ltd.