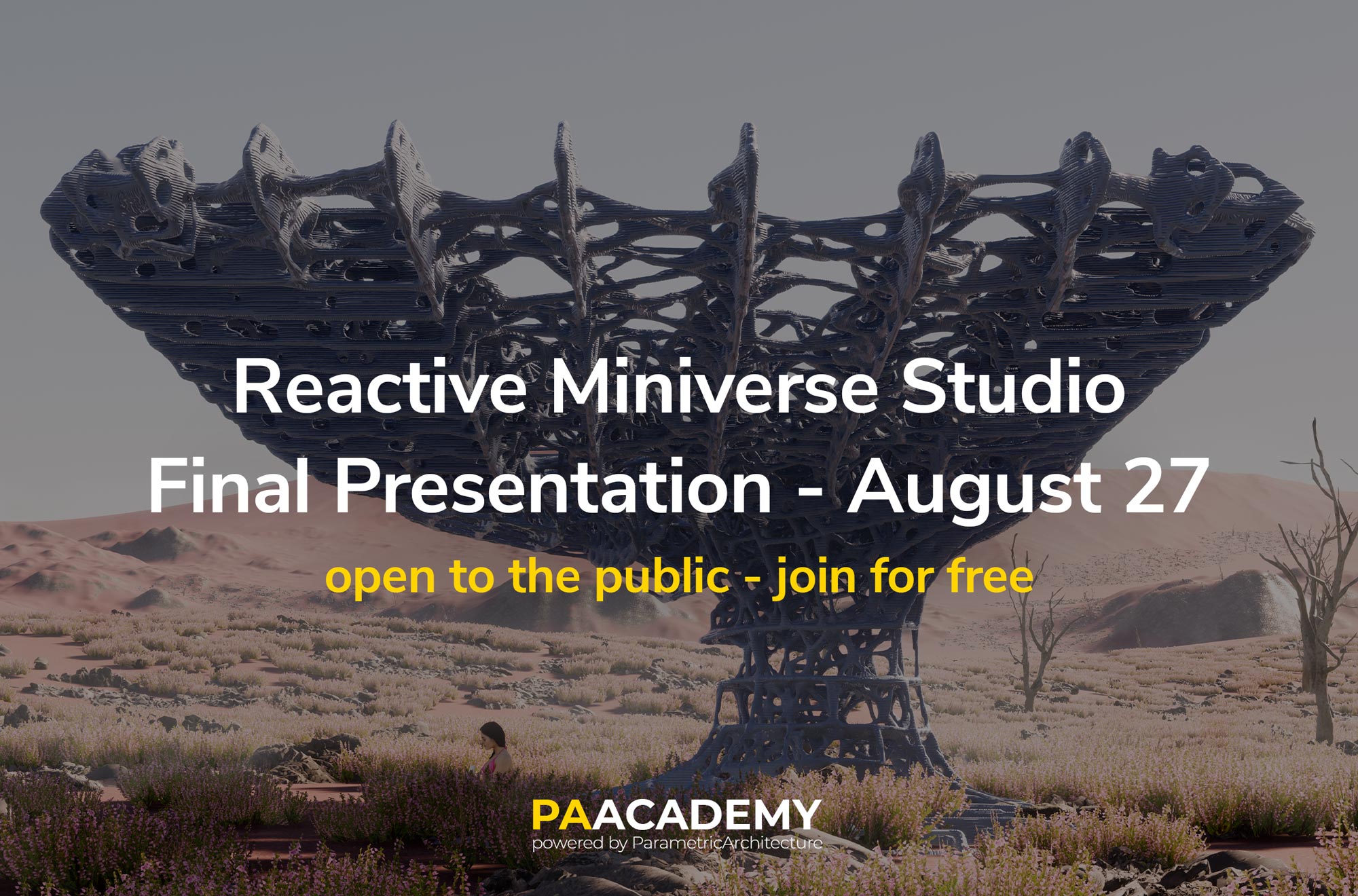 Reactive Miniverse Studio
We are thrilled to reveal that we are almost at the end of the amazing journey of "Reactive Miniverse Studio" workshop with fantastic student results. The jury day and final presentation will be held on 27 of August at 17:00 London Time (GMT +1). Join us at the open event for the final presentation as we have an amazing and inspiring jury for the event. At the open session, the students will present the projects they designed and created using Rhino3D, Grasshopper and Unreal Engine during the studio. The studio has been running through the last nine weeks, and the students were able to learn and digest a good amount of knowledge about Rhino3D, Grasshopper and Unreal Engine. After this, they had two weeks to prepare for their final presentation. You can watch the recordings of the Reactive Miniverse Studio.
The Reactive Miniverse studio questions the future of digital spaces as spatial, cultural, entertaining, and educational experiences. Students learnt to generate complex architectural geometries and implementing and exploring them within game engines to create interactive and kinetic environments. This playful process aims to develop design and software skills, notably in Unreal Engine 5, Rhino3D, and Grasshopper.
Students explored the design of different typologies of digital space by creating unique assets for implementation in Unreal Engine using Rhinoceros 7 and Grasshopper. Specifically, they looked at SubD modeling in Rhino 7, cover Grasshopper fundamentals, and made more complex geometries using additional plugins like Kangaroo for form-finding and Dendro for more organic geometries.
Because of its prominence in recent years with games like Fortnite and use in the film industry, Unreal Engine served as the "Miniverse" platform. The fusion of architecture and design with this open-world software was inevitable, and it has gone well beyond visualization. It may be used as a design tool with many stakeholders and a tool for client discussions and an experience environment.
Studio instructors:
Andrew Friedenberg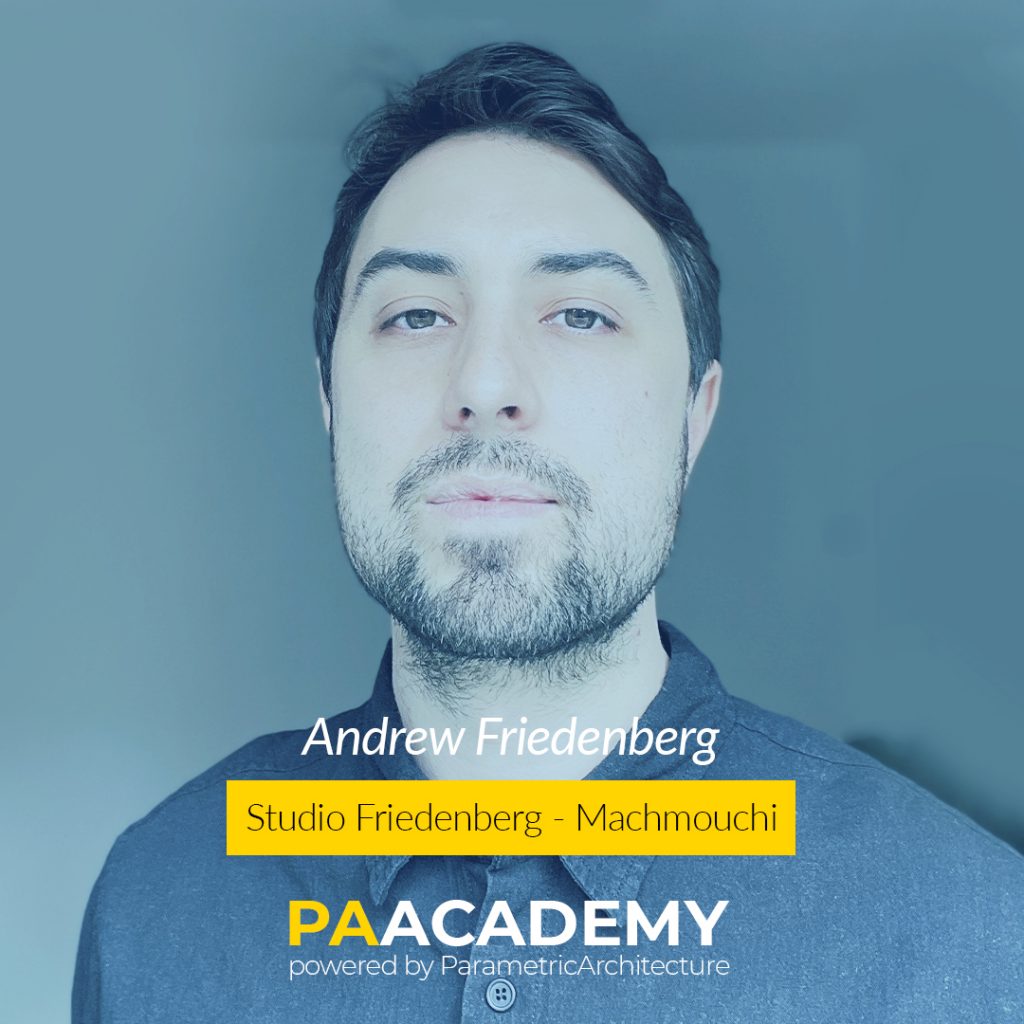 Andrew Friedenberg is an American architect and computational designer at Heatherwick Studio. He received his bachelor's degree in architecture from the Architectural Association (AADRL) and has worked on projects ranging from material research to urban design. His passion was combining emerging technology like gaming engines with experiential and spatial design. He worked as a computational designer at Behnisch Architekten, Logitech, and THEVERYMANY.
Hamze Machmouchi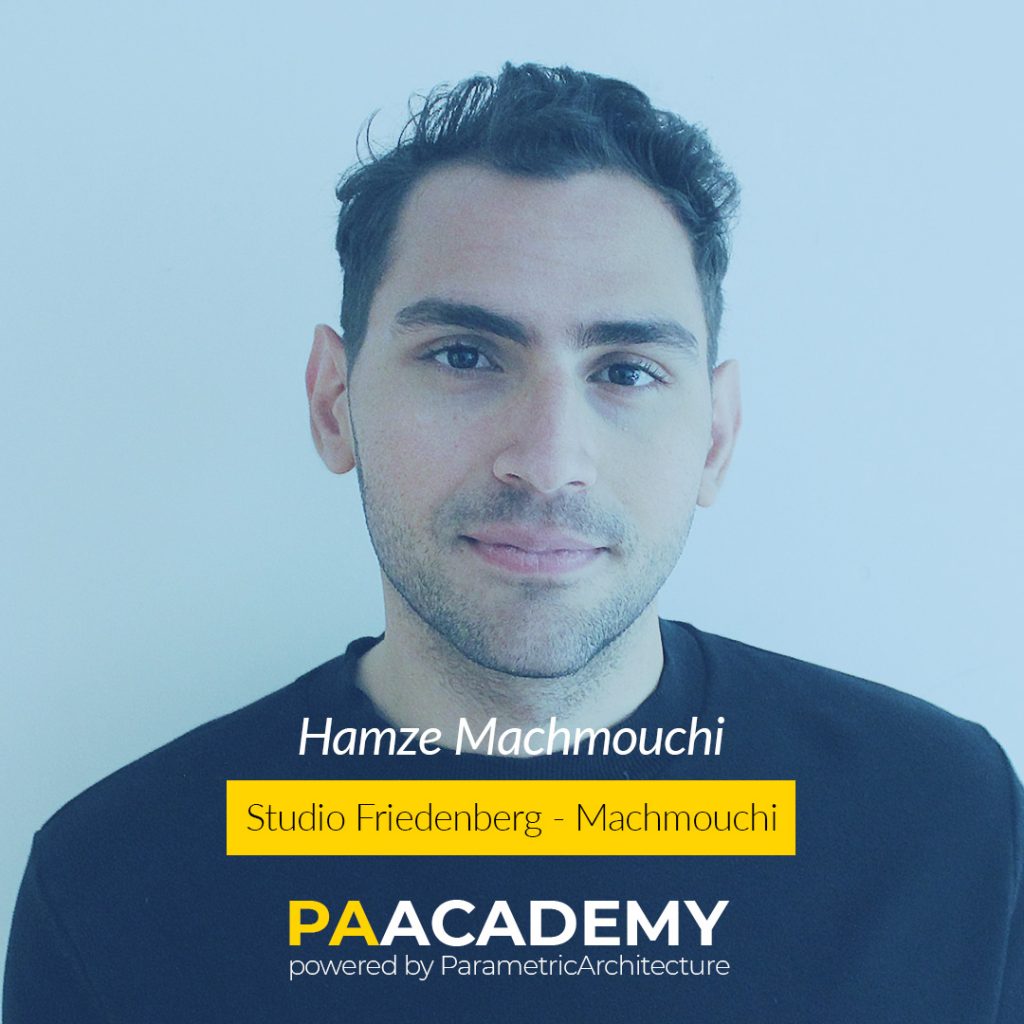 Hamze Machmouchi is an architectural designer and researcher at Zaha Hadid Architects who graduated from the Architectural Association's Design Research Lab (AADRL). He previously earned a Bachelor of Architecture Magna Cum Laude from Boston Architectural College in the United States. During his time at the Architectural Association, he created a metaverse in which various real-life stakeholders may use assets that can be traded in a marketplace to form a whole neighborhood. From fabrication-aware design to fun configurators, he's interest ed in research and transdisciplinary practice potential. He currently works at Zaha Hadid Architects (ZHA) and teaches at the Boston Architectural College.
Guest Juries:
Stephen Hopkins: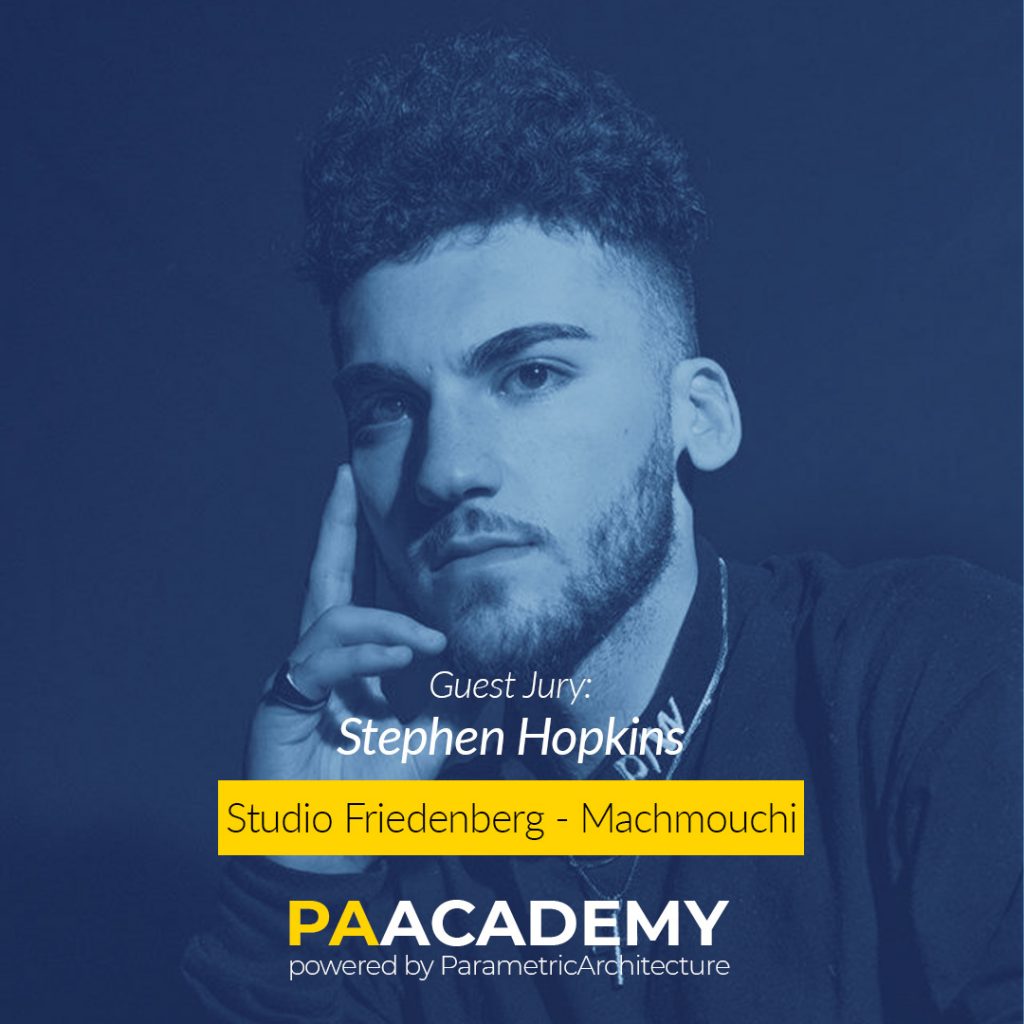 Stephen is a multidisciplinary designer with work in various disciplines including stage design, architecture, clothing, and more. Currently, his time is split between stage design work for large scale shows and festivals, freelance visualization and design work, and Stephen's own clothing brand part/WHOLE. Stephen's studio is based in Everett, MA.
Mariana Cabugueira: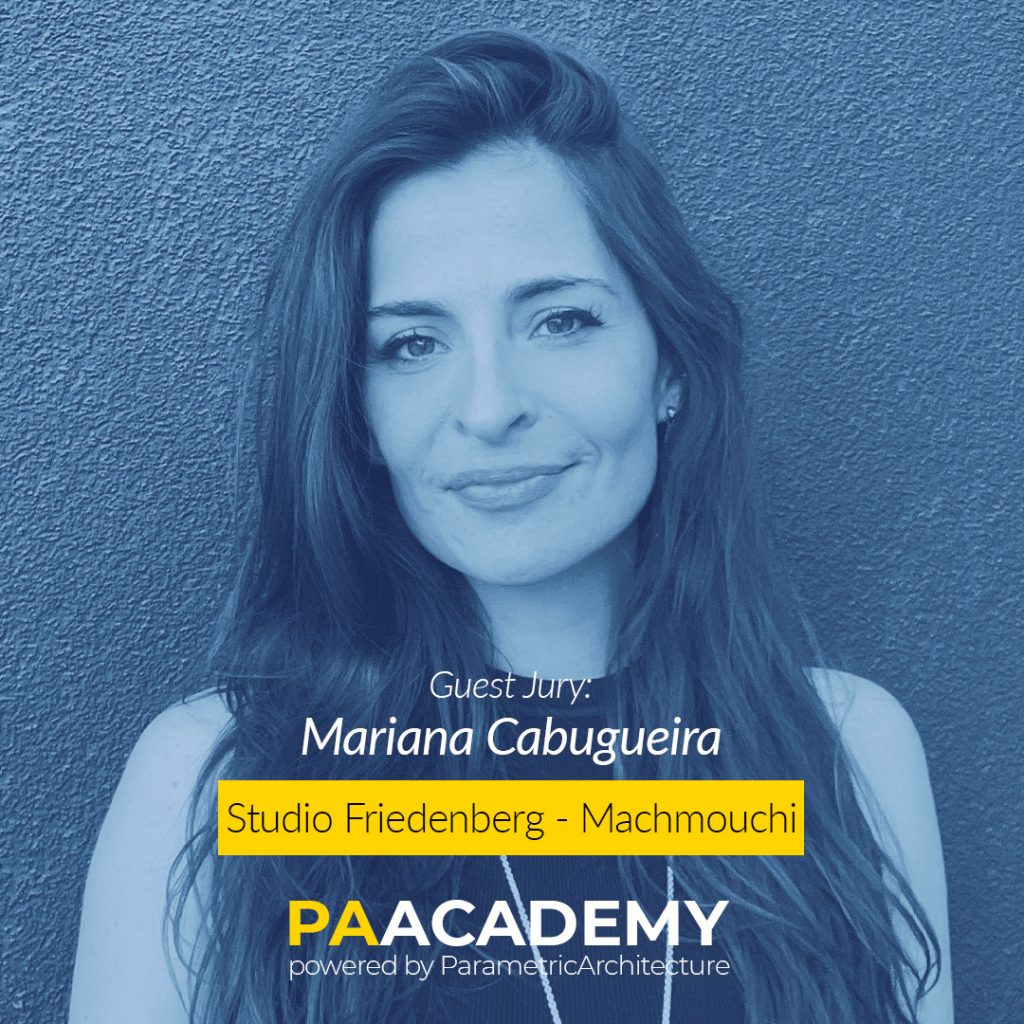 Mariana Cabugueira is a Portuguese architect and urban designer working as a senior architectural designer at Zaha Hadid Architects. She also teaches at the Architectural Association DRL in London and conducts live workshops, talks, and webinars with students worldwide. After graduating from the School of Architecture in Lisbon and the Politecnico di Milano, she traveled to London to study design and technology at the Architectural Association School's Postgraduate course: Design Research Laboratory (DRL) (AA). Her research interests include Parametric Design, Generative Design, Digital Design, and Robotic Fabrication. Her final proposal envisions a cluster of structures in the heart of London that are dramatically diverse but physiologically related. Mariana graduated from the AA School in 2017 and joined Zaha Hadid Architects. Since then, she has been a member of the Competition Cluster, in charge of the Office's High-End Design projects. She was a member of the Design Team for award-winning projects such as Navi Mumbai Airport, Western Sydney Airport, Chongqing Terminal 3b, Beijing Exhibition Center, and, most recently, Shenzhen Tower C.
Edward Meyers: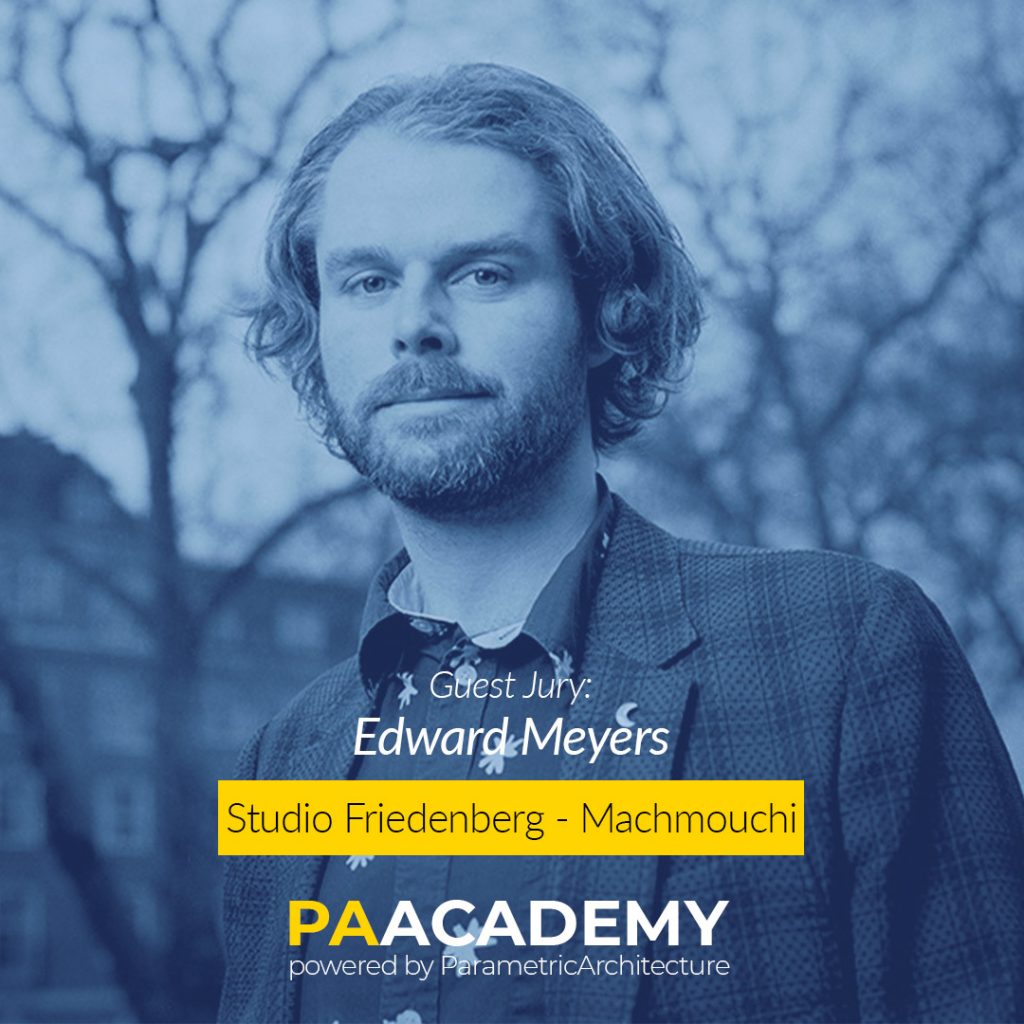 Edward is part of the Computational and Design Research Group at Zaha Hadid Architects (CODE). He is a registered architect in Australia where he practiced for 5 years, developing and delivering residential and small hospitality projects alongside large scaled urban design projects in several capital cities over Australia.
Aldo Sicilia: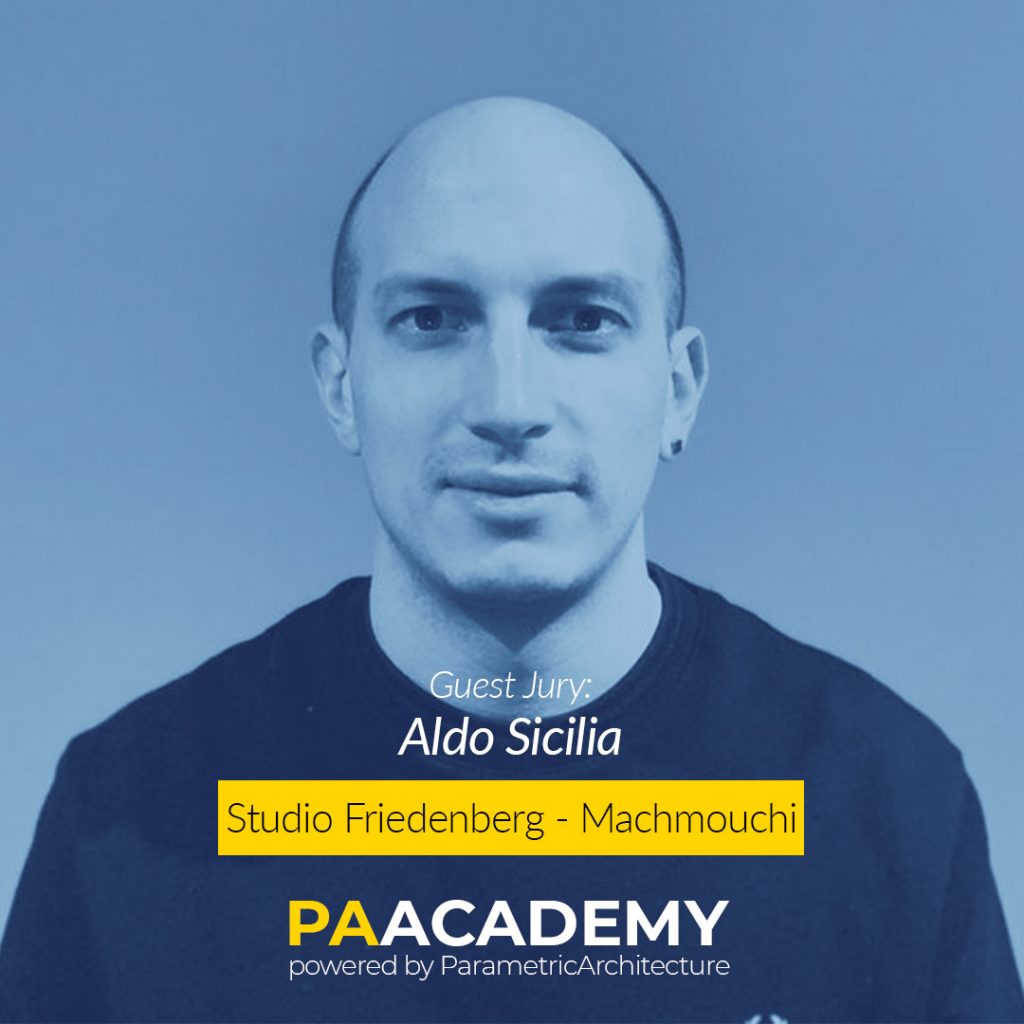 Architectural designer and Master of Architecture and Urbanism (Design Research Laboratory) graduated from the Architectural Association in 2020. He was an active member of El Equipo Mazzanti from 2012 to 2018, and from 2015 he was the Project Lead Architect for the Atrio Towers, project in which the studio acted as local architect for Rogers, Stirk, Harbour + Partners. From 2020 he joined Zaha Hadid Architects, working on two of the stations of the new Oslo metro line.