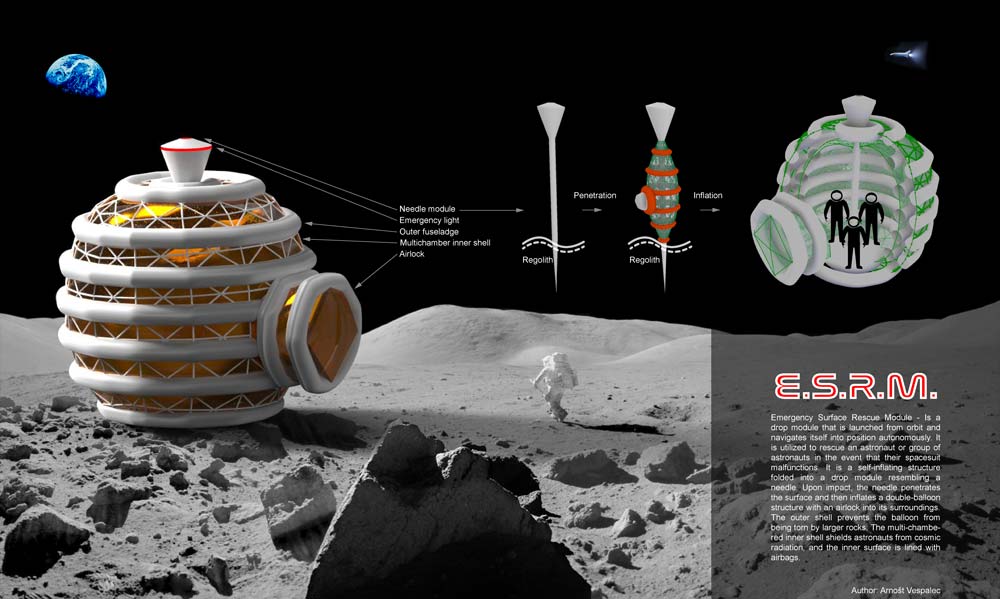 ESRM (Emergency Surface Rescue Module) was designed by Arnošt Vespalec Tas part of PAACADEMY's Computational Kinematics with Karl-Johan Sørensen. Where Karl shows us his exciting work and shares his unique software and manufacturing experience, which inspires us to begin our own projects. Therefore, generally speaking, this session was the starting point.
Concept and Inspiration
Simply said, science fiction films and genuine spacewalks, especially moonwalks, provide inspiration for ESRM. Based on a mix of logical and critical thinking, it was established that the most difficult challenges that astronauts may confront on the surface of several planets in the near future would be survival-related. The inception and design of ESRM were greatly inspired by technological understanding in order to quickly handle crises anywhere on the lunar surface.
Design Process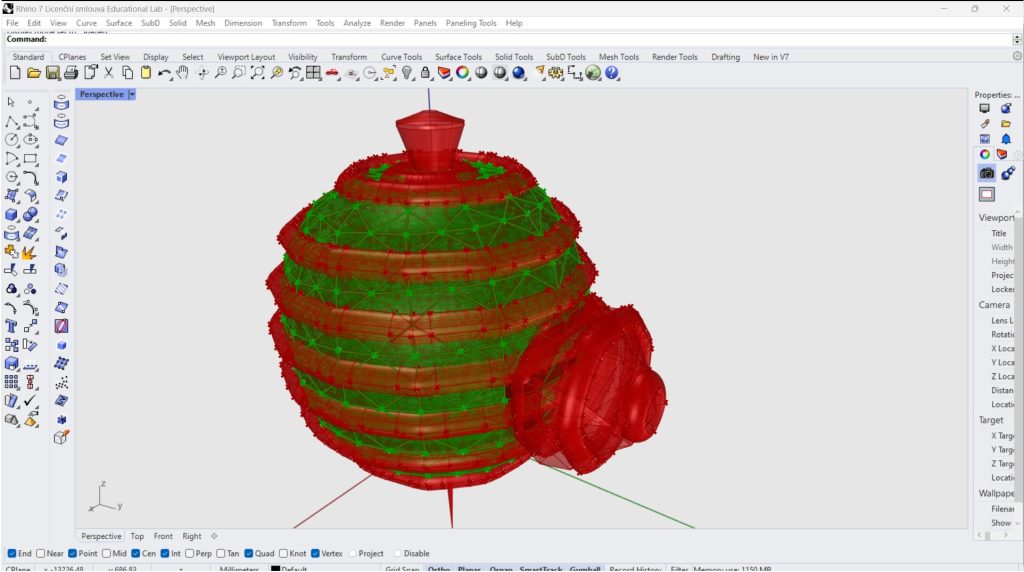 According to Arnošt, he can relate it directly to the engineering/scientific approach. Everything begins with broad boundary conditions (abstract notions like outer space, software capabilities, ambient environment, and so on), which leads to the issue being named. The investigation of the state of the art on the problem field then begins, resulting in a large amount of material that must be sorted. The retrieved and sorted material is exposed to analytical thinking and deduction to discover the precise limits of a given issue and possible solutions.
The work in CAD software then begins to examine the hypotheses, where the design takes on obvious outlines. After everything comes together, the project is complete, and post-processing tools to visualize and present the result are used. So there you have it, a sophisticated technique comprised of simple stages.
Experience with AI
That depends on whether we're talking about AI or automation. Basically, Arnošt utilizes AI to search for information and to convert it into a straight form…why? According to Arnošt, due to the massive amount of fresh information being generated, it is vital to consider using AI, and it will be a part of our life in the future. It is linked to the legal paradigms and when and how to use them. Yet, it is about another big topic.
Arnošt used advanced automation that works with generative and data-driven design to construct the project. Therefore, to gather the proper information, Arnošt utilizes AI, but to create an actual item, he employs advanced automation technologies that allow him to skip the tedious clicking. Yet it's still his job, and he makes his own decisions.
Throughout the course of this project, Arnošt used the CAD software Rhinoceros with the plugin grasshopper and modules like Kangaroo2, Pufferfish, and others…. Data storage in Microsoft Excel, post-processing in graphical applications.
Key Features of ESRM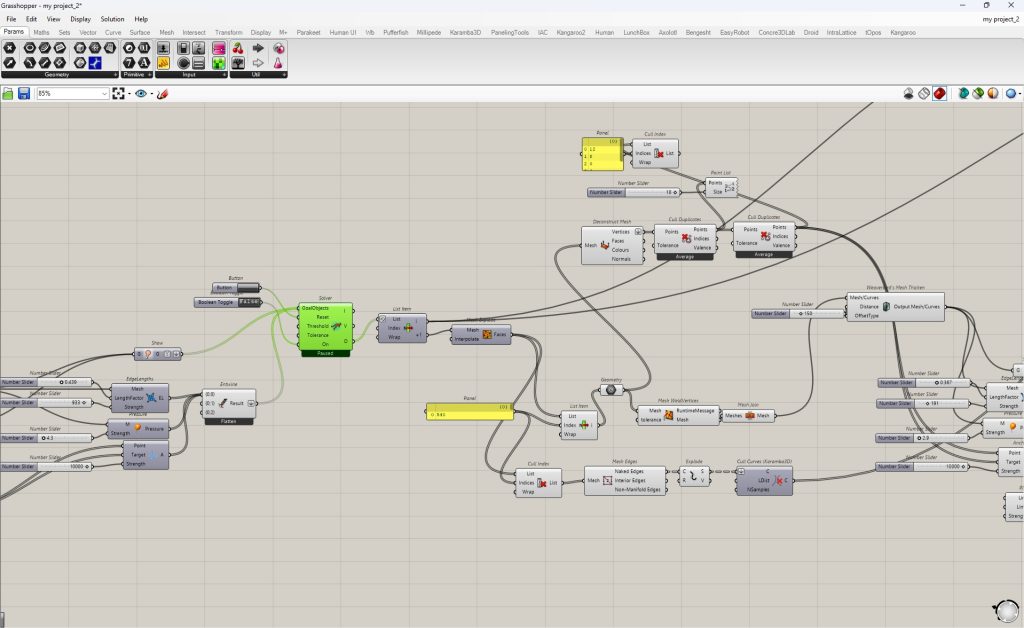 According to him, there must be two items spoken. First, it was an educational undertaking in which Arnošt learned about kinematics and inflatable structures, which grew increasingly difficult to comprehend as their complexity rose. Second, it is an elementary conceptual exploration. The key issue is giving prompt aid to people in inhabitable surroundings in the event of a life-threatening emergency. Assistance from orbit, where the spacecraft may localize the astronauts and send them a self-controlled module that would land nearby the astronauts, inflate, and provide the necessary time for their rescue, is one of the recommended methods. That is still a serious issue that deserves further investigation.
Now that Arnošt knows, the proposed approach is insufficient and requires more improvement. It has served as a wonderful springboard for his future work, which will surely focus on inflatable structures for inhabitable settings.
Conclusion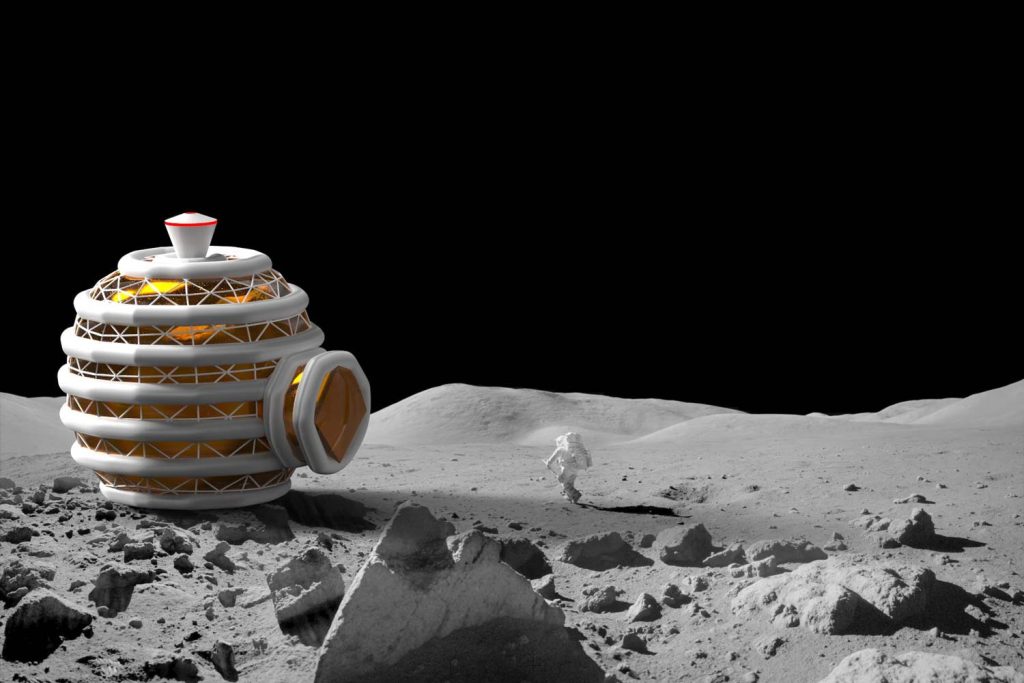 Arnošt has been working in this environment for a long time, therefore the actual project he worked on during the course didn't teach him much about how to create it in grasshopper. The course was expected to experience Rhino and Grasshopper3D. What Arnošt appreciates most is a fresh way of thinking about complicated geometry in relation to how kinematics and physics in general function. That is, although these principles are straightforward to understand when applied to basic geometries when paired with other elements such as environmental constraints, it may be difficult to identify what really happened and if the outcome is correct. This, in his view, is the most important lesson of the course as well as their individual work.