A bridge aspires to be a passage, a bond, a way to join hands and become united. Drift, a timber-and-steel pedestrian bridge designed by Volkan Alkanoglu, in Fort Worth presents a simplistic vision that crosses beyond boundaries. Drift unveils as an innovative example of plug-and-play urbanism, an emerging sustainable and affordable design strategy that proposes to execute infrastructural elements off-site and dropping them onto the site. Volkan and his design team fabricated the bridge off-site with a projected installation time of a few hours.
Commissioned by the City of Fort Worth's Public Art Program, Drift encourages public art, civic design, architecture, and infrastructure. A community-driven and site-specific project imbued to bridge a physical divide—a creek—between two halves of one neighbourhood and their respective park systems. On the other, the fabrication and installation techniques employed can apply to a wide range of community usage.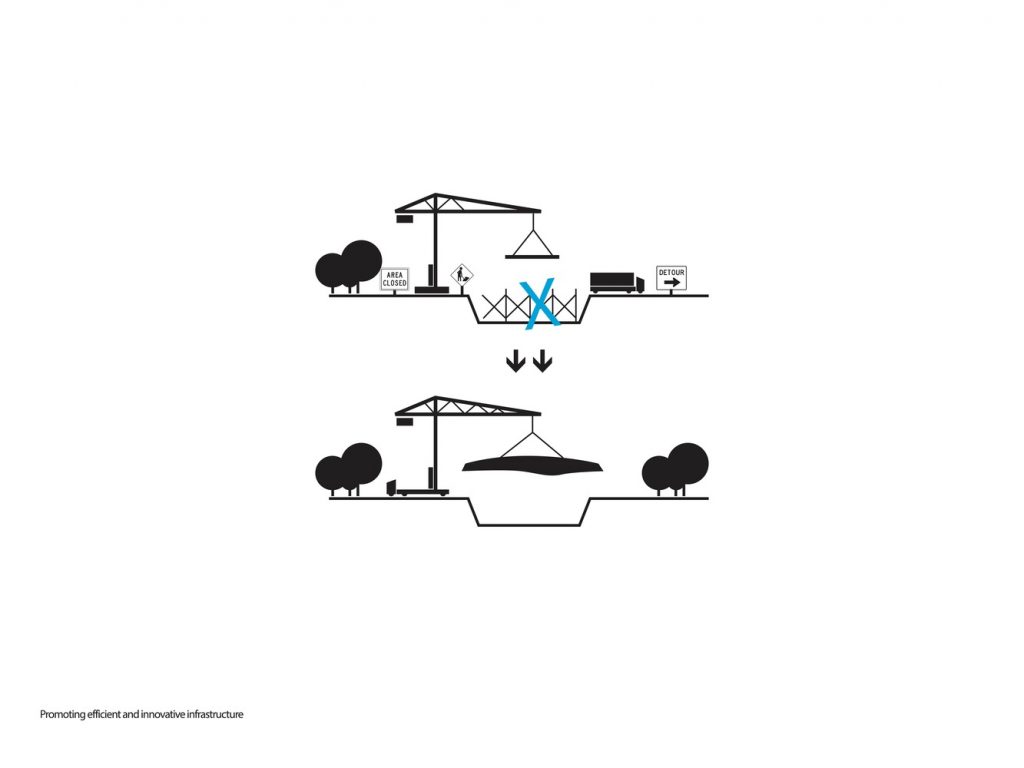 Alkanoglu conceptualized Drift in response to a brief from Fort Worth Public Art for a pedestrian bridge spanning a creek in the South Hills residential neighbourhood of Fort Worth. They desired to enhance the connectivity of the various communities along with the Trinity River Trail System. Historically, there had been no access to cross the 80-foot-wide culvert for seven blocks. Alkanoglu implemented three central design principles such as using sustainable material and minimizing the impact on natural habitat, reducing the project cost through innovative design and project logistics and thirdly to create a sense of place and attaching the community.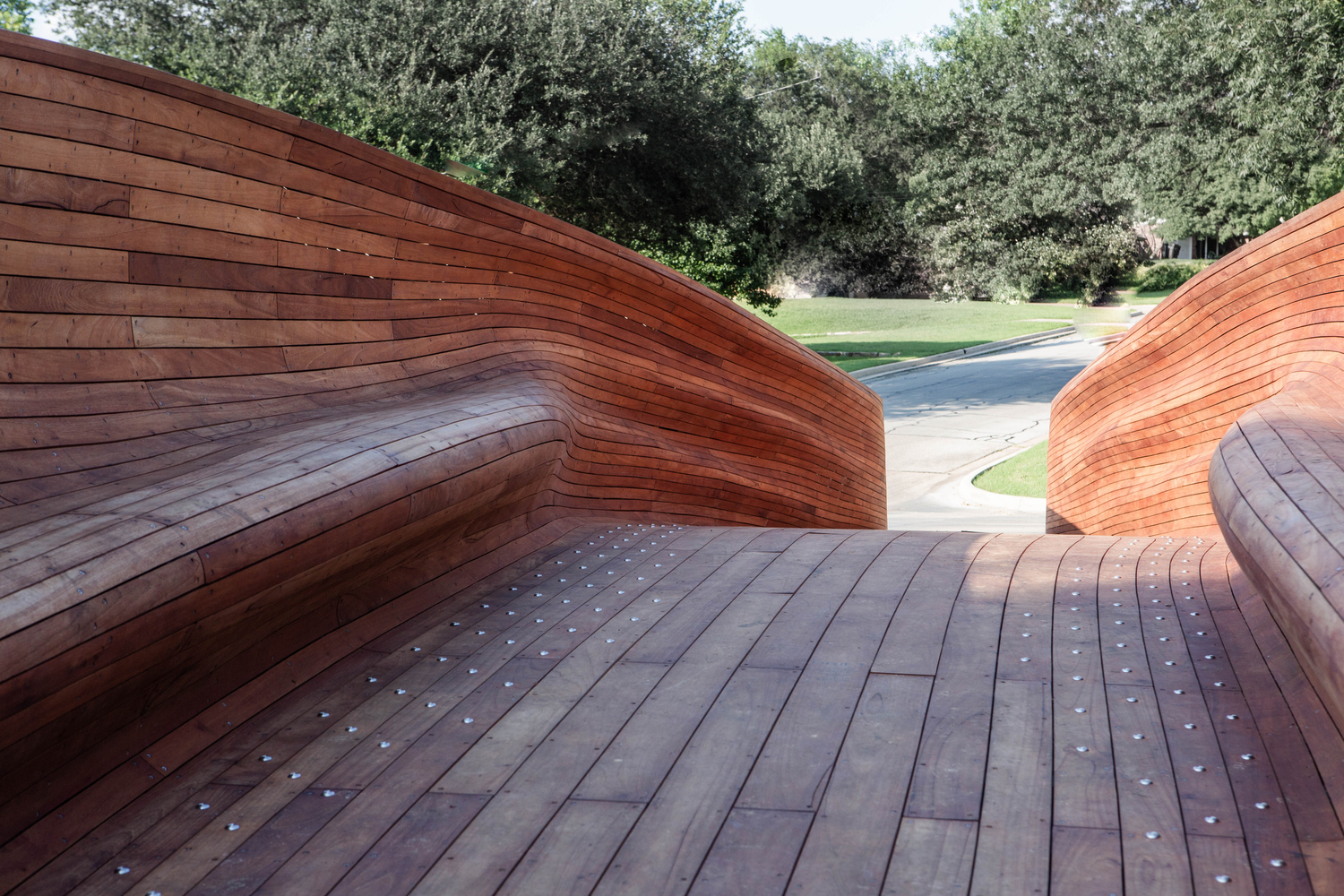 Alkanoglu's Drift was selected among the three last proposals, which filtering the initial inspiration from the West-creek site and its context. Depending on the season, the creek bed shifts from a container for flowing water to a dry basin filled with driftwood and felled plants. This fantastic process of transformation, integrated with the driftwood and plant life that reflect it, drove the bridge's material palette and form. The mid-century modern ranch-style homes that fill the neighbourhoods on either side of the creek also aided in offering fodder. Drawing a line between the bridge and the neighbour's dominant architecture, Alkanoglu moulded plywood innovations, such as Ray and Charles Eames' leg splint, made during the same era as the homes.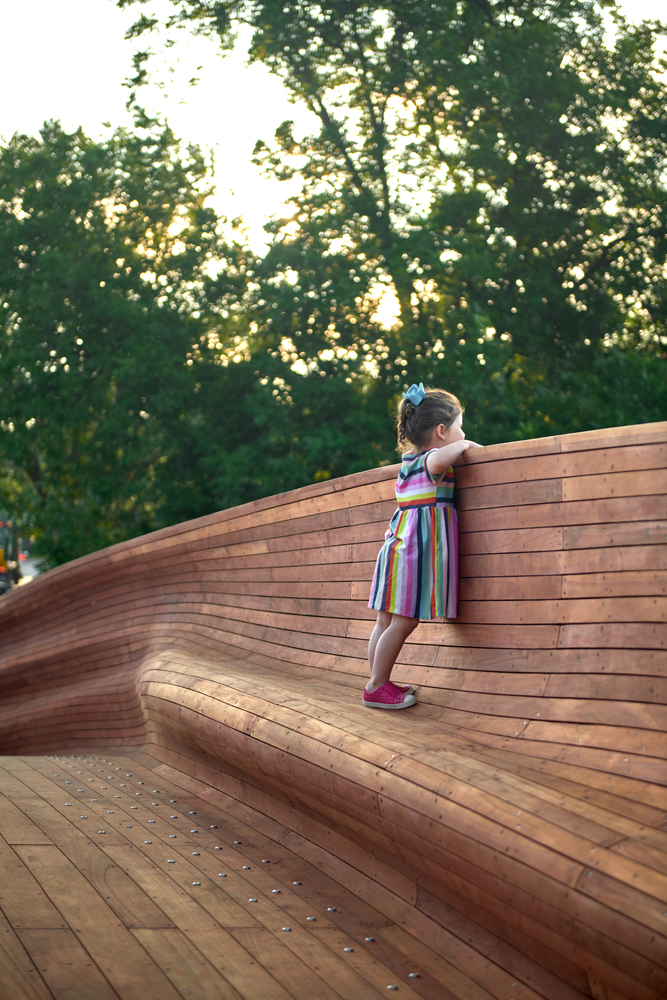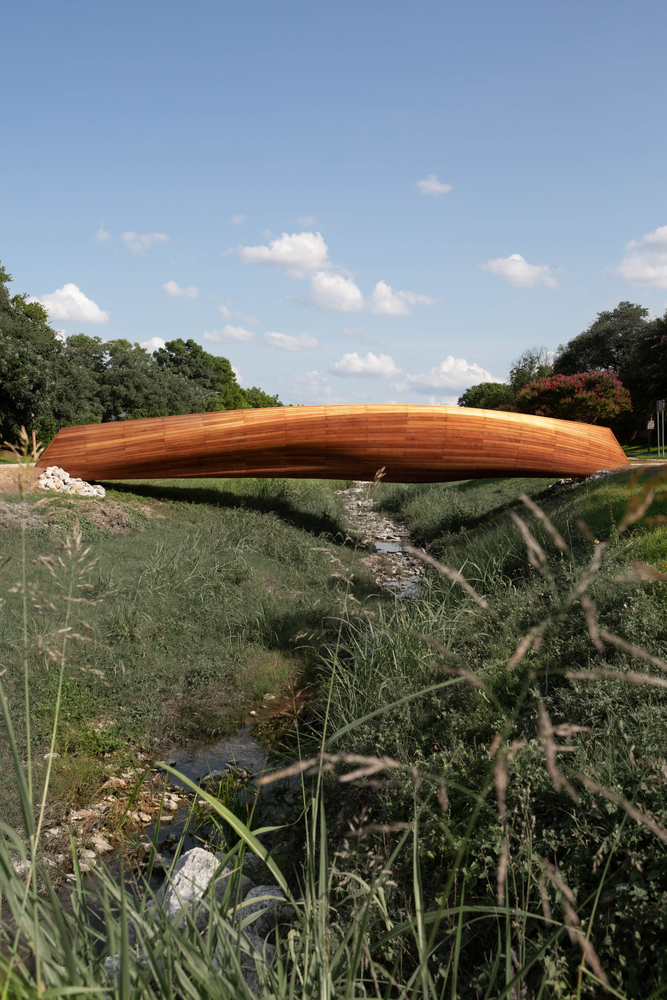 The design exposed a 62-foot-long bridge, chiselled in smooth curves, as branches of driftwood stacked, and bowed bentwood splint, arched over the creek and enabling seamless pedestrian connectivity between two parts of the neighbourhood. When you observe it sideways, it loosely refers to the hull of a ship, with a convex underbelly and a concave hull containing the pathway, benches, and railings. Uniquely, these characteristic elements conclude in a single built form, where irregular undulations and curves are engineered to be seated with the tranquil surroundings. The innovation for Alkanoglu draws inspiration from Eames' splint, "where every function occurs within a single figure," he explains. The embedded benches were a means of placemaking, with them Drift Bridge becomes a space for contemplation, recreation, and communication.
Drift bridge originally visioned to be fabricated solely from cross-laminated timber, budgetary constraints encouraged an ulterior method that is equally innovative. Inspired from shipbuilding techniques, Alkanoglu and his team of engineers began with a steel armature veering away from traditional cladding to CNC-cut and flip-milled timber plank, envisioned through computational parameters. In this way, each plank got customized and cut, then stack-laminated into one large, volumetric, undulating exposition.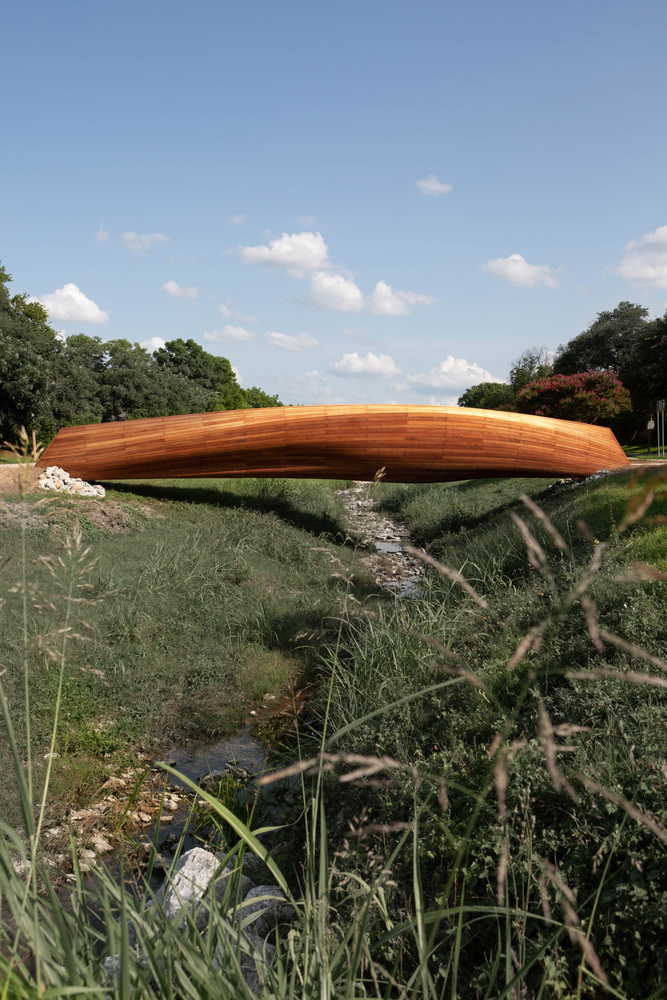 Project Details:
Architect: Volkan Alkanoglu
Location: Fort Worth, United States
Photographs: Peter Molick, Jennifer Boomer
Geotechnical Engineering: Alpha Testing
Structural Engineer: CMID Engineers
Design: Volkan Alkanoglu
Public Art Consultant: Anne Allen
Concept Engineer: AKT II
Material Testing: Gumpertz & Heger Inc
Fabrication: Ignition Arts LLC
Client: City of Fort Worth