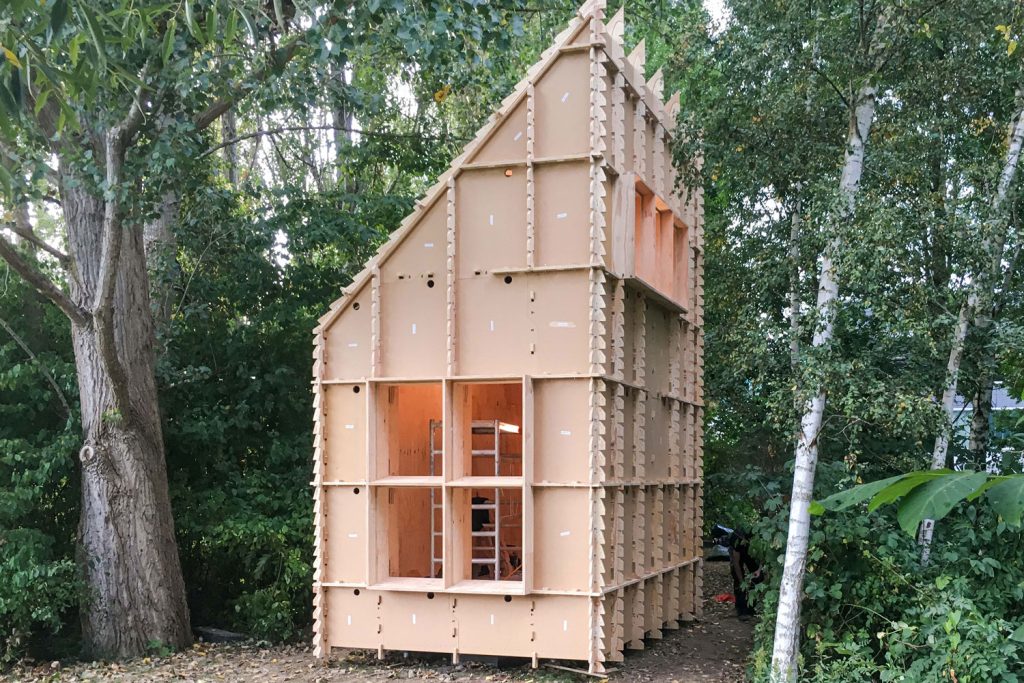 With the creation of the "Digital House," a prototypical building entirely digitally designed, fabricated, and assembled without using tools, a novel approach to digital fabrication in architecture has emerged in Wismar, a historic Hanseatic city in Northern Germany. Julian Krueger (Munich University of Applied Sciences) and Benjamin Kemper (Wismar University of Applied Sciences) created a cost-effective, sustainable building system using innovative plug-in construction methods.
A small house with a shiny, silvery facade and a steep, west-facing mono-pitch roof stands 6.5 m tall on a footprint of 3.3 4.9 m in a grove near Wismar University's Faculty of Architecture and Design. Light enters the spacious interior via a continuous window ribbon and four large windows cut through the recycled aluminum sheet facade.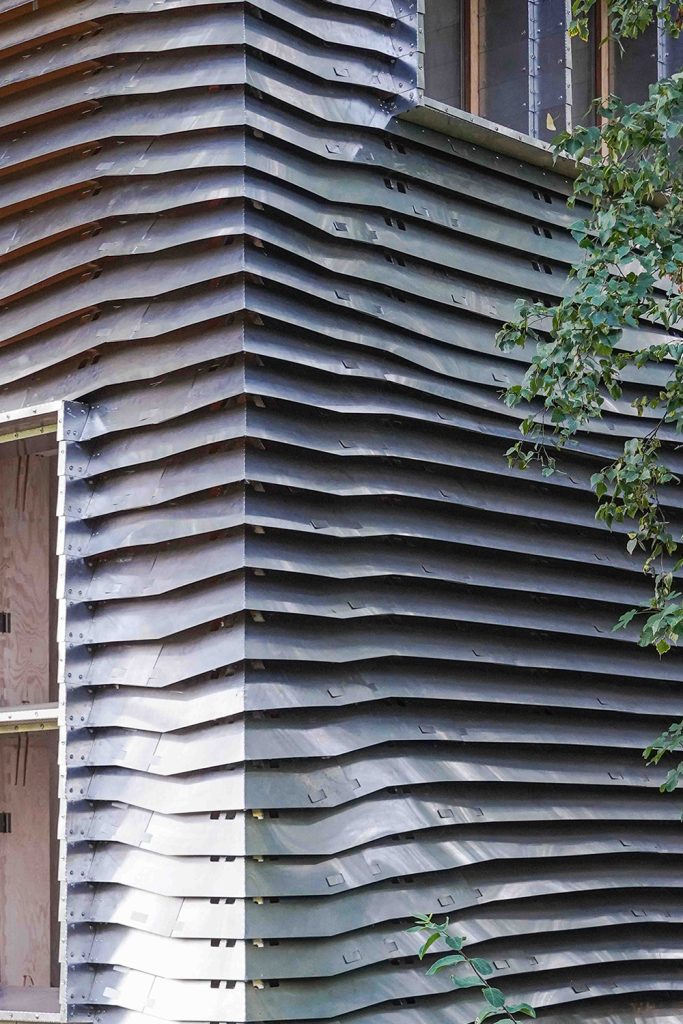 The house has an inventive wood construction system CNC-milled from 24mm plywood that allows two people to quickly assemble it without using tools or hardware such as screws or nails. This adaptable system, which allows for disassembly and reuse, contributes to the project's sustainable approach. The wooden structure is clad inside with plywood panels, outside with vapor-permeable wood fiberboard, and insulated with eco-friendly wood fiber.
The "Digital House" is supported by six ground screws, allowing for quick and traceless disassembly without concrete or groundwork. A parametrically designed facade made of recycled aluminum sheets is featured in the prototype. The computer-generated horizontal elements wrap the entire structure, laying close to the structure and fanning out over the closed areas. The aluminum sheets are laser-cut and include all the necessary fastening details, which are folded and secured to the sub-structure.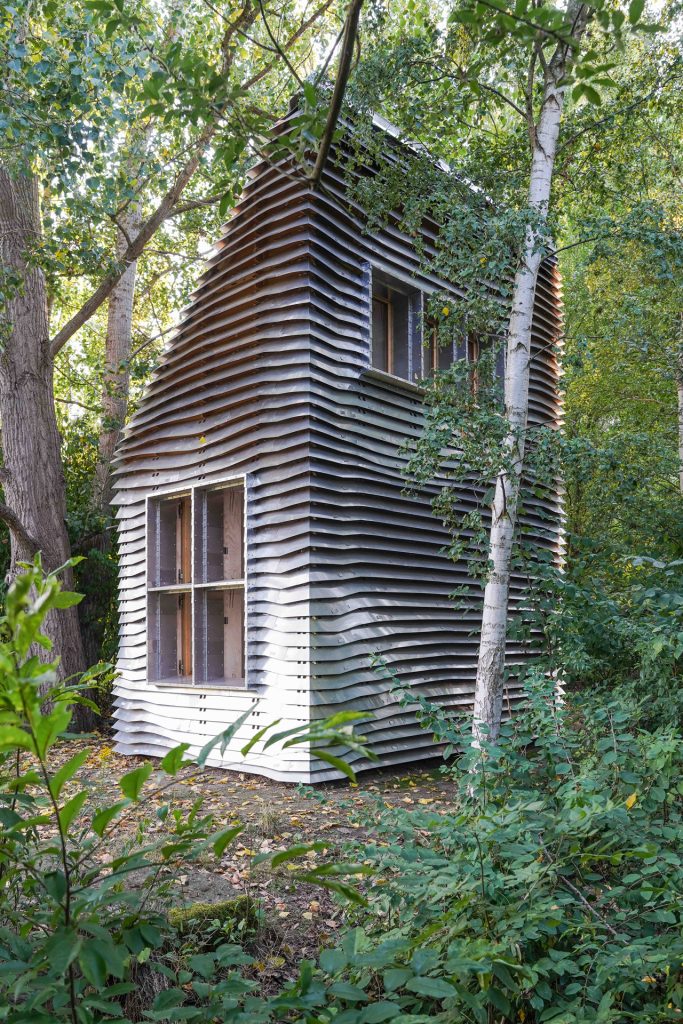 The windows and "Digital House" door, which are CNC-milled of 24 mm multiplex panels, also adhere to the plug-in construction principle. The structure has been optimized for future parametric planning. This allows for the form and function of the house to be customized. Users can tailor the building's shape, floor plan, roof, openings, and facade to their needs when constructing small standalone structures or urban densification projects.
The project demonstrates how digital planning, efficient manufacturing, and the optimal use of renewable and recycled materials can all contribute to sustainable building. The panel materials chosen for the construction and facade systems enable fully automated, cost-effective parts fabrication using CNC milling and laser machines. It guarantees a smooth process chain, from planning to production to on-site assembly.
The "Digital House" demonstrates how an integrative approach in the development and fabrication phases is increasingly blurring the boundaries between the traditional areas of preliminary design, detailed design, fabrication, and construction, as well as demonstrating the potential impact of digital design and fabrication methods on architectural production.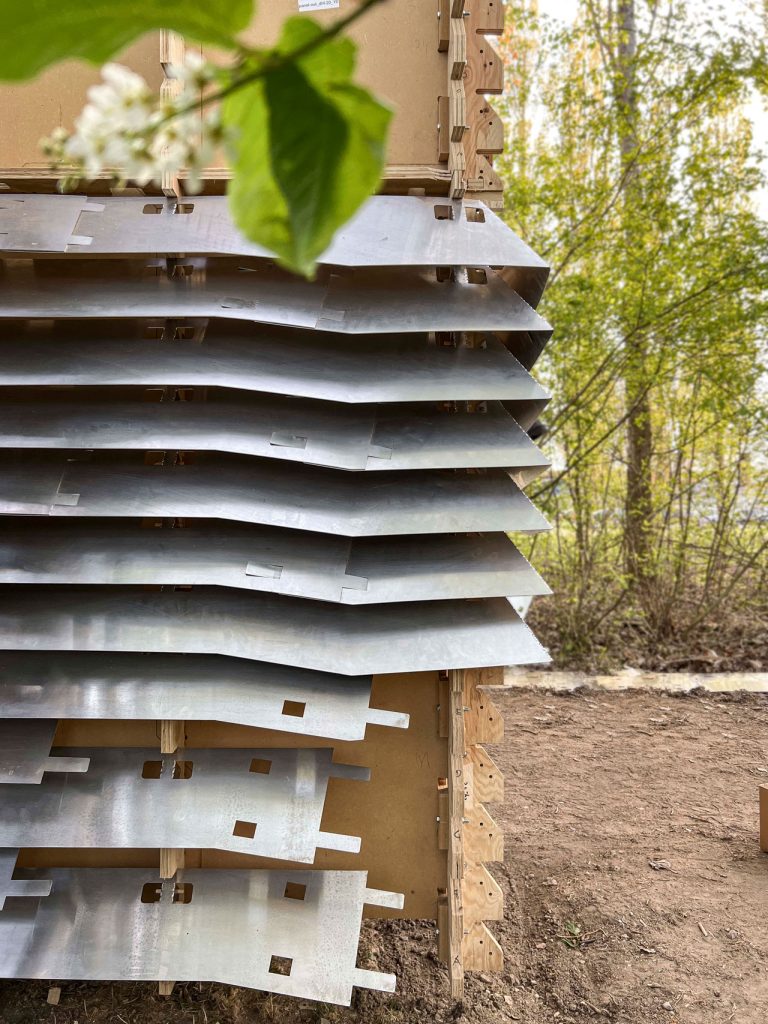 Project info
Project Name: Digital House
Project Location: Wismar, Germany
Project Year: 2022
Built / Unbuilt: Completed
Built Area: 16 sqm
Funding: German Federal Ministry for Economic Affairs and Climate Action (BMWK)
Planning & Design: Julian Krueger, Munich University of Applied Sciences, Benjamin Kemper, Wismar University of Applied Sciences
Manufacturing: Bächer Bergmann GmbH, BCK Metallverarbeitung GmbH
Industrial partners: STEICO SE, FRITZ EGGER GmbH & Co. OG, Speira GmbH, Gerflor Mipolam GmbH, ABUS August Bremicker Söhne KG
Photographer: Prof. Julian Krueger, Benjamin Kemper