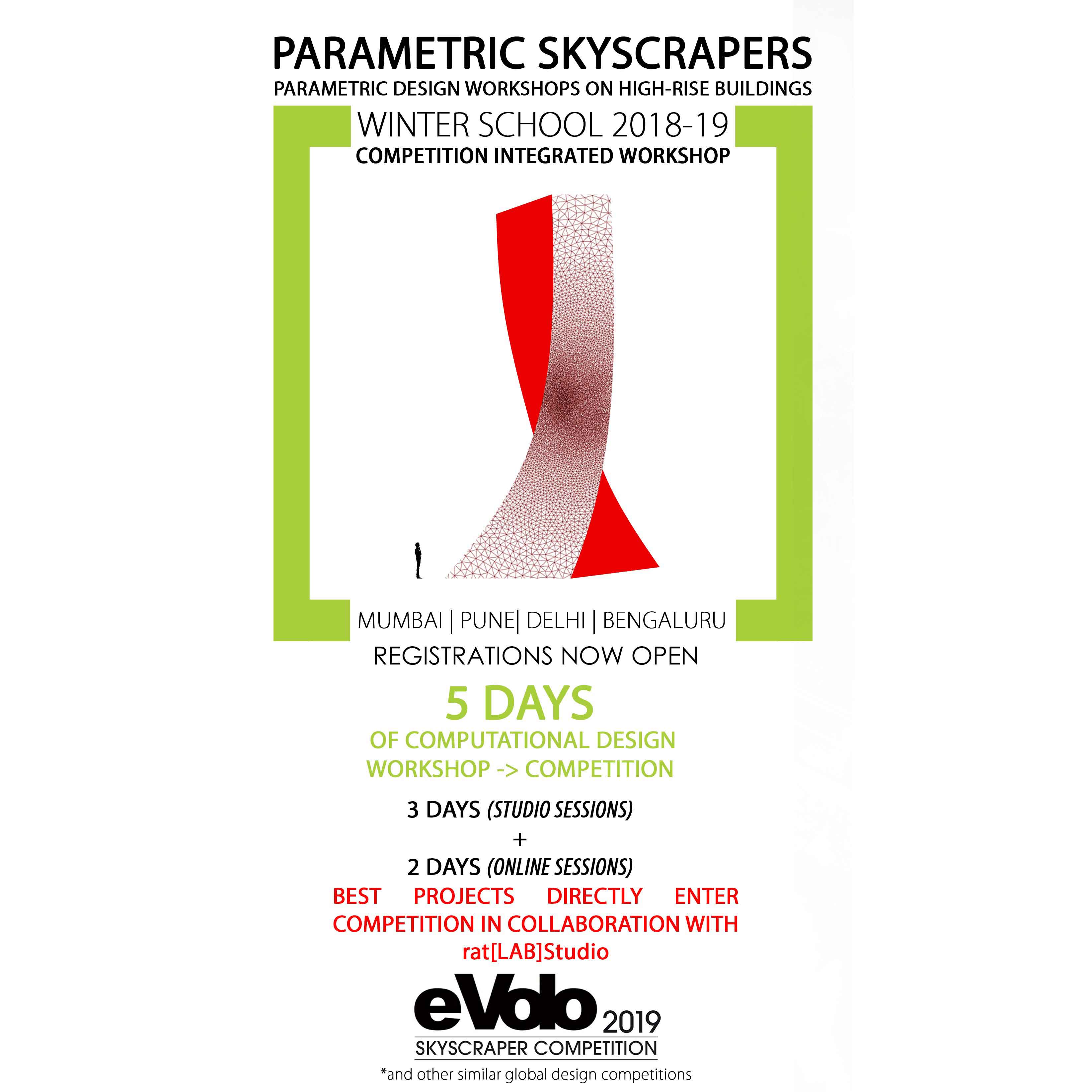 rat[LAB]EDU – Winter School 2018-19
Time: January 07, 2019 to February 03, 2019
Location: India
City/Town: Chennai | Pune | New Delhi | Bengaluru
Website:  www.rat-lab.org
Workshop Type: Computational Design Workshop
Agenda: Parametric Skyscrapers
Organized By: Sushant Verma
---
After a successful completion of 50+ design workshops worldwide, rat[LAB]EDU (Educational subset of rat[LAB]-Research in Architecture & Technology) is organizing PARAMETRIC DESIGN WORKSHOPS for design students & professionals that are focused on application of Computational Design for high-rise buildings. Winter School 2018-19 ::Parametric Design Workshops (3-day design workshops + 2 days of online sessions) will run across 4 cities in India – Chennai, New Delhi, Pune & Bengaluru and marks the 4th iteration of annual workshop series Summer-Winter School programmes carried out by rat[LAB]EDU. The larger objective is to change the way we conceive spaces within art, architectural & urban systems through use of advanced architectural tools like Computational Design. This thereby changes the way architectural education is imparted in the country by inculcating an independent studio culture in India, which was initiated by the studio in 2015 with the popular 5-city India tour named Filling The Void – Architecture & Urban Systems.
// Winter School 2018-19 :: Parametric Skyscrapers
The re-imagined version of short-term workshops by rat[LAB]EDUCATION is designed as a Competition-integrated-Workshop which extends beyond the typical 3-day studio to 2 additional days of online sessions, making it a 5-day engagement with Computational Design. The workshop is designed to cover applications of advanced computational design techniques for re-inventing skyscraper design eventually leading to collaborative submissions to the popular eVolo Skyscraper 2019 competition and similar other international competitions. It is first of its kind workshop that integrates a global design competition and allows a collaborative exchange between profession and academia by creating a direct association between workshop participants and host studio.
The 5 day intensive workshop (3 days of studio sessions + 2 day online sessions) for design students & professionals will delve into computational & parametric methods (using Rhino3D & Grasshopper3D) to create systemic design models for architectural design of skyscraper. Advanced Design Tools such as Environmental Analysis and Structural Analysis for skyscraper will also be integrated in the studio, along with presentation and documentation for competition submission.
WS18-19 will run across 4 cities and investigate the agenda of Parametric Skyscapers for participants to experience a hands-on experience of correctly using the digital tools through computation and parametric methods.
Studio is designed as a 3-day event in all cities (+2 Online Sessions for each batch)  comprising of technical tutorials, teaching sessions, design critics, design documentation methods, presentations, submission panel preparations and design exercises culminating in a critical discussion about computational design and its future potentials, pertaining to high-rise developments.
The 3-day studio / workshop shall focus on inculcating the following aspects as a part of syllabus:
Parametric & Computational Design Methods
Skyscraper Design Tool-set
Environmental Analysis
Façade and Building Skin Design
Structural Analysis (if required)
Documentation and Presentation (for competition submission)
Best 3 projects (cumulative from all cities) will work with rat[LAB] Studio (Delhi) to submit the finalized project for eVolo Skyscraper 2019 (and other similar international competitions, where the scheme fits appropriately).
The selection will be based on final works developed in guidance of Studio Head – Ar. Sushant Verma from rat[LAB] Studio.
Final 3 projects will be detailed out for final touch-ups and presentation / visualization and submitted by the studio with all participant team members as design partners, without bearing any competition submission costs. The team members get the opportunity to collaborate with rat[LAB]Studio for the competition entry to open up new avenues of association.
Teaching Methodology // Tools
Studio is structured to teach participants the use of computational techniques through Grasshopper® (Generative modeling plug-in for Rhino®) and ways to integrate it with architectural & structural systems for skyscraper design leading to international competition submissions.
No previous knowledge of Grasshopper & Rhinoceros is required for these workshops as basic technical knowledge will be provided on Day 1.
Pre-designed customizable tools will be provided by rat[LAB]EDU on Day 2 for design explorations & experimentation, pertaining to applications for high-rise buildings.
The studio is flexible to basic, intermediate & advanced users of computation.
The workshop is curated in the form of a design studio with collective learning than mere software sessions. Software form a part of the tool-set that is inculcated in the 3-day studio sessions.
 Technical Sessions
Technical sessions will be provided to give an insight to computation, algorithms and parametric design methodologies to students & professionals. The idea of designing parametrically and use of computational methodologies is new to Indian context and has great potentials across various design disciplines. Digital experimentation using computational techniques (primarily Rhino3D + Grasshopper) will initiate the discourse, followed by technical sessions, theoretical discussions and presentations.
// Cities & Dates*
---
MUMBAI: 
*Mumbai workshop has been shifted and clubbed with Pune workshop.
---
PUNE:  7th, 8th, 9th Jan 2019 (Monday to Wednesday)
Dr D Y Patil College Of Architecture (Akurdi)
Dr. D. Y. Patil Educational Complex,
Ravet Village Road, Sector 29,
Nigadi Pradhikaran, Akurdi, Pune,
Maharashtra 411044
---
NEW DELHI: 18th, 19th, 20th Jan 2019 (Friday to Sunday)
Sushant School of Art & Architecture
Ansal University
Sector 55, Golf Course Road,
Gurugram, Haryana 122003
---
CHENNAI: 23rd, 24th, 25th Jan 2019 (Wednesday to Friday)
RVS School of Change
9th Floor, Sapna Trade Centre
135, Poonamallee High Road,
Chennai, Tamil Nadu 600084
JOIN CHENNAI WORKSHOP
---
BENGALURU: 1st, 2nd, 3rd Feb 2019 (Friday to Sunday)
KS School of Architecture
No. 15, Off Kanakapura Road,
Near Vajarahalli, Mallasandra,
Karnataka 560109
---
*Since multiple organizations form a part of Winter School programme (venue partners, media partners, collaborating studio, etc.), there is always a slight possibility in change of dates and venue.
Tutors & Speakers
Sushant Verma – Studio Director (rat[LAB]Studio) (rat-lab.org/sushantverma)
Each city may have an additional co-tutor
Eminent experts from architectural design with knowledge in high-rise buildings will be invited as guest speakers for studio or online sessions.
Software & skills 
Basic 3D modeling skills in any software are preferred (Previous knowledge of Rhino3D is not obligatory).
Participants should bring their own laptop with pre-installed software.
NOTE: Grasshopper does not fully function on Rhino for MAC. A windows-enabled laptop is necessary.
Software Downloads
Rhino 5 (90-day evaluation) can be downloaded for free here.
Rhino 6 (90-day evaluation) can be downloaded for free here.
Grasshopper free-version can be downloaded here.
Additional software & plug-ins will be provided in the workshop.
Registration Dates
All Registrations end 4 days prior to workshop start date (Or till seats last)
There are limited seats available.
Participation Fee
Student and recent graduates *- INR 8250 + 18% GST
Professional – Jr. **- INR 9750 + 18% GST
Professional – Sr. ***- INR 13750 + 18% GST
*(Graduated from B.Arch. or similar programme in 2018 or later)
**( Graduated from B.Arch. or similar programme between 2013 to 2017)
***( Graduated from B.Arch. or similar programme in or before 2012)
Valid ID Proof (for grad year) required STRICTLY; Nominal Platform service charges applicable.
Early-bird registration (limited seats only) ending on 20th Nov 2018: 15% Flat Discount
Group Registrations (Groups of 4 – 7) ending on 20th Nov 2018 : 20% Flat Discount
Venue Partners' students : 25% Discount (as per coupon codes provided to school)
Schedule
DAY 01 ONLINE SESSION [2-3 HOURS]*
Distribution of research and study material.
Talk/Presentation on high-rise and skyscraper design.
Case study on Computational Design for skyscrapers.
Brainstorming to prepare for 3-day Studio Workshop.
DAY 02 STUDIO SESSION Day01 [SKILL BUILDING]
Presentations / Lectures on Parametric Design & Computational Thinking
Introduction to Rhinoceros 3D – GUI & Basic Use
Grasshopper GUI & Basic Functionality
Points, Lines, Surfaces.
Parameters, Inputs, Numbers.
Simple & Referenced Geometry, Locally Defined Geometry, Baking, etc.
Lists & Data Tree Management
Data Manipulation & Visualization
Surface Tessellations
DAY 03 STUDIO SESSION Day02 [IDEATION, SKETCH, COMPUTE]
Patterns & Geometric Explorations
Releasing of pre-designed tools (Grasshopper scripts) to all participants
Functionality of tools for Skyscraper Design
Agenda for competition
Design development (in teams or individual)
Discussions on submission panels & output
Documentation
DAY 04 STUDIO SESSION Day03 [DEVELOP, VISUALISE, DOCUMENT]
Group Discussions & Preparation of Panels
3D Visualizations, Diagrams, Drawing Preparations
Presentation Methods
Finalizing A1 Panels (for submissions)
DAY 05 ONLINE SESSION [2-3 HOURS]*
Collaborating with rat[LAB] Studio to finalize entries
Visual Communications & Technical Checks