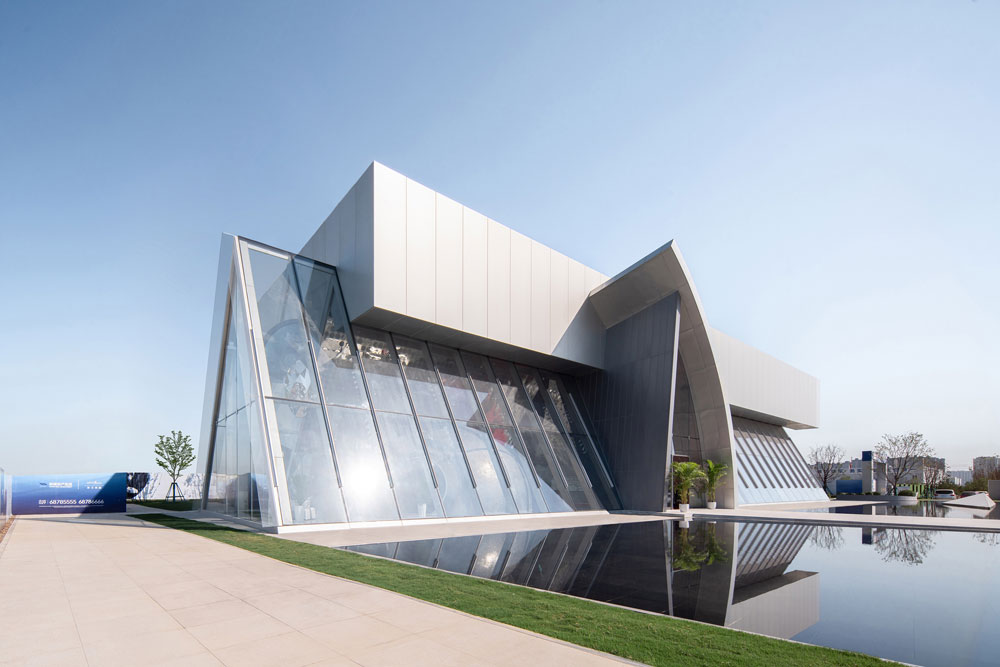 aoe designed the Chongwen Langyue Exhibition Center in Jingyang, China's Shaanxi Province, north of the Jing River. The region is known as the "800-mile Shaanxi" region's heartland and holds historical significance as the birthplace of the People's Republic of China. The project is strategically located at a prominent intersection on the eastern side of Zhengyang Avenue.
Aoe approached the project intending to create a dynamic urban public space that stands out from traditional office buildings and symbolizes Jingyang's future development, promoting a new way of life.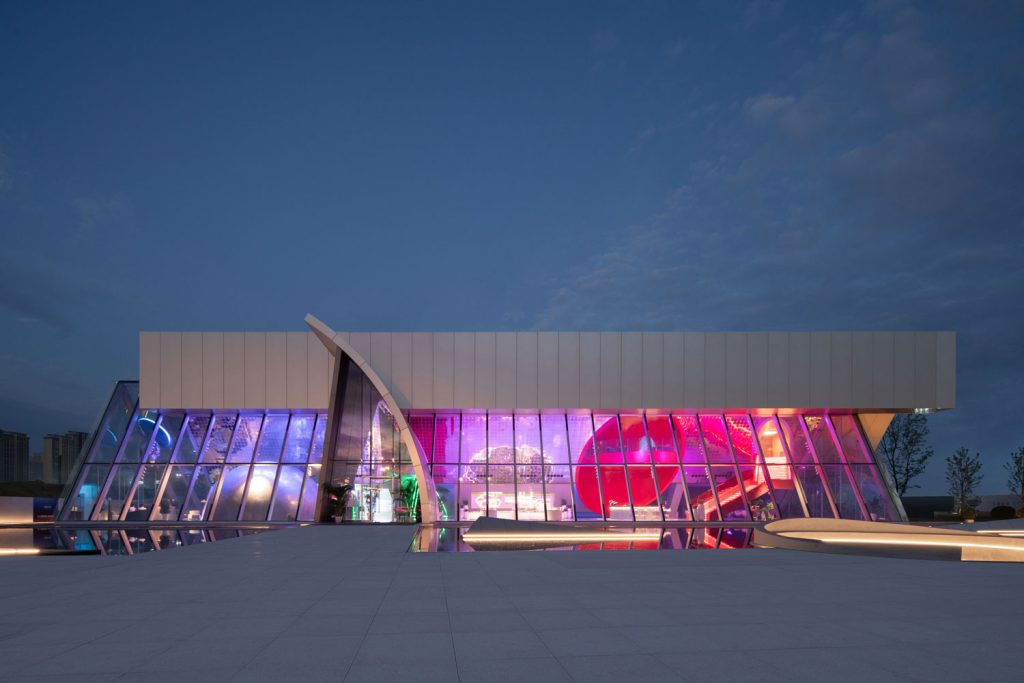 The design takes an innovative approach with intersecting building blocks based on the site conditions. It meets the functional requirements and creates a visually appealing form by rearranging the different functions and intertwining various blocks. The main entrance is shaped like a sail, representing smooth sailing, and serves as a new landmark in the area.
Using a consistent linear design language and blending landscape structures with geometric forms, the outdoor landscape seamlessly integrates the building into its surroundings. The team delineates the landscape by strategically using different geometric shapes, creating well-defined pathways, and improving the overall user experience. Water features and landscape structures are used to integrate the building with nature and give users a sense of calm.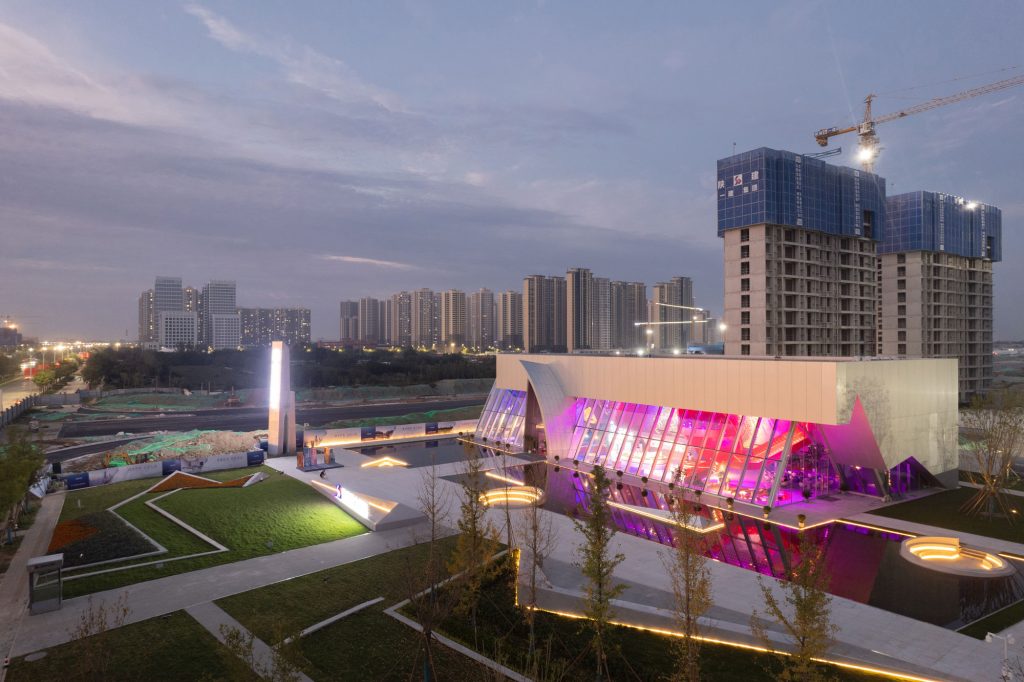 The lighting design extensively uses colored lighting elements, highlighting the building's distinct features. An enchanting ambiance was created by cleverly manipulating the reflections of light on metal surfaces, evoking a dreamlike atmosphere.
The interior design takes a holistic approach, seamlessly blending architecture and interior design. The building's various geometric forms become an integral part of the exterior façade, which is displayed through glass curtain walls. This vibrant display of various materials and colors adds visual interest. Metallic textures, such as aluminum panels and mirror-finished stainless steel, are used extensively throughout the interior to create a fashionable and futuristic environment. The interplay of large geometric forms gives the space a sculptural quality and a sense of playfulness, stimulating visitors' curiosity and desire to explore.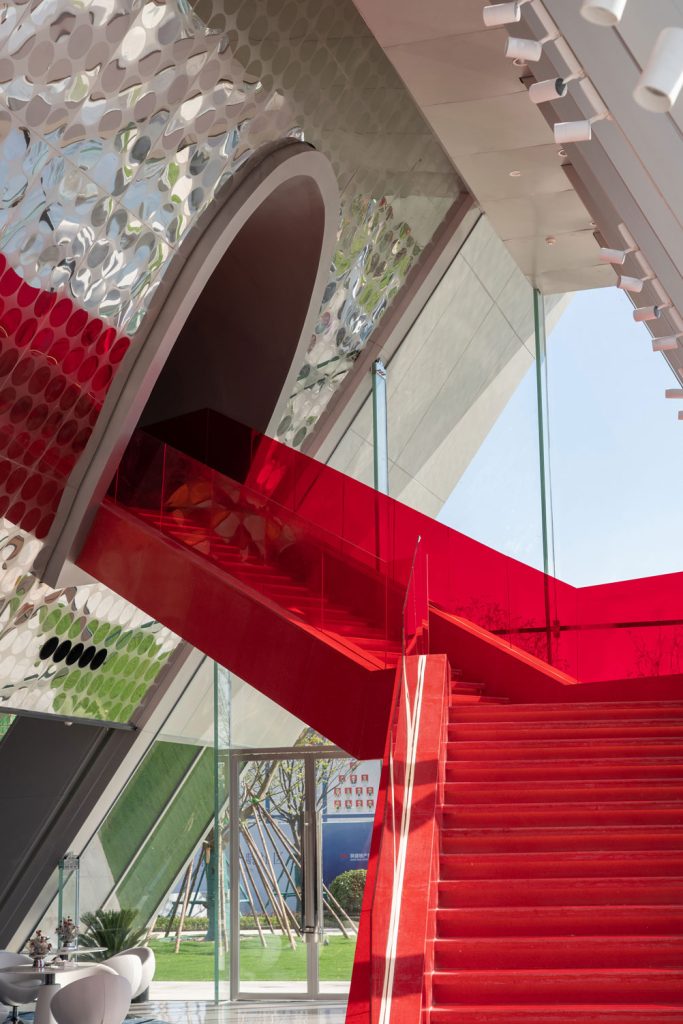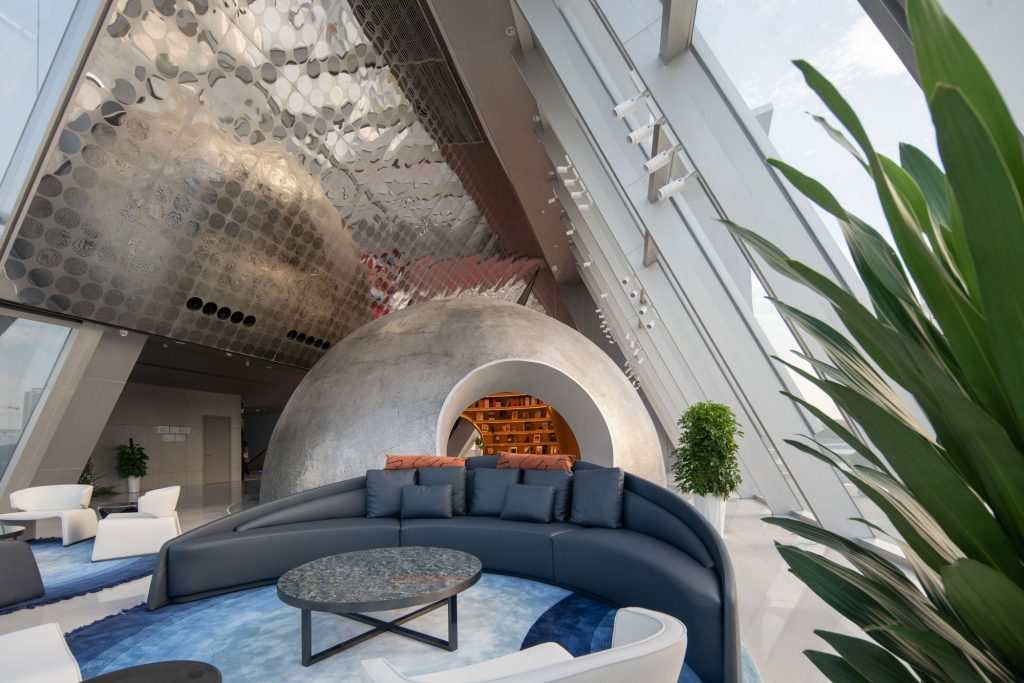 Project Info
Project Name: Chongwen Langyue Exhibition Center
Built Status: Completed
Architecture Firm: aoe
Firm Location: Beijing, China
Site Area: 2115.81 sqm
Project Location: Xi'an
Lead Architects: Qun Wen
Design Team: Qun W en Jianning Ma Shixin Gao Xiao hai, Yue Zhao, Rui Zhang Chuanyu Dai
Lighting Consultant: PuriLighting Design
Façade Engineer: Inhabit Group living Engineering
Interior: Jing Du, Xiaofan Yin, Sha Li, Meijun Liu,Yawen Xue
Photo credits: DONG Image