Tracing the traditional architecture of desert areas, CAAT Studio weaves a modular brick design based on the Iranian geometric patterns. Kahrizak Residential Project determined to improve the living conditions of the thriving residents. The designers conceived an exceptional building with resourceful solutions appropriately sieved into the accommodation factor and serving the region's climate. The design entails the cultural typology of a cost-effective method without charring the quality or the standard, achieved through effective interaction and cooperation between the architect, the client and the collaborators.
The historical principle in Iranian architecture focuses on rich details and coexistence with simplicity in overall scale, which entwines with the context and functions. In traditional Iranian architecture, dwellers built their houses following sustainable and climatic conditions. These architectural considerations led to creating a variety of typologies invoked from different climatic zones of the country.
The choice of material was significant to choose something affordable and easily freight to the site. The designers considered clay blocks, which were produced in a factory nearby, and this considerably decreased the freight charges. The modules made of bricks made suitable for the segmented frames. The least expensive material that gave the ability to create the desired sense of space was concrete. This way, they reduced the project's cost to its minimum while creating high-quality interior spaces.
The regional workers were specially trained under the exceptional team of CAAT studio. They skilfully arranged enough modules after a few test modules before the final construction phase started. The close collaboration between the architect and the client caused the progress of this project in a half-forgotten district and at last reaching the inhabitant's satisfaction. A few units were sold out during the construction phase with the same price of a finished building in the neighbourhood, while there were so many completed buildings left unsold, thus acquiring few profits for the client.
Each brick module was designed concerning the function of the space behind it. The shifting variety in brick modules is coherent and homophonic. That aided in achieving a smooth facade to represent both Iranian brick architecture and residential essence. In addition, the geometry concretised for local workers, thus facilitating the construction process.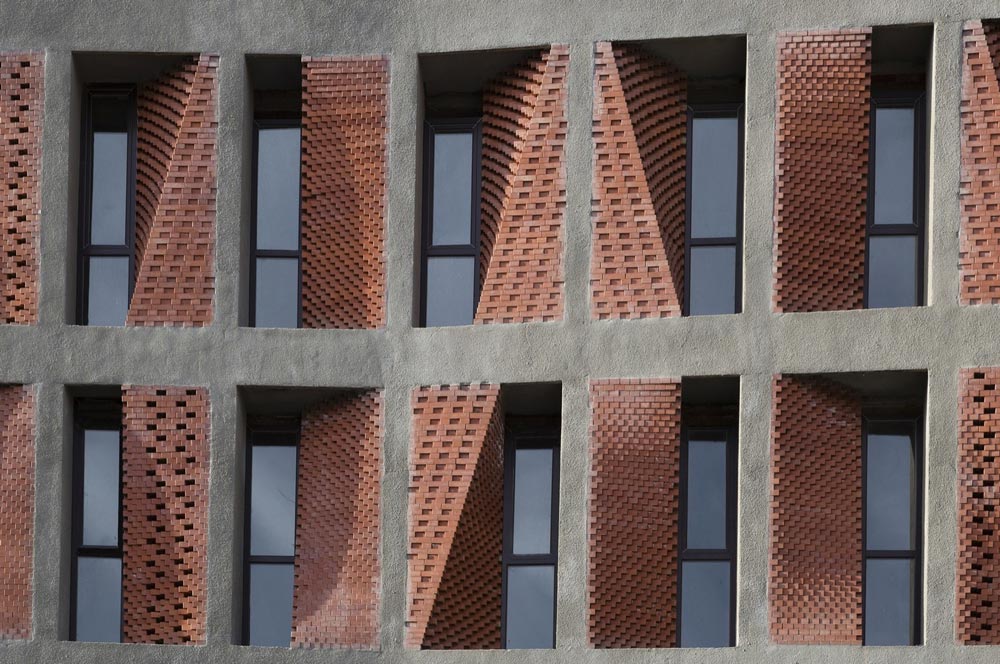 Architects: CAAT Studio
Area: 1660 m²
Location: Kahrizak, Tehran, Iran
Photographs: Parham Taghioff, Ashkan Radnia