Battersea Power Station Square by Bjarke Ingels Group in London, UK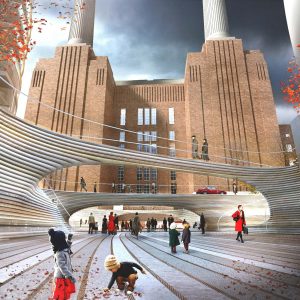 Situated at the very foot of the towering Battersea icon, the new Malaysia Square derives its shape from human flows, creating a cascading landscape carved into the street – or simply put form follows flow. As an urban canvas of possibilities for cultural expression, where landscape, architecture, urbanism and media design are in complete harmony – the new Malaysia Square lends dignity to the majestic industrial heritage while paving the way for a new Malaysia identity.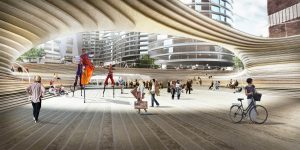 BIG's design for Malaysia Square is inspired by Malaysia's nature and culture. The two-level public space of bridges and staircases, will guide the visitors through the continuous landscape while creating a calm and elegant entry-way to the Battersea Park Station. The cascading stairs designed around human flows will be clad with local Malaysian stone grains to evoke the peculiar striped quality and stepped surfaces of Malaysian caves known from Gunung Mulu National Park (a UNESCO World Heritage site) in East Malaysia.
To symbolise the links between Malaysia and Battersea, the team proposes to use the reclaimed Power Station chimney material to be sourced from the rebuild programme currently underway.
The main square at the very heart of the urban space is conceived as an urban amphi-theatre for public as well as spontaneous performances. A fountain at the center of the square, referencing Malaysia´s national flower, the Hibiscus, will offer a space for play surrounded by water.
Type : Invited Competition
Client : Battersea Power Station Development Company
Collaborators : AKT II, BIG Ideas, Speirs + Major, Jeppe Hein Studio
Size : 35000  m²
Location : London, UK
Partners in Charge : Bjarke Ingels, Andreas Klok Pedersen, Kai-Uwe Bergmann
Project Manager : Eva Seo-Andersen
Project Leader : Song He
Team : Aino Elina Aho, Christian Lopez, Elina Skujina, Jakob Lange, Julieta Muzzillo, Joanna Jakubowska, Lakatos Edmond, Lucas Frank Ziegler, Lucian Tofan, Maximiliano Rieutor, Pawel Bussold, Timothy Burwell, Tore Banke
Project Manager, Concept : Jakob Sand
Project Leaders, Concept : Song He, Gabrielle Nadeau
Team, Concept : Christian Lopez, Elina Skujina, Joanna Jakubowska, Julieta Muzzillo, Lucas Frank Ziegler, Lucian Tofan, Pawel Bussold, Timothy Burwell
> Via BIG